Most homes in the UK don't have a guest room and people look for ways to accommodate family or friends. The easiest way is to use the floor and for this reason, we decided to look for the best floor mattress options in the UK. After hours of research, we managed to create this buying guide.
There are a lot of options out there but before you decide which one to buy, you should consider two main factors; comfort and ease of storage. Without any further ado, let's see the 5 options we have gathered for you.
Editor's Pick – Milliard Folding Floor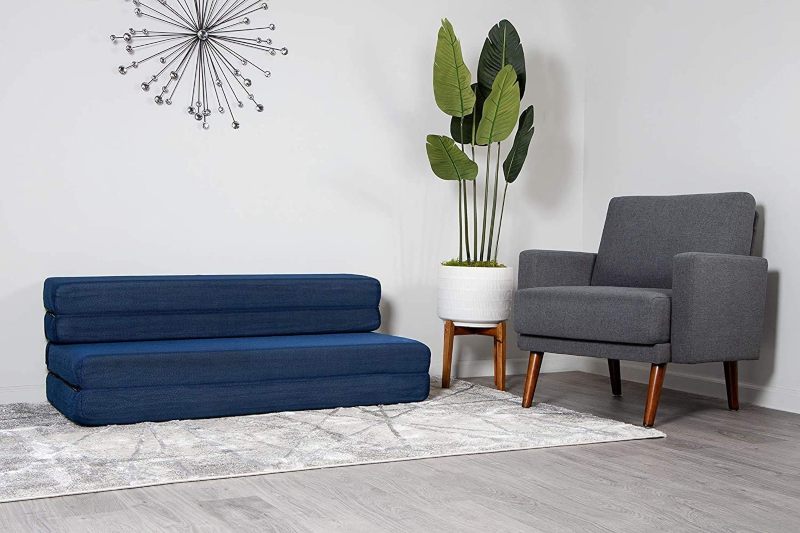 The first choice on this list is the Milliard Folding floor mattress. This can be used both as a sofa bed or a floor mattress and that can be very useful. Of course, this is not a full-size sofa and it's probably better suited in a kids' room. When it unfolds, you will get a double bed that can easily accommodate 2 persons. However, there is also a smaller size that makes a single bed.
The foam used to make it is CertiPUR-US certified so it contains no harmful chemicals. This is great especially if you do decide to place it in the kids' room. When folded the storage dimensions are 90 x 64 x 34cm so it's quite easy to store. The cover of this bed is made of 100% polyester. This is a removable cover and it's machine washable. That means that you can clean it whenever you feel like it and keep it fresh.
The Milliard Folding floor mattress comes with a 4.5 score on Amazon with over 900 reviews. If you want to get the double one, you should have a budget of around £160 with the smaller one going for around £120. Overall, this is a versatile option that combines comfort with practicality.
Most Versatile – Leewadee Thai Floor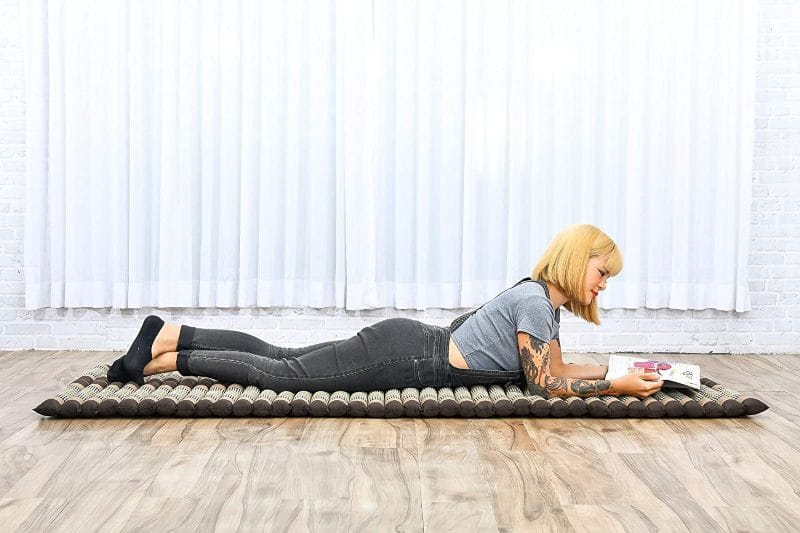 The second choice on this list is the Leewade Thai floor mattress. This is a futon bed that can be used in many ways. Most people use it as a day bed or a guest bed but others prefer to use it as a yoga mat. It's available in many sizes and colour combinations so you will definitely find the one that suits your needs.
Inside it, you will find kapok fibres that are vastly used in Thailand. This type of fibre is both stable and breathable and that makes it ideal to use here. Around it, there is a cotton cover that adds comfort and breathability. According to the maker, this Thai floor mattress will massage your body during sleep.
The Leewade Thai floor mattress is sold on Amazon and you should budget around £95 for a small one. It comes with a 4.5 score with more than 1,700 reviews worldwide. Some sleepers even claim that they use this futon bed as their main one. Overall, this is a value-for-money floor mattress that needs minimal space to store.
Easiest to store away – Evergreenweb Floor
If you don't have much space, you should definitely look at the Evergreenweb floor mattress. The main benefit of this mattress is that it can be rolled up and stored away. It's available in 5 sizes so you will definitely find the one that suits your needs.
This mattress features 2 layers. The upper one is a 1cm memory foam layer and below that, there is a 4cm polyurethane foam layer. The combination works well and this floor mattress is both comfortable and supportive. Around it, there is a 3D fabric cover that is breathable and hypoallergenic. It comes with the Oeko-Tex Standard 100 label so it contains no harmful substances.
This is another Amazon mattress and it's one of the most affordable ones on this list. The smallest size starts at around £70 so if you are on a budget, this is the one to get. It comes with a 4.3 score with over 100 reviews on Amazon. Overall, this is the best option for those with limited storage space and budget.
Most Comfortable – Inofia Folding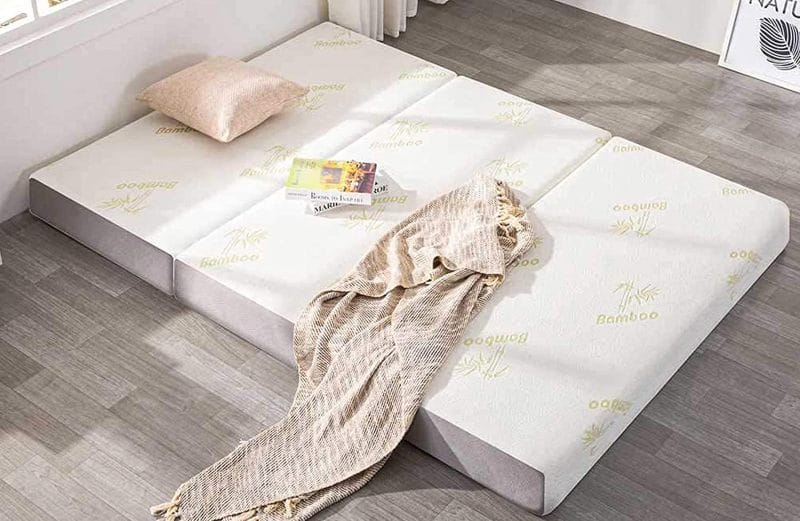 If you mostly care about the quality of sleep, then you should definitely consider the Inofia folding mattress. This comes with actual mattress technology and it features two foam layers. On top, there is a 4cm memory foam layer and underneath that, there is an 11cm high-density foam layer. As a result, you should expect a good mix of comfort and support.
The Inofia folding mattress is available in 3 sizes and it comes in 2 different thickness profiles. Around the foam layers, there is a zippable bamboo cover that has the ability to regulate the body's heat. This ensures that you will sleep cool during the night.
Being a triple-folding mattress means that you will need a lot of space to store it so you should have this in mind before you decide to buy it. Like any other Inofia mattress, this also comes with a 100-night trial and a 5-year guarantee. This is great, especially at this price point. You can buy it on Amazon where it has a 4.6 score with over 300 reviews.
Best Value – Natalia Spzoo Floor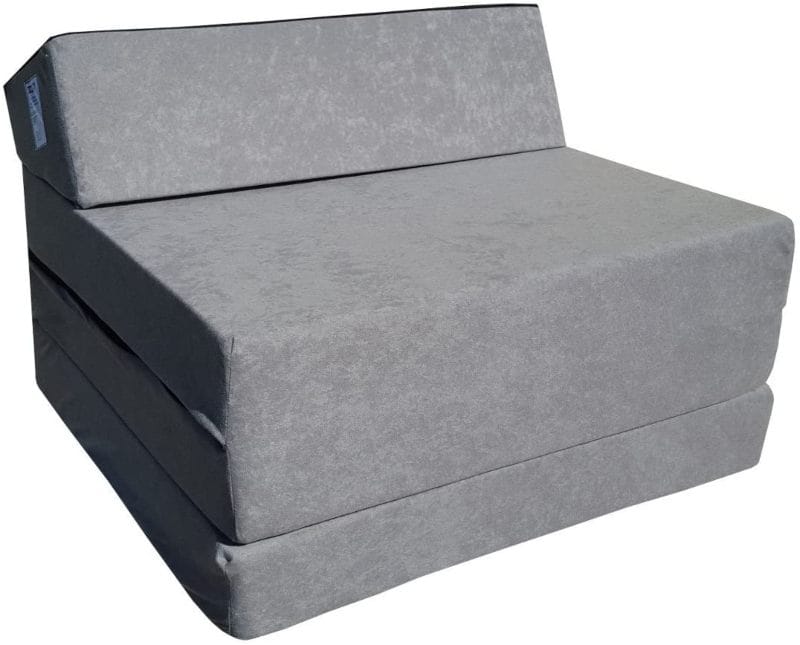 The last option on this list is the Natalia Spzoo floor mattress. This is another affordable choice that can work either as a chair or a floor mattress. It's not the most compact option and it needs a fair amount of space when stored. It's ideal in a kids' room or as a temporary sofa.
The inside of this floor mattress is made of high-density foam that is supportive. Around it, there is a removable cover that is made of polyester. The good news is that this is a machine-washable cover so it's quite easy to maintain.
The Natalia Spzoo floor mattress is available in many colours and it will cost you around £80. You can find it on Amazon where it has a 4.4 score with over 3,700 reviews. If you look for a practical and affordable option, this is one to consider.
It's time now to complete this best floor mattress guide and hopefully, by now you have found your next mattress. In case, you still need more help, you can contact us and we will do our best to help you out.