When you are expecting, things can get harder than they usually are and it can be really difficult to sleep. For this reason, we decided to create a guide with the best pillows for pregnancy. What we mean here is a type of pillow that is longer in length when compared to a regular pillow and is designed to support the changing shape of a pregnant's woman body.
They are designed to help you settle into a comfortable position so you and your baby can relax. They can also reduce aches and pains and help you have a neutral spinal alignment. Pregnancy pillows come in different shapes and sizes and they have become extremely popular among expecting women. Without any further ado, let's move below to see the 5 options that we have gathered for you.
Editor's Pick – Kally U-Shaped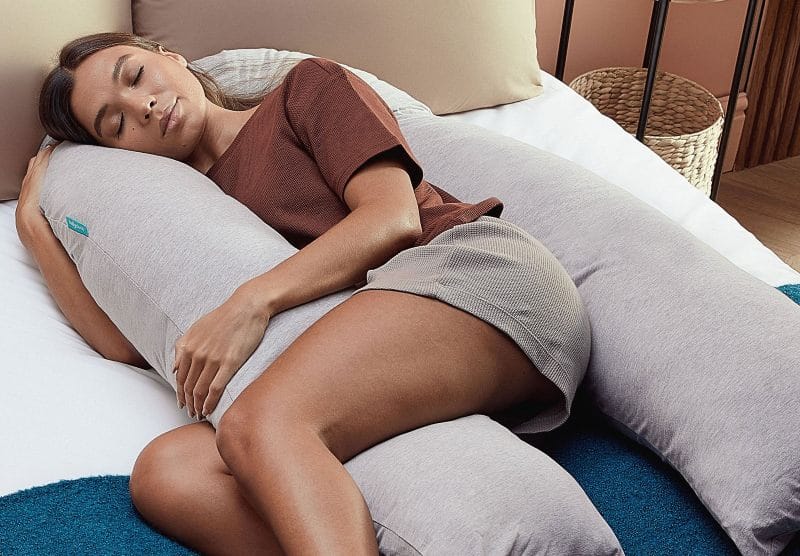 One of the best options out there is the Kally U-shaped pillow. The famous British brand created a versatile option that is a true best-seller. The first thing you notice about it is its size. This pillow is really huge but that is probably its strength as it can support your growing body. As its name suggests, it has a U-shape so it can be used post-pregnancy as a nursing pillow or just for support when you watch TV. It comes with a medium-firm feel and it's filled with hollowfibres. Around the core, you will find a pillowcase made of 50% cotton and 50% polyester. Both the core and the cover are machine-washable so it's easy to keep them clean.
The pillow is OEKO-TEX 100 certified so it's free from harmful substances. It's hypoallergenic so it's good to use for you and your baby. When you order one, you will get a 14-night trial period that gives you two weeks to try it at home. Returns are free and if you are not happy with it, you can return it and get a full refund. Delivery is also free and the Kally U-shaped pillow is fairly priced. Overall, this is a complete package here and it's a pillow that should be high on your list.
Best Body Pillow – Pharmedoc Pregnancy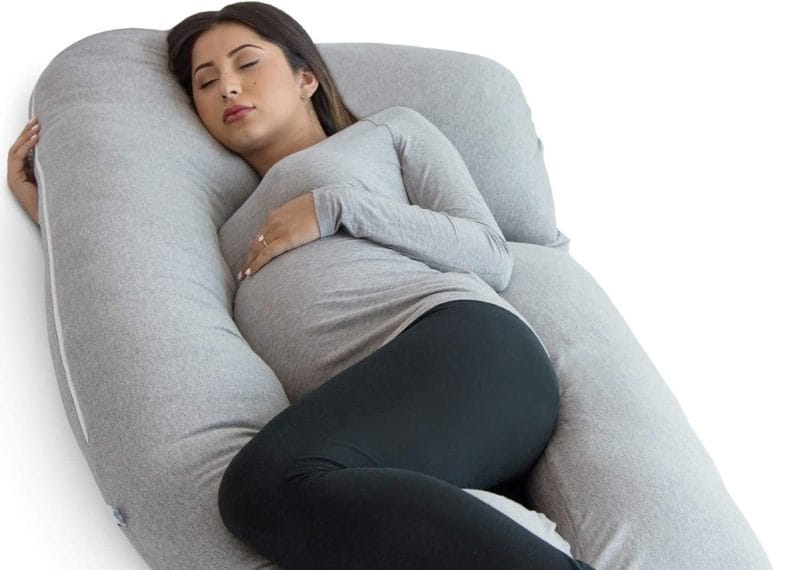 The second pick on this list is the Pharmedoc Pregnancy pillow. This is one of the best options found on Amazon and it's not a coincidence that it has more than 80k reviews. It's another U-shaped pillow but this one has a detachable extension that can either be used as a separate pillow or just to complete the U-shape. This is an interesting design that creates various combinations so the Pharmedoc pillow can be used in any way you can imagine. It's filled with polyfill material that can adapt to your belly and body so you can have a comfortable sleep. Moreover, its construction allows it to be machine-washable which is very practical.
The cover is made of 100% jersey knit cover and is removable. It's easy to clean and all you have to do is pop it inside your washing machine. What is interesting about it is the fact it comes with a budget-friendly price tag so a pillow will only cost you around £50. Delivery is free for Prime members and overall, this is a well-balanced pregnancy pillow.
Best Adjustable – Bbhugme Adjustable Pregnancy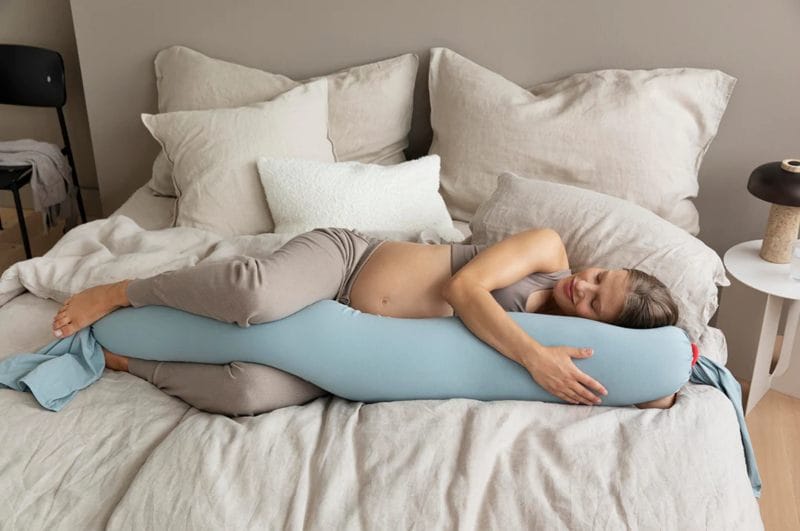 If you look for a premium option that has some unique features, the Bbhugme pregnancy pillow might be all you need. Developed by Norwegian Health professionals, it's a pillow made to support your body from the first trimester and beyond. What is great about it is that you can adjust its feel thanks to a clever and simple mechanism. This will help you find the right setup so you can sleep more comfortably.
The core is made of BioFoam which is safe for human health and has excellent pressure-relieving properties. Around it, there is a jersey fabric cover that is made of 95% cotton and 5% spandex. This is removable and you can pop it inside your washing machine every time you want to clean it. This pillow comes with a handy travel bag so you can carry it everywhere with ease. As you can see, the people at Bghugme have thought of everything and overall this is a premium pillow that will impress you.
Best Cooling – Simba Body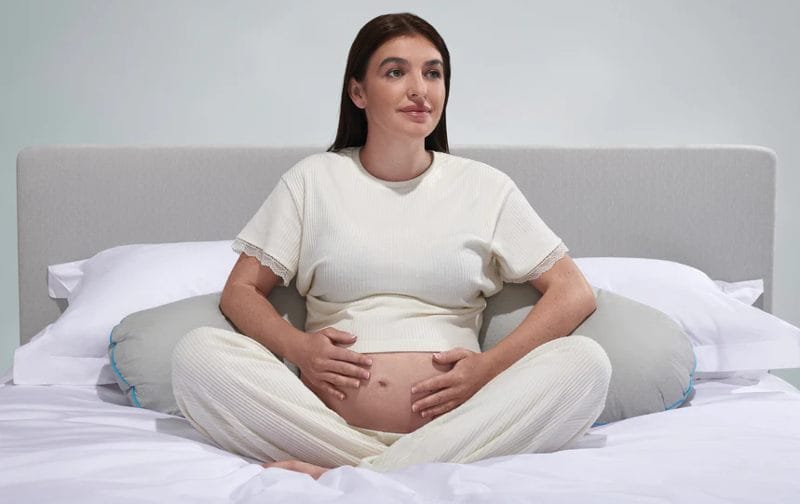 Many pregnant women feel hot during the night so they need a cooling pillow to help them sleep more comfortably. The people at Simba understood that and they developed the Simba Body pillow that is designed to sleep cool. It achieves that thanks to its cover which features the Stratos cool-touch technology. However, that's not only it! The pillow is filled with Simba Renew Bio fibres that allow airflow and they are an excellent eco-friendly down alternative. The fibres are made of recycled PET and they are anti-allergenic. The Simba Body pillow has a versatile shape and can be used either for sleep or for nursing your baby.
If you order one, you will get free delivery which usually takes 3 working days. The pillow comes with a practical storage bag so you can take it with you wherever you go. Overall, this is a fantastic body pillow that you can keep using post-pregnancy.
Best Value – Silentnight Body Support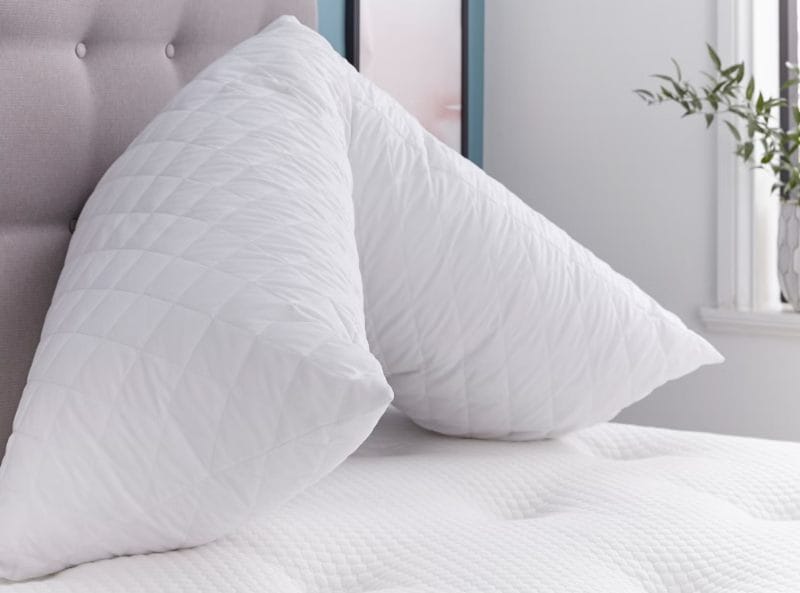 Silentnight is a brand known for making value-for-money products and the Body Support pillow is a prime example. It's a bolster pillow that is ideal for use during pregnancy but also after it. It has a relatively big size so you will feel that you hug an actual person. The core is filled with synthetic fibres that give a plush feel and allow you to sleep comfortably. They are hypoallergenic so this pillow is safe to use with your baby. In the package, you will find a pillowcase which adds extra protection. This is great, especially for a pillow at this price. Both the pillow and the pillowcase are machine-washable so it's easy to clean.
The Body Support pillow is available on Amazon and it will only cost you around £30. This is an absolute steal so if you have a tight budget, this is the way to go. Prime members will get free delivery and overall, this is a complete package at a bargain price.
It's time now to complete this guide with the best pillows for pregnancy and we think that this was a helpful piece of content. Of course, we are here to answer all the queries you might have so if you have one, don't hesitate to contact us and we will get back to you the soonest we can.