In this Simba Luxe mattress review, I will talk about this latest release from the popular British maker that promises an amazing sleeping experience. After seeing great success with the Simba hybrid mattress and the Simba Hybrid Pro, they decided it was time to create an even better mattress.
Just like its siblings, this is also a hybrid mattress so you should expect a combination of foam layers with pocket springs. It's a mattress that is designed and manufactured here in the UK and it's built with high-quality materials. Mine came about 4 weeks ago so it's time now to move to the full review below.
What is a Simba Luxe mattress made of?
The Luxe mattress features 7 layers plus the cover. In detail, these are:
A bamboo wool layer that can regulate the body's heat very efficiently.
An open-cell Simba-Pure foam layer that has great pressure-relieving properties. They have infused it with graphite so it can stay cool during the night.
Two aerocoil spring layers that are designed to support your body. They use their signature 25mm mini springs here.
An HD Simba-Pure layer that helps with edge support.
A 40mm carbon steel layer that helps with comfort and support.
Another HD Simba-Pure layer that works exactly the same as the above one.
A zoned support base layer that keeps this mattress altogether.
The Simba Luxe mattress measures 31cm in height and it's one of the thickest mattresses that I have reviewed. All foams have received the CertiPUR label which means that there are no harmful chemicals found in these mattresses. The image below shows the inside of the Luxe mattress.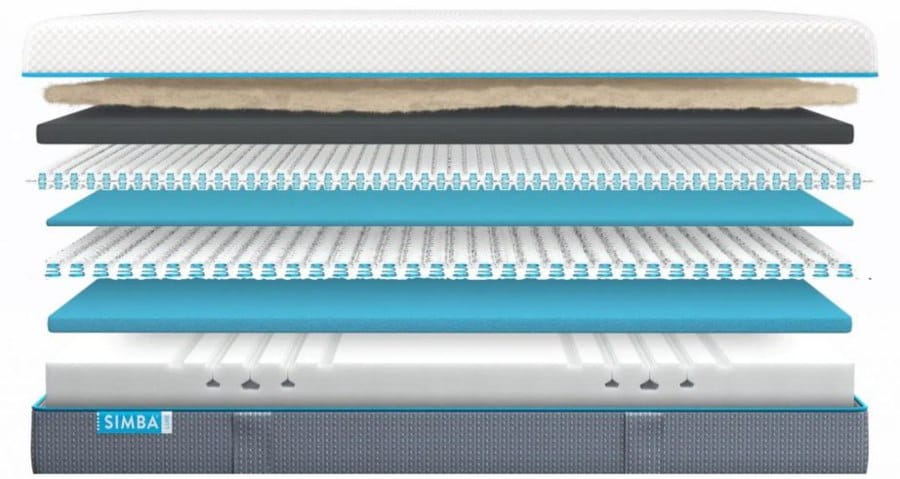 What is the cover made of?
The cover of this mattress is made of a knitted fabric that is designed to stay cool during the night. It's a breathable fabric that is hypoallergenic so if you suffer from allergies, this can be a good option for you. The cover features a modern design with the upper part being white and the bottom part being grey. The upper part is removable and you can use your washing machine to clean it. On the sides, they have added 8 handles that will help you move it when needed. This is practical thinking and I am glad they added this feature here. The cover feels soft and it has a premium look. Overall, they did a great job here so no complaints at all.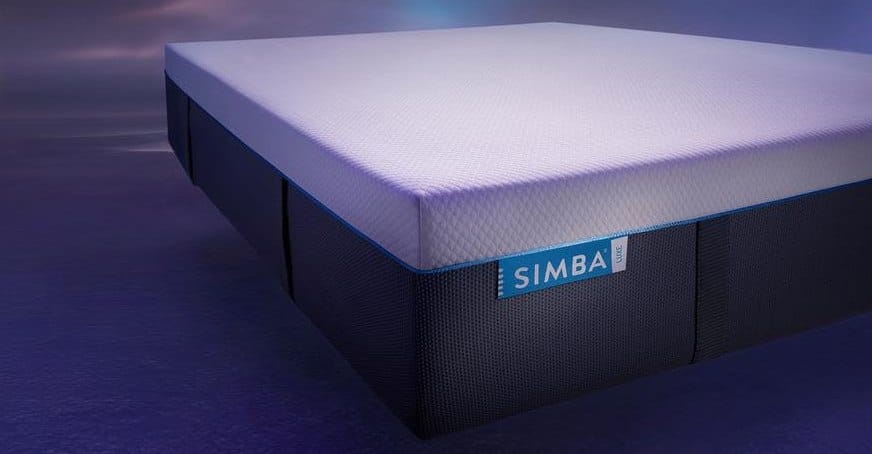 Is the Simba Luxe a firm mattress?
It's time to continue with this Simba Luxe mattress review and talk about its feel. When designing this mattress, they wanted to create one that will suit every type of sleeper. For this reason, it comes with a medium-firm feel and if I use my virtual scale here, I would say it's a 6.6 with 10 being really firm. Let's see now how it performed in the different sleeping positions.

Starting from the back position, pressure relief was great and I instantly felt well-supported. I could tell this was a premium mattress as it was really comfortable and reminded me of the mattresses in 5-star hotels.
Turning to the side position, sinkage increased and that helped with my spine alignment. The zoned system did a good job with my weight distribution and I felt well-supported. The mattress didn't cause any pain in my hip area and it was very comfortable in this position.
Finally, moving to the stomach position, the Luxe mattress did a good job supporting my hips and shoulders and helped my spine have a good alignment. This happened despite being a medium-firm mattress and this was impressive. Pressure relief was great and overall, the mattress will suit all sleeping positions.
If you sleep with a partner, the mattress has excellent edge support and the mini-springs won't cause partner disturbance. That means it's a good option for couples.
What type of bed to use with this mattress?
The Simba Luxe is a versatile mattress so you can place it on any flat surface. I personally use a slatted frame simply because it allows airflow which is quite important for me. Besides that, you can also use a divan bed or any other frame type. I don't advise you to use your floor as it's not very hygienic and you will need to air your mattress very frequently.
Will I pay for my delivery?
All Simba mattresses come with free delivery for UK postcodes. They offer a number of options including weekend delivery which will cost you an extra £20. The Simba Luxe mattress will be delivered inside a carton box and you should expect it within 3 working days. In my case, it was only 2 and I remind you that I live in London. My experience was great and I was informed about my delivery slot via SMS. Overall, Simba offers a great delivery service so no complaints at all.
Does the Simba Luxe come with a trial period?
If you feel nervous about buying a mattress online, Simba is here to help you. They offer a 200-night trial period that will give you more than 6 months to try this mattress and decide later whether you want to keep it or not. If for any reason you are not happy with it, you can return it for free and get a full refund. The process is simple and you don't have to keep the original packaging to be able to complete your return. Besides that, they also offer a 10-year guarantee which is the standard these days. Overall, this is a competitive package and Simba does a great job here.

How much does it cost?
This mattress is available in 6 sizes so you will probably find the one that suits your needs. The smaller (Single) sells for £1,579 with the bigger (Super King) going for £2,749. However, they run frequent promotions so most likely, you will pay less than that. The following table has pricing information for all available sizes.
| | | |
| --- | --- | --- |
| SIZE | DIMENSIONS | PRICE |
| Single | 90 x 190 x 31cm | £1,579 |
| Small Double | 120 x 190 x 31cm | £2,299 |
| Double | 135 x 190 x 31cm | £2,299 |
| King | 150 x 200 x 31cm | £2,399 |
| EU Queen | 160 x 200 x 31cm | £2,499 |
| Super King | 180 x 200 x 31cm | £2,749 |
Is the Simba Luxe mattress any good?
It's time now to complete this Simba Luxe mattress review and share my final thoughts about it. I think that this would be a good option for anyone looking for:
A premium mattress made with high-quality materials
A hybrid mattress that is designed for all sleeping positions.
A mattress that sleeps cool and comes with a 200-night trial period.
If you look for all these, the Simba Luxe can be a great choice. It's definitely not the cheapest in the market but is fairly priced and it's definitely an upgrade from the Pro model. If you have the budget for it, this is a mattress I would recommend to you.
Simba Luxe Mattress Review
PROS
Excellent materials
Great for all sleeping positions
Fantastic cooling system
CONS
Only 1 EU size available