If you look for a comfortable mattress that is fairly priced, you should read my Simba Simbatex mattress review. This is the first release from the Simba brand that doesn't feature springs so I was really curious to try this out.
The engineers at Simba developed a new type of foam (Simbatex) that is 30 times more breathable when compared to regular memory foam. This mattress is based on this technology and it's a very interesting one. I decided to order mine almost a month ago so let's move now to the full review below.
What is the Simbatex mattress made of?
This mattress is made of 3 layers plus the cover. In detail, these are:
A Simbatex comfort layer that has the ability to draw heat away from your body. This super-breathable material is the first comfort layer of this mattress.
A Simba-Response foam layer that can provide your body with the needed support. It features an open-cell structure that allows airflow.
A high-density foam base that features a zoned system. This allows the mattress to provide sensitive areas like your hips and shoulders with tailored support.
The Simbatex mattress comes with a medium profile (25cm) and the image below shows us the position of each layer. All foams used here are CertiPUR certified which means that they contain no harmful substances.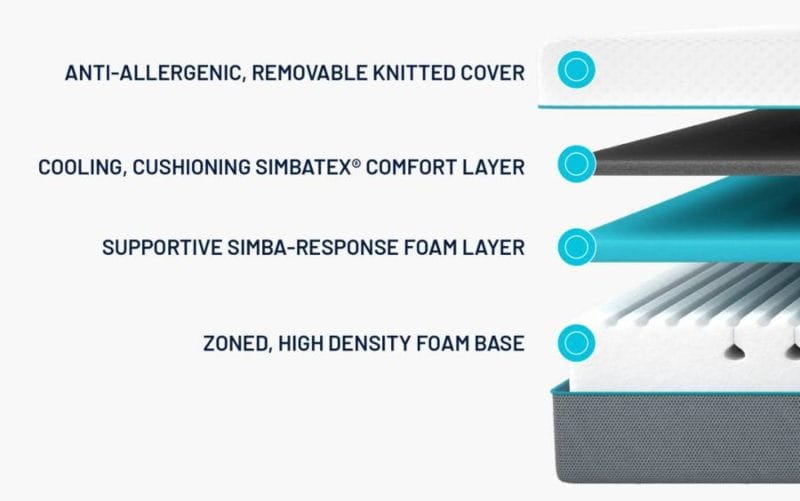 Does it come with a good cover?
This mattress comes with a knitted cover that is both durable and breathable. It's the same one they use for most of their other mattresses and in my opinion, it's a great one. This cover is well-built and it has a soft touch. It features a modern design that has a 2-tone colourway. The upper part is white and the bottom part is grey. On the sides, the engineers at Simba have added 4 side handles that allow you to move it with ease. An antislip surface will keep this mattress in place and if you want to clean it, you can machine-wash it at 40 degrees. Overall, this is a high-quality cover that combines style with practicality.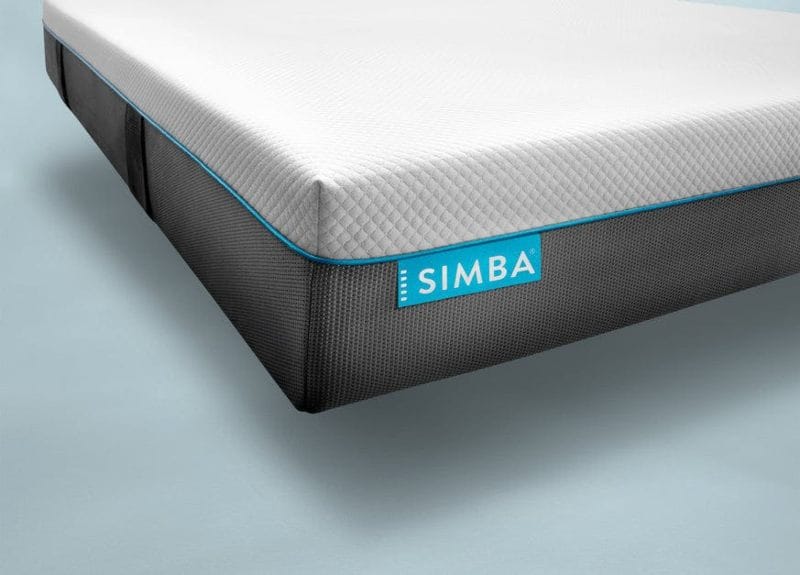 Is this a firm mattress?
This is the question in everyone's head so I will answer it while continuing to write this Simba Simbatex mattress review. Like most boxed mattresses, this one is designed to suit the average sleeper so it comes with a medium-firm feel. On my virtual scale, it would be a 6.6 with 10 being really firm. I would like now to talk about my experience with it and its performance over the past 3 weeks.

Starting from the back position, the foam layers adjusted quickly and my hips and shoulders were well supported. The zoned system did a good job and my weight was distributed evenly. This is important, especially for bigger guys like myself.
Turning to the side position, I felt that the mattress allowed my spine to align properly and that pleasantly surprised me. After all, only a few foam-only mattresses have achieved that. Pressure relief was great and I felt comfortable sleeping this way.
Finally, turning to the stomach position, the sleeping surface had a nice feel which promoted a healthy spinal alignment. Support was great and overall, I felt that the Simbatex mattress did well in every sleeping position. This by itself is an important achievement and the people at Simba managed to build a great all-rounder here.
As you expect, the foam-only construction means that the motion transfer is minimal. This makes this mattress an ideal choice for couples. On the other hand, the edge support is average but this is something I expected from a mattress of this kind.
Will I get free delivery?
If you decide to buy the Simbatex mattress, you will get free delivery that usually takes between 3-7 working days. The main thing I need to mention is the fact that the people at Simba offer a carbon-neutral delivery. This is a great initiative here and hopefully, more mattress brands will follow their lead. In my case, I only waited for 3 days before the courier delivered my mattress. I received a text with my delivery slot and the overall process was very straightforward. The delivery guy was very polite and overall, I had a positive experience with this purchase.
Can I try this mattress before I buy it?
Many people hesitate to buy a mattress online because they feel they should try it first. If you fall into this category, I have great news for you. This Simba mattress comes with a 200-night trial period that gives you plenty of time to try it before you decide whether you want to keep it or not. If for any reason you feel that this is not a good match for you, you can return it and get your money back. Moreover, every Simba mattress comes with a 10-year guarantee that shows how much they value their customers. To learn more about it, visit their guarantee page. Overall, Simba offers a fantastic package here so this is an extra reason to buy this mattress.
How much will it cost me?
The Simbatex mattress is available in 5 sizes and is relatively affordable. The smaller size (Single) will cost you £679 while the bigger one (Super King) goes for £999. Of course, don't expect to pay the full price here as Simba is a maker that runs frequent promotions. For instance, at the moment of writing this review, a Double mattress would only cost you around £440! The table below has pricing information for all available sizes.
| | | |
| --- | --- | --- |
| SIZE | DIMENSIONS | PRICE |
| Single | 90 x 190 x 25cm | £679 |
| Small Double | 120 x 190 x 25cm | £799 |
| Double | 135 x 190 x 25cm | £799 |
| King | 150 x 200 x 25cm | £899 |
| Super King | 180 x 200 x 25cm | £999 |
Is this a mattress I should buy?
I am almost ready to complete this Simba Simbatex mattress review and of course, I will answer this question. In my opinion, this would be a great option for anyone looking for:
A foam-only mattress that is great for all sleeping positions.
A fairly-priced mattress that sleeps cool.
A mattress that comes with a 200-night trial period.
If you look for an option that has all of the above, the Simbatex mattress can be a choice to consider. This great all-rounder is built with high-quality materials and it comes with a price tag that makes it available to most people. Simba did a great job here and this is a mattress that I can definitely recommend.
Simba Simbatex Mattress Review
PROS
Will suit every sleeping position
Good cooling system
200-night trial period