After reviewing most of the boxed mattresses that exist in the UK, I decided it was about time to look at some more traditional options. In this Millbrook Wool mattress review, I will talk about this British-made mattress that seems quite interesting.
Millbrook was founded back in 1946 when Walter Croll opened his bedding workshop in the Millbrook area of Southampton. Since then, the company has come a long way and the brand is now well-established in the UK. As I have already mentioned above, this is not a rolled mattress so it won't come packed in a box. I got mine about a month ago, so let's move now to the full review below.
What is a Millbrook Wool mattress made of?
The Millbrook Wool mattress is a pocket-sprung mattress and it has a straightforward design.
Top Layer: A Hampshire fleece wool layer which is there to add extra comfort. It's naturally breathable so the mattress will stay cool during the night. This type of wool is very premium and it gives a luxurious character to this mattress.
Middle Layer: A double layer made of 4,000 pocket springs which makes it one of the highest pocket spring counts in the market. The springs will provide your body with the needed support but they will also add some comfort.
Bottom Layer: Another layer of Hampshire fleece wool which works in the same way as the top one.
The mattress measures 28cm in height so you should expect a really thick one. It's double-sided so you should flip it regularly.
What is the cover made of?
To make the cover of this mattress, they used a soft-touch cotton-viscose fabric. It's a high-quality material that gives a premium character to this mattress. The cover is also infused with M-Pure which is a 100% natural treatment that makes it naturally fire-resistant without the use of harsh chemicals. This is great and it shows that the people at Millbrook respect their customers. On the sides, you will find 8 turning handles which are very useful when you want to move or flip it. The cover is not removable so if you want to clean it, you should do so using a mild detergent. Spot-cleaning is what the maker advises. Overall, it's a nice cover and I like what they did here.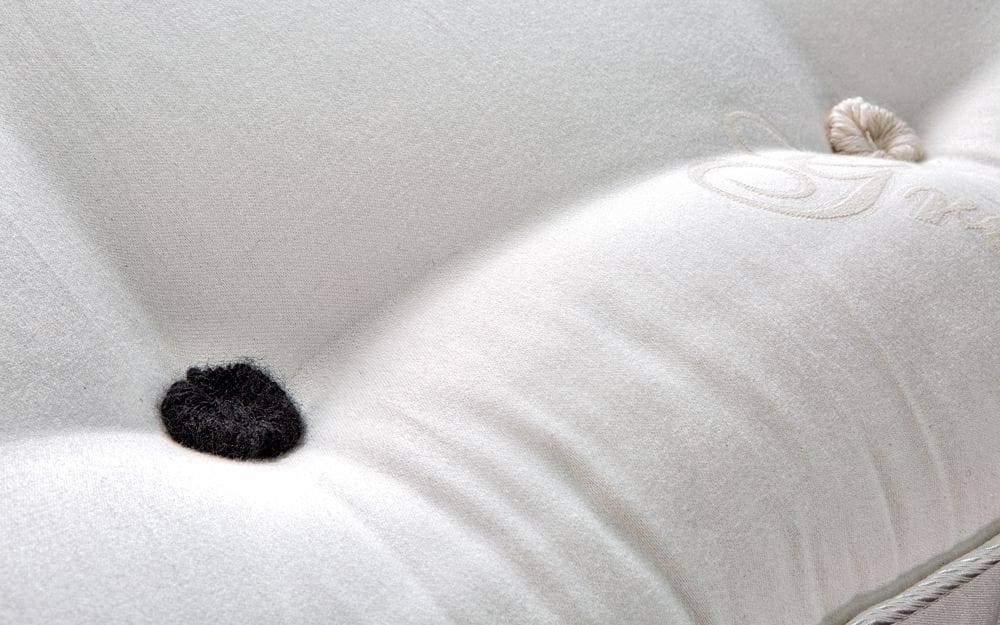 How firm is the Millbrook Wool mattress?
The Millbrook Wool mattress is designed to suit the average sleeper so it comes with a medium-firm feel. If I use my virtual scale here, I would say it's a 6.7 with 10 being really firm. I would like now to talk about the different sleeping positions and how this mattress performed.

Starting from the back position, the pocket springs adjusted quickly to my body's weight and I felt well-supported. The wool layer provided me with some pressure relief but I think memory foam would do a better job here. I was comfortable in this position and my spine was aligned properly.
Turning to the side position, the springs adjusted quickly and sinkage increased. It was comfortable sleeping in this position and the mattress supported my hips and shoulders. Moreover, I felt that my spine was aligned properly which is very important.
Finally, moving to the stomach position, the mattress supported my hips and shoulders and I felt that the mattress was firm enough for me. My spine was aligned correctly and I felt that it was comfortable in this position. Overall, I think that this mattress will suit combo sleepers as it did a good job in all sleeping positions.
If you share the bed with a partner you need to know that the Millbrook Wool mattress has excellent edge support. The pocket springs and the edge reinforcement are responsible for this so you will get the same performance across all 4 corners. However, you should expect some motion transfer but nothing that will worry you too much.
What type of bed to use with this mattress?
You can place the Millbrook Wool mattress on any flat surface. Having said that, I advise you to use a slatted bed frame, a box spring or an ottoman bed. If you use a slatted frame, make sure the distance between each slat is not longer than 7cm.
How will it be delivered?
The Millbrook mattress comes with free next-day delivery for all sizes. In addition, you can also upgrade for free to get a Two-man delivery service. This is a great offer, especially if you consider the weight of this mattress which is on the heavy side. As I have already mentioned, this is not a boxed mattress so it won't come rolled in a box. The whole service was great and I received good communication from Mattress Online, the retailer that I bought it from. The courier was polite and on time so I don't have any complaints here.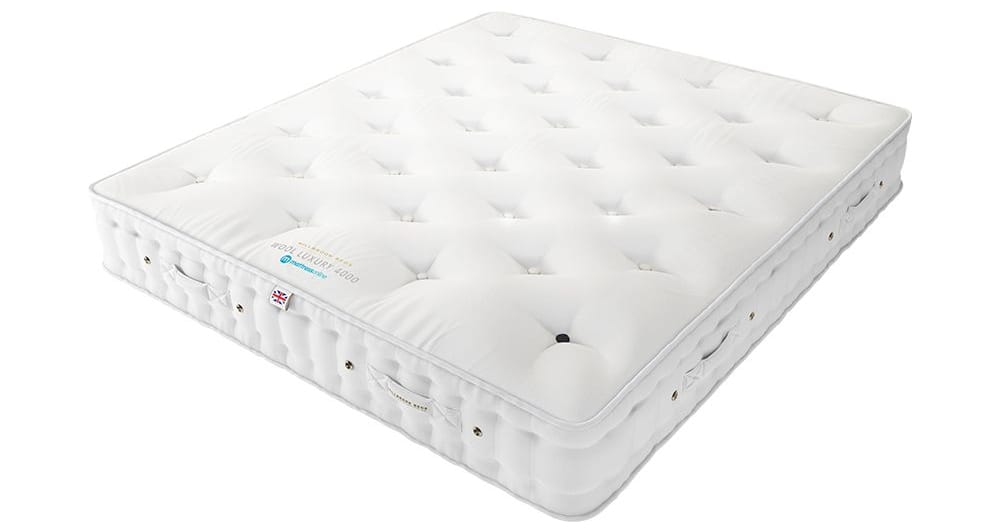 Does the Millbrook Wool come with a trial period?
When you buy this mattress, you will get a 60-night trial period which is great! I was actually very surprised to see this from a traditional maker like Millbrook. This will give you exactly 2 months to try it and you can decide later whether you want to keep it or not. If for any reason you are not happy with your mattress, you can swap it for any other Millbrook mattress of your choice. Besides that, you will also get a 10-year guarantee which will cover you for a long time. This is what you usually get when you buy a boxed mattress so it's clear that Millbrook wanted to match this. Overall, they offer a complete package here so no complaints at all.
How much does it cost?
The Millbrook Wool mattress is a premium option so it's not the cheapest in the market. Having said that, at the moment of writing, Mattress Online offered it with a 45% discount so if you are patient you can get a good price for it. The smaller size (Single) starts at £720 with the bigger Super King going for £1,350. The table below has pricing information for all available sizes.
| | | |
| --- | --- | --- |
| SIZE | DIMENSIONS | PRICE |
| Single | 90 x 190 x 28cm | £720 |
| Small Double | 120 x 190 x 28cm | £978 |
| Double | 135 x 190 x 28cm | £978 |
| King | 150 x 200 x 28cm | £1,113 |
| EU King | 160 x 200 x 28cm | £1,250 |
| Super King | 180 x 200 x 28cm | £1,350 |
| Superking Zip and Link | 180 x 200 x 28cm | £1,800 |
Is the Millbrook Wool mattress any good?
This is the question that everyone must have at the end of this Millbrook Wool mattress review. In my opinion, this mattress would be great for those looking for:
A pocket-sprung mattress that is designed for all sleeping positions.
A premium mattress that is handcrafted in the UK by a maker with great history.
A supportive mattress that comes with great service.
The Millbrook Wool mattress is not only about specs. It's more about tradition and excellent craftsmanship, so if you look to get a mattress from one of Britain's best makers, this one should be high on your list. It's a well-balanced mattress that will improve the way you sleep.
Millbrook Wool Luxury 4000 Pocket Mattress Review
PROS
High-quality materials
Very Supportive
60-night trial period
CONS
Not the cheapest in the market