More and more American brands arrive in the British market and this is good news for all of us! The most recent entry is DreamCloud which is part of the Resident umbrella, a company that also makes the Nectar mattress. I was really excited to try this new option so find below my full DreamCloud mattress review.
As you expect, this is a mattress in a box so it will come packed in a carton box. All DreamCloud mattresses are designed in the US but they are manufactured here in the UK. The mattress comes with limited off-gassing and any odour will leave after a day. Let's move now to the full review below.
57% OFF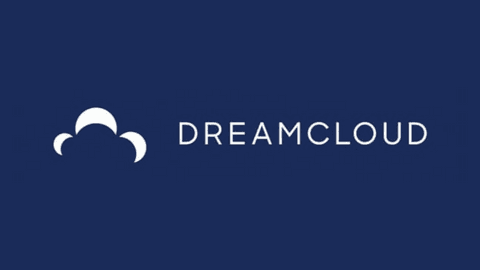 DreamCloud Mattress
Up to 57% off mattresses at DreamCloud
Up to 57% off mattresses at DreamCloud
Show Less
What is a DreamCloud mattress made of?
The DreamCloud mattress features 4 layers plus the cover. In detail, these are:
Top Layer: A 'Dream Plush' memory foam layer which is there to provide your body with the needed pressure relief and support.
Middle Layer: A support foam layer which is there to help the parts of your body that need the most support.
Middle Layer: A layer made of 15cm premium pocket springs which are designed to minimise motion transfer and provide support.
Bottom Layer: A base foam layer which keeps the mattress altogether. It provides support and absorbs motion.
The total height of the mattress is 29cm. Moreover, all foams used in this mattress are CertiPUR® certified. That means that they contain no mercury, lead or other heavy metals. They also emit low levels of VOC (Volatile Organic Compound). The image below showcases how each layer is positioned.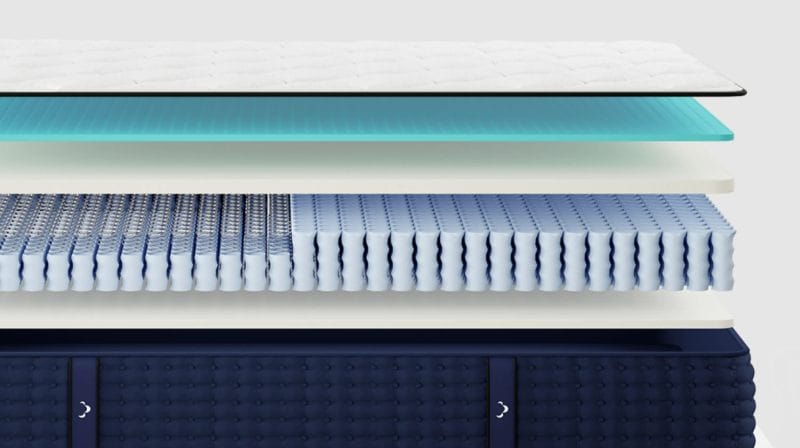 What is the cover made of?
The cover of this mattress is an interesting one. It features a quilted top which is made of two separate types of foam. These are quite soft in order to provide you with this extra comfort during sleep. Around them, there is the outer cover which is made of cashmere, rayon and polyester. This combination gives the DreamCloud mattress a premium look and feel. The cover is very breathable which helps the mattress sleep cool.
Unfortunately, the cover is not removable so if it gets dirty, you can only spot-clean it with a mild detergent. On the sides, they have added handles which will help you if you want to move it. This is a practical feature that I love. The design looks very classy and I think it's geared towards people that are in their forties and above. Overall, I liked the cover and I think they did a good job here.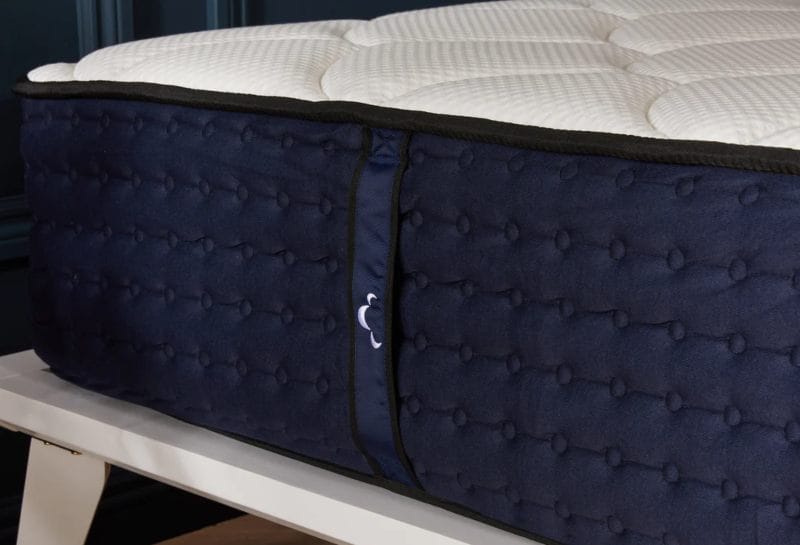 How firm is the DreamCloud mattress?
The Dreamcloud mattress is designed to suit the average sleeper so it comes with a medium-firm feel. If I use my virtual scale here, I would say this is a 6.5 with 10 being really firm. Let's talk now about the different sleeping positions and how this mattress performed.

Starting from the back position, the memory foam layers hugged my hips and shoulders. At the same time, the pocket springs provided my body with the needed support and the mattress had this floating feeling that many people love. I was very comfortable in this position.
Turning to the side position, the springs adjusted to my weight and sinkage increased. The mattress did a good job and my spine was properly aligned. Support was adequate and I felt that the pressure relief was good, especially in the areas where I most needed it.
Finally, moving to the stomach position the mattress felt slightly softer than I would like it to be. However, I didn't feel that it didn't support me enough. I remind you that I weigh around 15 stones which is an important factor here. Overall, I think that the DreamCloud mattress is a good all-rounder and I was really impressed by it.
Another strength of this mattress is its excellent edge support. To be honest, I expected this from such a well-built mattress. If you share your bed with a partner, this mattress has minimal motion transfer which makes it a good option for couples.
What type of bed to use with this mattress?
The mattress can be used with any type of bed including adjustable frames. You can also use this mattress with a slatted frame or a divan bed. If you use slats you should always remember the golden rule; no more than 6cm between each slat.
How will it be delivered?
It's already mentioned above that the DreamCloud mattress is a boxed mattress so expect it rolled and packed in a carton box. They offer a free 2-man delivery service which is amazing! The mattress will be delivered to the room of your choice but set up is not included in their service. Delivery usually takes between 3-7 days depending on your postcode. If you want your old mattress removed, DreamCloud offers a removal service that will cost you an extra £35 and you can choose this option during checkout.
My mattress arrived within 4 days of placing my order and I received good communication from them. The couriers were polite and the delivery process was straightforward. Overall, I think that they offer a great package here so no complaints at all.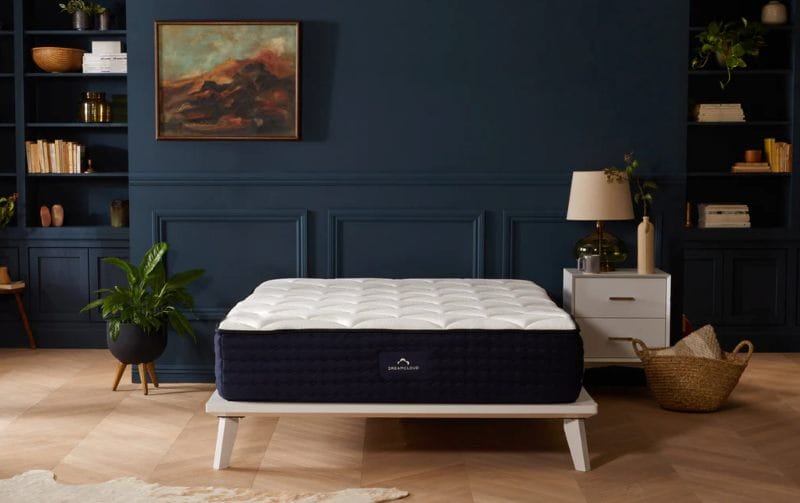 Does the DreamCloud mattress come with a trial period?
One of the most impressive things about this mattress is the fact that it comes with a lifetime guarantee. Yes I mean that and this is not a typo. That makes it the second mattress, besides Nectar, that comes with this feature and of course, it makes sense since they share the same parent company.
Besides that, you will also get a 365-night trial period which gives you a whole year to try this mattress and decide later if you want to keep it or not. This is also very impressive and it differentiates this mattress from the competition. If you are not happy with your purchase, you can return your mattress and ask for a full refund. The process is not complicated and they will arrange everything for you. Overall, this is the best package in the market and it's definitely one of the main reasons you should get this mattress.
How much does it cost?
The DreamCloud mattress is available in 4 sizes, only UK ones. This is not great and I hope they add more sizes in the near future. The smaller size (Single) sells for £1,099 and the bigger (King) one goes for £1,559. However, they run promotions all the time so make sure you check my Voucher Code page for big savings. At the moment of writing, they offer 50% off for new customers. The table below has pricing information for all available sizes.
| | | |
| --- | --- | --- |
| SIZE | DIMENSIONS | PRICE |
| Single | 90 x 190 x 29cm | £1,099 |
| Double | 135 x 190 x 29cm | £1,349 |
| King | 150 x 200 x 29cm | £1,449 |
| Super King | 180 x 200 x 29cm | £1,559 |
Is the DreamCloud mattress any good?
This is always a tough question but I guess I have to answer it now that I complete this DreamCloud mattress review. I think that this is a good option for anyone looking for:
A hybrid mattress that has this floating feeling and it's good for all sleeping positions.
A mattress that is designed with couples in mind.
A boxed mattress that comes with excellent service and support.
The DreamCloud mattress is definitely one of the most complete packages on the market. Of course, it's not the most affordable one but this is the price of quality. It's a well-built mattress that is designed for all types of sleepers. If you have the budget for it, it's a no-brainer!
57% OFF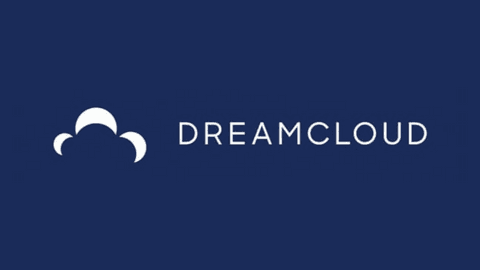 DreamCloud Mattress
Up to 57% off mattresses at DreamCloud
Up to 57% off mattresses at DreamCloud
Show Less
DreamCloud Mattress Review UK
PROS
Extremely comfortable
Amazing materials
Great service and support