If you look for absolute luxury, you should definitely read my Brook and Wilde Perla mattress review. After launching three premium mattresses, the people at Brook & Wilde decided that there was still room for improvement! This is how the Perla mattress was born and features some really impressive specs.
This is another hybrid option that is available in three firmness profiles; soft, medium and firm. Due to its complex construction, this is a made-to-order mattress so if you decide to go for it, you should be prepared to wait for up to 12 weeks. This is fair and if you want a mattress sooner, you should probably look elsewhere. For example, the Brook and Wilde Elite mattress has a shorter delivery time and it's a great choice. It's time now to move to the full review below.
65% OFF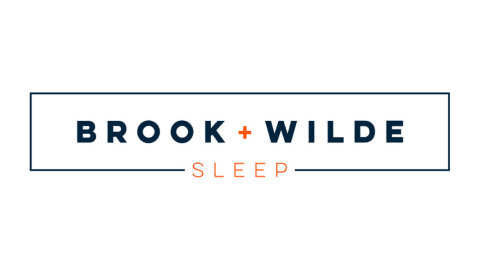 Brook + Wilde Sleep
65% off the Lux mattress only at Brook + Wilde
65% off the Lux mattress only at Brook + Wilde
Show Less
What is this mattress made of?
One of the most impressive things about this mattress is the number of layers that they have used to make it. To be more precise, you will find 11 layers plus the cover. In detail, these are:
A cashmere-rich wool layer that adds a luxurious feel to this mattress.
A natural comfort layer that is made of a blend made with cashmere, alpaca, bamboo and new wool.
An airstream memory wool layer that is designed to allow airflow and adds comfort.
A layer made of 1,000 pocket springs. These are designed to provide your body with the needed support.
Another airstream memory wool layer that has the same properties as the above one.
A lumbar support layer that does what it promises.
An encapsulated layer that adds sturdiness and provides structure.
A 2,000 micro-springs layer that helps with comfort but also adds bounce.
A 2,000 pocket-springs layer that will provide your body with support and higher levels of pushback.
Another 2,000 micro-springs layer that works in the same way as the one above.
A high-density layer that is essentially the foundation of this mattress.
The Perla mattress has a high profile and measures 32cm in height. The image below shows us some of the components that they have used to make this mattress.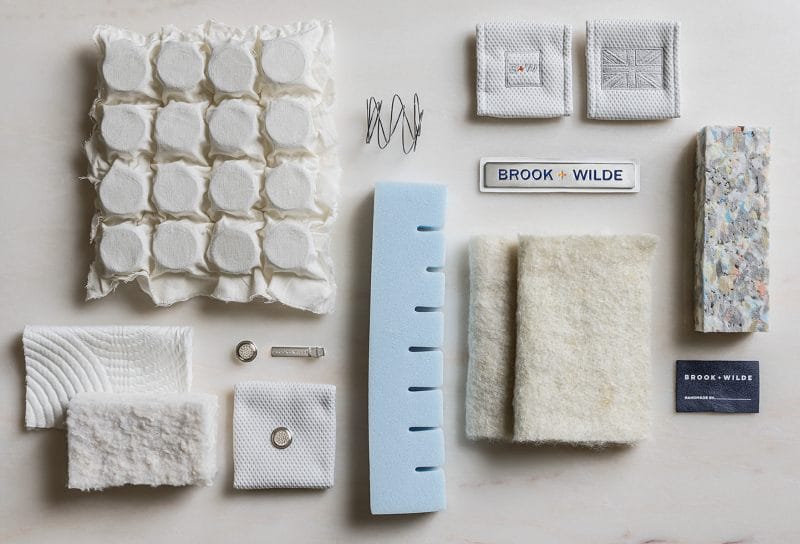 Is this a good cover?
One of the truly unique things about this mattress is its cover. During the design process, the people at Brook and Wilde wanted to give a luxurious feel so they decided to knit this cover with natural silk. This is something we don't see frequently. They went with silk because it's a premium material but also has cooling properties. Besides that, there are small vents on the sides which increase airflow so the sleeping surface will stay cool during the night.
The design of the cover is a really nice one and they chose a colourway that looks really premium. Even the Brook and Wilde logo has a metal finish and that shows the amount of attention to detail that has been put on this mattress. On the sides, you will find 4 handles that will help you move it around. These are very helpful as this is a quite heavy mattress. At the bottom, there is an anti-slip base that will keep the mattress in place. This is practical thinking and personally, I didn't expect any less from such a maker. Overall, this is a fantastic cover that checks all the boxes.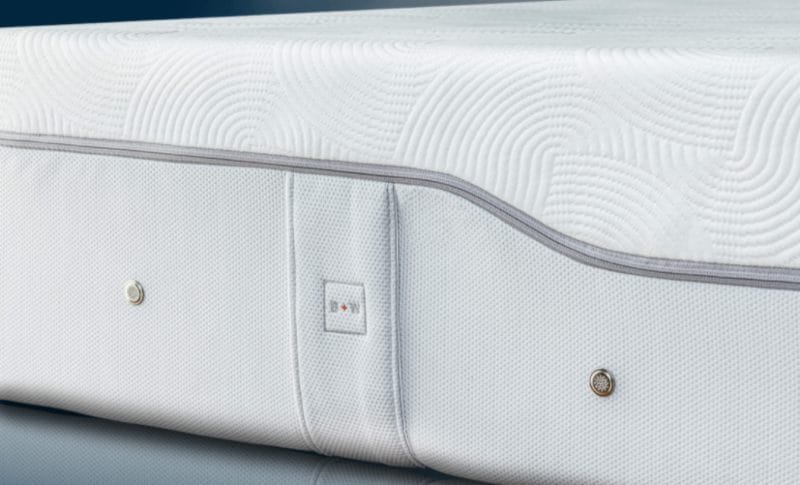 How does the Perla mattress feel?
Let's continue now with this Brook and Wilde Perla mattress review and discuss its feel. This mattress is available in 3 firmness profiles: soft, medium and firm. All of them cost the same so you can decide to buy whatever one fits better your needs. For example, if you are on the heavier side, you should probably avoid the soft option and if you have a bad back, you are probably better off with the firm profile. With that said, this mattress is well built so it will suit most body types and all sleeping positions. Brook and Wilde created a great all-rounder here that will suit even the most demanding customers.
What type of bed can I use this mattress?
If you decide to spend all this money on such a mattress, you should definitely have a high-quality bed frame that is able to support it. I personally use a slatted frame as it allows airflow and it's more hygienic. However, you can also use a divan bed that can provide your mattress with excellent support. If you are in the market for a new bed, you should definitely have a look at their website as they have a complete bedding range.
Does this mattress come with free delivery?
If you buy a Brook and Wilde Perla mattress, you will get free premium delivery. That means that your mattress will be delivered and unboxed by 2 men in the room of your choice. This is expected for such a mattress and the people at Brook and Wilde seem to understand that. As I have mentioned above, this is a made-to-order mattress so it will be delivered within 8-12 weeks from the time you place your order. My experience with them was great so you should also expect good service from them.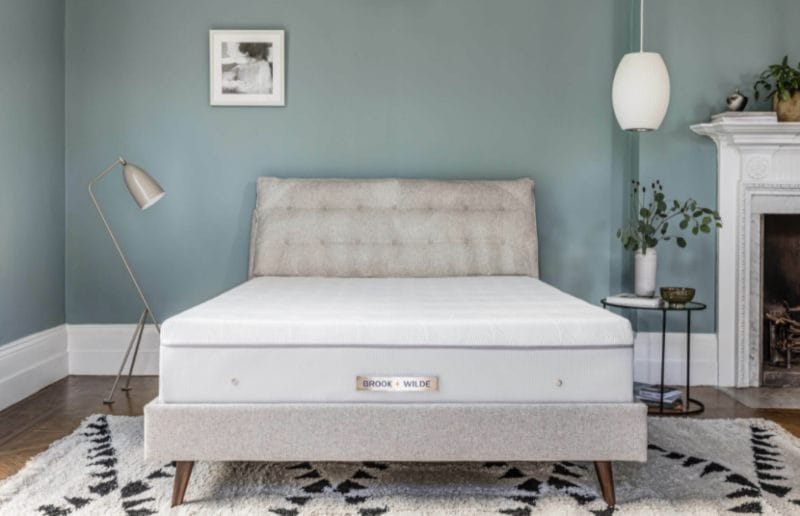 Can I try it first?
All Brook and Wilde mattresses come with a 200-night trial period so you have more than 6 months to try this mattress and decide later whether you want to keep it or not. If you are not happy with it, you will be given two options. The first one is to return it and ask for a full refund. The second one is to ask for a comfort level change. This is advised when you are happy with your mattress but you feel that another firmness profile would better suit you. In that case, you can go for a softer or firmer option.
Besides that, you will also get a 10-year guarantee that will cover you for a really long time. That shows how much they value their customers. If you want to know more details about it, you should visit their guarantee page. Overall, this is a complete package so no complaints at all.
How much will I pay for it?
The Perla mattress is available in 3 sizes and that is something I expected from a mattress of this kind. The smaller size (Double) will cost you £3,599 while the bigger (Super King) goes for £4,199. However, they run frequent promotions so you will pay less than that. Make sure you visit our voucher code page for the latest offers. The table below has pricing information for all available sizes.
| | | |
| --- | --- | --- |
| SIZE | DIMENSIONS | PRICE |
| Double | 135 x 190 x 32cm | £3,599 |
| King | 150 x 200 x 32cm | £3,899 |
| Super King | 180 x 200 x 32cm | £4,199 |
Should I buy the Perla mattress?
It's time now to complete this Brook and Wilde Perla mattress review and share my final thoughts with you. I think that this mattress would be great for those looking for:
A proper premium mattress that is built with amazing materials.
A hybrid mattress that is designed for all sleeping positions.
A mattress that comes with excellent service and support.
If you look for all these and you have the budget then the Perla mattress is an excellent choice. Brook and Wilde managed to create a truly unique thing here that definitely deserves all the attention. Of course, this is not for everyone but if you can afford it, you should go for it.
65% OFF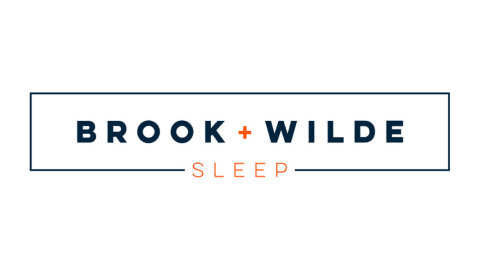 Brook + Wilde Sleep
65% off the Lux mattress only at Brook + Wilde
65% off the Lux mattress only at Brook + Wilde
Show Less
Brook and Wilde Perla Mattress Review
PROS
Amazing materials
Good for all sleeping positions
Excellent service and support
CONS
Delivery time is long