If you are looking for a cervical pillow, you are at the right place. In this Zamat Butterfly Button Shaped pillow review, I discuss whether this solution can help you alleviate neck pain. For those who have never heard of this brand, Zamat is a maker that specializes in orthopaedic pillows. It was founded in 2017 and since then they have seen great success operating in several countries.
After seeing an advertisement online, I decided to give it a go. All Zamat pillows come with a 100-night trial period so this is a risk-free purchase. After waiting for about a week, my pillow arrived so it's time now to move to the full review below.
Construction
As expected with such a name, this pillow has a "butterfly' shape. The engineers at Zamat decided to go for this design in order to give sleepers more options. For example, you will find side foam panels and armrests, where you can rest your arms during sleep. This is a clever design and it's easy to understand that there was a lot of thinking during the design process.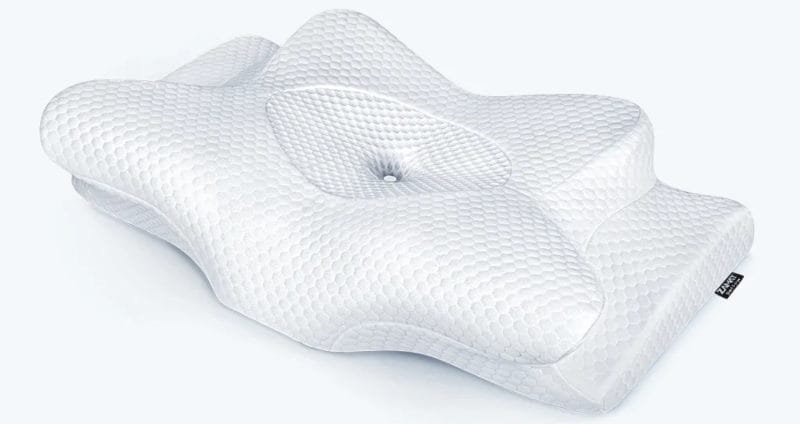 The core of the pillow is made of premium memory foam that is CertiPUR-US certified. That means that you shouldn't worry about any harmful substances including mercury and lead. The memory foam used here is designed to stay cool during the night but it's not the best I have seen. I feel that during the summer months, this pillow might feel too hot. At the bottom, there is a foam layer that can be removed and allows you to adjust the loft of this pillow. This is great but more on that later. The finish is a nice one and overall, this is a well-made pillow.
Cover
The cover of this Zamat pillow is made of 100% polyester. They chose this material for its durability but also because it's very breathable. The cover has a nice texture and it's available in 2 colourways. I decided to get the pure white one but there is also a blue one. The good news is that this cover is removable and machine-washable so it's easy to clean. The sleeping surface feels soft and the cover has a good fit. The latter is very important, especially for an adjustable pillow like this one. Overall, this is a good-quality cover that is a good addition to this pillow.
Support
The main reason to get a cervical pillow is to improve your posture and reduce neck pain. The Zamat Butterfly pillow tries to address that and after a week of using it, I must say it did a pretty good job with my neck ache. Having said that, it took me 2 nights before I fully understood how to use it properly so my advice is to give it time. If you are a stomach sleeper, like me, I would advise you to remove the foam layer so the loft is not that high. If you don't, then the pillow can feel a little uncomfortable in the stomach position. If you are a side or back sleeper, the initial setup should be good for you but you always have the option to remove or add an extra layer.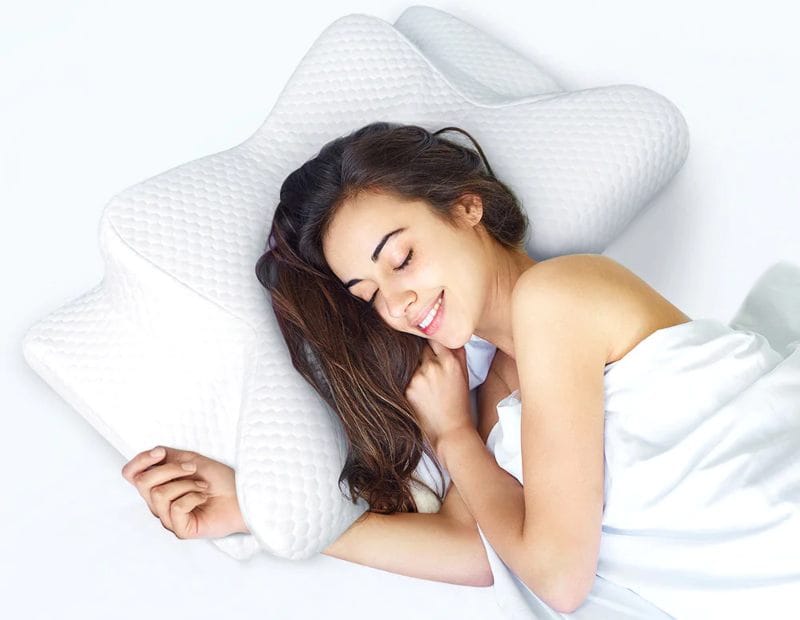 The memory foam core has excellent pressure-relieving properties and my neck felt well-rested every morning. My ache was not as severe as before but I feel that you need to use this pillow for some time before you have great results. One thing I need to mention here is that if you like sleeping with your arms under the pillow then you should probably look elsewhere. Having said that, this is the only position in which the Zamat pillow didn't do a good job and overall, I felt that this is a versatile option.
Should I buy this pillow?
This is a difficult question to answer but I will do my best since I am ready to complete this Zamat Butterfly Button Shaped pillow review. I think that this pillow would be a good option for those looking for:
A cervical pillow that will improve posture.
A memory foam pillow that is ideal for neck pain.
A pillow that comes with a 100-night trial period.
If what you look for is a solution to your chronic neck pain, this is a pillow that deserves a try. Zamat managed to build a unique product that can help you get better sleep. At this price and with a trial period, this is an option that I can recommend.
Zamat Butterfly Button Shaped Pillow Review
PROS
Innovative design
Pressure-relieving memory foam
100-night trial period
CONS
Not the fastest delivery