Simba is one of the most established brands in the UK and the Simba Hybrid is a great bestseller. However, the people at Simba thought that there was room for improvement so they decided to expand their range. In this Simba Hybrid Pro mattress review, I will talk about this new option and whether it's one you should consider.
Just like its name suggests, the Hybrid Pro is an improved version of the Simba Hybrid so you should expect some unique features here but I will talk about this later. All Simba mattresses are manufactured here in the UK and are delivered and packed in a carton box. It's time now to move to the full review below.
What is a Simba Hybrid Pro mattress made of?
The Simba Pro Hybrid mattress is made of a total of 5 layers plus the cover. In detail, these are:
Top Layer: A natural wool layer which is there to regulate your body's heat. It also has the ability to wick moisture away.
Middle Layer: An open-cell Simbatex foam layer which will provide your body with the needed pressure relief. It's enriched with graphite which helps it to stay cool during the night.
Middle Layer: A layer made of 5,000 25mm conical pocket springs. They are there to support your body.
Middle Layer: An HD foam layer which adds enhanced edge support.
Bottom Layer: A support base foam layer which keeps the mattress altogether. It features a zone system which supports demanding areas of your body like your hips and shoulders.
The Simba Hybrid Pro measures 28cm in height and the image below showcases the position of each layer.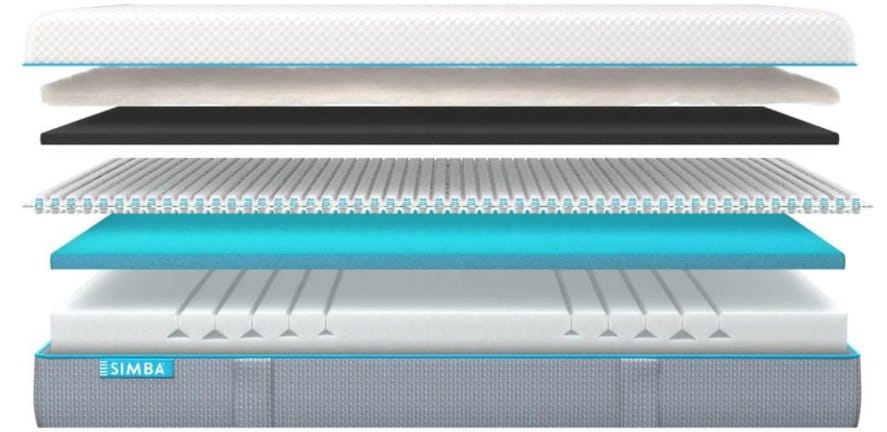 What is the cover made of?
The cover of this mattress is made of 100% polyester. This knitted sleeping surface is very soft and breathable. One advantage of polyester is that it's a strong material that it's quite easy to maintain. If you want to clean it, you can machine wash it at 40 degrees. The design of the cover is a contemporary one and it features a two-tone scheme. The upper one is white and the bottom one is light grey. On the sides of the cover, you will find 4 handles which are helpful when you want to move your mattress. This is practical thinking and it's great when makers think of this stuff. Overall, it's a great cover and I think that Simba did a great job here.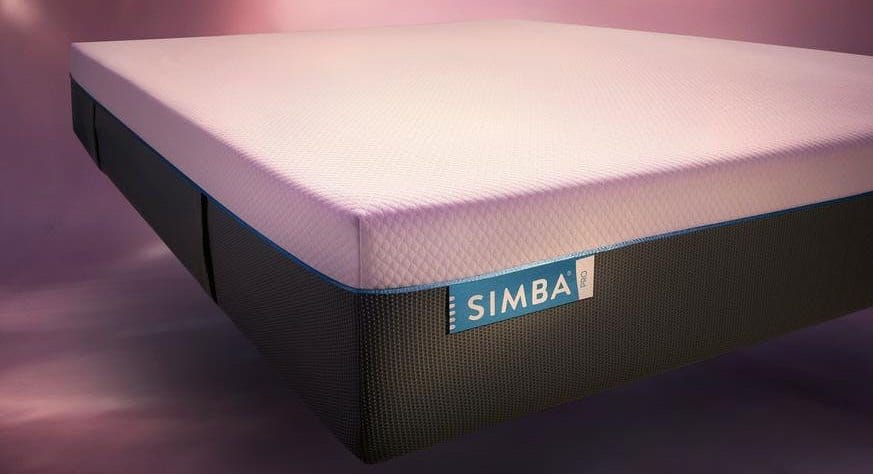 How firm is the Simba Hybrid Pro mattress?
The Simba Hybrid Pro is designed to suit most sleepers so it comes with a medium-firm feel. If I use my virtual scale here, I would say it's a 6.5 with 10 being really firm. It's time now to see how this mattress performed in the three main sleeping positions.

Starting from the back position, the mattress hugged my hips and shoulders and I felt well-supported. It was comfortable in this position and pressure relief was above average.
Turning to the side position, the micro-springs reacted quickly and sinkage increased to help my spine align correctly. I didn't feel any discomfort and overall I felt well-supported.
Finally, turning to the stomach position, the mattress supported my hips and chest but I personally would prefer it a bit firmer. Having said that, it did a decent job and I felt quite comfortable in this position. Overall, I think that the Simba Hybrid Pro is a good all-rounder and it will suit most sleepers.
If you share your bed with a partner, this mattress has minimal motion transfer due to the use of mini-springs. In addition, the edge support is very good so you will get the same performance across the 4 corners.
What type of bed should I use with this mattress?
The Simba Hybrid Pro can work with any setup as long as it's supportive. That means that you can use a slatted frame, a divan or an adjustable bed. If you use a frame with slats, make sure the distance between them is no longer than 7cm. You can also use your floor but it's not advisable as it doesn't allow airflow and it's not very hygienic.
How will it be delivered?
When you buy a Simba mattress you will get free delivery for all sizes. Your mattress will be delivered directly to your door in a carton box. They promise to deliver their mattresses within 3 business days and this was the case for me too. The courier was on time and I received a text message with the delivery slot. During checkout, you will be given a few options like Weekend Delivery which will cost you an extra £20. Overall, they offer great service so no complaints at all.
Does the Simba Hybrid Pro come with a trial period?
Buying a mattress online always comes with a little risk. The people at Simba know that so they offer a 200-night trial period which gives you more than 6 months to decide whether you are happy with it or not. To put this into perspective, this is twice as much as what most of their competitors offer. Besides that, you will also get a 10-year guarantee which will cover you for a really long time. Overall, this is a great package so no complaints at all.

How much will it cost me?
The Hybrid Pro is available in 7 sizes and it starts at £1,159 for a Single one and goes up to £1,829 for a Super King one. Of course, you don't have to pay the full price as they run frequent promotions. To find the latest Simba deals, visit our voucher code page here. The table below has pricing information for all available sizes.
| | | |
| --- | --- | --- |
| SIZE | DIMENSIONS | PRICE |
| Single | 90 x 190 x 28cm | £1,159 |
| Small Double | 120 x 190 x 28cm | £1,599 |
| Double | 135 x 190 x 28cm | £1,599 |
| EU Double | 140 x 200 x 28cm | £1,749 |
| King | 150 x 200 x 28cm | £1,749 |
| EU Queen | 160 x 200 x 28cm | £1,829 |
| Super King | 180 x 200 x 28cm | £1,829 |
Is the Simba Hybrid Pro mattress any good?
This is always a tough question to answer but I guess I have to answer it now that I complete this Simba Hybrid Pro mattress review. With this in mind, I think that this mattress would be best suited to those who look for:
A hybrid mattress that is designed for all types of sleepers and comes with a medium-firm feel.
A boxed mattress that can stay cool during the night.
A mattress that comes with excellent service and support from a maker you can trust.
If you look for all of these, then the Simba Hybrid Pro is a great choice. This is not a cheap option but looking at the whole package, I think that you will get a fair value. If you look for a high-quality mattress, this should be very high on your list.
Simba Hybrid Pro Mattress Review
PROS
Excellent materials
Very supportive
Good service and support
CONS
Not the cheapest in the market