REM-Fit is a sleep technology company that was founded back in 2011 in the US. They make a series of products to help people sleep better. In this REM Fit 500 Ortho mattress review, I will talk about this hybrid option that recently got my attention.
Having a bad back, I couldn't help but try this orthopaedic mattress. As I have already mentioned above, it combines memory foam with pocket springs to provide a high level of support for your body. They chose to make it really firm but more on this later. The mattress was delivered to me about a month ago so it's about time, I write this review.
60% OFF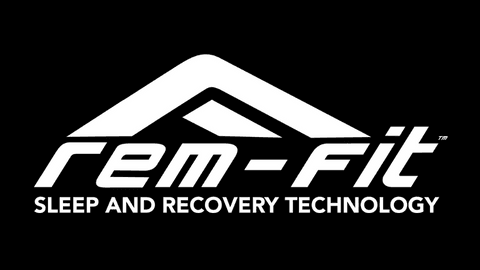 REM-Fit Mattress
Up to 60% off mattresses at REM-Fit
Up to 60% off mattresses at REM-Fit
Show Less
What is a REM-Fit 500 Ortho mattress made of?
The REM-Fit 500 features 4 layers plus the cover. These are:
A cool gel-infused memory foam layer that is there to keep the sleeping surface cool during sleep.
A Mediflex memory foam layer that provides your body with the needed pressure relief. This layer focuses on the bonier areas like your hips and shoulders.
A layer made of 2,000 pocket springs. They are extra tall (14cm) to provide your body with the needed support and comfort.
A high-density foam layer that is the base of this mattress. It's designed to withstand a combined weight of up to 40 stones.
Besides the 4 layers, they have also added foam-encapsulated sidewalls for enhanced edge support.
In the image below, you can see how each layer is positioned.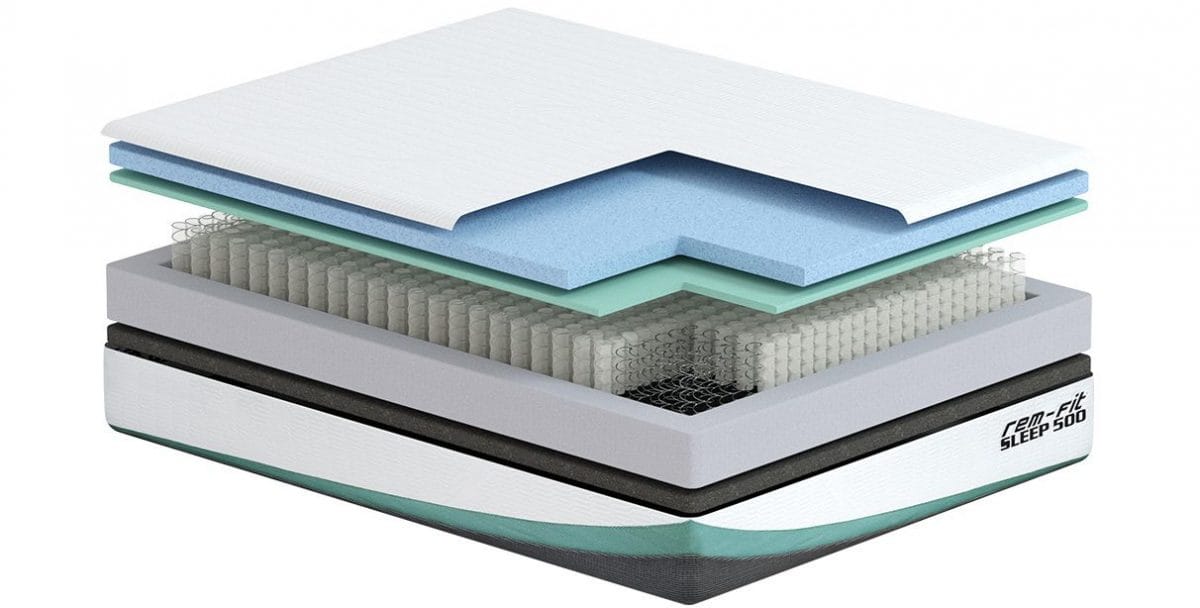 What is the cover made of?
The cover of the REM-Fit 500 Ortho mattress is made of Re-Ax fibres. They have developed these synthetic fibres to achieve one main thing; moisture and heat transfer. This type of cover regulates the body's temperature during sleep to achieve an undisrupted experience. This material is also very breathable which is important for every mattress. It feels soft but quite strong at the same time and I think that it's one to last for a long time. The design of the cover features a white top part with petrol and grey details. It's not the prettiest one I have seen but it's a nice one. You can machine wash it at 40 degrees so it's quite easy to maintain. Overall, I think it's a nice cover but I wish they had added handles that would make it easier to move it.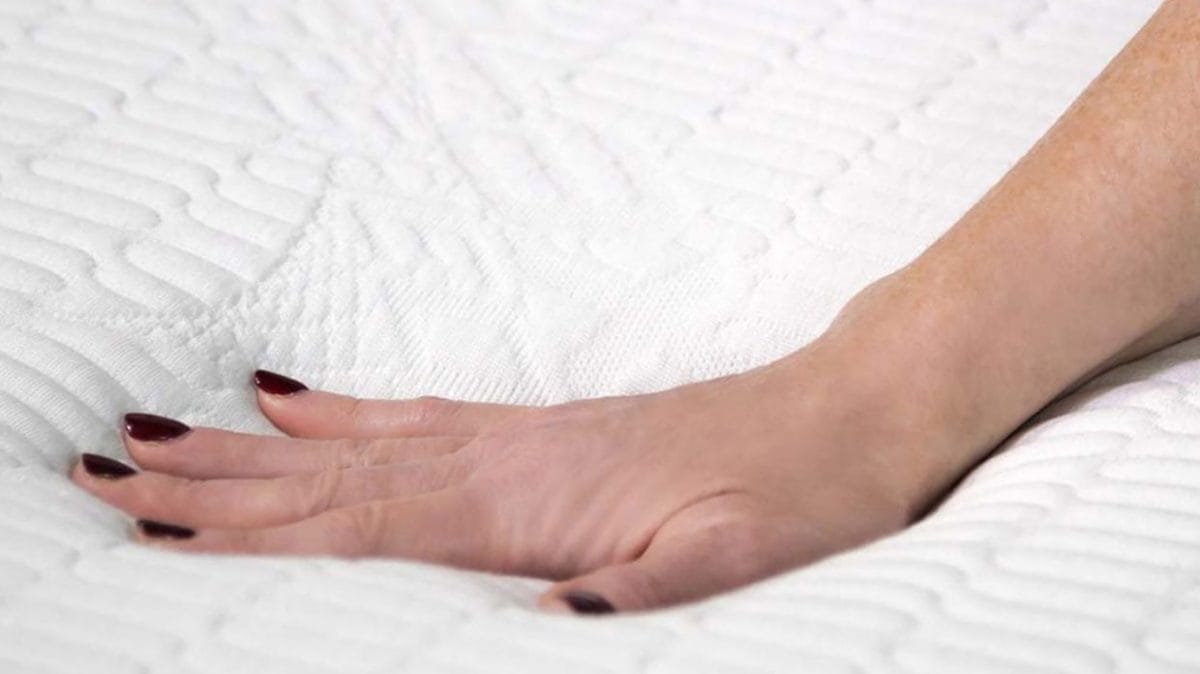 How firm is the REM-Fit 500 Ortho mattress?
The main reason you should buy this mattress is the fact that is really firm. To be honest this is the firmest mattress I have reviewed and if I use my virtual scale here, I would say this is a 7.8 with 10 being really firm. Let's talk now about the different sleeping positions and how this mattress performed.

Starting from the back, the mattress felt quite firm initially but after a few seconds, I was settled in. Support was great and the memory foam layers provided my body with adequate pressure relief. My spine was aligned properly and I was comfortable in this position.
Moving to the side position, the pocket springs adjusted quickly to my weight and sinkage increased. My spine was aligned well but if you are skinny, this mattress can feel too firm in the hips area. I didn't have this problem but my partner felt that it was a bit too firm for her. Support was good and the mattress felt quite comfortable.
Finally, turning to the stomach position, the mattress did a great job supporting my hips and shoulders. Pressure relief was adequate and I felt that the mattress did a good job in this position. Overall, I felt that this mattress is a good all-rounder providing you look for a mattress that comes with a firmer feel.
If you share your bed with a partner, then this mattress is a good option. Despite being hybrid, motion transfer is quite minimal and you won't face the annoying partner disturbance. The edge support is another strength of this mattress. The foam-encapsulated sidewalls do a great job
What type of bed to use with this mattress?
You can use any type of bed frame with this mattress. The maker suggests you use a slatted base, a divan bed, a platform base or even an adjustable bed. If you use slats, make sure the distance between them is not bigger than 7cm.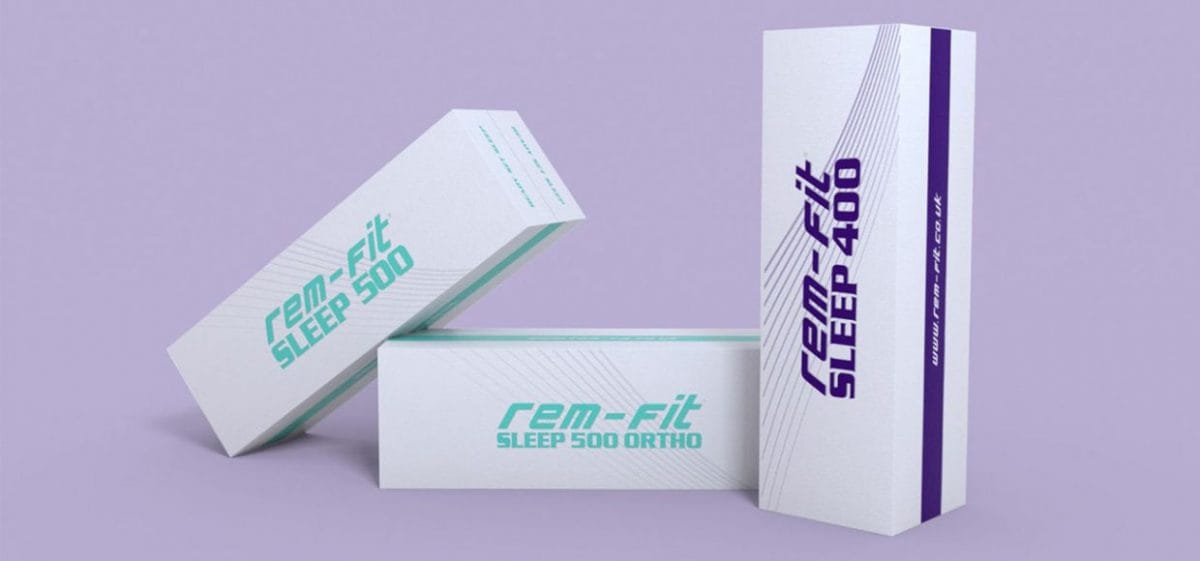 How will it be delivered?
The REM-Fit 500 Ortho is a bed in a box. It will come packed in a carton box, just like the one you see in the picture above. All REM Fit mattresses come with free next-day delivery. This is great and it's not something that is offered frequently. Moreover, during checkout, you will be given the following options.
| | |
| --- | --- |
| Next working day delivery | FREE |
| Day of choice delivery | FREE |
| Premium 2-person delivery | £20 |
| Premium 2-person delivery + mattress removal | £50 |
| Guaranteed Saturday delivery | £30 |
As you can see, they offer excellent service here and you can choose the option that best suits you. I went for the Premium 2-person delivery and I had my mattress delivered to my bedroom. The couriers also unpacked the mattress and disposed of the packaging. I think this is worth £20 as the mattress can be quite heavy for most people. Overall, I was really happy with my service so no complaints at all.
Does the REM-Fit 500 Ortho come with a trial period?
This mattress comes with a 100-night trial period which gives you more confidence to buy a mattress online. You actually have more than 3 months to try this mattress and decide later if you want to keep it or not. If you are not happy with your purchase, you can return the mattress for free and get a full refund. You don't need to keep the original packaging to be able to return it so you can get rid of it once you receive your mattress. All returned mattresses go to the British Heart Foundation which is an awesome gesture by REM-Fit.
Besides the trial period, you will also get a 15-year guarantee which is amazing! Most rolled mattresses come with a 10-year guarantee but the guys at REM Fit feel more confident about their products. Overall, they offer a complete package here so no complaints at all.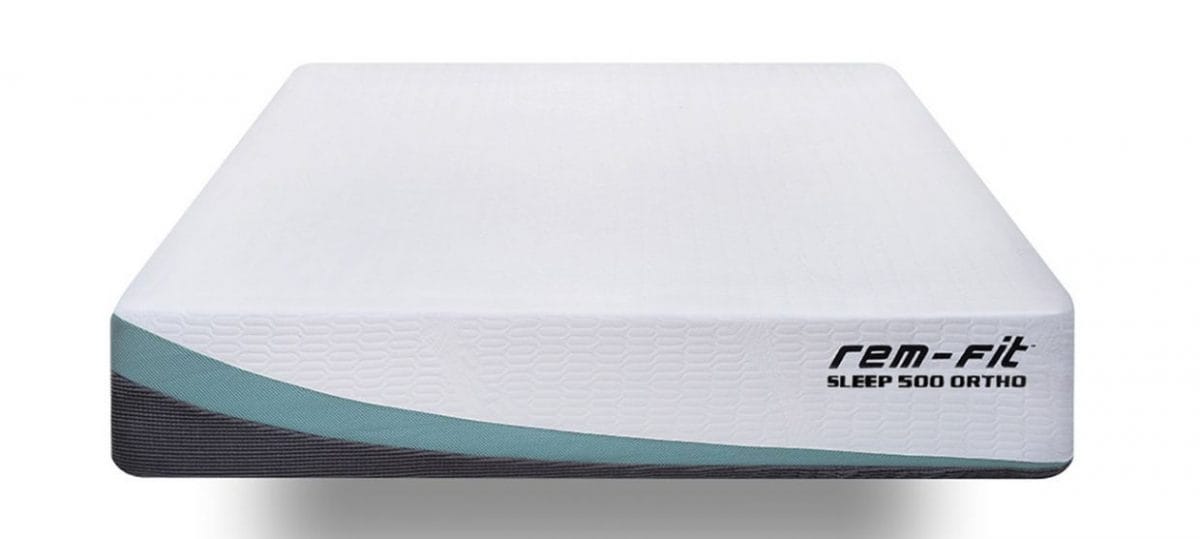 How much does it cost?
The REM-Fit 500 Ortho mattress is available in 10 sizes, including some EU ones. That means that you have high chances to find the size that will best suit your needs. The smaller size (Small Single) sells for £799 and the bigger (Super King) goes for £1,199. However, they run promotions all the time so you will never pay full price. Check my voucher code page to find out about their current offers.
| | | |
| --- | --- | --- |
| SIZE | DIMENSIONS | PRICE |
| Small Single | 75 x 190 x 25cm | £799 |
| Single | 90 x 190 x 25cm | £799 |
| Long Small Single | 75 x 200 x 25cm | £799 |
| EU Single | 90 x 200 x 25cm | £799 |
| Small Double | 120 x 190 x 25cm | £949 |
| Double | 135 x 190 x 25cm | £999 |
| EU Double | 140 x 200 x 25cm | £1,049 |
| King | 150 x 200 x 25cm | £1,049 |
| EU King | 160 x 200 x 25cm | £1,199 |
| Super King | 180 x 200 x 25cm | £1,199 |
Is the REM-Fit 500 Ortho mattress any good?
The time has come now to complete this REM Fit 500 Ortho mattress review. I think that it's a very interesting option that would be best suited to those who look for:
A hybrid mattress that has a really firm feel.
A mattress which is very supportive and ideal for those with a bad back.
An affordable orthopaedic mattress that comes with excellent service and support.
If you look for all of these, then this mattress should be high on your list. It's a good value for money and if you look for this firmer feel then this is a mattress you should consider.
60% OFF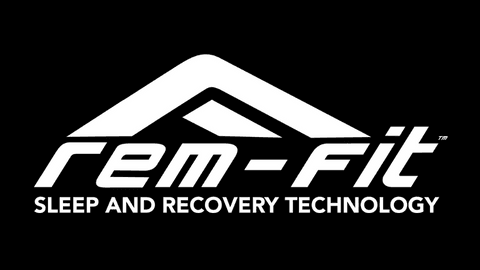 REM-Fit Mattress
Up to 60% off mattresses at REM-Fit
Up to 60% off mattresses at REM-Fit
Show Less
REM Fit 500 Hybrid Ortho Mattress Review
PROS
Ideal for those with a bad back
Excellent service and support
Value for money