Brook and Wilde is a relatively new mattress maker but their approach is one I really like. After launching their Lux mattress they decided to create a more premium one. In this Brook and Wilde Elite mattress review, I will talk about this hybrid option and whether it's a mattress you should consider buying.
Their mission is to provide their customers with a complete package so the mattress comes with a 2-man delivery. You also get to choose the feel of your mattress which is an approach I have seen from only a few other makers. All Brook and Wilde mattresses are made here in the UK (Derby) and they are delivered in carton boxes. For this review, I will talk about the firm option so you should have this in mind before you continue reading. My mattress arrived a month ago so it's a good time now to write this review.
65% OFF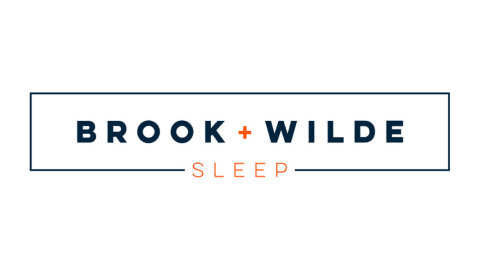 Brook + Wilde Sleep
65% off the Lux mattress only at Brook + Wilde
65% off the Lux mattress only at Brook + Wilde
Show Less
What is a Brook and Wilde Elite mattress made of?
The Elite mattress is made of 6 layers plus the cover. In detail, these are:
Top Layer: A memory foam protector which allows the top cover to move freely. At the same time, it helps the first memory foam layer to work independently.
Middle Layer: A layer made of natural raw materials which help you get a deeper, more restful sleep. The open cell structure helps the mattress to stay cooler for longer so you can sleep more comfortably.
Middle Layer: A 2,500 mini springs layer, which reduces pressure points. The springs also give your mattress some pushback and bounce, which is not found on 'foam only' mattresses.
Middle Layer: A support foam layer which has cushioning qualities that relieve pressure points.
Middle Layer: A layer made of 1,000 135mm pocket springs. The larger springs give a little more bounce and pushback.
Bottom Layer: A support foam layer which is the base of this mattress. It adds support where is mostly needed.
The image below shows how each layer is positioned.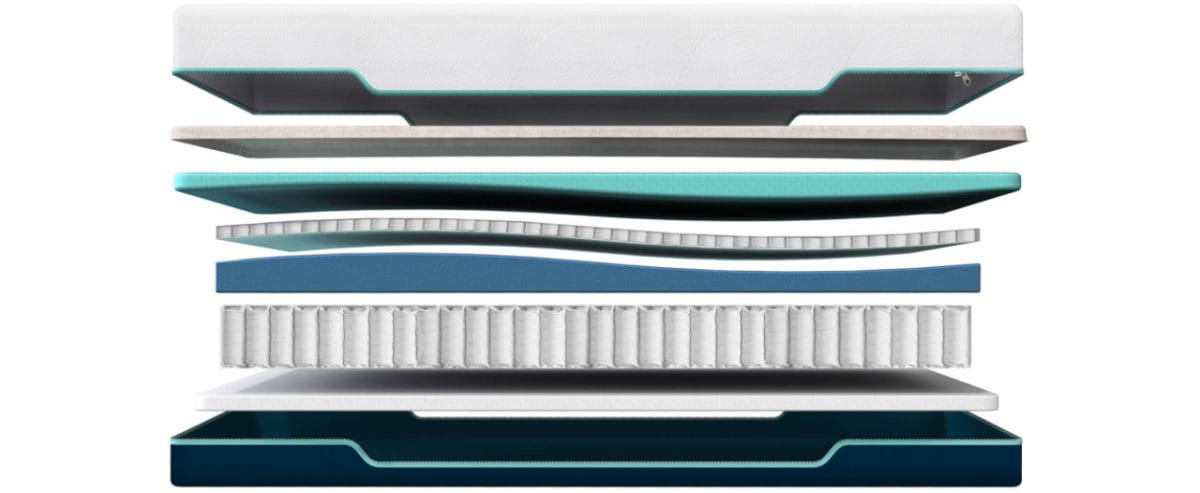 What is the cover made of?
The cover of the Brook and Wilde Elite mattress is a really nice one. It's made of a four-way stretch fabric which is very breathable. This ensures that your mattress will stay cool during sleep. Moreover, it's hypoallergenic so this mattress it's a good option for all those who suffer from allergies. The cover feels soft but it's strong at the same time and I think it will last for a long time. The fit is very good as this is a stretchy fabric.
The design of the cover features a two-tone colourway. The upper part is white with the bottom part featuring a dark blue colour. The two parts are separated by a teal line. If you want to move the mattress, they have added 4 handles which will help you do so. This is a clever design and I really like it. Finally, at the bottom, they have added a non-slip base that will keep your mattress in place. Overall, I think they did a really good job here.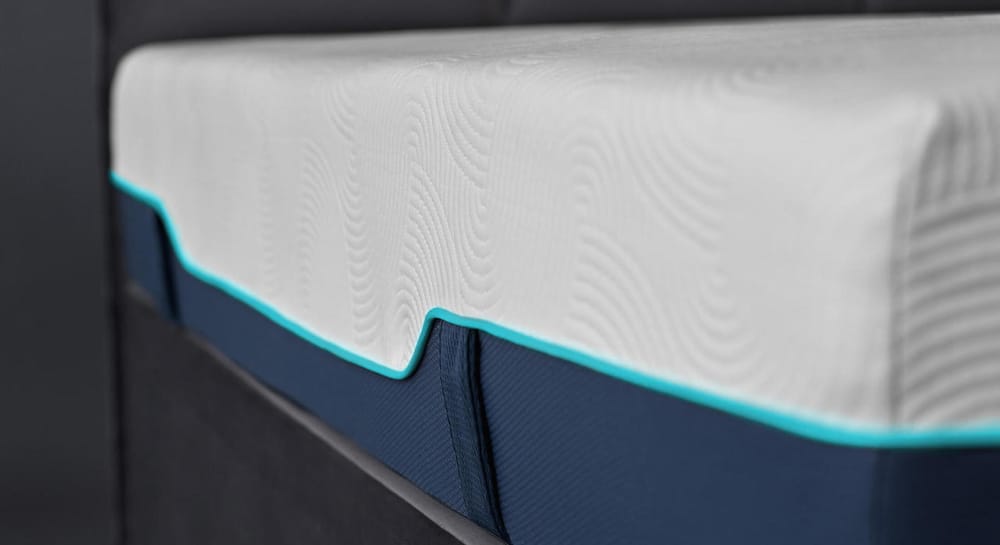 How firm is the Brook and Wilde Elite mattress?
I have already mentioned that in this review, I will talk about the firm option. If I use my virtual scale here, I would say it's a 7 with 10 being really firm. I would like now to talk about the different sleeping positions and how this mattress performed.

Starting from the back position, the memory foam layers did a good job of providing my body with adequate pressure relief. Support was excellent and the mattress helped my spine align properly.
Turning to the side position, the mattress adjusted to my body weight and sinkage increased. The springs did a good job and the reaction was very quick. My spine was in a good form but I thought that there was room for improvement. Support was good and I was comfortable in this position.
Finally, moving to the stomach position, the mattress did an excellent job providing my body with the needed support. My hips and shoulders were in the right position for good spine alignment and pressure relief was adequate. It was really comfortable in this position and this mattress impressed me with its performance.
If you share your bed with a partner, the Brook & Wilde Elite can be a good option. Although it's a hybrid mattress, motion transfer is quite minimal so you won't get too much partner disturbance. Finally, the edge support is excellent which is expected from such a well-built mattress.
What type of bed to use with this mattress?
You can place this Brook and Wilde mattress on any flat surface including your floor. However, I would not advise you to do so as it's not very hygienic. Instead, you should use a slatted base or a divan bed. These types of beds provide better support for your mattress which means better performance. If you use slats, you should make sure the distance between them is no longer than 6cm.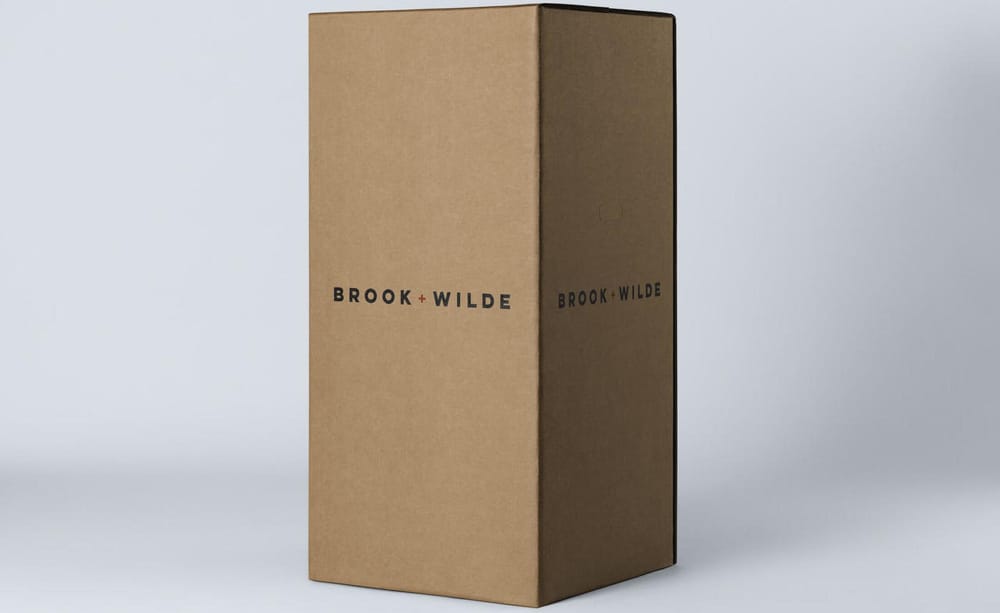 How will it be delivered?
As you already know, the Brook and Wilde Elite mattress will be delivered in a carton box like the one pictured above. They offer a free 2-man delivery service so your mattress will be delivered to the room of your choice. Delivery usually takes between 7-9 days so you will need to be a bit patient with your order. Moreover, they offer a free mattress recycling service so you can get rid of your old mattress with ease. This is an excellent package and it's one of the reasons you should buy a Brook and Wilde mattress.
My mattress was delivered 7 days after I had placed my order and the whole experience was really good. I knew everything about the process and the communication was great. The couriers were polite and it took them around 10 minutes to complete the mattress removal too. Overall, I was very happy with their service.
Does the Brook and Wilde mattress come with a trial period?
This mattress comes with a 10-year guarantee which is the norm these days. However, it's always nice to see this and it shows that they respect their customers. Besides that, you will also get a 200-night trial period which gives you plenty of time to decide whether you want to keep this or not. If for any reason, you are not happy with your purchase then you can return your mattress and ask for a full refund. You can also ask for a mattress with a different feel. The process is simple and they will arrange everything for you. For more info on returns, visit their dedicated page here. Overall, they do a good job on this end so no complaints at all.

How much does it cost?
The Elite mattress is available in 4 sizes, all UK ones. That means that the options are limited and I hope they add more sizes in the near future. The smaller UK Single starts at £999 with the bigger Super King selling for £1,499. However, they run frequent promotions so always check my discount coupon page for big savings. The table below has pricing information for all available sizes.
| | | |
| --- | --- | --- |
| SIZE | DIMENSIONS | PRICE |
| Single | 90 x 190 x 28cm | £999 |
| Double | 135 x 190 x 28cm | £1,299 |
| King | 150 x 200 x 28cm | £1,399 |
| Super King | 180 x 200 x 28cm | £1,499 |
Is the Brook and Wilde Elite mattress any good?
This is the tough question I have to answer now that I am finishing this Brook and Wilde Elite mattress review. I think that this will be a good option for all those who look for:
A hybrid mattress that is available in 3 different firmness options to cater to your needs.
A hotel-style mattress that is very supportive and comfortable.
A mattress that comes with excellent service and support.
If you look for all these, then this mattress can be a good option. It's not the most affordable out there but it's a very well-built mattress that is ideal for combo sleepers and couples. Their service is amazing and you will get a mattress that will last you for a long time.
65% OFF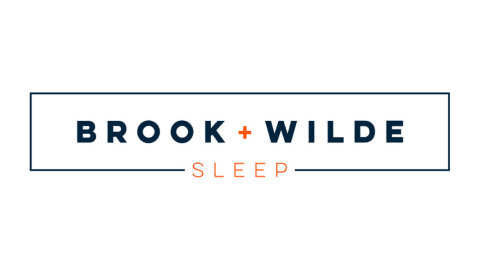 Brook + Wilde Sleep
65% off the Lux mattress only at Brook + Wilde
65% off the Lux mattress only at Brook + Wilde
Show Less
Brook and Wilde Elite Mattress Review
PROS
Very supportive
Amazing materials
Great service