If you want to improve the way you sleep, you should read this OTTY Deluxe Pure Pillow review. The people at OTTY have seen great success with their mattress range so recently, they decided to develop a new pillow.
The Deluxe Pure is designed to sleep cool so if you are a hot sleeper, this is an option you should consider. OTTY managed to improve an already good pillow and this is something that can't go unnoticed. Mine was delivered almost ten days ago so it's a good time now to move to the full review below.
Construction
This pillow has a straightforward construction that works quite well. The core is made of a single piece of memory foam that is infused with charcoal. According to several studies, charcoal has the ability to regulate the body's heat and wick moisture away. Moreover, it can add antibacterial properties when applied to memory foam. Finally, it's hypoallergenic so if you suffer from allergies or have sensitive skin, this can be a great option. Around the memory foam core, there is an inner cover that ensures the foam stays clean and tidy. Overall, this is a solid pillow and the engineers at OTTY did a great job here.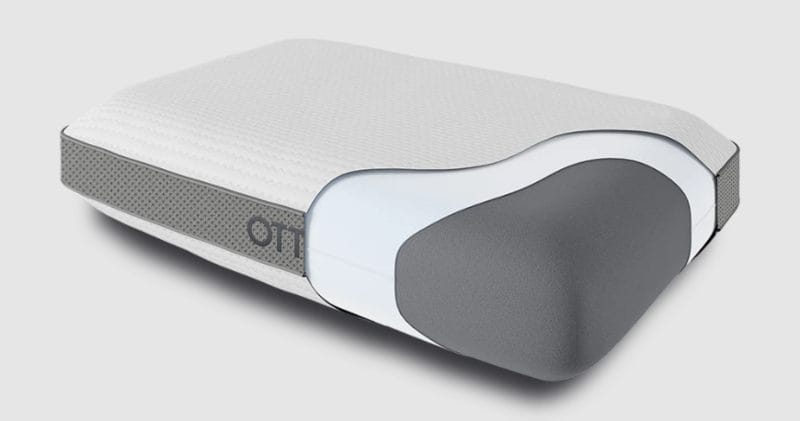 Cover
The cover of this pillow is made of bamboo textiles. This is one of the best materials out there as it has a number of properties that make it a great choice for sleeping products. For starters, bamboo is very breathable and that means that your pillow will sleep cool even during the summer. Secondly, bamboo is hypoallergenic so it's great for those with sensitive skin. Finally, this material is eco-friendly especially when it's compared to cotton. For all these reasons, the people at OTTY chose wisely here.
The cover features a modern design and you should expect a white top part with grey sides. What is even better is the fact that they have added a mesh panel that increases airflow. The OTTY cover is removable and it's easy to maintain. If you want to clean it, you can pop it inside your washing machine at 40 degrees. Make sure, you use a gentle cycle and a mild detergent. Overall, this is a well-made cover that compliments this pillow.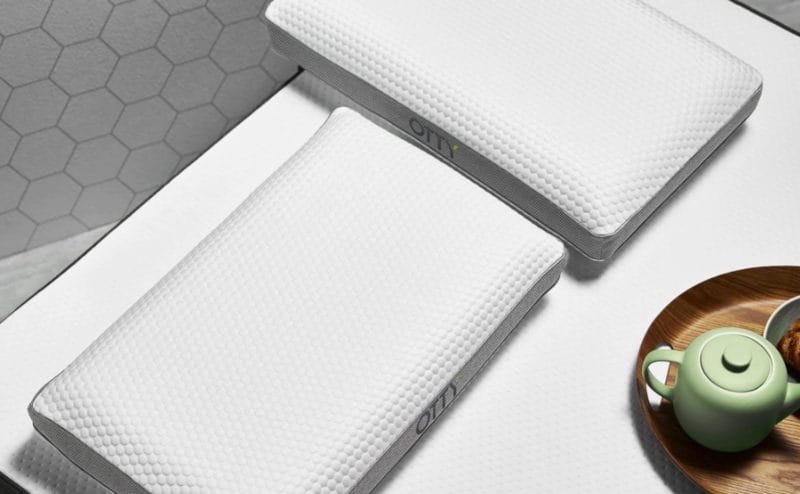 Support
Before you choose your next pillow, you should first think of your sleep preferences. For example, if you are a stomach sleeper, you need a pillow with a low profile. The OTTY Pure measures 10cm in height so it will suit every sleeping position. In my opinion, this is the right loft as it allows you to use it in every sleeping position. After sleeping with it for the past ten days, I must admit I was really happy with its performance. OTTY managed to build a versatile pillow here and this is impressive.
Another thing I liked about it is the memory foam. This pillow has great pressure-relieving properties and I felt that my head and neck were well-rested every morning. Overall, this is a very supportive pillow that is fairly priced (£69.99).
Is the OTTY Deluxe Pure pillow for me?
Let's complete now this OTTY Deluxe Pure pillow review and discuss whether you should buy this or not. In my view, this is a good option for those who look for:
A memory foam pillow that is built for every sleeping position.
A cooling pillow that has hypoallergenic properties.
A pillow that comes with a 14-night trial period.
If you look for all these, the OTTY Pure pillow can be a great choice for you. OTTY managed to make significant improvements here and this is hard to go unnoticed. This is a fairly-priced pillow that works well and for these reasons, this is one I can recommend.
OTTY Deluxe Pure Pillow Review
PROS
Excellent materials
Cooling properties
14-night trial period
CONS
The pillow is quite heavy