If you look for an affordable option, you should definitely read my Simba Hybrid Essential mattress review. After releasing their Simba Luxe mattress, the engineers at Simba felt it was the right time to develop a hybrid mattress that comes with an affordable price tag. This is how the Essential mattress came to life and from the moment I heard about it, I was really curious to get my hands on it.
As you expect, this is another boxed mattress from Simba that features some great specs. Simba designs and manufactures all the mattresses here in the UK using the finest materials. My mattress was delivered almost two weeks ago so it's time now to move to the full review below.
What is the Simba Essential mattress made of?
This mattress has a straightforward construction and it features 3 layers plus the cover. In detail, these are:
A graphite-infused Simbatex foam layer that is designed to keep the sleeping surface cool during the night. This also works as the first comfort layer.
A layer made of 1,500 Aerocoil conical springs that have the ability to distribute weight evenly. Moreover, they have pressure-relieving properties and can minimise motion transfer.
A foam base layer that can provide your body with support. The engineers at Simba have added 5 support zones that promote a healthier spine alignment during sleep.
The Simba Essential mattress measures 20cm in height so you should expect a low profile.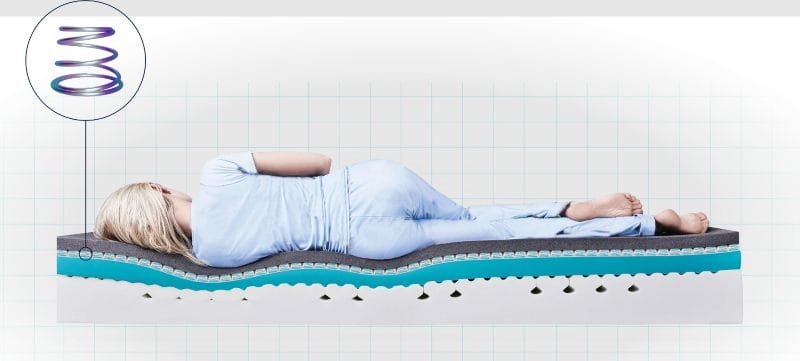 Is this a nice cover?
The Simba cover is hand-knitted and it feels very soft. These two characteristics make it look really premium and it's great to see that Simba decided to include it in their affordable mattress. This cover is designed to be breathable which is one of the most important things for a good cover. Moreover, it comes with a modern design that features the Simba logo and colours. In my opinion, it's one of the prettiest mattresses out there. But this is not only about looks! On the sides, you will find 4 handles that will help you move it when that is needed. Unfortunately, this cover is not removable or machine washable so in case, you get a stain, you should use a soft, damp and clean cloth along with a mild detergent. Overall, this is a high-quality cover and I think they did a great job here.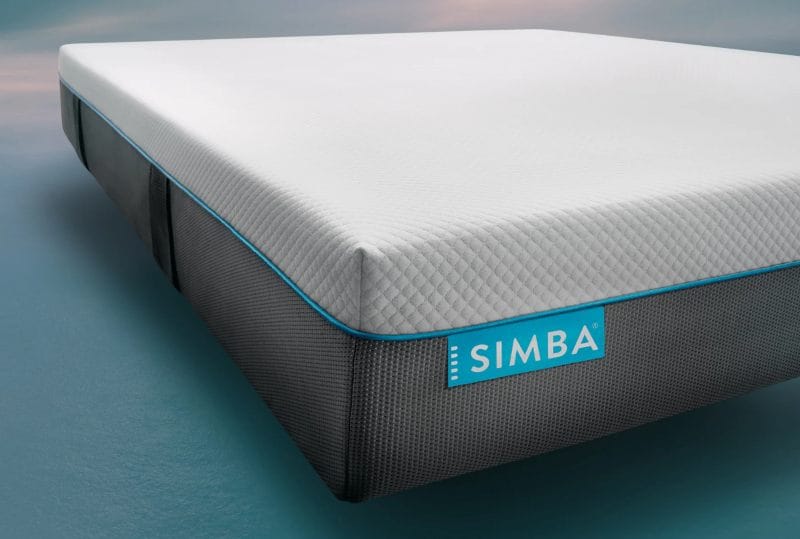 How firm is this mattress?
It's time now to continue with this Simba Hybrid Essential mattress review and discuss its firmness. Most boxed mattresses are designed to suit the average sleeper and the Essential mattress is not an exception. If I use my virtual scale here, I would say it's a 6.5 with 10 being really firm. Let's see now how this mattress performed in the different sleeping positions.

Starting from the back position, the mattress felt comfortable and I felt well-supported. Pressure relief was not great but this is expected from a mattress of this price.
Turning to the side position, the mattress reacted quickly and sinkage increased. My spine alignment was good and that is something I didn't expect. I felt comfortable in this position and this mattress did a great job.
Finally, moving to the front position, the sleeping surface felt slightly softer than I would prefer but it was ok overall. I think that this mattress would mostly suit back and side sleepers so if you are looking for a good all-rounder, you should probably go with the Simba Hybrid Pro mattress.
If you share your bed with a partner, this mattress has minimal motion transfer so it can be a good choice. As for the edge support, it's decent so you will get in and out of bed with ease.
Do I need a special setup for this mattress?
The Simba mattresses are designed to work perfectly with all the Simba beds. However, you don't have to buy a new one if your old bed frame is in good condition. The maker suggests you use a sprung or slatted bed frame, or a divan/box spring. In case you decide to use a slatted frame, you should make sure that the distance between each slat is no longer than 3 inches.
Will I get free delivery?
If you decide to buy a Simba mattress, you will get free delivery for all sizes. They promise to deliver within 3 working days so you won't wait for long to receive it. All mattresses come with a carbon-neutral service and they will be delivered via UPS or AO. Additionally, they offer a mattress removal service that will cost you an extra £40. This is a great add-on and I am really glad they offer this here. My mattress was delivered within 3 days and I remind you that I am based in London. UPS did a great job and the box came in excellent condition. Communication was great and overall, I felt that I had a great experience with them.
Is there a trial period?
One of the best things about this mattress is the fact it comes with a trial period. To be more precise, you will get a 200-night trial period that will give you more than 6 months to try it and decide later whether you want to keep it or not. If you are not happy with it, you can return it and get a full refund. Besides that, you will also get a 10-year guarantee which is the standard these days. That means that despite the low price here, Simba still offers a very competitive support package.
How much will it cost me?
The Simba Essential is the most affordable mattress from the popular British maker. The smaller size (Single) will cost you £699 while the bigger one (King) goes for £999. However, the people at Simba run frequent promotions so you will most likely pay less than that. For example, at the moment of writing, there was a 40% off discount. The table below has pricing information for all available sizes.
| | | |
| --- | --- | --- |
| SIZE | DIMENSIONS | PRICE |
| Single | 90 x 190 x 20 cm | £749 |
| Small Double | 120 x 190 x 20 cm | £899 |
| Double | 135 x 190 x 20 cm | £899 |
| King | 150 x 200 x 20 cm | £1,099 |
Is this a mattress I should consider?
This is the question I need to answer now that I am about to complete this Simba Hybrid Essential mattress review. In my view, this would be a good option for anyone looking for:
An affordable mattress that has excellent cooling technology.
A hybrid mattress that is built with high-quality materials.
A mattress that comes with a 200-night trial period.
If you have a limited budget and you look for a good mattress, the Simba Hybrid Essential can be a good option. It's built here in the UK and it's a well-balanced mattress. If you are in the market for such a mattress, this is an option you should consider.
Simba Hybrid Essential Mattress Review
PROS
Great cooling system
Good materials
200-night trial
CONS
Cover is not machine-washable