If you look for an organic mattress, the choices are limited. However, don't get disappointed and keep reading this Una Essential mattress review to find out more about this latest release. After seeing great success with their Delux mattress, they decided it was time to develop a cheaper option. This is how the Una Essential mattress was born which is a simplified version of the Delux mattress.
When designing it, they wanted to create an adjustable mattress so sleepers have more options. The Essential mattress comes with 2 firmness configuration options but I will talk about this later. My mattress came almost 4 weeks ago so let's move now to the full review below.
FREE DELIVERY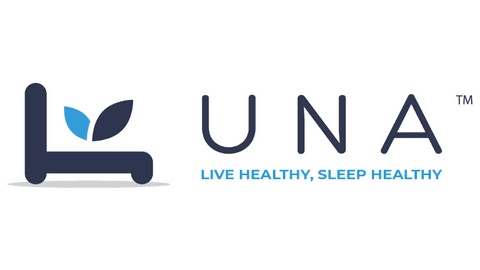 Una Mattress
Free delivery for all mattresses at Una
Free delivery for all mattresses at Una
Show Less
What is a Una Essential mattress made of?
The Una Essential mattress features 3 foam inserts that you can use to create the mattress that suits your needs. Each insert has a different firmness profile so you can combine them accordingly. Each side can be formed differently so you and your partner can enjoy a customised sleeping experience. All inserts are made of all-natural organic certified latex foam and Una follows the standards set by GOLS and GOTS so you know you are getting a truly organic mattress. Overall, this is a mattress that is made with high-quality materials so you won't be disappointed.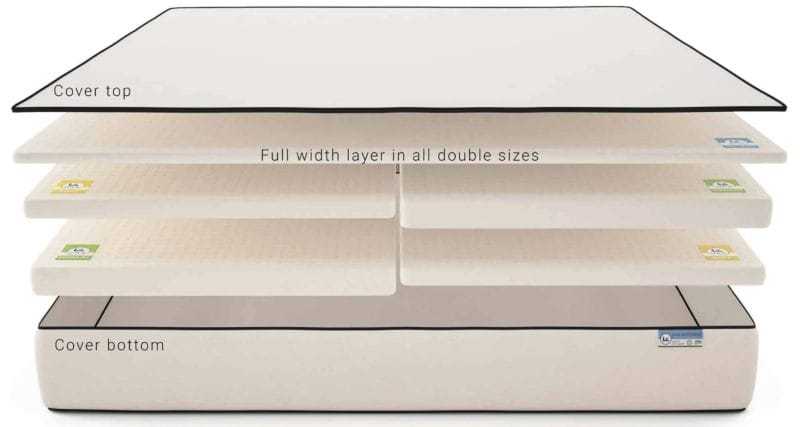 What is the cover made of?
The cover of this mattress is a great one. They used a blend that is made of organic cotton and wool. This combination works well and the cover is very breathable. It also has the ability to regulate the body's heat so the sleeping surface will stay cool during the night. In addition, this blend is naturally fire retardant so they didn't have to add any chemical treatment. Finally, wool and cotton make the cover feel more premium, which is something that the people at Una wanted to achieve. The design of this cover is a plain one and I personally don't like it. I would prefer some colour but I guess they wanted a cleaner look as this is an organic mattress. If you get it dirty, you should only spot-clean it with mild detergent. This is not machine washable so you should be careful with that. Overall, this is a good cover and the people at Una did a good job here.
How does the Una Essential mattress feel?
It's already mentioned above that this mattress is an adjustable one and it allows you to customise it according to your needs. The main difference between the Essential mattress and the Delux one is the level of customisation. The Essential mattress gives you 2 firmness configuration options while the Delux mattress gives you 6. That means that if you look for extra options, you should probably go for the Una Delux. For the Essential mattress, you can choose to have a medium feel or a medium-soft feel. According to the maker, it's a mattress designed for people with a maximum weight of 14 stones (89kg) so you should have this in mind before you buy it. I chose the medium set up so let's see how this mattress performed in the different sleeping positions.
Starting from the back position, the latex layers hugged my shoulders and I felt that pressure relief was great. The mattress was supportive and I was comfortable in this position.
Turning to the side position, the mattress adjusted quickly and sinkage increased. My spine was aligned properly and that is the most important thing when sleeping in this position. Moreover, the mattress didn't cause any discomfort in the hips and shoulder areas.
Finally, moving to the front position, I felt that this setup was not firm enough to support me and I wasn't very comfortable. If you are a stomach sleeper, you should definitely look at the Una Delux mattress.
This mattress has average edge support and that is something I expected from the way is designed. If you are a couple, it has minimal motion transfer so you won't face any partner disturbance during sleep.
Do I need a special setup to use this mattress?
If you buy a Una mattress, you don't need a special setup to use it. You can definitely use your old bed frame, providing it's in a good state. I used my new Emma bed and it worked great. If you use a slatted frame, you should make sure the distance between them is no longer than 7cm. And always remember that your bed frame should be able to support your mattress in order for it to perform at its best.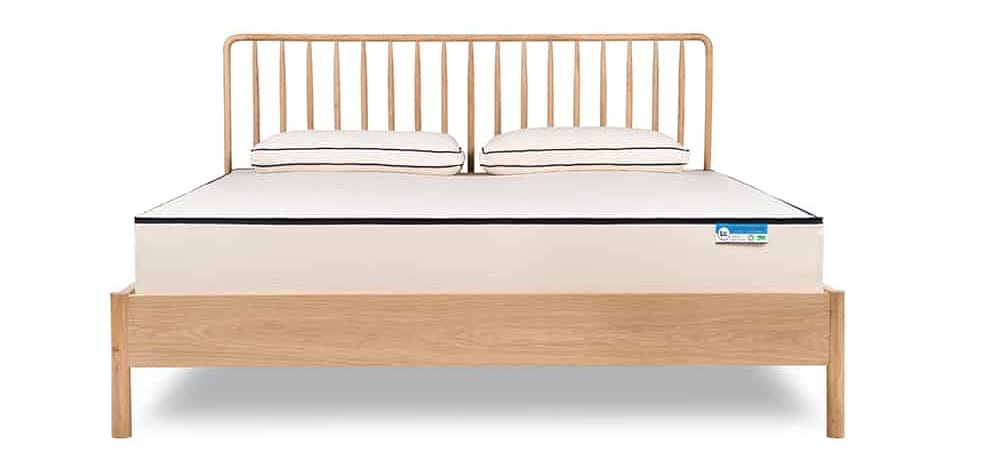 How will it be delivered?
Unlike most other mattresses on this site, the Una Essential is not a rolled one. When you order one, you should expect 2-3 separate boxes and that depends on the size you choose to get. Premium latex foam needs space to breathe so if it's rolled, it will probably get destroyed. For this reason, you won't receive the mattress inside one carton box. Delivery is free for all UK postcodes and you should expect your mattress within 5-7 working days. They ship everything with DPD so you should expect good service. I had a good experience with them and the communication I got was great. Overall, they offer a good delivery service here and that is something I expected from such a maker.
Does it come with a trial period?
All Una mattresses come with a 100-night trial period that will give you plenty of time to try the Essential mattress and decide later whether you are happy with it or not. If for whatever reason, you are not happy with it, you can return it and they will give you a full refund. The process is simple and you don't have to keep the original packaging to be able to return it. In addition, they offer a 10-year guarantee that will cover you for a really long time. Overall, they offer a complete package here so no complaints at all.
How much will it cost me?
The Una Essential mattress is available in 8 sizes including some EU ones. This is fantastic and you will definitely find the size that suits your needs. The smaller (Single) will cost you £785 while the bigger (Emperor) sells for £1,650. In my opinion, it's fairly priced as this is an organic mattress. The table below has pricing information for all available sizes.
| | | |
| --- | --- | --- |
| SIZE | DIMENSIONS | PRICE |
| Single | 90 x 190 x 17cm | £785 |
| EU Single | 90 x 200 x 17cm | £830 |
| Small Double | 120 x 190 x 17cm | £1,050 |
| Double | 135 x 190 x 17cm | £1,155 |
| EU Double | 140 x 200 x 17cm | £1,185 |
| King | 150 x 200 x 17cm | £1,270 |
| EU King | 160 x 200 x 17cm | £1,320 |
| Super King | 180 x 200 x 17cm | £1,500 |
| Emperor | 200 x 200 x 17cm | £1,650 |
Is the Una Essential mattress any good?
The time has come now to complete this Una Essential mattress review and share my final thoughts with you. I think that this mattress would be ideal for those looking for:
An organic mattress that is available in 2 firmness profiles.
A latex mattress that has great pressure relief.
A mattress that comes with a 100-night trial period.
If you want an affordable organic mattress, the Una Essential can be a great choice. However, this mattress is designed for people that weigh up to 14 stones so if you are on the heavier side, you should go for the Delux mattress. In any case, both Una mattresses and you should choose according to your needs and budget.
FREE DELIVERY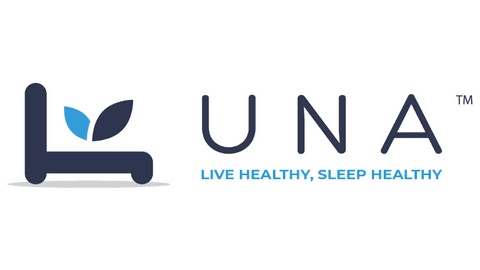 Una Mattress
Free delivery for all mattresses at Una
Free delivery for all mattresses at Una
Show Less
Una Essential Mattress Review UK
PROS
Organix latex foam
2 firmness profiles
100-night trial period
CONS
Not good for heavy people