I have mentioned many times in this blog that you need the right pillow to get a good sleep. In this Aeyla Dual pillow review, I will talk about this interesting option and whether it's one you should consider. Aeyla is a British maker that has seen great success with its weighted blankets. They recently decided to release a pillow too so I was really excited to get my hands on it.
All their pillows come with a 30-night trial period so if you are not happy with them, you can return them and get a full refund. This is great as not many pillows come with this type of service. You will also get free delivery which usually takes 3-5 days. Mine arrived about a month ago so it's a good time now to write this review.
Construction
The Aeyla Dual pillow has an interesting design that is very similar to the Casper one. It's essentially a pillow-in pillow which has a number of benefits. Firstly, the core provides your neck and head with the needed support and it gives a nice shape. Secondly, the outer pillow adds comfort and cushion. The combination works well and this is a well-assembled pillow. For the filling, they used polyester microfibres which are produced according to the Oeko-Tex standards. This means that the pillow is free from any harmful chemicals or toxins. If you want to clean it, the Aeyla Dual pillow is machine-washable which is great! Use a mild detergent and make sure that it has completely dried before you reassemble it. Overall, this is a well-made pillow and they did a good job here.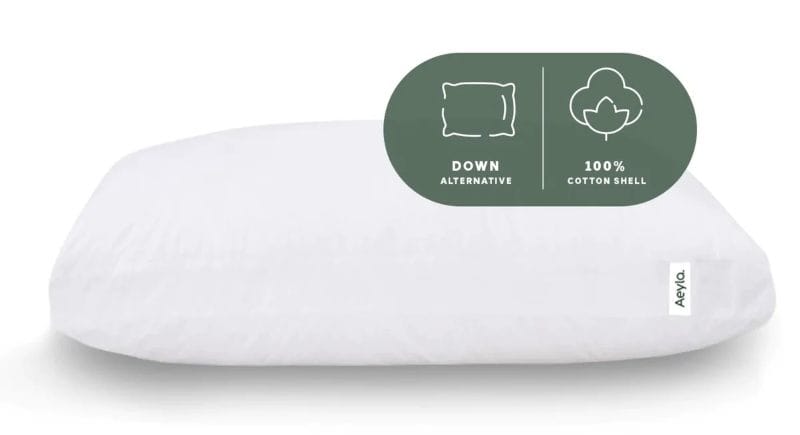 Cover
The cover of this pillow is made of 100% cotton. They used this material because it's breathable and it's easy to maintain. Moreover, it feels soft and it doesn't cause problems for most people's skin. The design of the cover is a contemporary one and again, it reminds me of the Casper pillow. I guess this was their inspiration when they were designing it. Overall, it's a simple cover that does the job.
Support
The Aeyla Dual pillow is designed to suit every type of sleeper. It performed well for me but I felt that it did better in the stomach and back positions. However, this can be different for every sleeper and it's down to your size. I am a big guy so for me the profile was ideal for the two mentioned positions. The pillow is very supportive and the core did an excellent job for me. If you look for comfort, this can be a good option too and overall, I was happy with the Aeyla Dual pillow.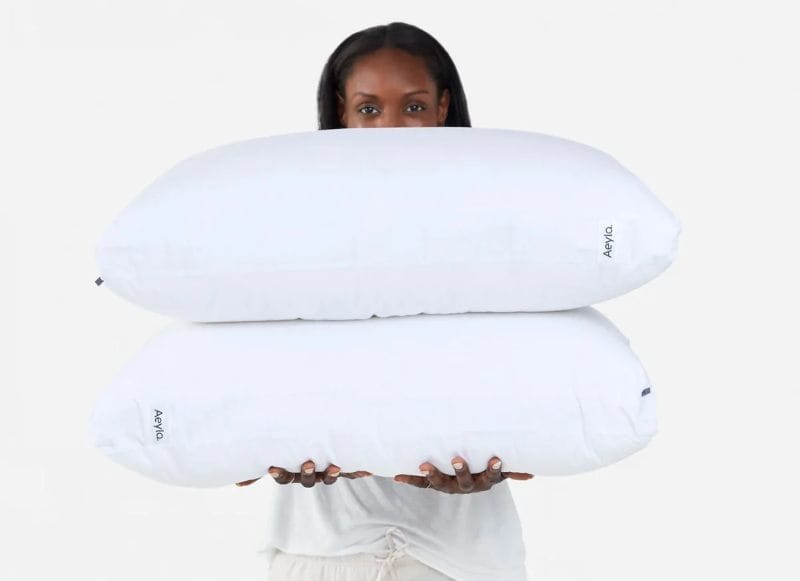 Is the Aeyla Dual pillow for me?
This is the question I have to answer now that I am about to complete this Aeyla Dual pillow review. With this in mind, I think that this pillow would be ideal for those who look for:
A microfibre pillow that is supportive and doesn't sleep hot.
An affordable cushioning pillow.
A pillow that comes with a 30-night trial period.
If you are looking for all of these, this pillow can be a great option. It costs only £69 and it comes with excellent service and support. It features a clever design and it's made with high-quality materials. To summarise, I think it's a good choice to upgrade from your old pillow.
PROS
Good support
30-night trial period
Machine washable
CONS
Might not suit some side sleepers