In this Mela weighted blanket review, I will explore this great option that has recently won a number of awards including the Evening Standard Top Pick. More and more people these days suffer from stress and anxiety and they try to find ways to reduce it. Weighted blankets are getting very popular these days as several studies have shown that they can ease muscle tension and reduce stress hormones by as much as 30%!
Aeyla was founded a few years back with the mission to provide its customers with high-quality weighted blankets at an affordable price. They manufacture everything here in the UK and for every blanket sold, they save 25 trees in the Amazonian rainforest. This is a great gesture by them and I hope more makers will follow their lead. Mine arrived about a month ago so let's move to the full review below.
What's inside the Mela weighted blanket?
The shell of this blanket is made of 100% cotton which is breathable but at the same time, it's quite easy to clean. Moreover, cotton is a breathable material that is important for all blankets. To add weight, they used anti-rustle weighted glass pellets which are SGS-certified. The Mela blanket is well assembled and it looks of good quality. The design is a contemporary one and I think it's quite beautiful. Overall, Ayela did a great job here.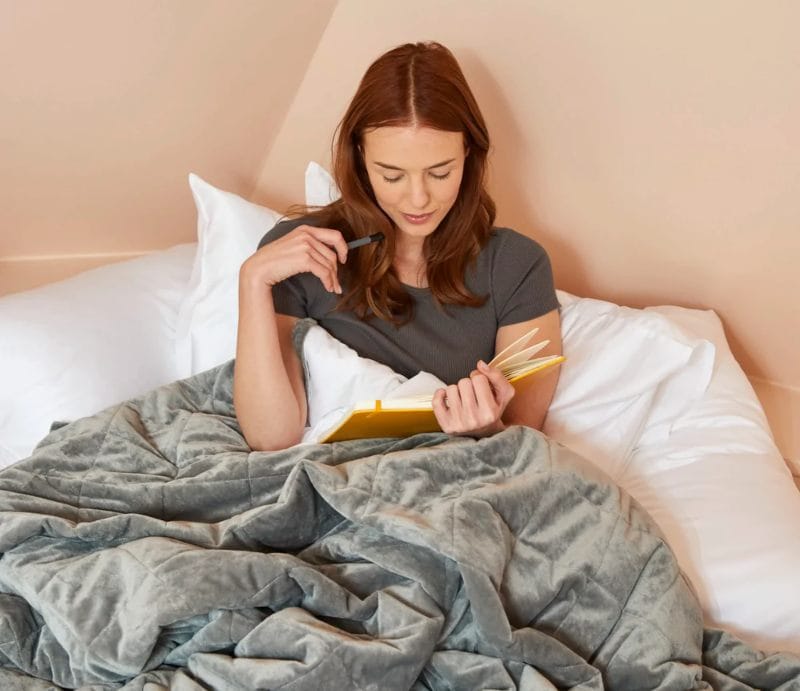 How heavy should a weighted blanket be?
The general rule says that the blanket weight should be approximately 10% of your own weight. To help you out with that, the people at Ayela created a weight guide that you can use to choose the right one for you. It's great that Ayela has created a number of options so you will definitely find the one that best suits your needs. According to the maker, weighted blankets should be used by one person. That means that if you are a couple, you should get two different blankets.
| | |
| --- | --- |
| Body Weight | Blanket Weight |
| 30kg-40kg | 4kg |
| 40kg-60kg | 5.5kg |
| 60kg-90kg | 7kg |
| 90kg+ | 9kg |
Do weighted blankets really work?
This is a very common question that I get from my readers and frankly, this is fair. After all, there is a lot of scepticism around this product. Having said that, weighted blankets are based on a process known as 'deep pressure therapy'. Several studies have shown that when correctly done, this type of therapy can trigger a chain reaction in the body which can make you feel calm and peaceful. As a result, you will get better sleep and lower stress and anxiety levels. For this reason, if you have any sleep issues, a weighted blanket would be a good start.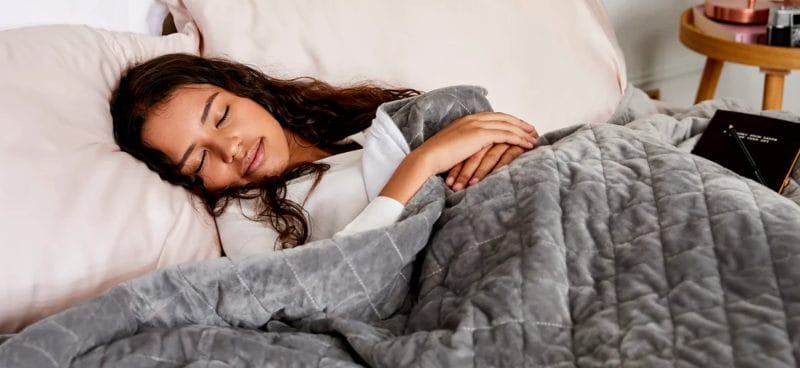 How much will it cost me?
All standard Mela weighted blankets will cost you £89 and all large weighted blankets will cost you £99. They decided to offer two sizes to cover every sleeper's needs. This is the right choice by Ayela and one that I support.
How will it be delivered?
When you buy a Mela blanket, you will get free delivery which usually takes 3-5 working days. The blanket will arrive inside a nice carton box and in my case, the courier was prompt and polite. Besides that, you will get a 30-night trial period which gives you a whole month to try and decide later whether you want to keep it or not. If for any reason, you are not happy with it, you can return it and get a full refund. Overall, they offer a great package here.
Is the Mela weighted blanket any good?
It's time now to finish this Mela weighted blanket review and I will share with you my thoughts on this interesting option. Ayela managed to create a high-quality weighted blanket that doesn't cost too much. Unlike other makers, this one is available in a number of options so you will definitely find the one that suits your needs. The trial period makes it even safer to buy it and in my opinion, this is a great option.
Mela Weighted Blanket Review
PROS
Excellent materials
Available in many options
30-night trial period