When you are past your thirties, you start to appreciate things you never thought would matter to you. One of those things is high-quality bedding and in this Mayfairsilk pillowcase review, I will talk about my last purchase.
For those who have never heard of this brand, Mayfairsilk was created with the aim to provide customers with high-quality silk bedding. Their range includes pillowcases, sheets and other sleeping accessories. They have developed a huge range of designs that will cover every taste from classic pieces to funky patterns. While I was browsing their website I realised that the choices are endless and this is really impressive. I decided to go for a classy option and I ordered the Ivory & Oyster Grey Oxford Pure Silk pillowcase. This was delivered almost a week ago so it's time now to move to the full review below.
Construction
As I have mentioned before, Mayfairsilk focuses on premium bedding so this pillowcase is made with pure 25 momme Mulberry silk with a matt finish. It feels soft to the touch and has a fantastic finish. Besides looking good, silk has a number of properties that make it a fantastic material to make bedding. Firstly, silk is naturally hypoallergenic so if you suffer from allergies, this can be a great option for you. Secondly, silk can regulate heat efficiently so you can sleep cool during the night. Lastly, it can help you maintain healthier skin and hair. This is a unique feature of silk that separates it from other commonly used materials. The Oxford Pure Silk pillowcase is machine-washable but make sure you use a gentle cycle. Overall, this is a premium pillowcase that will last for a long time.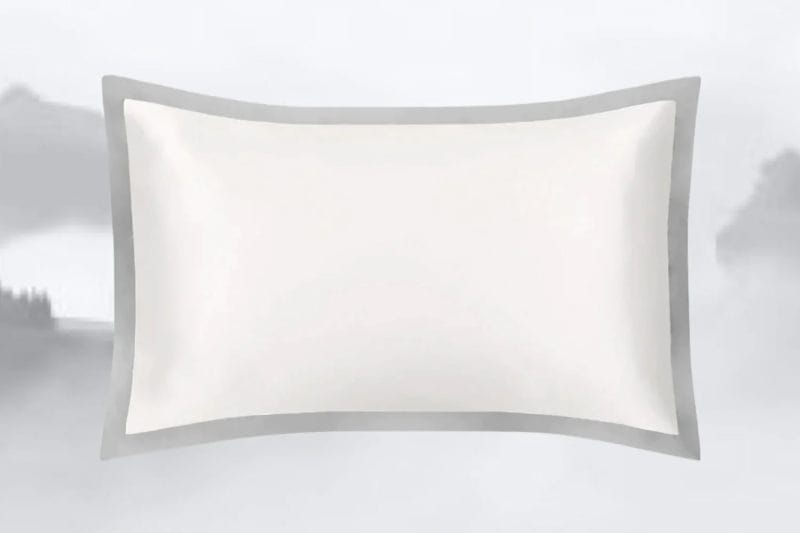 Design
This pillowcase comes with an Oxford border in Oyster Grey. This is a great combination that looks very premium and classy. Comparing it with my cotton pillowcases, it was easy to understand the difference and I realised why silk is considered a superior material. If you like the Oxford style, there are 7 combinations so there is plenty of choices for you to choose from. Overall, this is a gorgeous piece of bedding that will add a luxurious touch to your bedroom.
Delivery & Returns
A premium product should come with premium service and the people at Mayfairsilk seem to understand that. If you decide to buy from them, you will get a 30-night sleep guarantee. That means that you can use this pillowcase for a month and if you are not happy with it, you can return it and get a full refund. This is fantastic and only a handful of bedding makers offer that. Additionally, Mayfairsilk offers free standard delivery for all orders of £50 and above. That means that this pillowcase comes with free delivery. Overall, this is a great package so no complaints at all.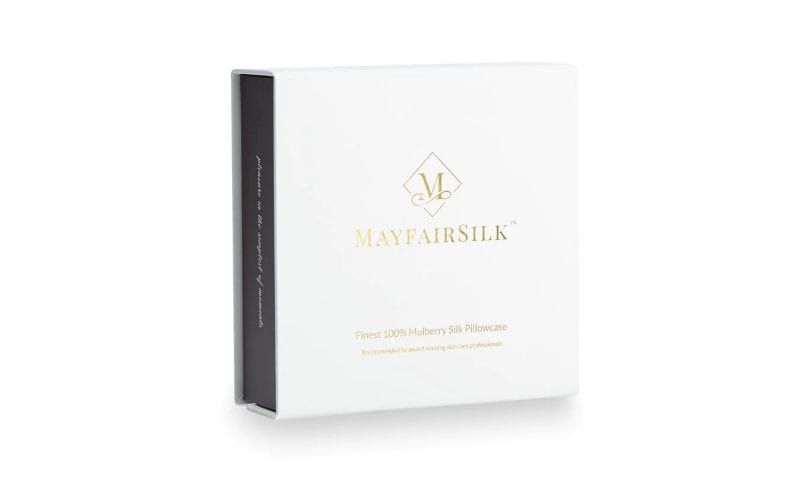 Pricing
The Mayfairsilk Oxford pillowcase is available in two sizes, standard & super king. The price difference between the two is £15 so depending on your needs, you can choose accordingly. The table below has all the details about the two sizes.
| | | |
| --- | --- | --- |
| SIZE | DIMENSIONS | PRICE |
| Standard | 50 x 75cm | £105 |
| Super King | 50 x 90cm | £120 |
Verdict
It's time to complete this Mayfairsilk pillowcase review and share my final thoughts with you. After having spent almost a week sleeping on the Oxford pillowcase, I feel that it is a good investment, especially for those who enjoy everyday luxuries. Although the price can initially look a bit high, when you consider the materials, the finishing, the service, the health benefits and the durability of this pillowcase, it actually makes sense. As a result, I can say that this is a great piece of bedding that I can recommend.
Mayfairsilk Pillowcase Review
PROS
Great materials and finishing
Variety of designs
30-night trial period
CONS
Not the cheapest option