Sleeping on a good mattress is not always enough for a good night's sleep. Using the right pillow is equally important so you must make sure you choose the right one. In this Origin Latex pillow review, I am exploring this latest release from the German maker.
After reviewing their Origin Hybrid mattress, I was really curious to get my hands on their pillow too. The good news is that they offer a 7-night trial period so you can try it at home and decide later whether you want to keep it or not. Returns are free and the process is a simple one. Moreover, all Origin pillows come with a 2-year guarantee and free shipping that usually takes between 2-8 working days. My pillow was delivered around 10 days ago so it's a good time now to move to the full review below.
Construction
This pillow is made of a single piece of latex foam which is infused with cooling gel. This improves its cooling properties and allows it to regulate temperature more efficiently. To increase airflow, the engineers at Origin drilled holes and this is a mechanism that works well. Natural latex is a great material and has some useful properties. Firstly, it's antimicrobial and hypoallergenic. That means that if you suffer from allergies, this is a great material for you. Secondly, natural latex can hold its shape for years so you can rest assured that this pillow is a good long-term investment. Finally, latex is not friendly to dust mites so you can sleep without worrying about these little creatures. Overall, this is a well-made pillow that will impress you.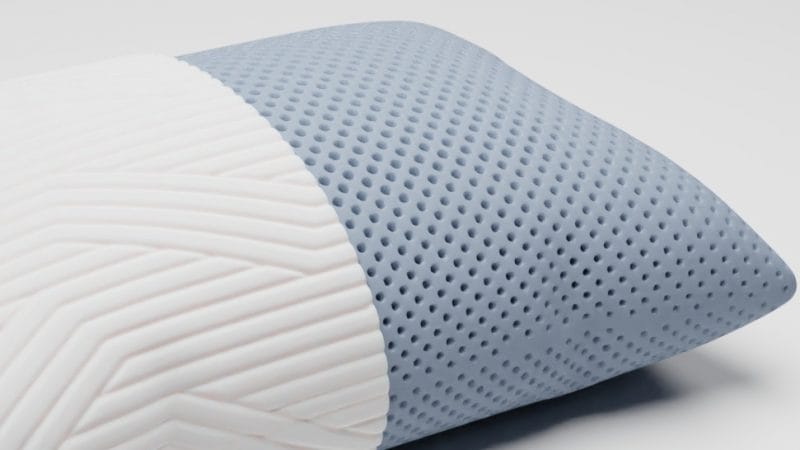 Cover
The Origin Latex pillow comes with a tencel cover that is a nice addition. Tencel is a fantastic material that has a number of properties that make it ideal to use to make sleeping products. It's made of wood pulp (usually from eucalyptus tree) and it's an eco-friendly alternative to cotton. This type of fabric is very breathable so it sleeps cool and has the ability to regulate heat. Moreover, tencel is absorbent so it can wick the extra moisture away from your body. Finally, it's anti-bacterial and it's suitable for sensitive skin. That of course makes it a great choice for allergy sufferers.
Other tencel properties include being soft and lasting for a long time so the people at Origin chose wisely here. The cover is removable and machine-washable. This is great as I personally like to wash the covers frequently. The design is a modern one and this is definitely a premium pillow cover.
Support
I have mentioned this many times but before you buy your next pillow, you should first think of your preferred sleeping position. The Origin Latex pillow has a medium profile (13cm) so it's better suited to back and side sleepers. If you are a stomach sleeper, there are other better options for you.
After using it for the past ten days, the pillow did an excellent job in these two positions and I felt that the latex core was very supportive. Additionally, the pillow managed to take the pressure off my neck and head and I felt well-rested every morning. Although this is not ideal for stomach sleepers, I still think that it's one of the best pillows I have tried.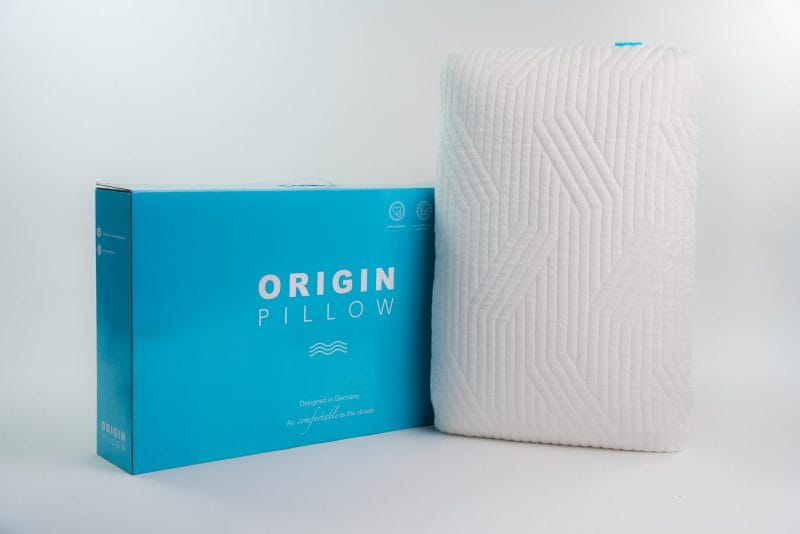 Should I buy the Origin Latex pillow?
I am ready now to complete this Origin Latex pillow review and share my final thoughts with you. I think that this pillow is ideal for anyone looking for:
A latex pillow that is built for the back and side position.
A premium pillow that is built with excellent materials.
A pillow that comes with a 7-night trial period.
This is a great new option from Origin and I think that it's going to be a bestseller. If you don't sleep on your back, this is a fantastic pillow and one that I can recommend.
Origin Latex Pillow Review
PROS
Great materials
Excellent tencel cover
7-night trial period
CONS
Not great for stomach sleepers