Many sleepers tend to change positions during sleep which means that choosing the right pillow can be a challenging task. To help you out, we decided to create a buying guide with the best pillows for combination sleepers. After spending hours doing research, we came up with the below five options that will cover all the needs you might have. The key here is to get a pillow with a medium loft that is suitable for all sleeping positions. Without any further ado, let's move below to see in detail those five pillows.
Editor's Pick – Simba Hybrid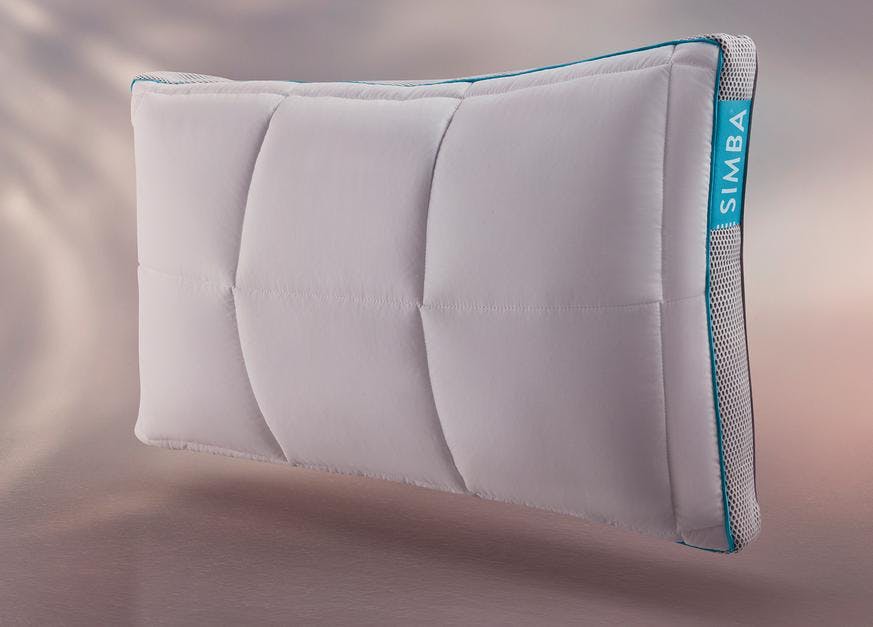 The first pick for this buying guide is the Simba Hybrid pillow. This is one of the best pillows that we have reviewed and it's definitely a great option for combo sleepers. This is an adjustable pillow which means that you can change its height and feel. This allows you to personalise it according to your needs and find the right spot that will be good for all sleeping positions. The Hybrid pillow is filled with memory foam nano-cubes that have excellent pressure-relieving properties so your neck can get proper rest. Moreover, the cover is made with Stratos technology that can regulate heat efficiently. This allows it to stay cool during the night so you can sleep comfortably.
When you buy one, the people at Simba will offer a free delivery service which is carbon-neutral. This is definitely something we need to mention here as not many makers offer this. Overall, this is a versatile pillow that won't disappoint even the most demanding sleeper.
Best Adjustable – Emma Original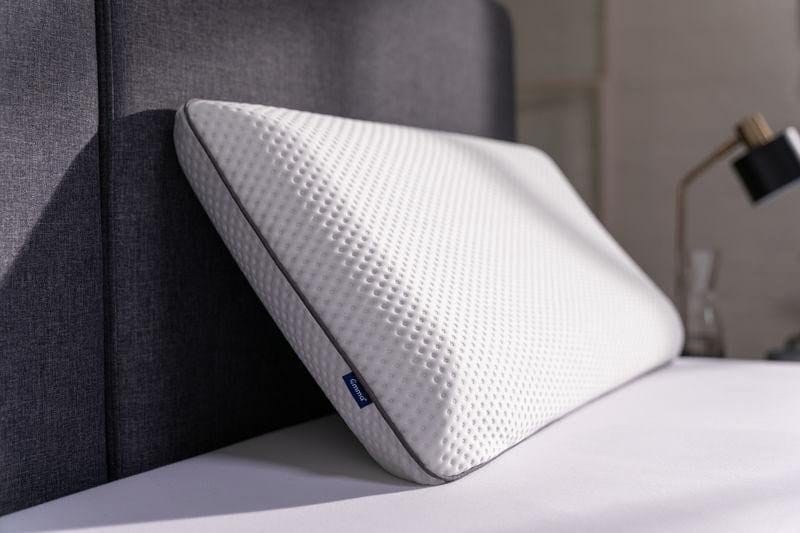 The second pick on this list is another adjustable pillow and it's one of Emma's best sellers. The Original pillow features 3 foam layers that can be used to customise your sleeping experience. That means that you can change the feel and the height according to your body type which is very useful if you are a combination sleeper. Around the foam layers, there is a polyester cover that is breathable and ensures that the foam inserts will stay in place. The Emma Original pillow is very supportive but it can also provide your head and neck with pressure relief. It's well-made and it comes with an affordable price tag.
If you decide to buy one, you will get a 30-night trial period that will give you a full month to try it and decide later whether you want to keep it or not. Returns are free so if you are not happy with it you will get your money back. Add free delivery and a 2-year guarantee and you have a great deal here. Overall, this is a fantastic pillow that is built for all sleeping positions.
Best Cooling – REM-Fit 500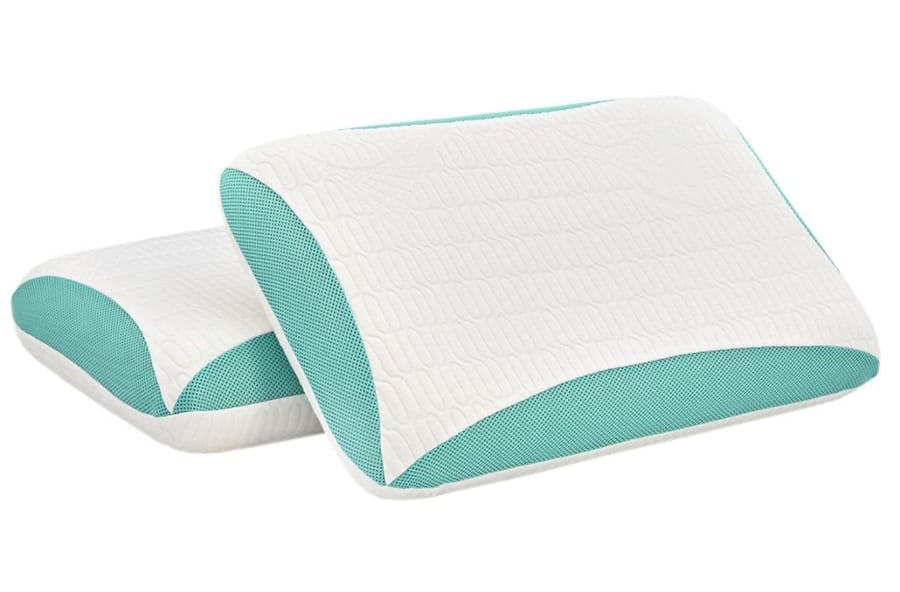 If you are a hot sleeper and you change positions during the night, the REM-Fit 500 should be high on your list. This is a cooling pillow that is made with a single piece of memory foam that promises to help you get a neutral spinal alignment. The key here is its loft which is 12cm and it's the sweet spot for all sleeping positions. To add cooling properties, the engineers at REM-Fit infused it with cool gel so this pillow won't get hot during the night. That makes it an excellent choice for combo sleepers who look for a cooling pillow.
All REM-Fit pillows come with a 5-year guarantee that will cover you against any manufacturing defects. This is impressive and not many makers offer this. Additionally, this pillow comes with free next-day delivery so you won't have to wait long to get it. Overall, this is a fantastic pillow and it comes at a fair price.
Best Memory Foam – OTTY Deluxe Pure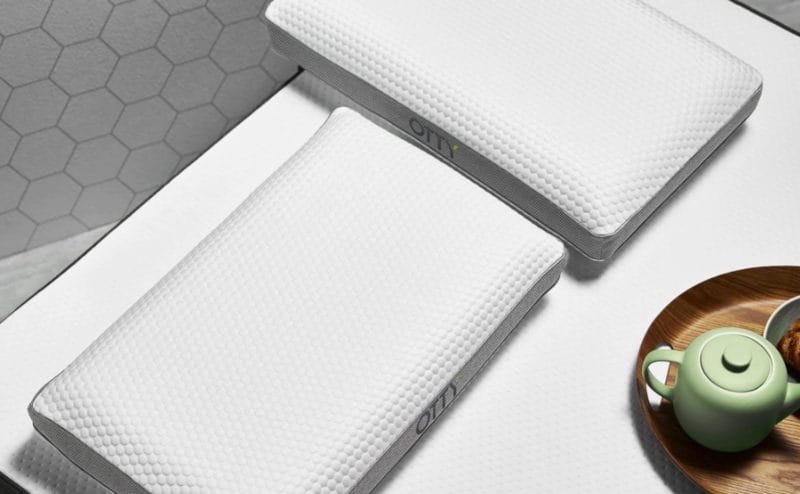 Another great option on this list is the OTTY Deluxe Pure pillow. This is made with premium memory foam and it's a pillow that has great pressure-relieving properties. It also comes with a medium loft so it won't feel too high for stomach sleepers or too short for back sleepers. This of course is the main reason that it belongs to this list and it's a pillow you should consider. Besides that, this pillow is infused with charcoal which makes it hypoallergenic and suitable for asthma sufferers. The cover is made of bamboo which can eliminate odours and allows airflow. The good news is that it's removable and machine-washable so you can clean it with ease.
All OTTY pillows come with a 1-year guarantee and free delivery. Additionally, you will get a 14-night trial period that allows you to try this at home. In case you are not happy with it, you can return it and get a full refund. Overall, this is a complete package here that comes with an affordable price tag.
Best Latex – Una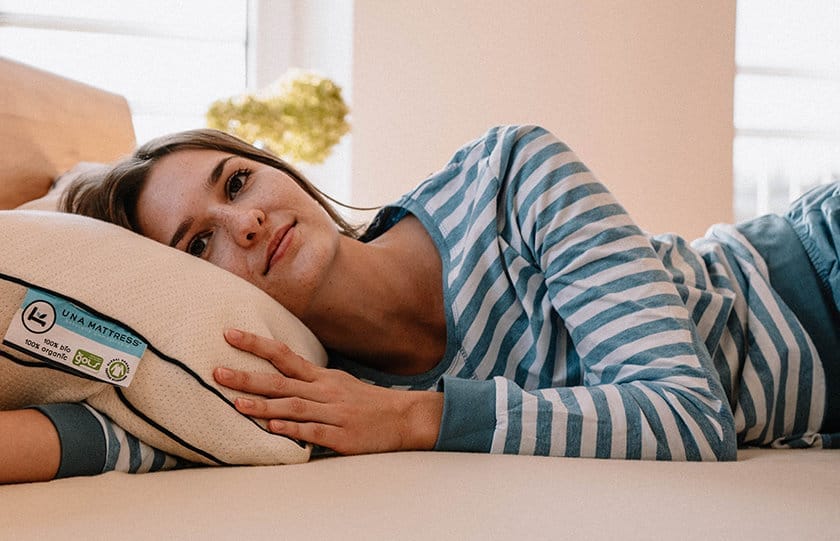 The last option on this list comes from Una. This is an organic pillow that is made of natural latex (GOLS certified) and it promises a customised sleeping experience. It achieves that by featuring an adjustable system that allows you to change both the firmness and the height of this pillow. The core is made of two latex inserts that can be used to customise it. Around it, there is an organic cover that is made of cotton and wool. It's breathable and it feels soft to the touch. The Una pillow is well-balanced so you will get both the needed support and pressure relief.
One of the most impressive things about this pillow is the fact it comes with a 100-night trial period that gives you more than 3 months to try it at home. This is usually offered only for mattresses and it's great that Una decided to offer this here. Additionally, you will get a 5-year guarantee which shows the quality of this product. Overall, this is a special pillow here that will suit everyone who is following an organic lifestyle.
We want now to complete this buying guide with the best pillows for combination sleepers. If you feel that you need more help, don't hesitate to contact us and we will come back to you the soonest we can.