Many people have started using body pillows these days as they have understood their benefits and the many functions that these products have. Simba took notice and they decided to develop their own. In this Simba Body Pillow review, I will talk about their latest release and whether it's one you should consider.
Body pillows are particularly useful to pregnant women but I wouldn't say they are limited to them. For example, I use a knee pillow so I was really keen to try this body pillow too. Mine was delivered almost a week ago so it's time now to move to the full review below. Before I continue, I have to mention that all Simba Body pillows come with free delivery that usually takes between 1-3 working days.
Construction
This body pillow is filled with Simba Renew Bio fibres that are made of recycled PET bottles. They are an eco-friendly down alternative so you should expect the same cushioning properties but without the animal cruelty. Moreover, this type of fibre allows airflow so the core of the pillow can remain cool even during the summer months. As expected, this pillow is available in one size and it will suit all adult body types, including expecting women.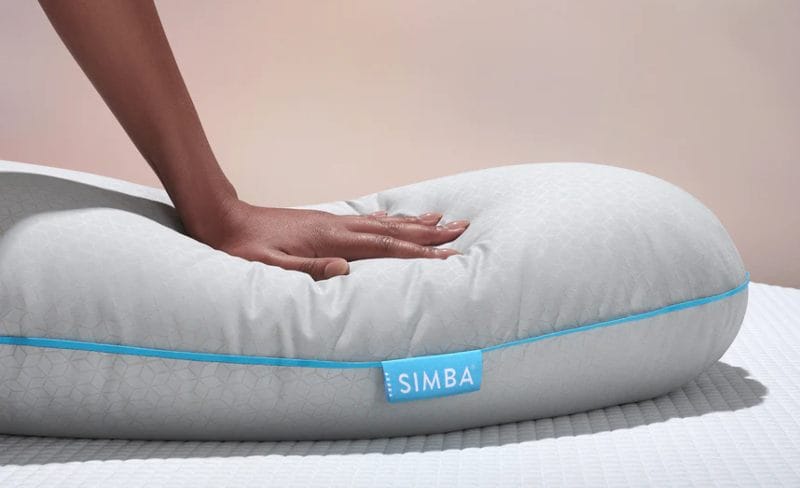 Cover
The cover of this pillow is one of the best things about it. It's made of 100% Better Cotton that is grown with specific standards. These include protecting the crop, the water, the soil and the workers that farm this cotton. This is a great initiative and the people at Simba show for one more time how they care about the community and the planet.
To enhance the cover, they decided to use Stratos technology here which allows the cover to feel instantly cool. Additionally, it can dissipate any excess heat so you can sleep comfortably during the night. This is impressive and it's one of the main things that separates it from the competition. Overall, this is a fantastic cover and the people at Simba did a great job here.
Support
According to many studies, the majority of British sleepers sleep on their side. This is the best position for pregnant women or those who suffer from sleep apnea and snoring. Side sleepers should make sure that their spine is aligned correctly during sleep and this is where the Simba Body Pillow can be a game-changer. By hugging it and placing it between your knees (just the way the below picture shows) you can correct your spinal alignment and sleep better. This will reduce pressure on your knees and shoulder which can be a big problem for some sleepers.

After using it for a week, I must say that it massively improved the quality of my sleep and for some reason, it reduced the time it took me to fall asleep. It also helped me sleep more comfortably and made snoozing more enjoyable. The only downside is its size so if you sleep with a partner, you will need a King-sized bed or bigger. Overall, this is a great body pillow that won't disappoint.
Is this a good body pillow?
This is the main question that needs to be answered before I complete this Simba Body Pillow review. In my opinion, this can be a good option for those looking for:
A premium body pillow that is built with excellent materials.
A cooling body pillow that is suitable for hot sleepers.
A body pillow that can improve the quality of your sleep.
If all these sound good to you, you should definitely consider this option from Simba. I personally found it very useful and if you sleep alone or you have a large bed, this is a body pillow that I can highly recommend.
PROS
Made with excellent materials
Great cooling cover
Free delivery
CONS
No trial period offered