In this Lola Cool Hybrid mattress review, I will talk about this new option that presents great value for money. Although this is a new brand, the makers behind Lola, have a vast array of experience, having first started in 1970.
All Lola mattresses are manufactured here in the UK and as expected these days, they ship inside carton boxes. The Cool Hybrid is the first mattress they have released and so far it has seen great success. It's time now to talk about it in detail so keep reading below!
What is this mattress made of?
The Lola Cool Hybrid mattress features 4 layers plus the cover. In detail, these are:
A comfort foam layer that is designed to keep the sleeping surface cool during the night.
A support foam layer that can provide your body with the needed support. Just like the layer above, this one also has cooling properties.
A layer made of pocket springs. They are designed to prevent sinking but also to improve edge support. The springs allow airflow so your mattress can breathe better.
A zoned support base foam layer that keeps the mattress altogether. The individual cuts are there to provide your body with tailored support.
The mattress measures 24cm in height and in the image below you can see the position of every layer. All the foams used here are tested to BS EN ISO 8307.2007.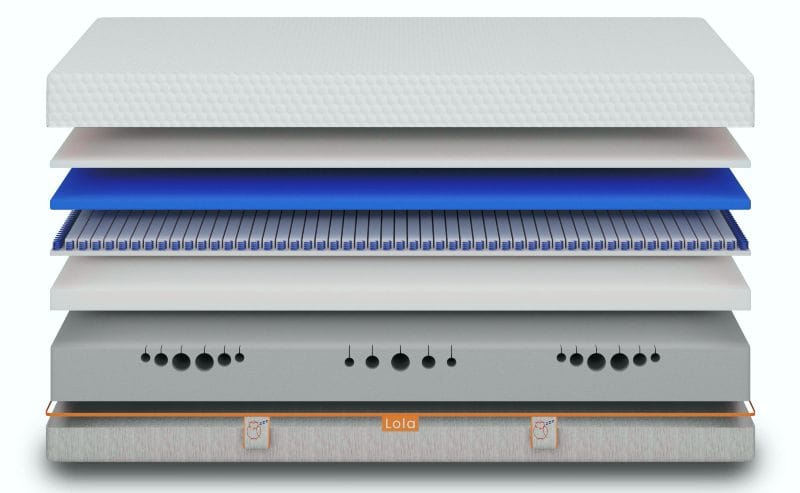 Is this a good cover?
One of the strengths of this mattress is its cover. It features two parts that work quite well together. The upper part is a Pillow-like soft top cover that feels very comfortable and according to the maker will make you feel like you are sinking into a cloud. It features a plain white colour and has a beautiful pattern. The lower part features a non-slip base and it comes with a light grey colour. It's made of a breathable fabric so your mattress will stay cool during the night.
On the sides, they have added 4 handles that will help you rotate it when this is needed. You should do so every 3-6 months to prolong its lifespan. The cover is removable and if you want to clean it, you can use your washing machine. Overall, this is a fantastic cover and the people at Lola did a great job here.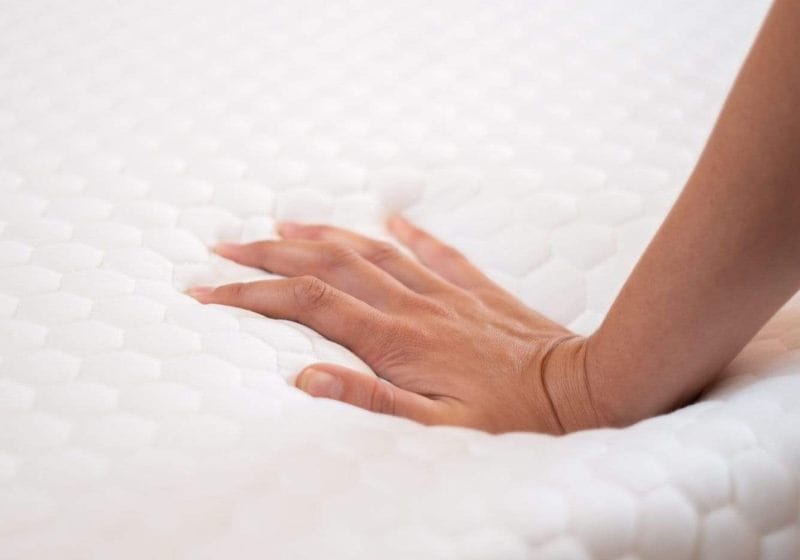 How firm is this mattress?
It's time now to continue with this Lola Cool Hybrid mattress review and talk about its feel. When designing it, the people at Lola wanted to create a mattress that will suit most body types. For this reason, the Cool Hybrid comes with a medium-firm feel. If I use my virtual scale here, I would say it's a 6.5 with 10 being really firm.

This is a well-balanced mattress and it will work well for every sleeping position. Unless you are too overweight, this can be a good option for both single sleepers or those who share their bed with a partner.
What type of bed should I use with this mattress?
This mattress doesn't need a special set-up so you can use your old bed. I personally use a slatted frame as it's great with airflow but it can also support the mattress quite well. You can also use a divan bed or a box spring but in any case, you should make sure that they are in good condition so your mattress can work at its best.
Does this mattress come with free delivery?
If you decide to order a Lola mattress, you will get a free standard delivery service. In this case, the box will be delivered to the room of your choice and the couriers will dispose of the packaging when this is required. Moreover, you can have your old mattress removed and that is offered completely free! This is fantastic and it's something that you won't find elsewhere. Deliveries are usually dispatched within 2-4 working days so you should have your mattress within 3-6 days from the moment you place your order. Every time you place an order, they donate £10 to the Dogs Trust. This is a great gesture and more makers should do the same. Overall, they do a good job here so no complaints at all.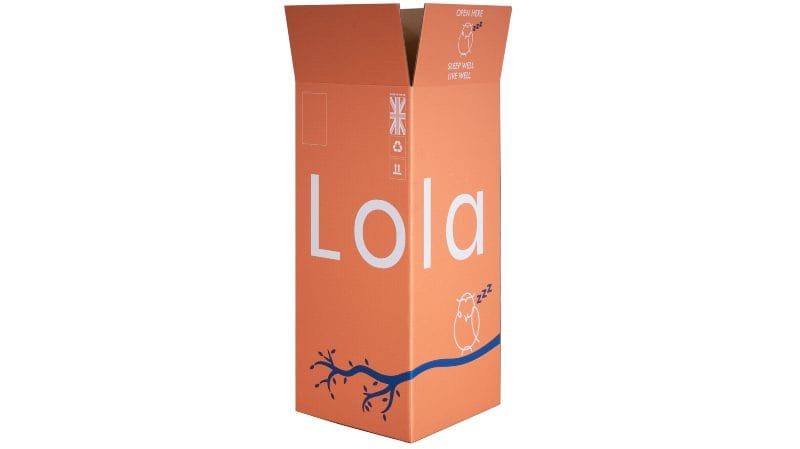 Can I try this first?
All Lola mattresses come with a 100-night trial period that gives you more than 3 months to try this mattress and decide later whether you want to keep it or not. If you are not happy with it, you can return it and get your money back. Besides the trial, all mattresses come with an 8-year guarantee that will cover you for many years. However, I need to point out that most other boxed mattresses come with a 10-year guarantee so there is definitely room for improvement here. If you want to find out more about the terms and conditions, you should visit their guarantee page. Overall, this is a complete package and the people at Lola did a great job here.
How much does it cost?
The Lola Cool Hybrid mattress is available in 4 sizes so you have a number of options to choose from. The smaller size (Single) sells for £899 with the bigger size (Super King) going for £1,699. However, they run frequent promotions so you will probably pay less than that. For example, at the moment of writing, there was a 40% off promotion across the store. The table below has pricing information for all available sizes.
| | | |
| --- | --- | --- |
| SIZE | DIMENSIONS | PRICE |
| Single | 90 x 190 x 24cm | £899 |
| Double | 135 x 190 x 24cm | £1,099 |
| King | 150 x 200 x 24cm | £1,299 |
| Super King | 180 x 200 x 24cm | £1,699 |
Who should buy the Lola Cool Hybrid mattress?
This is the main question that I have to answer now that I am about to complete this Lola Cool Hybrid mattress review. I would say that this would be a good option for anyone looking for:
A hybrid mattress that is both comfortable and supportive.
A fairly priced mattress that has great cooling properties.
A mattress that comes with a 100-night trial period.
If you look for all these, this mattress is an option you should consider. It's built here in the UK and it comes with great service and support. Lola managed to make a good all-rounder here that is fairly priced and this can be hard to find.
Lola Cool Hybrid Mattress Review
PROS
Good all-rounder
Value for money
100-night trial period
Free old mattress disposal
CONS
Guarantee could be longer