Most boxed mattress makers sell their products directly to their consumers. It's one of the main reasons they have such good value for money. SleepSoul took another path and their mattresses are available in selected retailers. Today, I will talk about their bestseller so continue reading this SleepSoul Bliss Mattress review to find out more about this hybrid option.
SleepSoul is a Birlea brand and it was developed to offer consumers value for money mattresses. This is how the Bliss mattress was created which came to be a great success. After hearing about it from a friend, I was really curious to try this out. My mattress came about a month ago so it's about time now, I write this review.
What is a SleepSoul Bliss mattress made of?
The Bliss mattress has an interesting design and it features a total of 4 layers. In detail these are:
Top Layer: A soft foam layer which is there to add comfort.
Middle Layer: A memory foam layer which will provide your body with the needed pressure relief.
Middle Layer: Another soft foam layer which helps with the transition from the memory foam layer to the springs layer.
Bottom Layer: A layer made of 800 pocket springs. They are there to support your body and help with your spine alignment.
The mattress measures 32cm in height and it's one of the thickest ones in the market. The image below showcases how each layer is positioned.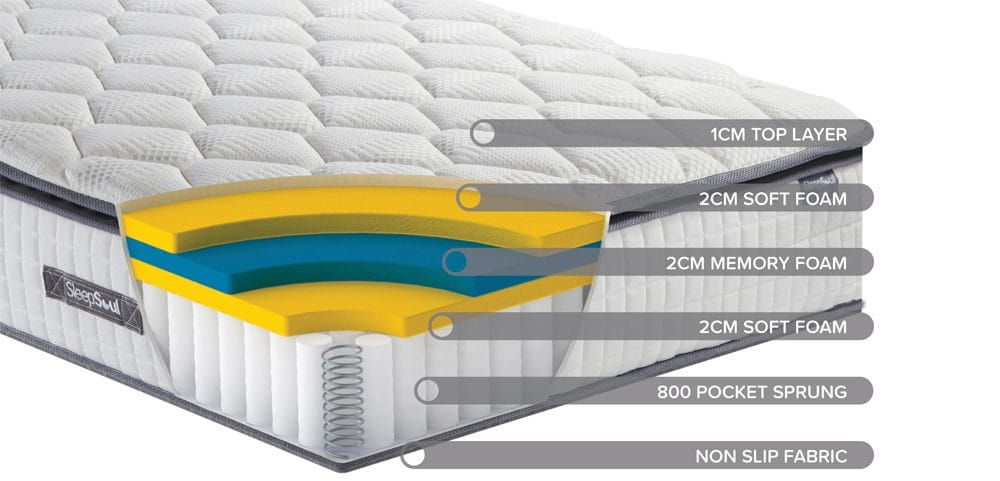 What is the cover made of?
The Bliss mattress comes with a soft-touch knitted cover which looks great. It features a modern design that I personally liked. The cover feels soft and it comes with a 1cm pillow top layer which adds extra comfort. This is one of the main reasons you should get this mattress in my opinion. The cover is breathable so your mattress will stay cool even during the summer nights. On the sides, they have added 4 turning handles which will help you when you want to move it. This is clever thinking and even more expensive mattresses lack this feature. At the bottom, they have added a non-slip base which will keep the mattress in place. If you want to clean it, you should use a mild detergent and spot-clean it where needed. Unfortunately, this is not removable so you cannot use your washing machine. Overall, it's a nice cover and I think that SleepSoul did a good job here.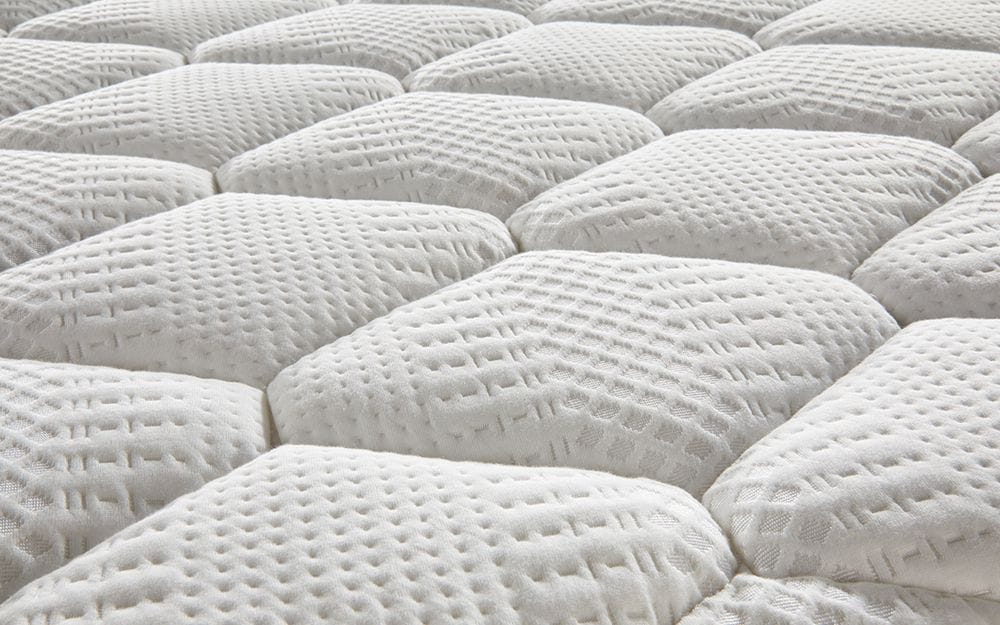 How firm is the SleepSoul Bliss mattress?
The Bliss mattress is designed to suit most sleepers so it comes with a medium-firm feel. If I use my scale here, I would say it's a 6.6 with 10 being really firm. I would like now to talk about the different sleeping positions and how this mattress performed.

Starting from the back position, I instantly felt the comfort of the pillow-top layer. This in combination with the other foam layers creates a unique feeling which I thoroughly enjoyed. The mattress felt supportive and overall, it did a good job in this position.
Turning to the side position, the springs adjusted to my weight quickly and sinkage increased. This allowed my spine to align properly and the Bliss mattress did a good job in this position. I felt well-supported and it was comfortable sleeping this way.
Finally, moving to the stomach position, I felt that the mattress was a bit soft for this position. I think that the pillow top doesn't suit stomach sleepers so if you are one maybe you should look elsewhere. Pressure relief was decent but I felt that a firmer mattress would do a better job in this position.
If you share your bed with a partner, you should expect some motion transfer but nothing too much. The edge support is decent so the Bliss mattress is appropriate for couples.
What type of bed to use with this mattress?
This mattress doesn't need a special setup to work so you can use any flat surface that can support it. However, I advise you to use a slatted frame or a box spring which usually works well. If you use slats, always remember that the distance between them should not be longer than 7cm.
How will it be delivered?
The SleepSoul Bliss mattress is a rolled one so it will come packed in a carton box just like the one pictured below. I bought this from Mattress Online so I got a Free Next Day delivery which is great. They also offer a number of options and if you want more information, you should look at the table below.
| | |
| --- | --- |
| Next-Day delivery | FREE |
| Saturday delivery | £17.5 |
| 2-man delivery | £20 |
| Old Mattress recycling | £25 |
The delivery service was really good and I received a text with my delivery slot. The courier was prompt and overall, I was quite happy with what was offered to me.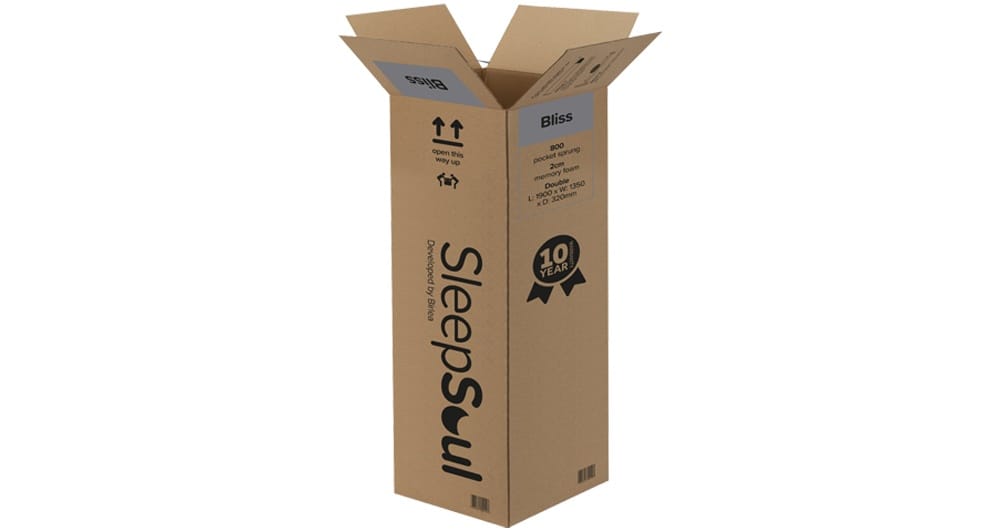 Does the SleepSoul Bliss come with a trial period?
When you buy a SleepSoul mattress, you won't get a trial period unlike what is happening with the other boxed mattresses. This is I guess a way to cut costs and offer this at such a competitive price. However, I think that SleepSoul should revisit this and maybe offer a trial period in the near future which will help the customers to give this a try. Finally, every mattress comes with a 10-year guarantee which will cover you for a long time.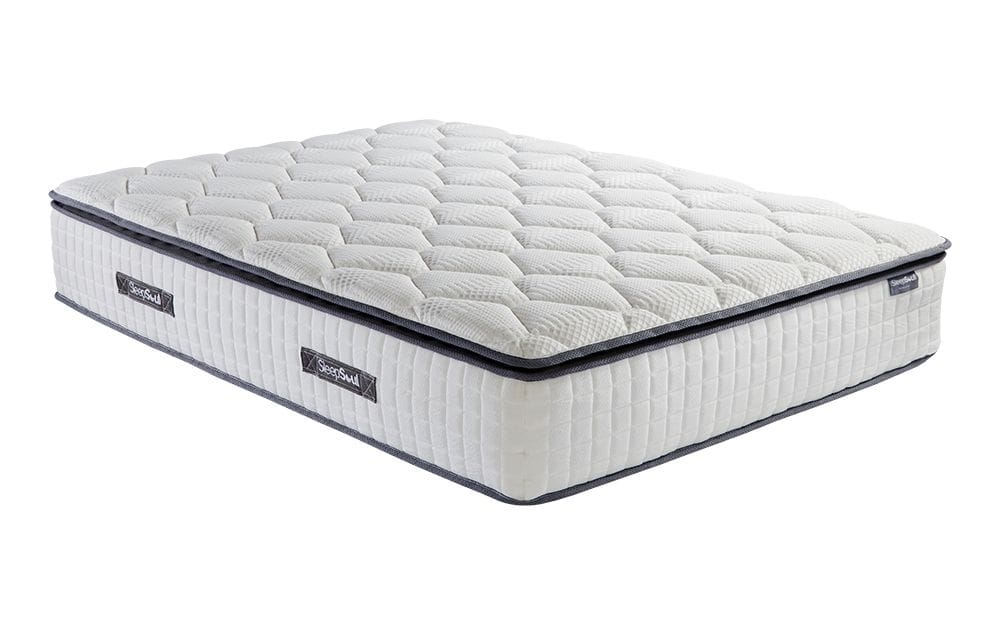 How much does it cost?
SleepSoul makes affordable mattresses and the Bliss one is no exception. The smaller size (Single) goes for £349.99 with the bigger (Super King) selling for £609.99. Having said that, they usually run promotions so you will probably get one at 35% off. The table below has pricing information for all available sizes.
| | | |
| --- | --- | --- |
| SIZE | DIMENSIONS | PRICE |
| Single | 90 x 190 x 32cm | £349.99 |
| Small Double | 120 x 190 x 32cm | £459.99 |
| Double | 135 x 190 x 32cm | £459.99 |
| King | 150 x 200 x 32cm | £519.99 |
| Super King | 180 x 200 x 32cm | £609.99 |
Is the SleepSoul Bliss mattress any good?
This is the question that I have to answer now that I am about to complete this SleepSoul Bliss mattress review. I think that this mattress would be a great choice for everyone looking for:
A hybrid mattress that is comfortable and supportive.
An affordable mattress from a maker you can trust.
A mattress that comes with a 10-year guarantee.
The SleepSoul Bliss mattress impressed me as I didn't expect a mattress of this price to perform that well. If you are a back or side sleeper and you don't want to break the bank, this is an option you should consider.
SleepSoul Bliss Mattress Review
PROS
Very comfortable
Not too expensive
Great delivery service