Research has found that stomach sleeping is the least favourite sleeping position. That means that the majority of pillows are not geared towards this position so, after a number of emails, we decided to create a list of the best pillows for stomach sleepers. We managed to gather 6 great options that will suit people that prefer to sleep on their front. Without any further ado, let's move below to see our picks.
What type of pillow is best for tummy sleepers?
If you are a stomach sleeper, you should make sure that your neck and head are not elevated too much. For this reason, pillows with a lower loft are better suited for this position so you should make sure you choose the right height. Besides that, pillows with a firmer feel are more likely to suit this type of sleeper but that is not set in stone. After all, not every sleeper sleeps at the same angle so the firmness is negotiable. The bottom line is that tummy sleepers should look for low-loft pillows. If you follow this advice, this is a good starting point.
Best Overall – Aeyla Dual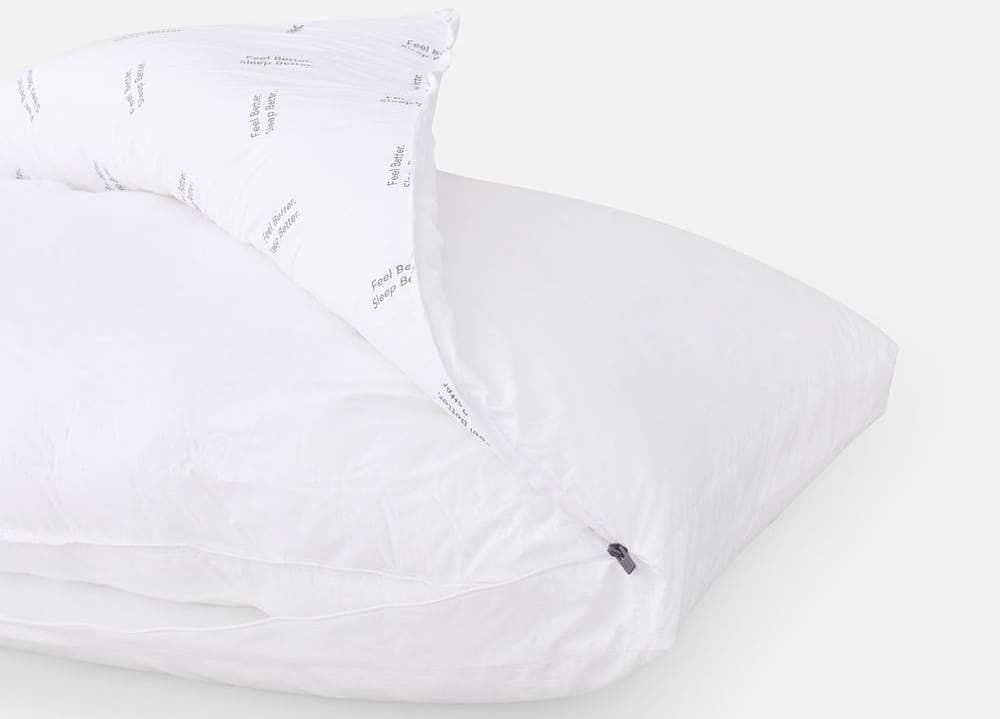 The first pick on this list is the Aeyla Dual pillow. This is a very interesting option that is available in two loft options; low and medium. As you can imagine, stomach sleepers should opt for the low-loft version which is ideal for this position. The Dual pillow features an interesting Pillow-In-Pillow design that works great and promises to reduce neck pain. The pillow is filled with microfibres that have the ability to hold their shape. This type of material is free from harmful substances and it's an eco-friendly down alternative. Overall, this is a well-made pillow that is designed for the tummy position.
If you decide to buy this pillow, the good news is that it comes with a 30-night trial period that allows you to try this first before you commit to keeping it. Moreover, you will get free delivery which won't take long. This is a great package for a pillow that is reasonably priced.
Best Value – REM-Fit 400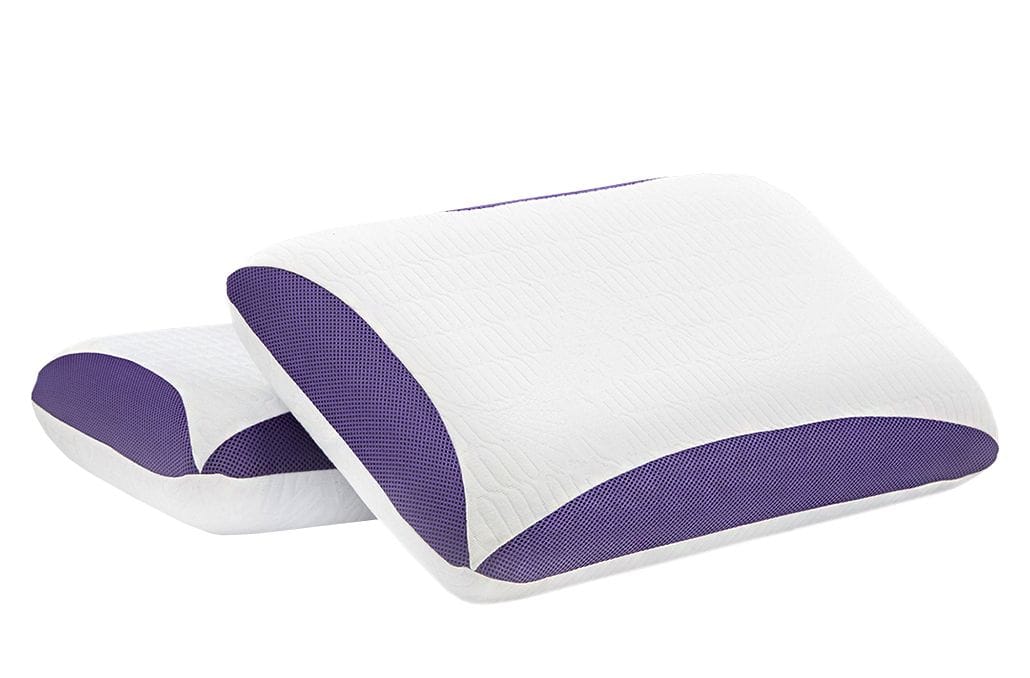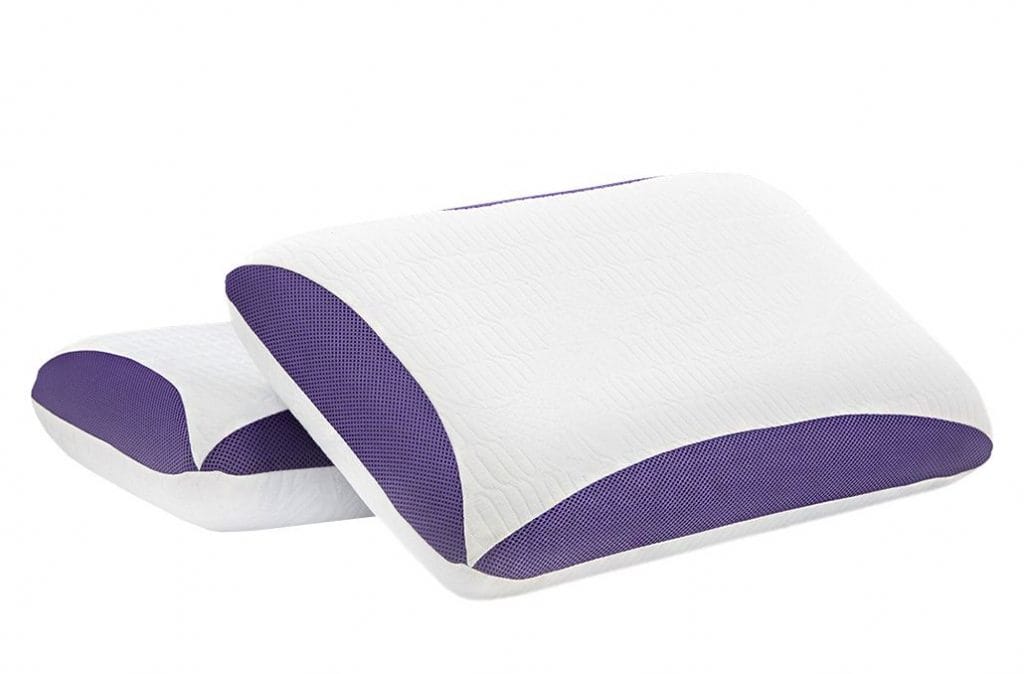 The second pick on this list is the REM-Fit 400 pillow. This is another bestseller from REM-Fit that can be a good choice for front sleepers. The pillow is filled with memory foam crumbs that can adapt to your head and neck. They chose this approach because crumbs are more flexible than a single piece of memory foam. That can be useful in the front position which usually demands a lower loft. Around the core, there is a cover made of Re-Ax fibres that encourage airflow and allow the pillow to breathe better. Moreover, the cover comes with mesh panels which further increase the airflow. Overall, this is a well-finished pillow that is built with great materials.
All REM-Fit pillows come with free next-day delivery so you won't wait long before you receive your pillow. Furthermore, you will also get a 5-year warranty that will cover you for a long time. REM-Fit is a brand known for its great service and this is a great package here.
Most Comfortable – Emma Premium Microfibre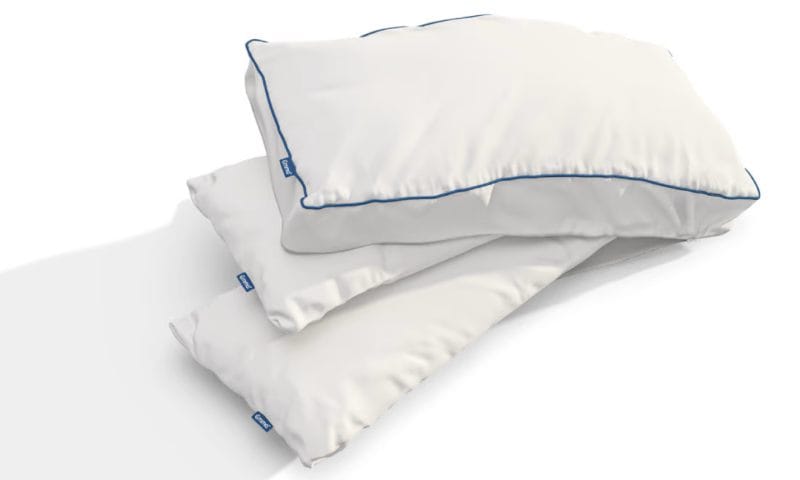 If you look for more comfort while sleeping on your stomach, you should definitely consider the Emma Premium Microfibre pillow. This is an adjustable option from the popular German maker. As its name suggests, this pillow is filled with microfibers that are fluffy and can create a super comfortable environment. The engineers at Emma decided to create an interesting design that features 2 inserts like the ones shown in the picture above. Depending on the loft you want, you can opt to use one or two inserts. Of course, front sleepers will probably use just one insert which will result in a low loft. Around the core, you will find a polyester cover with a soft touch finish. The whole pillow is machine-washable and that makes it easy to maintain. Overall, this is an innovative design that Emma managed to execute correctly.
The good news is that the Emma Premium Microfibre pillow comes with a 30-night trial period so you have plenty of time to try this out. Moreover, you will also get free delivery and a 2-year warranty. This is a great package but we didn't expect anything less from Emma.
Best Cooling – REM-Fit Bamboo Charcoal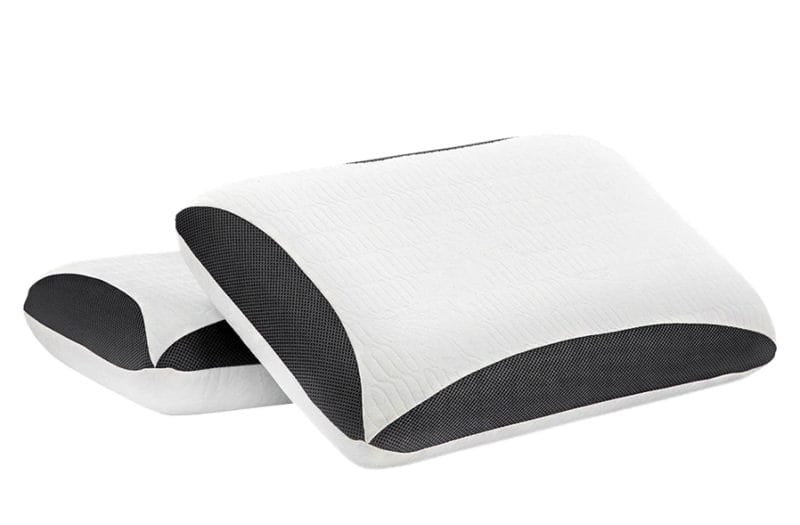 If you look for a cooling option, the REM-Fit Bamboo Charcoal pillow might be exactly what you need. It's filled with Visco Elastic Polyurethane foam with bamboo powders. The latter ensures that you will sleep cool. Around the foam, you will find a polyester cover that feels soft and looks durable. The REM-Fit Bamboo Charcoal pillow is available in two depths, one low (8cm) and one high (12cm). The former is ideal for front sleepers and it can be used in the stomach position. The pillow has a great finish and overall, it's a high-quality one.
When you buy one, you will get free delivery which is quite quick. This pillow is an affordable option and just like all other REM-Fit products, it presents great value for money.
Best Adjustable – Emma Original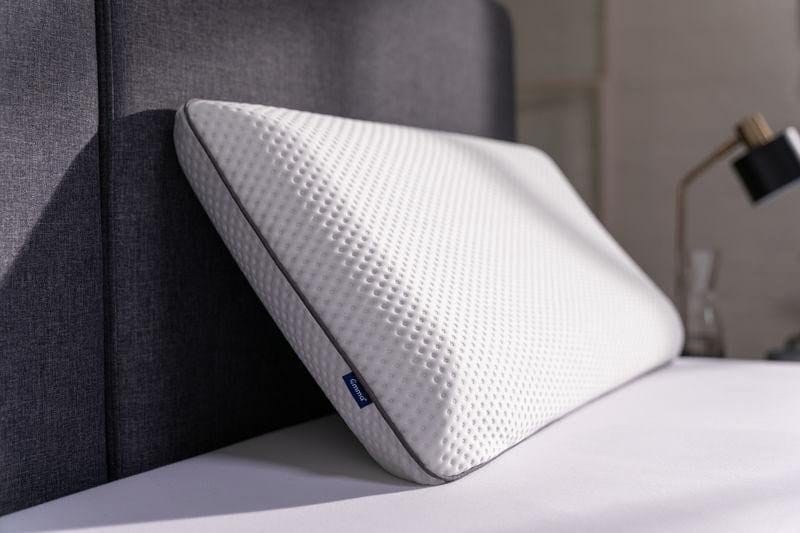 We have already mentioned above that a lower loft is needed for this position so an adjustable pillow would be the best choice for sure! The people at Emma seem to understand that and for this reason, they created this adjustable option. The Emma Original pillow features 3 foam inserts that you can use to create the combination that suits your needs. Stomach sleepers will probably use 2 of them and this setup will work great. When compared to the Emma Microfibre pillow, this one has a firmer feel so you should have this in mind.
This pillow is built with excellent materials and it's not a coincidence it has won the 'Best Adjustable Pillow' award for 2022. The cover is removable and you can machine wash it which is great. Overall, this is a versatile pillow and it's an option that will suit every type of sleeper, including the front ones.
When you buy an Emma pillow, you should expect a 30-night trial period that gives you a full month to try it and decide later whether you are happy with it or not. Additionally, you will get a 2-year guarantee and free delivery. This is an awesome package so well-done Emma!
Best for Neck Pain – Aotoze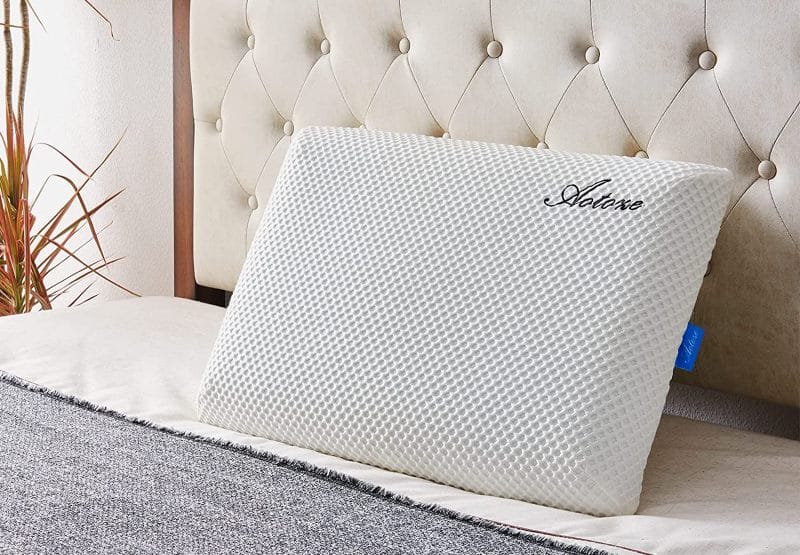 If you suffer from neck pain, you should probably look at the Aotoze pillow. This super slim option measures only 6cm in height so it won't put pressure on your neck and head. After all, many people who sleep without a pillow, feel that the Aotoze pillow helped them get neck pain relief. The design is a straightforward one and the pillow is made of a single piece of gel memory foam. The pillow is a relatively small one measuring 60 x 40 x 6 cm and it comes with a removable, machine-washable cover. The memory foam has a medium-soft feel so you should expect a comfortable pillow.
The Aotoze pillow is available from Amazon so you will get free delivery. They also offer a refund policy so if you are not happy with the purchase, you can return it and get a full refund. The pillow will cost you around £35 and it's an affordable choice for front sleepers.
We hope that this guide with the best pillows for stomach sleepers will help you sleep better. Here at BMUK we work hard and do a lot of research to create useful content. However, if you feel that you still have questions, please email us and we will do our best to come back to you the soonest as possible.