Allergies can affect our day-to-day lives in many ways so if you suffer from one, you should make sure that you have the right sleeping setup. To help you out, we decided to create this guide that features the best pillows for allergies. The focus here is on the right materials and the appropriate certifications so your pillow isn't a trigger for any allergy. Besides that, you should also make sure that you use the right bedding and you wash your sheets regularly. Without any further ado, let's move below to see the five options we have gathered for you.
Editor's Pick – Panda Hybrid Bamboo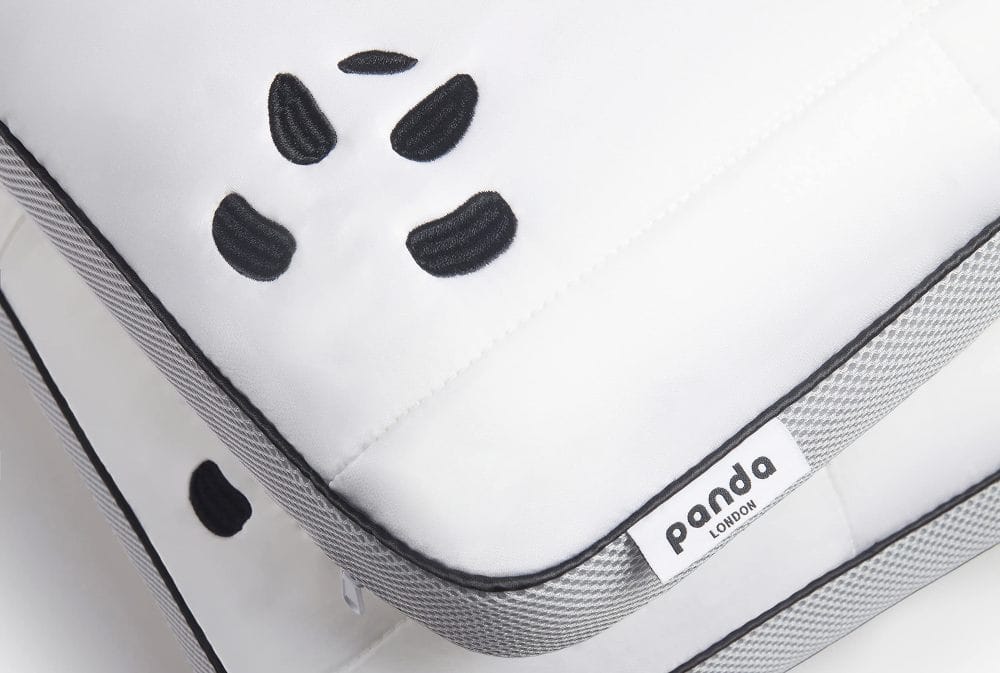 Our favourite pick on this list is the Panda Hybrid Bamboo pillow. This is a memory foam option that is infused with charcoal bamboo. This allows it to regulate heat and neutralise odours. The foam used here is orthopedically approved so it can take the pressure off your neck and head. The pillow is made from a single piece of memory foam that features Micro-Pods. These are holes that increase airflow so the pillow can stay cool during the night.
Around the core, there is a bamboo cover that is hypoallergenic and anti-bacterial. Moreover, it's inhospitable to dust mites, a major trigger of allergies. The cover comes with a mesh panel that makes it more breathable and it has a premium feel. If you order one, you will get a 30-night trial period and a 10-year guarantee. Add a free delivery and you have an excellent deal here. Overall, this is a fantastic pillow that will suit allergy sufferers.
Best Memory Foam – REM-Fit Bamboo Charcoal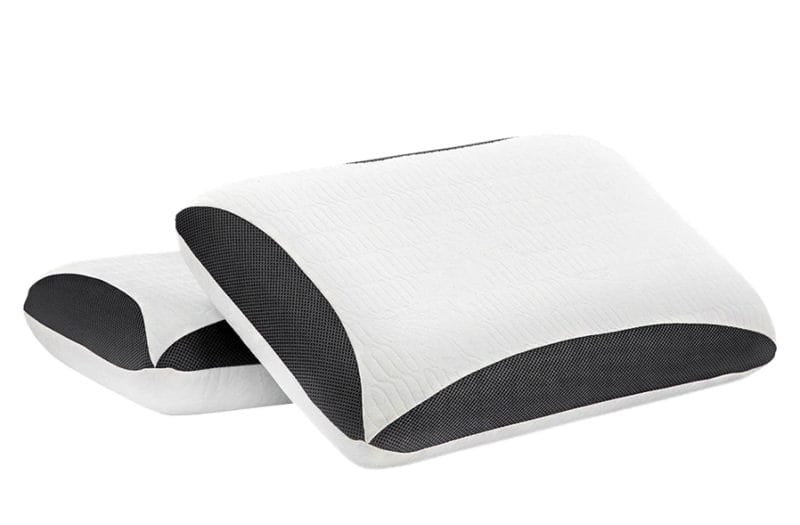 The second pick on this list is the REM-Fit Bamboo Charcoal pillow. This is a very interesting option as it's available in 2 heights. That means that you will definitely find the one that matches your sleeping style. Besides that, this pillow is made of a single piece of memory foam that is infused with bamboo charcoal powders. This makes it odour-resistant but also allows it to wick the extra moisture away. Furthermore, this pillow is naturally hypoallergenic so it's a good choice for allergy sufferers.
The cover of this pillow is made of Re-Ax fibres which have excellent temperature-regulating properties. It's very breathable and to make it even better, the people at REM-Fit added 4 mesh panels. The good news is that this is a removable cover that is machine-washable. Finally, we need to mention here that this is a super-affordable option and at £34, it's an absolute steal.
Best Latex – Snoozel Green Organic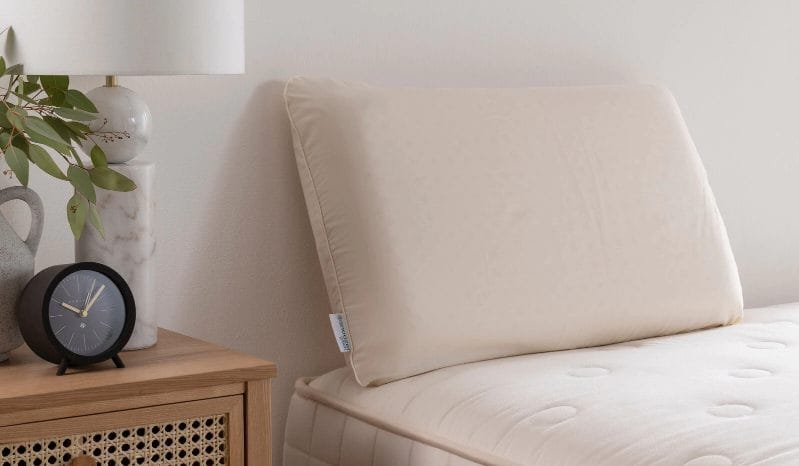 If you prefer latex pillows, the Snoozel Green Organic can be a great option. It's a pillow made with A-Grade natural latex foam that is free from chemicals and fire retardants. It's naturally hypoallergenic and it's available in two shapes; contour and elliptical. The former is curved and has one side slightly higher than the other. This can help with better spinal alignment. The latter has the typical "bar of soap" shape that most pillows have. It comes with a medium-firm feel and it sleeps cool thanks to its innovative ventilating system that features perforations.
Around the pillow, you will find a GOTS-certified organic cotton cover that feels very premium. To keep it pure, they haven't bleached it so it comes with a light beige colour. Unfortunately, they don't offer free delivery unless you buy a pair so hopefully this will change in the near future. Overall, this is a high-quality organic pillow that won't disappoint.
Best Eco-Friendly – Simba Pure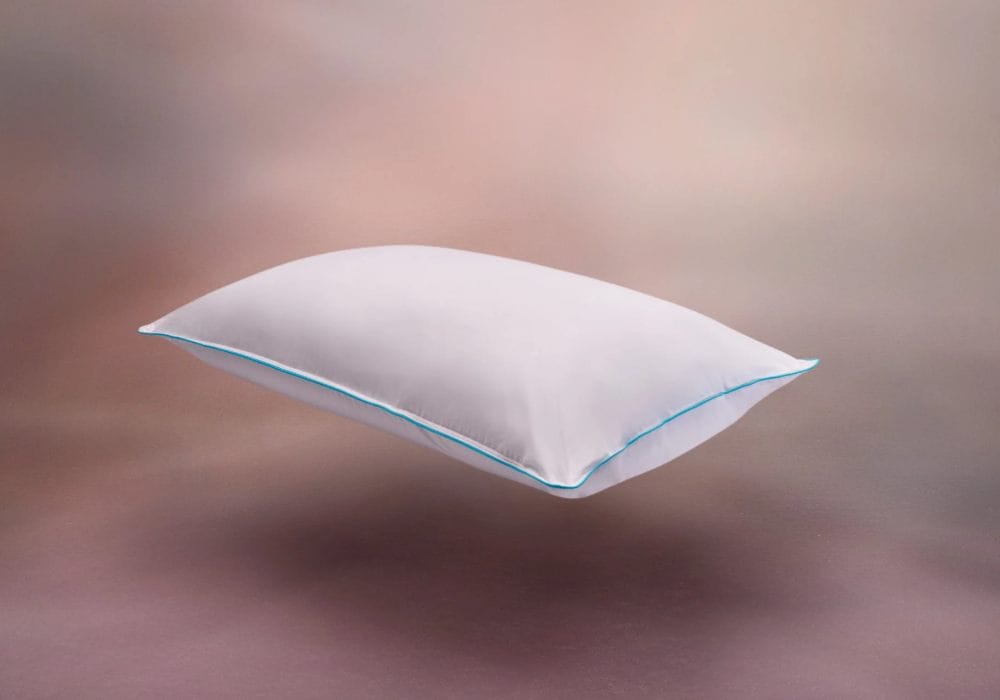 If you look for an eco-friendly pillow, the Simba Pure can be a great choice. It's made with Simba-Pure foam that is TCPP-free. That means that it doesn't contain any fire retardants but it's also free from harmful metals and dyes. The pillow comes with cooling airflow channels that increase its breathability so you can sleep more comfortably during the night. The Simba Pure foam is very supportive and your neck and head will have proper rest. It's anti-microbial and hypoallergenic so it's definitely a great choice for allergy sufferers.
The cover is made of woven polyester and the good news is that it's machine-washable. Moreover, it feels quite premium and soft to the touch. When you order one, you will get free delivery. This is carbon-neutral and it shows the "green" face that Simba has. It has an affordable price tag so if you look for a high-quality eco-friendly option, this is for sure one to consider.
Best Value – Silentnight Anti-Allergy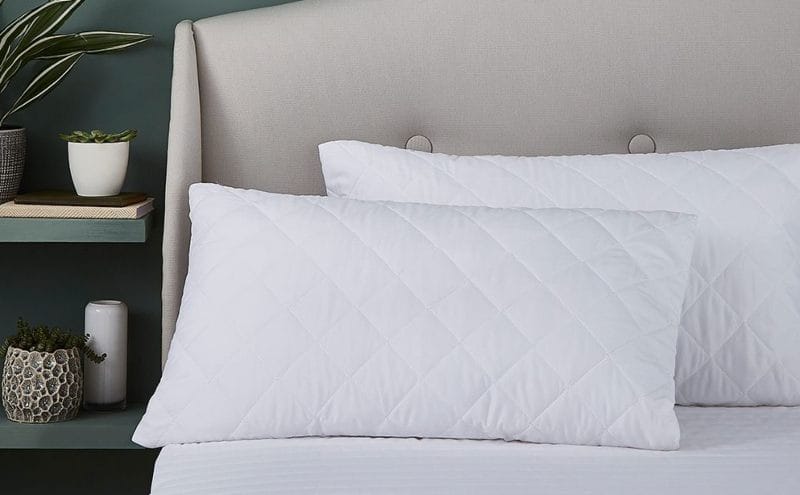 If you are an allergy sufferer but you have a tight budget, the people at Silentnight have your back. A pair would only cost you around £18 so this is an absolute steal. The Anti-Allergy pillow has a soft-medium feel so if you prefer firmer pillows, this is not built for you. It's filled with anti-allergy fibres which make it ideal for asthma sufferers. Moreover, it's filled with anti-bacterial fibres that actively protect against bacteria and dust mites.
Since this pillow is filled with synthetic fibres you can place the whole thing inside your washing machine. Make sure you wash it at a maximum temperature of 40 degrees. This allows you to clean it frequently which is great when you have sensitive skin. Overall, this is a quality pillow that comes at a bargain price.
We are ready now to complete another buying guide that this time features the best pillows for allergies. As always, if you feel that you have any queries, don't hesitate to contact us and we will do our best to help you out.