Emma is one of the most established brands in the UK and there is a good reason for that. After developing the popular Emma Original, they decided to create a budget version for those who don't want to spend that much. In this Emma Essential mattress review, you will find all the information you need about this foam-only option.
The Emma Essential is built here in the UK and just like its sibling, it's a boxed mattress. Emma wanted to make a super affordable mattress so some corners were cut here but overall, this is a great option for savvy sleepers. My mattress arrived a few weeks ago so it's a good time now to move to the full review below.
What is an Emma Essential mattress made of?
The Emma Essential mattress is made of 2 layers plus the cover. These are:
Top Layer: A temperature-regulating hybrid foam layer that is there to keep the sleeping surface cool during the night. This type of foam is very breathable but at the same time, it will provide your body with the needed pressure relief.
Bottom Layer: A supportive HRX foam layer that is the base of this mattress. It features a 7-zone cut system that will support the more demanding parts of your body like your hips and shoulders. It's a firm foam that will help with your spine alignment and will improve the quality of your sleep.
The mattress measures 18cm in height which is way less compared to the Emma Original. This is expected as this mattress is made of 2 layers instead of 3. The picture below showcases the inside of the Emma Essential.

What is the cover made of?
The cover of the Emma Essential is made of two parts. At the top, they used a fabric that is made of 100% polyester. This material is very durable and breathable so it's a wise choice. The bottom part is made of 89% polyester and 11% polypropylene. The cover is removable and you can machine wash it at 40 degrees. This is great as you can maintain it with minimum effort. On the sides, they have added 4 handles which will help you move it. This is great thinking and I love when makers think this way. In addition, they have added a non-slip base that will keep the mattress in place. I was personally very impressed by the cover and I didn't expect all these features from a cheap mattress like that. The design is modern and overall they did a great job with this cover.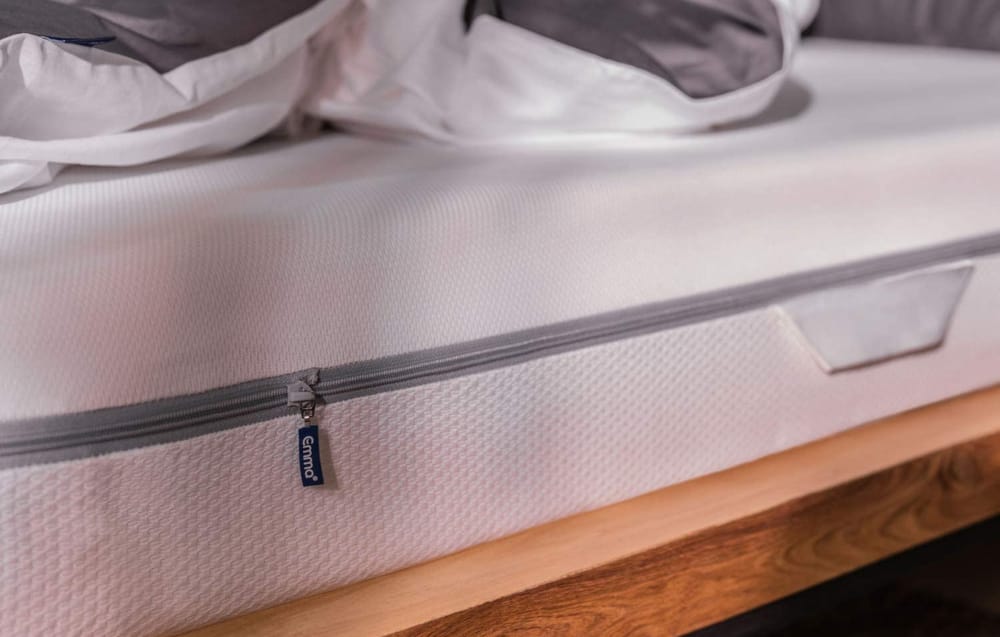 How firm is the Emma Essential mattress?
The Emma Essential mattress was designed to suit most sleepers so they decided to go with a medium-firm feel. If I use my virtual scale here, I would say it's a six with 10 being really firm. I will talk now about the different sleeping positions and how this mattress performed.

Starting from the back position, the mattress felt comfortable from the beginning and it did a decent job supporting my body. Pressure relief was below my standards but this is acceptable at this price point. The foam layers hugged my hips and shoulders and I didn't feel I was stuck in.
Moving to the side position, the mattress reacted quickly and sinkage increased. The mattress helped my spine align correctly and I was positively surprised by it. I didn't feel any discomfort on my hips and it was very comfortable in this position.
Finally, moving to the stomach position, the mattress felt softer than I would prefer. Having said that, when I sleep in this position I personally like the firmer mattresses. Support was decent and overall the Emma Essential did a relatively good job in all three positions.
If you are a couple, this mattress has minimal motion transfer so you won't have the annoying partner disturbance. On the other hand, the edge support is not that great which is expected from a budget mattress like that.
What type of bed should I use with this mattress?
You can place your Emma Essential on any flat surface including your floor. However, this is not very hygienic so I will advise you to use a bed frame. According to the maker, you can use a slatted bed frame, a box spring or an adjustable bed. If you use a slatted frame, make sure that the distance between the slats is no longer than 7cm.
How will it be delivered?
When you buy the Emma Essential mattress, you will get Free Delivery for all sizes. As I have already mentioned above, this is a rolled mattress so you should expect it packed in a carton box. It's sold via Mattress Online so you should expect excellent service. In my case, it was 3 working days and I had no issues at all. I received good communication and the courier was very polite. Overall, it was a decent service and I can't ask for more at this price point.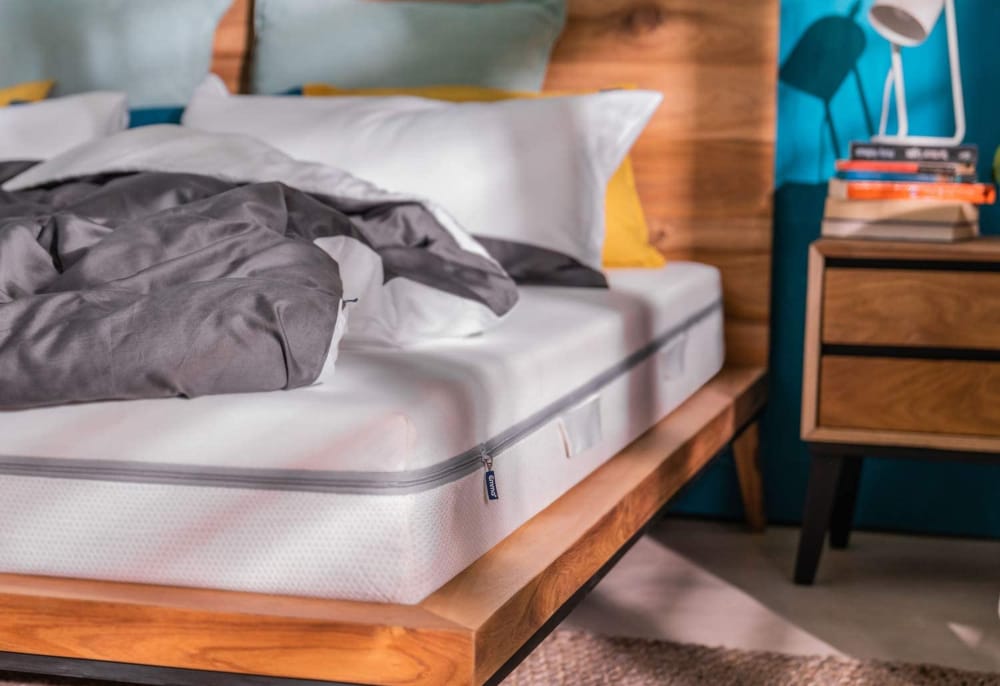 Does the Emma Essential come with a trial period?
One of the big differences between this mattress and the Original one is the fact that the former doesn't come with a trial period. This is expected as the Essential mattress is heavily discounted. However, this mattress comes with a 5-year guarantee which is significantly less compared to the 10 years that they offer with their Original mattress. The people at Emma decided to offer a mediocre support package to cut costs so you should be aware of it. Overall, this is a decent package for the money you will pay.
How much will it cost me?
The Emma Essential mattress was created for those on a tight budget. For this reason, they decided to offer it with a huge discount so you can get one for £159! There are 5 sizes available with the bigger Super King going for £249. The table below has pricing information for all available sizes.
| | | |
| --- | --- | --- |
| SIZE | DIMENSIONS | PRICE |
| Single | 90 x 190 x 18cm | £159 |
| Small Double | 120 x 190 x 18cm | £199 |
| Double | 135 x 190 x 18cm | £219 |
| King | 150 x 200 x 18cm | £239 |
| Super King | 180 x 200 x 18cm | £249 |
Is the Emma Essential mattress any good?
This is the question that I have to answer now that I finish this Emma Essential mattress review. I would say that this mattress would be a good option for those looking for:
A super budget mattress from a big name like Emma.
A foam-only mattress that is designed for all sleeping positions.
A mattress that sleeps cool and is supportive.
If you look for all these then this mattress can be a good choice. It's definitely not the best mattress that I have reviewed but at this price, it's in a league of its own. If you have a tight budget this one should be very high on your list.
Emma Essential Mattress Review UK
PROS
Excellent value for money
Great cover
Good cooling system
CONS
Average support and pressure relief
BUY THE EMMA ESSENTIAL MATTRESS