Emma is very well known for their excellent hybrid mattresses but recently they have developed a new foam one. In this Emma Original mattress review, I will share with you my thoughts on their latest product.
EXCLUSIVE OFFER: 38% OFF EVERYTHING AT EMMA! CLAIM HERE
I was really keen to try this out and it finally came last week. It arrived in their white carton box directly to my doorstep, delivered by UPS. I am using their Hybrid mattress as my main one so I really wanted to see the differences between the two and what the different design approach brings to the table. The Emma Original is built here in the UK with really high-quality materials. Like all rolled mattresses, it will smell quite bad out of the box, but this will wear off completely in 2-3 days. Let's move now to the full review below.
My colleague Panos helped me to create the video review below:
MATERIALS
The Emma Original features a total of 3 layers and the cover.
Top Layer: An Airgocell foam layer which allows airflow but also ensures optimised adaptability. This is, in my opinion, the best material I have seen in a mattress and it's great to see it used here.
Middle Layer: A memory foam layer that ensures support, pressure relief and spine support are distributed properly.
Bottom Layer: A supportive cold foam layer that provides your lower back and shoulders with the needed support. It also works as the base of the mattress.
In the picture below you can have a better understanding of how the different layers are positioned.
COVER
The cover of the Emma Original is one of the best I have seen. They use climate fibres and pores to make it really breathable and I must admit, it works very well. The recent heat wave in London allowed me to put this in test and it performed great. The cover is made of 99% polyester and 1% elastane. The latter makes it quite elastic which is important as a good cover needs to stay in place. The sleeping surface feels soft but strong, and it's really nice sleeping on it.
Emma didn't change the design so you should expect a white top and a grey side and bottom part. Anti-slip elements are applied to the bottom part which is very practical thinking. Moreover, the sides feature handles which are very helpful when you are trying to move the mattress. The cover is removable and you can machine wash it in low temperature. This is a feature I really love as I like to keep the covers clean and fresh. Overall, I think that Emma did a fantastic job with the cover and it's definitely the best I have seen.
FIRMNESS & COMFORT
The Emma Original is a medium-firm mattress, designed to cover most people's needs. In my virtual scale, it would be a 6 with 0 being really soft and 10 really firm. Personally, I found it slightly softer than the Emma Hybrid but the two mattresses have almost the same firmness level. They behave differently though, so if you want more bounce than the Hybrid is the one for you whereas if you want more adaptation then the Original should be your choice. It's time now I talk about the different sleeping positions and how this mattress performed in each one.

Starting from the back position, the mattress felt really comfortable and I immediately felt the memory foam hugging my body. It was really positive to see such a quick adaptation to my body. My hips and shoulders were properly supported and I felt that my spine was aligned correctly.
Turning to the side position, the mattress adapted again very quickly. The combination of Airgocell foam and memory foam worked really well. Sinkage increased to allow my shoulders and hips to get to the right position. The medium firmness makes it very comfortable to sleep in this position but the impressive thing is that the mattress manages to provide the body with the needed support and pressure relief.
Finally, moving to the stomach position, my hips and spine felt well supported and in the right position. However, I felt that if the Emma Original was a bit firmer it would suit me better. Nothing wrong here, it's more my taste and what I prefer. My girlfriend really loved the fact that this mattress is slightly softer than the Hybrid one. Overall, I think that Emma did a fantastic job with the Original mattress and it was really hard to find a position that didn't work well.
As for the edge support, the Original mattress behaved exactly like the Hybrid one. You will get the same performance wherever you seat or sleep. It's a very well made mattress and the great edge support is the proof of it.
BED TYPE COMPATIBILITY
You can put the Emma Original mattress in any flat surface. That means that you can use a slat frame, a box frame or even your floor. It will work equally well in any case. Of course, make sure the surface you use is clean and dry. The mattress comes in many sizes, including the EU ones so you will definitely find one to fit your old base. I used my IKEA slat frame and it worked really well. Overall, no complaints here at all!
DELIVERY & PACKAGING
As I have already mentioned, the Emma Original is a rolled mattress. It's delivered directly to your door in a white and blue carton box. The delivery service is free for any size providing your mattress comes on a weekday. There is an option for a Saturday delivery which will cost you an extra £35. Shipments usually take between 1-3 working days to arrive. On top, Emma offer a mattress removal service if you want to get rid of your old mattress which costs £35. Your old mattress will be picked up by a third party company only after your new Emma mattress is delivered. This is great to see as it's quite difficult to remove an old mattress.
Delivery took only 2 days for me and it was done by UPS. The delivery guys were really helpful and polite. The mattress is not too heavy so you might be able to transfer it to your room of choice by yourself. But I suggest you have a second person there to help you. Especially if you order the bigger sizes. Overall, the service I received was great so no complaints here.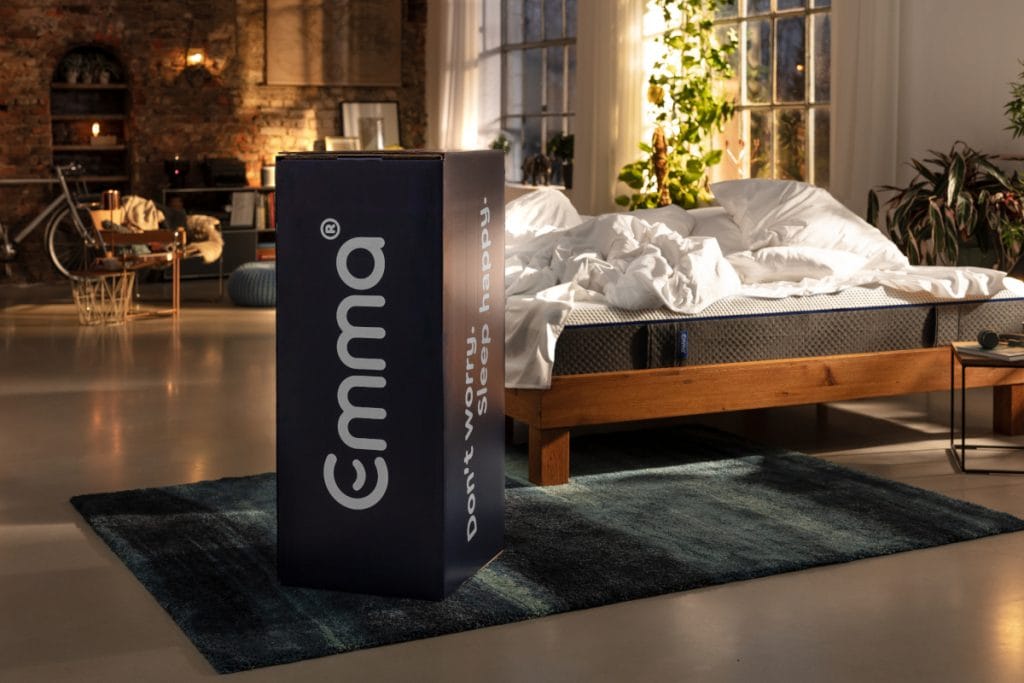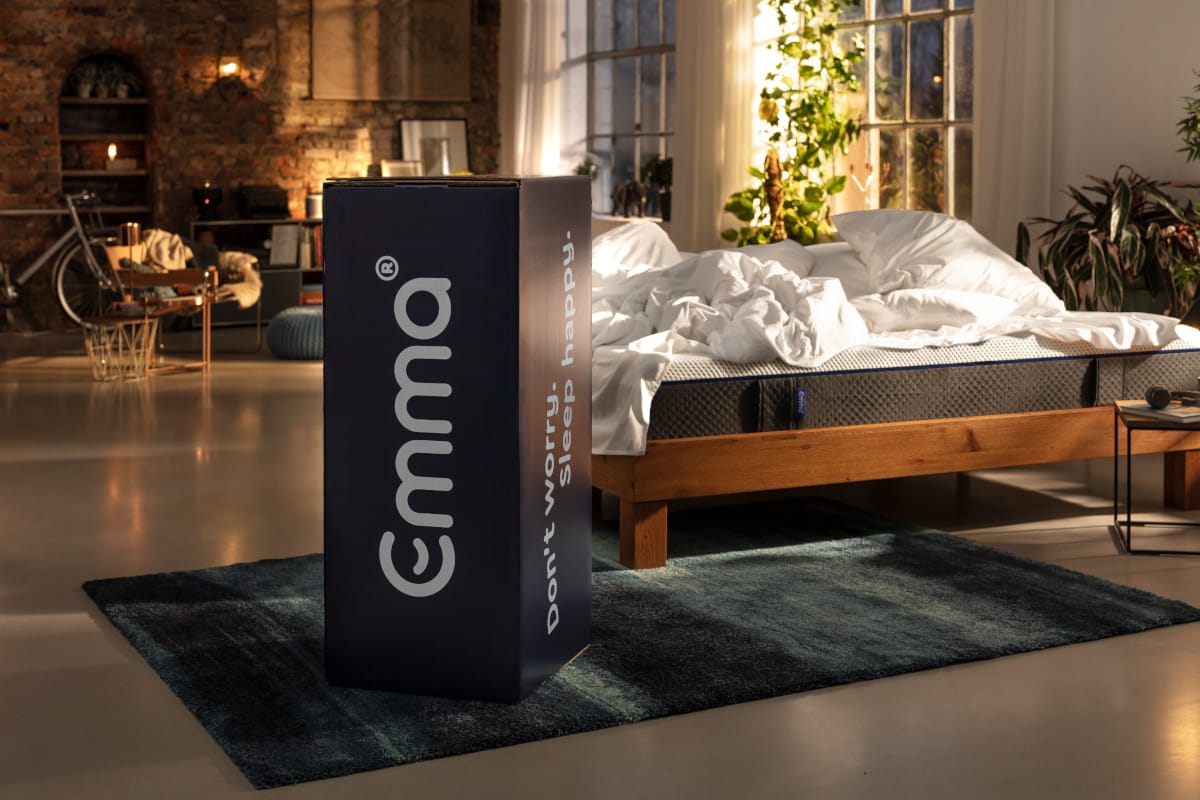 TRIAL PERIOD & GUARANTEE
The Emma Original comes with a 100 nights trial which allows you to try the mattress and if you are not happy with it, to return it for free and get a full refund. In this case, all you have to do is just talk to their customers' service department and they will arrange everything for you. The mattress also comes with a 10-year guarantee which means that you are covered for a long time. This is great to see and takes away all the stress of buying a mattress online. All the returned mattresses are donated to charity organisations. Emma works closely with two, in particular, Debra and the British Heart Foundation. Overall, I think Emma offer a great service and also give back to the community. This is great to see from a company and more should follow their lead.
MATTRESS PRICING
Emma's mission is to provide people with affordable but high-quality mattresses. They sell directly to consumers so no middlemen involved. There are 8 sizes available for you to choose from. The smallest one (UK Single) starts from £429 with the bigger one (Super King Size) selling for £799. Before you buy any mattress, always check our voucher codes page for big savings.
| SIZE | PRICE |
| --- | --- |
| UK Single | £429 |
| EU Single | £449 |
| Small Double | £599 |
| Double | £649 |
| EU Double | £699 |
| King Size | £699 |
| EU King Size | £749 |
| Super King Size | £799 |
IS THE EMMA ORIGINAL MATTRESS FOR ME?
Finishing this Emma Original mattress review, it's time I share my final thoughts on this new mattress. Emma managed to build another mattress that offers at the same time both high levels of comfort and support. It's a great choice for everyone looking for:
A medium-firm mattress that provides the body with the needed pressure relief and has an excellent cooling system.
A mattress designed with practicality in mind that comes with excellent service and support.
A fairly priced mattress built here in the UK with really high-quality materials.
The Emma Original really impressed me. It's clear they took all the knowledge and experience from their first mattress to built an excellent foam one this time which get all the basics but also the details right. And this is a winning combination.
EMMA ORIGINAL MATTRESS REVIEW
POSITIVES
Excellent support and pressure relief provided
Amazing sleeping surface
Great service and support
NEGATIVES
Slightly softer than I would prefer