Emma is one of my favourite mattresses and it is the one I currently sleep on. In this Emma pillow review, I will talk about their newly introduced pillow and share my thoughts with you.
I have mentioned many times that using the right pillow is very important for a good night's sleep. Recently, I have reviewed a number of pillows and I am really keen to find the one that would tick all my boxes. I was really excited when I received my Emma pillow as I have great respect for this company. It came in a very nice carton box which seemed quite big but when I opened it I found a normal-sized pillow. To be more specific, it measures 40cm x 70cm and it is similar to most pillows I have reviewed. Let's move now to the full review.
Do you prefer video reviews? We have you covered!
Construction
Emma decided to create a modular pillow to allow people to adjust it according to their needs. There are three layers that you can use to adjust the height of this pillow. On top, there is an airgocell foam layer which is their signature material and arguably one of the best I have seen. It is designed to give you comfort but also support. In the middle of the pillow, there is a cold foam layer that is there to provide you with all the needed support. Finally, there is a visco-elastic memory foam layer at the bottom which provides the needed pressure relief. All the materials used here are also used to make their mattress and are of the highest quality. As you know, I am a big fan of Emma and I was very happy to see the same philosophy here. Overall, a really good job here!
Cover
The cover of the Emma pillow is made of 98% polyester and 2% elastane. They used these materials for two main reasons. Polyester is a very breathable material and it's great for keeping the pillow cool during the night. Elasthan is a material that as the name suggests is very elastic which is needed for a modular pillow. The cover stays close to the layers regardless of how many you use. This is very important as you don't want a loose cover that doesn't keep the layers together. The cover is removable and you can machine wash it at a low temperature. The design is simple but it looks nice and feels soft. It features a white colour with grey details on the edges. Overall, I really liked their cover as it is very functional.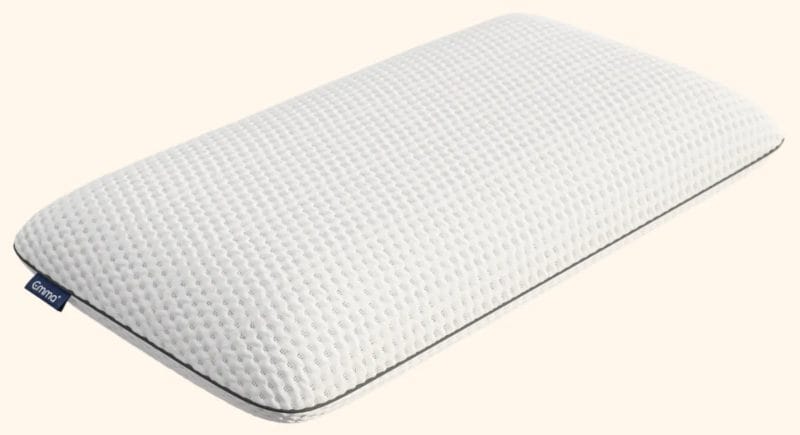 Support
Building a modular pillow is a great idea but it needs to be executed correctly. And Emma did exactly that. In the last 3 weeks that I have been sleeping with this pillow, I found that it works very well with all the different combinations. Emma has created a guide and they suggest combinations based on your sleeping habits. Check out the image below for more information.

I am a strong believer that the height of the pillow is really important and having the ability to adjust it is absolutely great! I mostly used one layer as I am an avid stomach sleeper and I really enjoyed the comfort and the support I got. Trying all the other combinations, the result was good and Emma did a very good job! For every sleeping position, the pillow performed well and I had no complaints.
Is the Emma pillow for me?
This is always the big question that I have to answer now that I am ready to complete this Emma pillow review. I think that the Emma memory foam pillow would be a good choice for everyone looking for:
A pillow that features great technology (airgocell foam, visco-elastic memory foam).
A modular pillow that has adjustable height and firmness.
A pillow made in the UK that comes with excellent service and support.
The Emma pillow is a great new entry to the UK market and I think it's the first well-made modular pillow. It features great technology and comes from a name you can trust. It's a pillow I definitely recommend.
If you have any questions, please drop me a line.
PROS
Great modular design
Excellent materials
Great comfort & support
CONS
Some might find it expensive