The Emma mattress brand has recently launched in the UK, adding another 'mattress in a box' option for British consumers. Having experienced great success in Germany, Emma is a new entry in the UK and their hybrid mattress has all the features to be a big player.
The mattress is made in the UK, Derby to be precise, using high-quality materials. I got my Emma Hybrid Premium mattress about a month ago so it's about time I write the review. As with any mattress delivered in a box, you should allow at least 2-3 days before you start making conclusions as the mattresses need to decompress and take their full shape. It's also normal that you will get a weird smell from a brand-new mattress but this will only last for a couple of days. It's time now to move to the full review below.
What is an Emma Hybrid Premium mattress made of?
The Hybrid Premium mattress features a total of four layers plus the sleeping surface.
Top Layer:

An Airgocell foam layer which in my opinion is the main selling point for this mattress as it's probably the best material for pressure relief. At the same time, it's a breathable layer which means that the mattress will stay cool even during the hot days of summer.

Middle Layer: A layer made of individual pocket springs which depending on the size of your mattress can reach up to 2,000 in number. The Emma mattress is a hybrid mattress which means that it features both pocket springs and memory foam. The pocket springs optimise the balance and

support of this mattress.

Bottom Layer:

A visco-elastic memory foam layer which helps to relieve pressure but also adapts well to your body's shape.

Base:

A cold foam layer which works as the base of the Emma mattress. This layer keeps the mattress all together but also helps to relieve your lower back from any pain you might have.
The image below shows how each layer is positioned.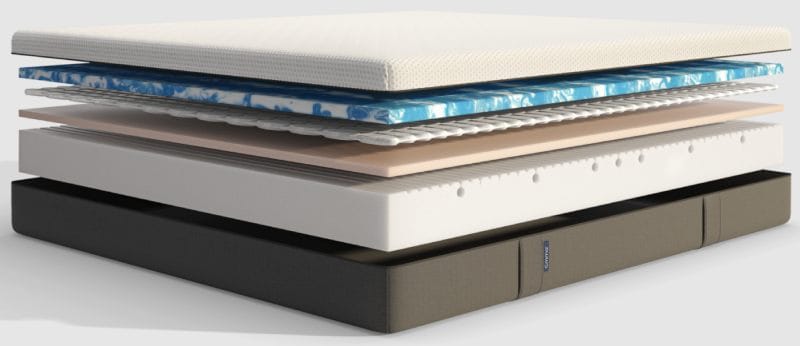 What is the cover made of?
The cover of the mattress is one of the best I have seen. It's made of 98% polyester and 2% elastane which allows it to be breathable but also to sit around the mattress properly. It's relatively thin which helps with the airflow which is one of the most important elements of a good cover. As you can see in the picture below you can remove the cover at any time and you can machine-wash it at 40 degrees. Always follow the manufacturer's instructions to make sure the cover keeps its shape and elasticity.
The cover features a nice dark grey colour on the sides which makes it look modern and contemporary. At the bottom of the cover, they have added anti-slip elements to help the mattress stay in place. This is practical thinking which shows how much work has been put to design this mattress. Overall, the cover is excellent and it's definitely one of Emma's best features.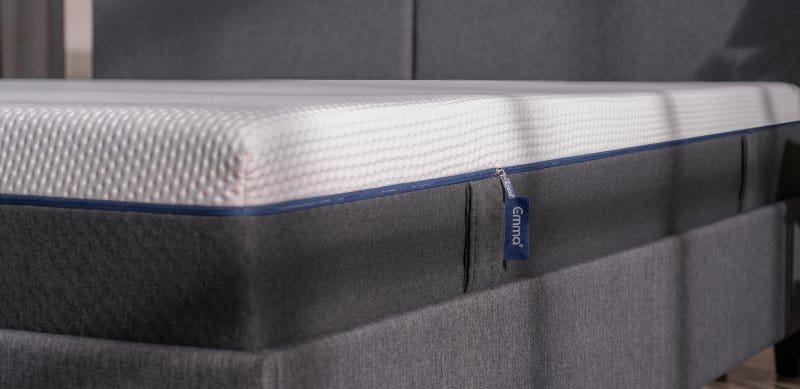 Is the Emma Hybrid Premium mattress a firm one?
This mattress has a medium-firm feel which should be good for most people. If we need to put this in numbers, I would say it feels like a 6 on my virtual firmness scale. I would like now to talk about the different sleeping positions and how this mattress performed.

The mattress felt really supportive when sleeping on my back and I remind you that I am a big guy. The springs gave me this nice amount of bounce which was ideal for my weight but at the same time, the foam layers moulded around my body. After all, this is the benefit of a good hybrid mattress, getting both the bounce and the moulding around your body.
Turning to the side position, I felt that I got plenty of support. Sinkage increased to allow my spine to rest properly. The side position is always a tricky one as it's hard for a mattress to perform well. This is because our weight is distributed on less surface so some mattresses fail to cope with that. Emma did really well and I felt that my body was well supported.
Moving to the stomach position is when I realised that the Emma Hybrid Premium was built for me. As I have mentioned countless times, I am a stomach sleeper and being over 6ft makes it hard to find the right support. The mattress did a good job placing my hips and shoulders in a comfortable position. This allowed my spine to get the relief that I needed to rest my lower back. Note here that stomach sleepers are the most difficult ones to satisfy as the stomach position is probably the most 'unnatural' for our bodies!
Sleeping near the edge I felt that the mattress is well-built and it will perform well across the sleeping surface. Motion transfer is minimal for a hybrid mattress so you can share your bed with a partner. Overall, I think that the Emma Hybrid Premium mattress performed really well and I was very happy with it.
MORE INFO: UK MATTRESS REVIEWS
What type of bed to use with this mattress?
You can place this mattress on any flat surface. That means that you can put it on your floor or just use the bed frame that you already have. The mattress is available in many sizes so you won't have any problem finding the one that fits your current frame. If you use a bed frame, make sure you use a high number of slats which will allow your mattress to perform at its best. This is always a good tip to remember. If you are more of a hipster, simply place the mattress directly on your floor and you will get a great result. However, make sure you air it frequently to keep the mattress fresh. Personally, I prefer a good bed frame.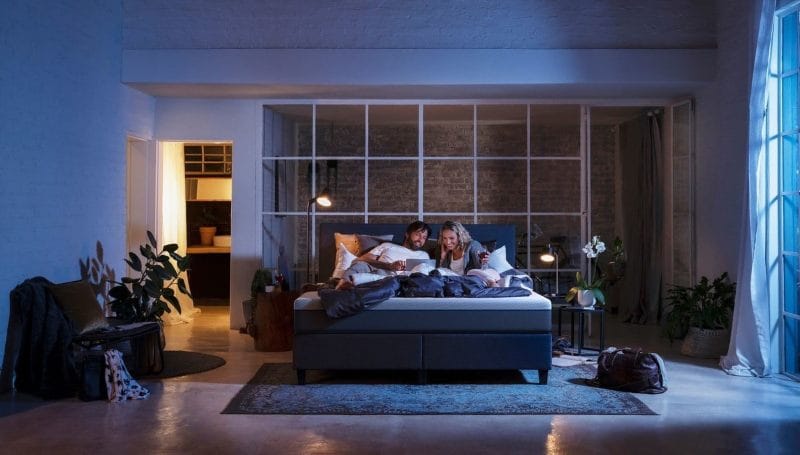 How will it be delivered?
Emma will deliver your mattress in a carton box using a courier service like UPS, DPD or Rhenus. The size of the box is 37.5cm x 37.5cm x 145cm. They offer Free Delivery for all sizes and you will get your mattress within 6-9 working days. Unfortunately, there is no option for Next-Day delivery so you will have to wait for a bit. I actually got mine after a week and the mattress was delivered via UPS. The service was very professional and the courier was very polite. I received good communication from them and the whole process was very smooth. Finally, Emma can collect and remove your old mattress. This will cost you £35 and they will collect your old mattress after your Emma mattress is delivered.
Is there a trial period?
Every Emma mattress comes with a 200-night trial period which is what we expect these days from all mattresses in a box. This is very important as buying a mattress online should be risk-free and Emma seems to understand that! The mattress also comes with a 10-year guarantee, so you know you are covered for a long time! If for any reason you are not happy with this mattress you can return it for free and get a full refund. All you need to do is talk to their customer support department and they will arrange everything for you. Overall, it's a great package they offer here.
BLOG: BUYING GUIDE
How much does it cost?
Emma is a company that was developed with the aim to provide consumers with a value-for-money mattress. Their direct-to-consumer approach means no middlemen are involved. This is reflected in their very competitive pricing. You can find this mattress in many sizes but not EU ones. I hope that this will change in the near future. The Hybrid Premium starts at £653 for a Single one and goes up to £1,198 for the Super King size. The table below has pricing information for all available sizes. They run promotions very frequently so before you buy you should always check our voucher code section for big savings.
| | | |
| --- | --- | --- |
| SIZE | DIMENSIONS | PRICE |
| Single | 90 x 190 x 25cm | £653 |
| Small Double | 120 x 190 x 25cm | £780 |
| Double | 135 x 190 x 25cm | £907 |
| King | 150 x 200 x 25cm | £1,089 |
| Super King | 180 x 200 x 25cm | £1,198 |
Is the Emma Hybrid Premium mattress for me?
This is always the question that I have to answer at the end of each review. It's my personal opinion of course but I believe that this mattress is a really good choice for everyone who is looking for:
A hybrid mattress with a medium-firm feel that will provide your body with plenty of support and is made of materials that will keep you cool even during a hot summer night.
A mattress that has the right amount of bounce but will also mould around your body to provide you with the needed pressure relief.

A mattress built in the UK with high-quality materials that come

with

great customer service and support.
If you are looking for a really good mattress, then the Emma Hybrid Premium mattress should be very high on your list. It's a great newcomer to the UK market and I think that it's an excellent mattress and a really good value for your money. 
Emma Hybrid Premium Mattress Review
PROS
Great comfort and support
Excellent cooling system
Value for money
CONS
No next day delivery option