If you are a hot sleeper, you should definitely read my Emma Premium Cooling Mattress review. This is the latest release from the popular German maker and it's probably the most interesting one.
Emma designed this hybrid mattress using state of the art technology and the result is impressive. As you expect, this is another boxed mattress so it will come packed and rolled inside a carton box. Mine was delivered almost 10 days ago so it's a good time now to move to the full review below.
What is this mattress made of?
The Emma Premium Cooling mattress features four layers plus the cover. In detail, these are:
A carbon fibre coating that is designed to prolong the deep sleep state. It's also designed to sleep cool and wick moisture away.
An HRX foam layer that has great pressure relieving properties. It features a 7-zone system that can distribute weight evenly.
A pocket spring layer that promotes optimal spinal alignment. They used taller springs here because they're more supportive and they allow airflow.
An HRX support foam that is the base of this mattress. This type of foam is very durable and it improves edge support.
The mattress measures 25cm in height and the image below showcases the position of each layer.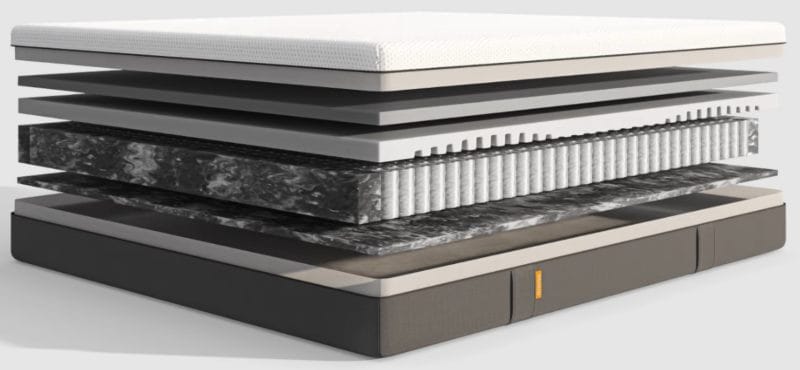 How good is the cover?
The cover of this mattress is made of polyester and elastane. This is Emma's signature combination and it has been used in almost all their mattresses. Polyester adds durability and breathability while elastane improves the fit. The cover is a beautiful one featuring a white top part with the side part being grey. This is very similar to all other Emma mattresses so don't expect something new here. The cover is removable and the good news is that you can use your washing machine to clean it. If you decide to do so make sure you use a gentle cycle at 30°. On the sides, you will find four moving handles that will help you move this mattress when that is needed. This is great and I love when makers think of practical things like that. Overall this is a high-quality and well-designed cover so no complaints at all.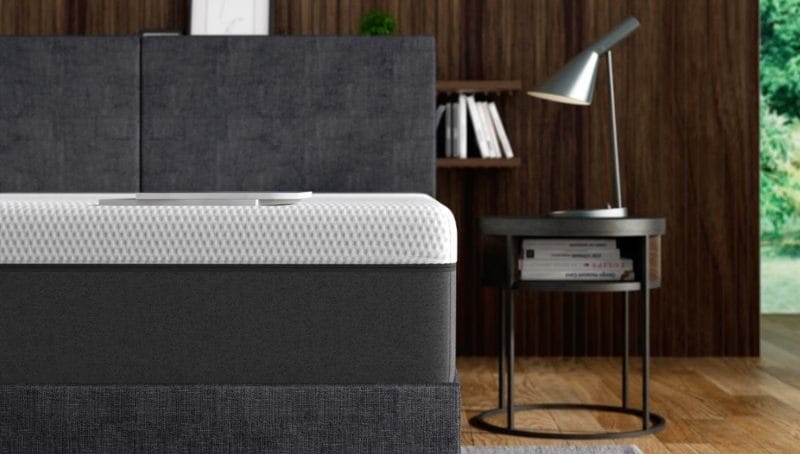 How firm is the Emma Premium Cooling mattress?
It's time now to continue with this Emma premium cooling mattress review and discuss its feel. Being a boxed mattress means that is designed to suit the average sleeper so it comes with a medium-firm feel. If I use my vehicle scale here I would say it's a 6.6 with 10 being really firm. Let's see now how it performed in the different sleeping positions.

Starting from the back position the upper foam layers did a good job and that promoted a healthy spinal alignment. The mattress felt quite comfortable and I was well supported.
Turning to the side position the pocket springs reacted quickly and sinkage increased. There was no discomfort in the hips area and the foam layers did an excellent job with my spine. I was really impressed by the performance in this position.
Lastly, moving to the stomach position the mattress did a good job holding my hips and shoulders in the right place. Although this is not a firm mattress it's still did a good job in the front position and that was a pleasant surprise for me. Overall the Emma Premium Cooling mattress is a versatile one and I think that it will suit almost every type of sleeper.
This mattress is well-built so you should expect good edge support. That means that you can get in and out of bed with minimal effort. If you are a couple, this one is designed to have minimal motion transfer so you won't disturb each other during nighttime.
Will I need a special setup for this bed?
If you decide to buy this mattress the good news is that you can still use your old bed frame. The Emma Premium Cooling is a versatile mattress so it can be used with any bed type. Personally, I prefer slatted frames but you can use whatever you want. Make sure though to use a frame that allows airflow as it's very important for a clean and healthy mattress.
Will I get free delivery?
If you decide to buy an Emma mattress you are eligible for free delivery providing you live in a UK postcode. Emma offers one of the fastest services in the UK so you will receive your mattress within one to three working days. In my case, it was only two and I remind you that I am based in London. As I have already mentioned above, the Emma Premium Cooling mattress will arrive packed inside a carton box. Mine was delivered via UPS and the box came in excellent condition. Communication was great and I was well informed about every stage of my delivery. The courier was prompt and polite and overall I had a great experience with them.
Can I try this mattress first?
Every Emma mattress comes with a 200-night trial period. That gives you a bit more than 6 months to try this mattress and decide later whether you want to keep it or not. Emma has a no questions asked policy so if you're not happy with your mattress they will come and collect it and issue a full refund. The process is not a complicated one and you don't need to keep the original packaging to be able to complete a return. Besides that, all Emma mattresses come with a 10-year guarantee that will cover you for a long time. Of course, you should make sure that you read the terms and conditions very carefully so you know what's included in your policy. Overall this is a complete package and this is something that I expected from such a maker.
How much will I pay for it?
This Emma mattress is available in five sizes so there are plenty of options for you to choose from. The small size (Single) sells for £879 while the bigger one (Super King) goes for £1,594. Having said that you won't probably have to pay the full price as the people at Emma run frequent promotions. For example at the moment of writing there was a half-price promotion. For more information about the available sizes and their prices, you should have a look at the table below.
| | | |
| --- | --- | --- |
| SIZE | DIMENSIONS | PRICE |
| Single | 90 x 190 x 25 cm | £879 |
| Small Double | 120 x 190 x 25 cm | £1,044 |
| Double | 135 x 190 x 25 cm | £1,209 |
| King | 150 x 200 x 25 cm | £1,429 |
| Super King | 180 x 200 x 25 cm | £1,594 |
Is this a mattress I should consider?
It's time now to complete this Emma premium cooling mattress review and share my final thoughts with you. In my opinion, this mattress would be ideal for those looking for:
A hybrid mattress built for every sleeping position.
A cooling mattress that is perfect for every season.
A mattress that comes with a 200-night trial period.
If you look for all these then this mattress should definitely make your shortlist. Emma has managed to improve an already excellent mattress and that is hard to achieve. Although this mattress was mainly designed for hot sleepers it's not limited to them and in my view it's one of the most complete propositions in the UK market. If you have the budget for it, this is a mattress I can highly recommend.
Emma Premium Cooling Mattress Review
PROS
Excellent cooling system
Great for all sleeping positions
200-night trial period
CONS
Some other makers offer a longer guarantee