Buying a new mattress can be a difficult task these days as the market is flooded with options. This is one of the main reasons I created this site, to help you choose the right mattress for you. Although I mostly talk about boxed mattresses, I couldn't ignore this Silentnight mattress that scooped two awards from Which? and Good Housekeeping. In this Silentnight Sofia mattress review, you will find all the information you need about this hybrid option.
Silentnight is one of the most popular mattress makers in the UK. They have a huge range of products to satisfy everyone's needs. They built their mattresses here in the UK using high-quality materials. Unlike other mattresses, I review here, this is not a rolled one so it won't come packed in a box. Mine arrived a few weeks ago so it's a good time now to move to the full review below.
What is a Silentnight Sofia mattress made of?
The Silentnight Sofia mattress has a straightforward construction and it features a 3-layer design. In detail, these are:
Top Layer: A comfort fibre layer, which is there to provide your body with the needed pressure relief. This layer is designed to stay cool during the night but it also adds comfort.
Middle Layer: A layer made of 1,200 Mirapocket springs. These are exclusive to Silentnight and they will provide your body with the needed support.
Bottom Layer: Another comfort fibre layer which is identical to the top one. They went with this approach to make this mattress double-sided. That means that you can flip it anytime you want.
The Silentnight Sofia mattress measures 28cm in height and it's also approved by the National Bed Federation. The image below showcases the position of each layer.

What is the cover made of?
Silentnight decided to use a knitted cover here which feels quite soft. Besides that, it's also very breathable which means that you won't wake up in the middle of the night feeling hot. If you suffer from allergies, you should know that the cover is hypoallergenic which is great news. The design is a plain one and it's not the prettiest I have seen. Unfortunately, it's not removable so if you want to clean it, you should use a mild detergent and spot-clean it. On the sides, they have added four handles which make it easier to move. This is great and I love when makers think this way. Overall, it's a decent cover that will do the job so no complaints at all.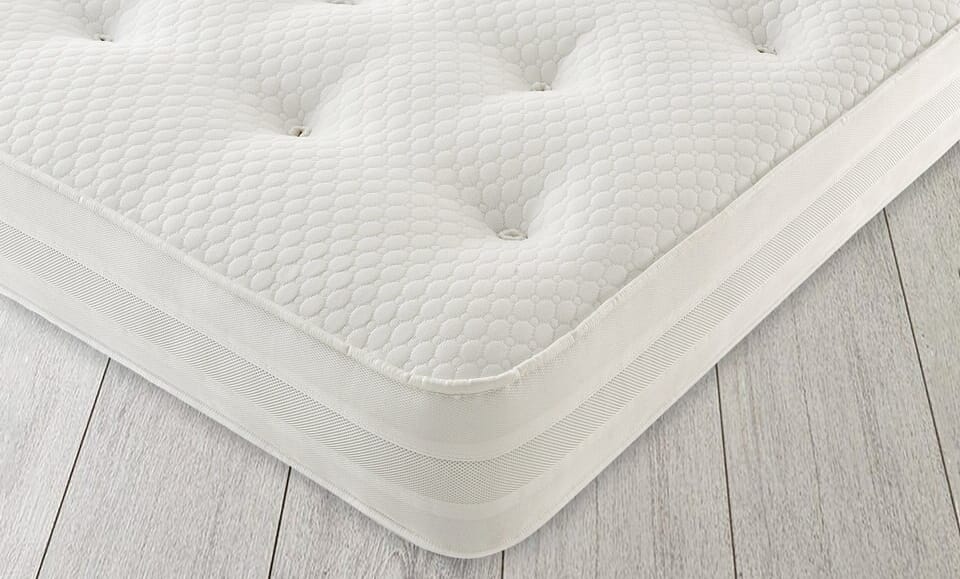 How firm is the Silentnight Sofia mattress?
The Silentnight Sofia mattress comes with a medium-firm feel. If I use my virtual scale here, I would say it's a 6.7 with 10 being really firm. Let's move below to see how this mattress performed in all the different sleeping positions.

Starting from the back position, the mattress reacted quickly and the springs adjusted to my body's weight. The zone system did a good job and I felt well-supported. Pressure relief was decent but not at the level of a memory foam mattress.
Turning to the side position, sinkage increased and my spine was aligned correctly. This was due to the clever zone system they use and I was positively surprised by it. I felt comfortable in this position and overall, I was happy with its performance.
Finally, moving to the stomach position, the mattress felt firm enough to support my chest and hips. Support was good but I felt again that pressure relief was average. To be fair, this was no surprise for a mattress of this price.
If you share your bed with a partner, this mattress can be a great choice for you. The Mirapocket springs work well so the edge support is great. Having said that, you should expect some motion transfer but nothing that will bother you too much.
What type of bed to use with this mattress?
You can place this mattress on any flat surface that can provide it with enough support. That means that you can use a slatted frame, a box spring or even your floor. If you use slats, make sure the distance between them is no longer than 7cm. The better the bed is, the better the mattress will perform.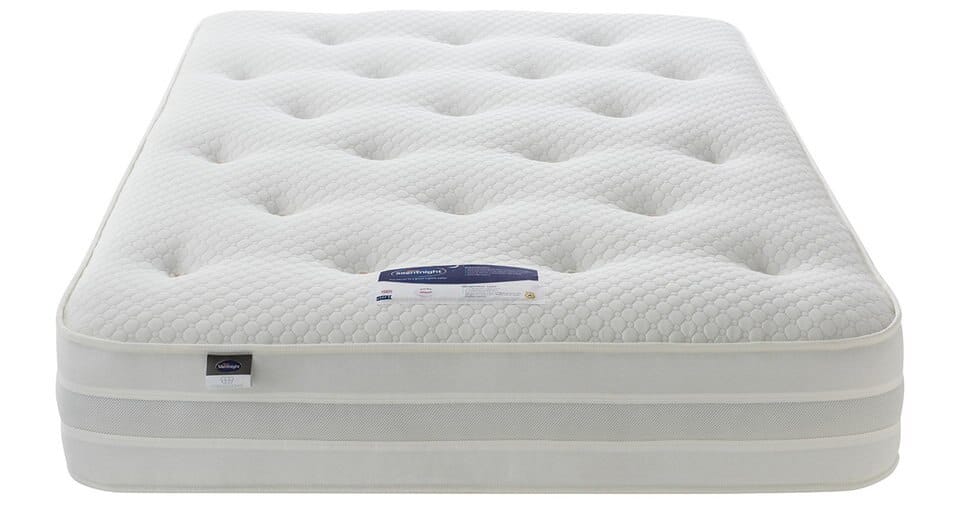 How will it be delivered?
Unlike most mattresses I have reviewed here, this one is not a rolled one so you should not expect it packed in a box. Next-day delivery is free for all UK postcodes which is great! I bought it from MattressOnline and the service was great! They also offer a number of options that will cost you some extra quid. The table below has all the relevant information.
| | |
| --- | --- |
| Next-Day delivery | FREE |
| Saturday delivery | £17.5 |
| 2-man delivery | £20 |
| Old Mattress recycling | £25 |
I went with Saturday delivery as I was busy with work. The courier was on time and communication was great. Overall, they offer a great service here.
Does the Silentnight Sofia come with a trial period?
When you buy this mattress, you won't get a trial period. This is not great but the truth is that not all makers offer this service. However, you will get a 5-year guarantee which will cover you for some years. However, there is room for improvement here and I hope they will offer a more competitive package in the near future.
How much does it cost?
The Silentnight Sofia Mirapocket mattress is an affordable option so you won't break the bank if you decide to buy it. The smaller size (single) goes for £369 with the bigger (super king) selling for £669. The table below has pricing information for all available sizes.
| | | |
| --- | --- | --- |
| SIZE | DIMENSIONS | PRICE |
| Single | 90 x 190 x 28cm | £369 |
| Double | 135 x 190 x 28cm | £489 |
| King | 150 x 200 x 28cm | £569 |
| Super King | 180 x 200 x 28cm | £669 |
Is the Silentnight Sofia mattress any good?
This is always a tough question to answer but I will try to do so now that I complete this Silentnight Sofia mattress review. I think that this mattress would be great for everyone looking for:
A high-quality mattress that is affordable.
A hybrid mattress that is good for all sleeping positions
A mattress that has great edge support.
If you look for all these, the Silentnight Sofia mattress can be a good option for you. It's an option that is very affordable and if you like a mattress with bounce this should be high on your list. Silentnight got this right!
Silentnight Sofia 1200 Mirapocket Mattress Review
PROS
Very supportive
Good for all sleeping positions
Free next-day delivery