According to a number of studies, back sleeping is considered to be the healthiest sleep position. This is based on the fact that this way of sleeping promotes a more neutral spinal alignment which is healthier for our bodies. If you prefer sleeping on your back, you are in the right place. In this guide, you will find a list of the best pillows for back sleepers so you can sleep better. To create this guide, the team at BMUK did a lot of research so without any further ado, let's move below to see the 6 best options.
What kind of pillow is best for a back sleeper?
If you sleep on your back, you should make sure that the pillow you use can hold your head in a neutral position. That means that you should prefer a pillow with a medium loft so your chin is in line with your sternum. Besides the loft, you should also consider getting a supportive pillow that isn't too firm. Materials like memory foam, latex or even wool are great for back sleepers as they offer balanced support. If you follow these 3 tips, you are on the right path to choosing an appropriate pillow for back sleeping.
Best Overall – Simba Hybrid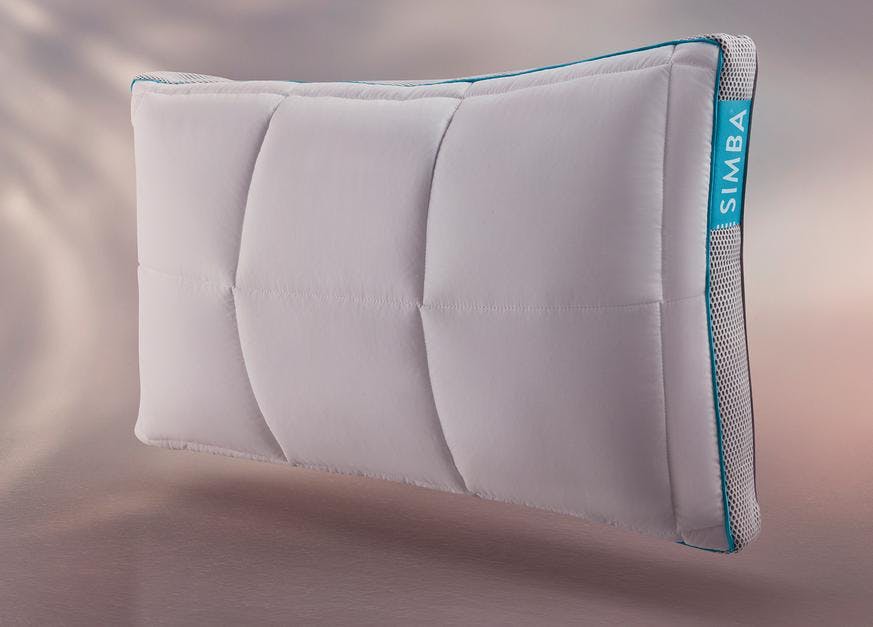 The Simba Hybrid pillow is the first pick on this list as it comes with some fantastic specs that are hard to ignore. To begin with, this is an adjustable pillow so it allows you to adjust its loft and feel according to your needs. Additionally, this pillow is filled with nanocubes which are very supportive and have excellent pressure-relieving properties. The combination is a clever one and it works great. The nanocubes sit inside a cover that is made with Stratos technology. This allows the cover to actively regulate heat so it can create the perfect sleeping environment. On the sides, the people at Simba have added mesh panels which increase airflow so you will definitely sleep cool. Overall, this is an awesome pillow and it's not a coincidence that it won the 'Best Pillow' award for 2023.
If you buy one, you should expect free delivery that usually takes between 3-5 working days. Simba offers a carbon-neutral service and that is impressive. The Simba Hybrid comes with a 1-year guarantee and this is the only weak point in our opinion. However, the rest of the package is so appealing that this is something we can overlook.
Best Premium – Woolroom Chatsworth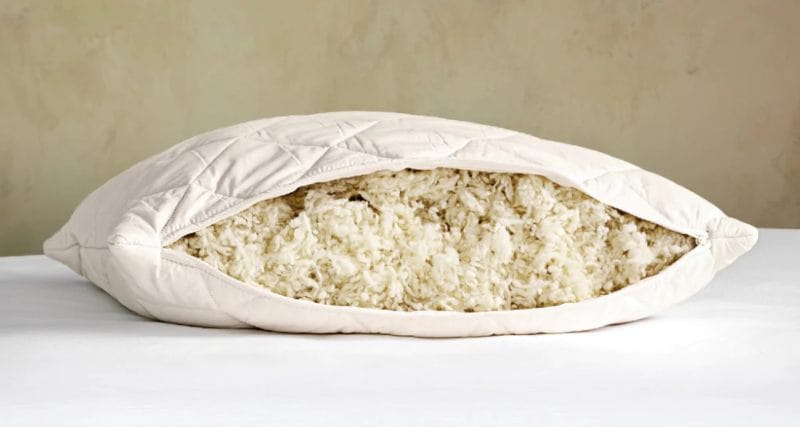 The second pick on this list is an interesting one. The Chatsworth pillow is another adjustable option that gives you great flexibility. It's made with wool filling which is an interesting approach. Wool has a more springy feel when compared to memory foam so this might be more appealing for some people. The people at Woolroom use traceable British wool so you know this is made with high-quality materials. Moreover, this is a hypoallergenic pillow and it's certified by Allergy UK. The cover is also made of wool and if you want to clean it, you can machine-wash it. Finally, wool can naturally regulate your body's temperature so this pillow is ideal for every season.
This pillow is available from Amazon so you know what to expect in terms of service. That means that if you are not happy with it, you can return it and request a refund. If you look for an all-natural pillow that is good for the back position, this is definitely a choice to consider.
Best Value – Panda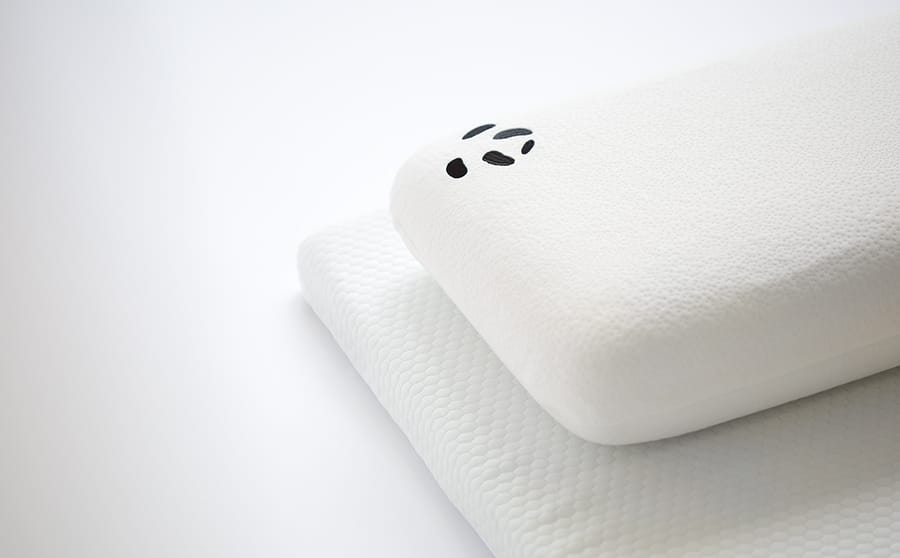 The third pick on this list is no surprise. The Panda pillow is one of the best value-for-money options out there featuring great specs and an affordable price tag. It's well suited to back sleepers as it comes with a medium loft (12cm) and a medium-firm feel. The pillow features a core that is built with a single piece of memory foam. This makes it supportive but at the same time, the Panda pillow can take pressure off your neck. Around the core is a nice bamboo cover that is hypoallergenic and naturally antibacterial. It's a breathable fabric that is machine-washable. All that makes the Panda pillow a great choice for those who prefer back sleeping.
But the good news doesn't stop here. Every Panda pillow comes with a 10-year guarantee which is super impressive! Additionally, you will get a 30-night trial period and free delivery. Considering the price, this is an amazing package here and another reason that the Panda pillow is so highly rated.
Best Cooling – REM-Fit 500 Cooling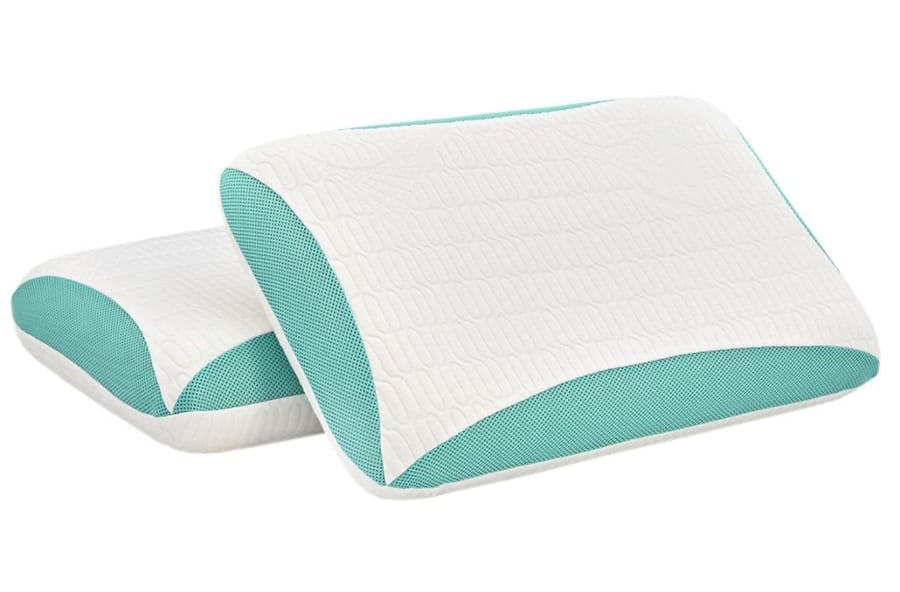 Another great choice for back sleepers is the REM-Fit 500 pillow. The popular maker has created a true best-seller that measures 12cm in height so it can promote a neutral spinal alignment. This pillow is made of an entire piece of memory foam that is infused with cooling gel. The latter allows it to sleep cool and combined with the Re-Ax cover, it can regulate heat very efficiently. The mesh panels found on the sides help with airflow and complete a wonderful cooling system. The REM-Fit 500 pillow is very supportive so your neck and head will get proper rest. Pressure relief is great and this a pillow that can improve the quality of your sleep.
If you decide to buy one, REM-Fit will offer you a 5-year guarantee against defects in workmanship or materials. This is impressive and shows the quality of this pillow. Additionally, you will get free next-day delivery so you won't have to wait long to receive your pillow. For all the above reasons, this is an option that we can recommend.
Best Neck Support – Groove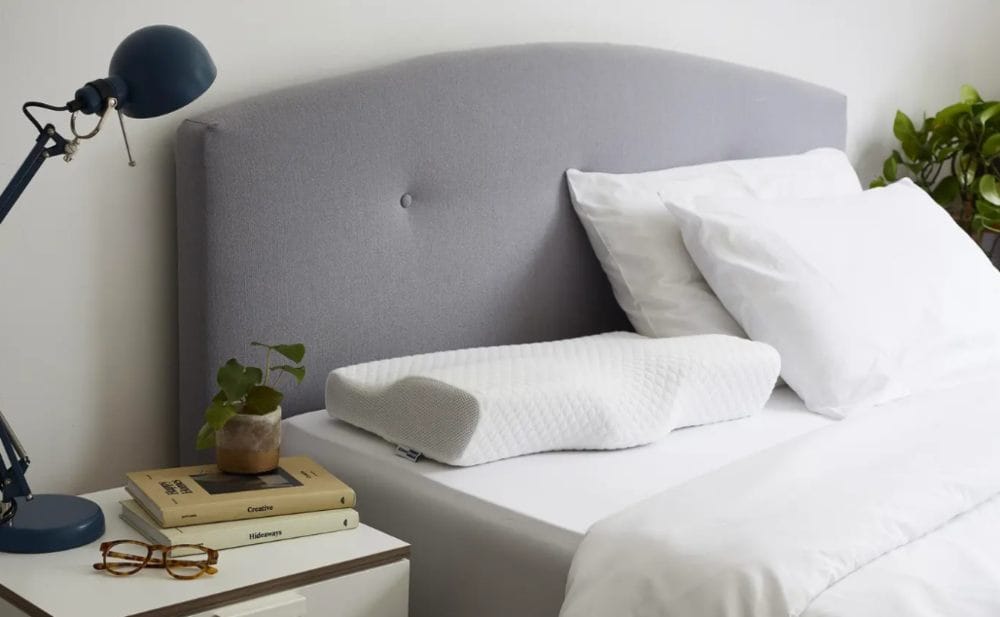 If you suffer from neck pain and prefer sleeping on your back, the Groove pillow might be all you need. It features an anatomic design that specifically promotes a healthier spinal alignment which is beneficial for the whole body. Formerly known as the 'EasySleeper', this is a pillow that is made of a single piece of memory foam. To add cooling properties, the engineers at Groove infused the memory foam with bamboo charcoal. That ensures that you will sleep cool, even during the hot summer months. One point we need to make here is that the Groove pillow is free from any unnecessary chemicals and it's REACH-compliant. That makes it also suitable for those with sensitive skin. Overall, this is a well-made orthopaedic pillow that can help you get neck pain relief.
Every Groove pillow comes with a 100-night trial period that gives you more than 3 months to try it and decide later whether you want to keep it or not. This is fantastic, especially for a pillow product. Furthermore, if you spend £50, you will get free delivery. This is not a bad package and Groove did a good job here.
Best Adjustable – Emma Original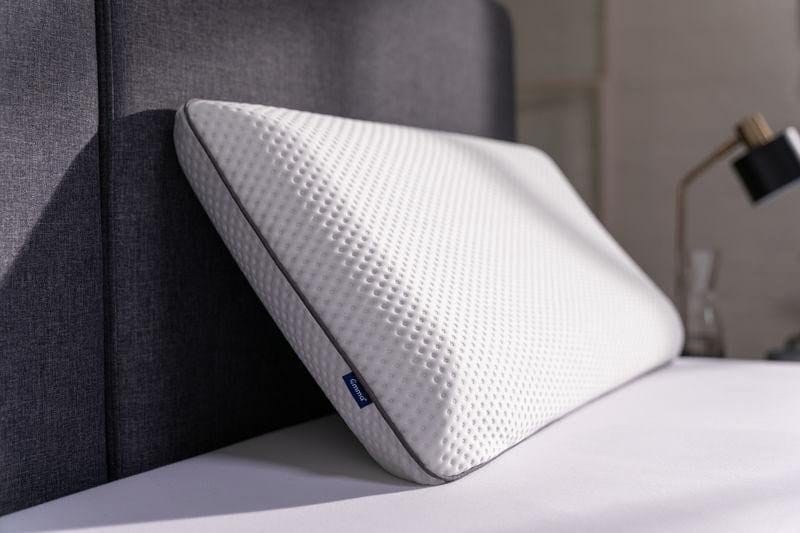 The last pick on this list is an all-time favourite! The Emma Original pillow is an adjustable option from the popular German maker. It features 3 different foam inserts that you can combine to create a pillow that has the right loft but also feel. The modular system works great so you can fully customise it. The latter makes the Emma Original a great choice for all positions, including back sleeping. The cover of this pillow is made of breathable fabric and it's a removable one. If you want to clean it, you can pop it inside your washing machine at 40 degrees. Overall, the quality is fantastic here which is expected from a brand like Emma.
As mentioned above, the Emma Original comes with a great support package. Expect a 30-night trial period and a 2-year guarantee. Add free delivery and you have a nice deal. If you look for a customised sleeping experience, this is the way to go.
After hours of research, we think that these are the best pillows for back sleepers. Hopefully, you have found this guide quite helpful but if you feel that you need more help, don't hesitate to drop us a line and we will do our best to help you out.