Founded back in 2016, Nectar became very quickly successful in the US. They entered the UK market about a month ago and I was really excited to see their offering. In this Nectar mattress review, I will talk about this exciting new entry and whether it's worth your money.
🏆 Awarded "Best Mattress for Couples" for 2022
Nectar is another rolled mattress so it arrived in a carton box about a week ago. Unlike other mattresses, Nectar came with a two-man delivery service. The couriers were really polite and they helped me place the mattress in the room of my choice. This was a great first impression but more on that later. The mattress is designed and built here in the UK. For the first couple of days, it had a bad odour (off-gassing) but this is natural with all rolled mattresses. You should not worry about it as this will wear off completely after 2-3 days. It's time now I move to the full review below.
50% OFF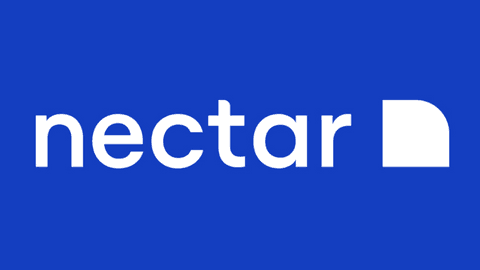 Nectar Mattress
Up to 50% off mattresses at Nectar
What is a Nectar mattress made of?
The Nectar mattress is made of 3 layers and a cover.
Top Layer: A Nectar Smart memory foam layer that responds to your body's heat to ensure the sleeping surface remains cool during sleep. It also adds comfort and support.
Middle Layer: A pressure relief memory foam layer that provides your body with the needed support. It absorbs energy to make your body feel more rested in the morning. It's also more breathable than the average memory foam.
Bottom Layer: A 7-zone dense foam layer that works as the base of the mattress. It's there to provide support to your hips and shoulders but also the rest of your body.
In the image below, you can see how the layers are positioned.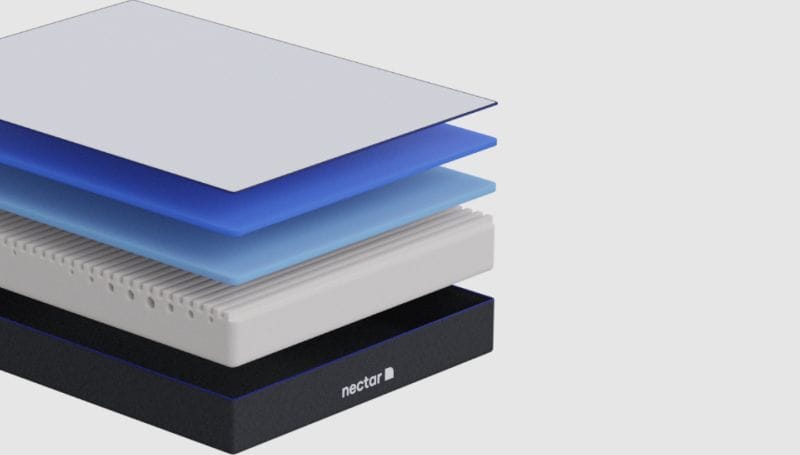 What is the cover made of?
The cover of the Nectar mattress is a very interesting one. It's a custom design with a temperature-sensitive polymer (Nectar Adaptive Cooling) which gives the cover two main benefits; It's very breathable and it absorbs moisture very efficiently. This means that it can support the body's natural thermal regulating mechanism and allow you to stay cool during sleep. I personally felt that the cover did a good job here but I would like to see how it will perform in the summer. The top part feels nice but also strong at the same time.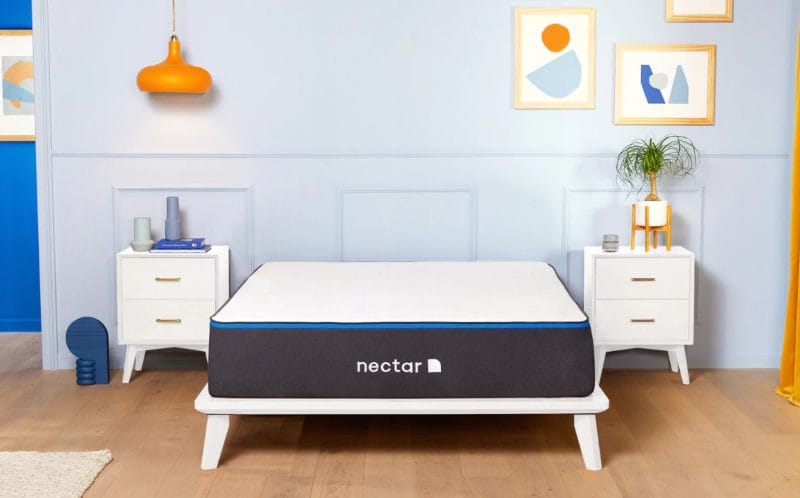 The grey part of the cover has anti-slip elements and is there to keep your mattress in the right position. This is great thinking by Nectar. It's also fire-retardant and looks quite strong. The design of the cover is not the sexiest I have seen. Nectar went for a white-grey combination that looks uninspiring. In order to clean it, you can unzip it but you cannot machine wash it. Nectar advises only spot cleaning with a mild detergent. This may be a problem for some people especially those who want to wash their covers frequently. Overall, I think the Nectar cover is very good. I loved the materials they used and other than the design I liked what they did.
How firm is the Nectar mattress?
Nectar is a medium-firm mattress, designed to cover most people's needs. It would be a 6.5 on my virtual scale, with 0 being really soft and 10 being really firm. In terms of firmness level, it's very similar to the Casper mattress. It's time now I talk about the different sleeping positions and how Nectar performed.

Starting from the back position as always, I felt straight away the memory foam layer hugging my body. If you like this feeling then you would love Nectar. It behaves like a memory foam mattress but a really good one. The mattress felt supportive and quite comfortable. My sinkage was normal and my spine was in the right position.
Moving to the side position, the memory foam adapted quickly and I felt really comfortable. I think that Nectar did a very good job here aligning my spine correctly. The side position can be a tricky one but the combination of foams worked very well. It was very comfortable and the sinkage was ideal. The shoulder and hip areas didn't feel any discomfort which can be the case in this position.
Finally moving to the stomach position, I felt that Nectar was comfortable but my chest area felt a bit unsupported. I think that there was slightly more sinkage than I wanted. However, I felt that my spine was aligned correctly and it was comfortable to sleep this way. Overall, this is a position in that I felt that Nectar could do better.
Regarding the edge support, Nectar is a very well-made mattress and I didn't have any problem being near the edge of the bed. You will get a good performance from every corner of the sleeping surface. This makes it good for couples. Finally, the Nectar mattress is not very bouncy, exactly what you expect from a memory foam mattress.
What type of bed to use with this mattress?
You can use your Nectar mattress with most setups. These include foundations, slatted bases, divans or adjustable frames. Nectar doesn't advise customers to put this mattress on the floor. If you own an IKEA frame, there are no EU sizes available so you should consider this before you buy a Nectar mattress. Hopefully, this will change in the future and we will have more size options.
How will it be delivered?
I have already mentioned that the Nectar mattress is a rolled one. It comes packed in a carton box directly to your door. When you buy one, they offer a free delivery service for all mattresses. What is different though is the fact that they have a two-man delivery service. The couriers arrived at my house and placed the mattress in the room of my choice which was really helpful as the box is quite heavy. Delivery takes usually 3-5 days.
Nectar also offers a mattress removal service that will cost you an extra £45. All you have to do is let them know so they can collect this from your place. This is great and I am glad they offer this as an option. Overall, I thought that Nectar offered me fantastic service and they did a pretty good job with my order.
Does the Nectar mattress come with a trial period?
The Nectar mattress comes with a 365-night home trial. This is not a spelling mistake, they actually give you a full year to try it and decide whether you are happy with your mattress. If you are not happy with it, they will take it back and give you a full refund. To return your mattress all you need to do is contact them and arrange a collection. Once they receive the mattress they will process the refund.
The mattress also comes with a lifetime guarantee. This is amazing considering that most companies offer 10 years. The people at Nectar are very confident with their products, which is evident in what they offer here. Overall, they do a great job on this end.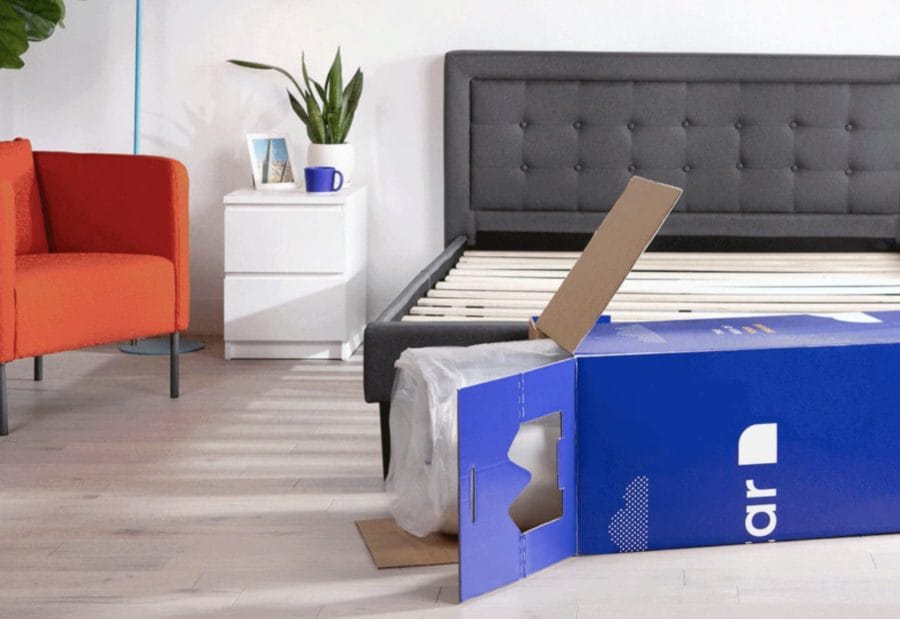 How much does it cost?
Nectar dominated the American market by offering high-quality mattresses combined with aggressive pricing. They launched with a great offer (£100 off + 2 free pillows) which puts them ahead of everyone on this end. If they maintain this type of offer it would be fantastic. You can find all the mattress offers on my voucher code page. At the moment there are only 4 sizes available with non-EU ones. Hopefully, this will change in the future just like it happened with other makers. In the table below you can find the non-discounted prices for every size.
| | | |
| --- | --- | --- |
| SIZE | DIMENSIONS | PRICE |
| Single | 90 x 190 x 25cm | £469 |
| Double | 135 x 190 x 25cm | £569 |
| King | 150 x 200 x 25cm | £669 |
| Super King | 180 x 200 x 25cm | £769 |
Is the Nectar mattress any good?
After completing this Nectar mattress review I would like to give you my final thoughts on it. Nectar is a brand that disrupted the US market a few years ago and they came to do exactly the same here in the UK. To be more specific the Nectar mattress is great for someone looking for:
A memory foam mattress that has amazing value for money.
A mattress made here in the UK and built with high-quality materials.
A mattress that comes with the best service, guarantee and customer support.
The Nectar mattress is definitely one to consider. It's not perfect but it does offer a lot for the money you pay. It's more geared towards back and stomach sleepers but it's a good all-rounder too. It comes with amazing service from a name you can trust. The lack of extra sizes and the inability to machine wash the cover can be a problem for some but I think that the Nectar mattress should be very high in your consideration list.
For any questions you may have, please drop me a line here.
50% OFF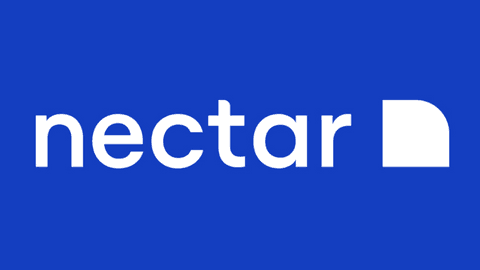 Nectar Mattress
Up to 50% off mattresses at Nectar
Nectar Mattress Review UK
POSITIVES
Amazing value for money
Best service and support
High quality materials
NEGATIVES
Lack of EU sizes
Cover is not machine washable