If you want to upgrade your sleep, you should read this Nectar Premier mattress review. After seeing great success with their other four mattresses, the people at Nectar felt there was still room for improvement. After months of work, the Nectar Premier debuted some weeks ago.
As you would expect, I was really curious to get my hands on it. This mattress features a foam-only construction and it's shipped packed inside a carton box. I got mine almost a week ago so let's move now to the full review below.
60% OFF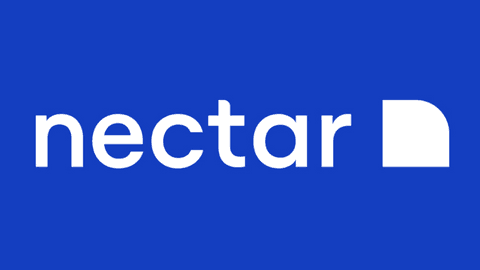 Nectar Mattress
Up to 60% off mattresses at Nectar
What is this Nectar mattress made of?
The Nectar Premier mattress features 4 layers plus the cover. In detail, these are:
A dynamic support foam layer that is designed to keep the sleeping surface cool. Moreover, it's there to provide your body with support but also to add some bounce.
A memory foam layer that has excellent pressure-relieving properties. It's designed to support your back and joints for better sleep.
A honeycomb micro-zoned transition layer that is designed to maintain good spinal alignment. The micro-zones can provide your body with tailored support.
A honeycomb micro-zoned base layer that works in tandem with the above layer to provide your body with the needed comfort and support. This layer works as the base of this mattress.
The Premier mattress measures 28cm in height and the image below shows us a better look at the position of each layer. I also have to mention here that all foams are CertiPUR certified so they don't contain harmful substances.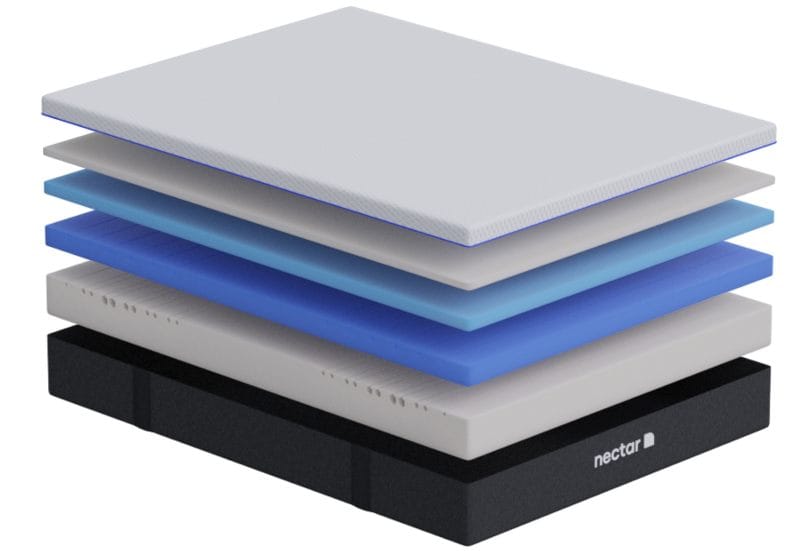 Is the cover any good?
The cover of this mattress is a quilted one. They went this way because it feels more premium and it's more comfortable for sleepers. It's made of polyester which is a material that has some remarkable properties. Firstly, it's very breathable so your mattress will sleep cool during the night. Secondly, it's quite durable so it will last you for a really long time. Lastly, polyester can hold its shape which is important for a good cover.
The design is a very modern one featuring a dark grey-black colour. I personally love it and I think it looks more premium when compared to the Nectar Hybrid mattress. At the bottom, they have added an anti-slip surface that will keep this mattress in place. Additionally, there are 4 handles on the sides that will help you move it when this is needed. Overall, this is a high-quality cover and Nectar did a good job here.
How firm is this mattress?
It's time now to continue with this Nectar Premier mattress review and talk about its feel. As I have mentioned earlier, this mattress was designed to suit everyone so it comes with a medium-firm feel. If I use my virtual scale here, I would say it's a 6.5 with 10 being really firm. Let's see now how this mattress performed in the different sleeping positions.

Starting from the back position, the Premier mattress adjusted quickly to my weight and I felt very comfortable right from the beginning. Support was great and I felt that the foam layers did a good job relieving pressure from my joints.
Turning to the side position, the mattress helped me to have an optimal spine alignment and support remained great. I didn't have any discomfort in my hip area and that made me feel quite comfortable.
Finally, turning to the stomach position, the mattress felt well-balanced and although I could do with a firmer feel, I still felt well-supported and comfortable sleeping this way. Overall, this mattress is a great all-rounder and will suit most sleepers. This is impressive and hard to find so well done Nectar!
If you share your bed with your partner, the Nectar Premier can be a good choice. That is because it comes with minimal motion transfer so you can forget about partner disturbance. Moreover, the edge support is not bad, especially for a mattress of this kind. All these make it a good choice for couples.
Is this a boxed mattress?
As you expect these days, the Nectar Premier mattress is another boxed mattress. The video above will show you how to unbox it and set it up. If you decide to buy one, you will get free delivery provided you live in a UK postcode. For an extra £45, you can have your old mattress removed. This is a helpful add-on and I am glad they offer this option.
Delivery usually takes between 3-5 working days which is quite fast. I live in London and in my case, it was only 3 days. The whole process was smooth and the couriers were prompt and polite. Communication was great and overall, Nectar did a fantastic job here.
Will I get a trial period?
All Nectar mattresses come with a 365-night trial period that gives you exactly one year to try this mattress and decide later whether you are happy with it or not. This is by far the best offer in the UK market and only a handful of retailers offer this. If you are not happy with your Premier mattress, you can return it and get a full refund. The process is not a complicated one and they will sort everything for you. All returned mattresses are donated to the British Heart Foundation and this is a great gesture from the guys at Nectar.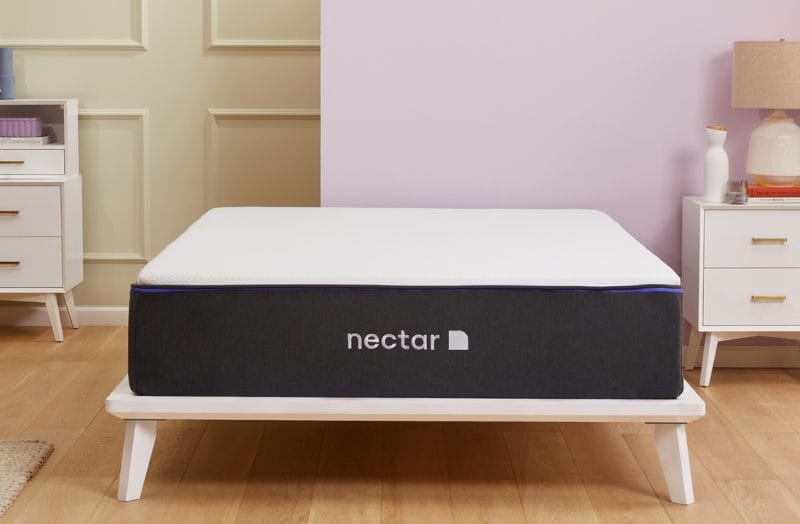 Besides the trial period, you will also get a forever guarantee which is fantastic. This shows that the engineers at Nectar did a great job but also that this brand values its customers. It's not a coincidence after all that most other makers offer 10-year guarantees. Overall, this is by far the best package out there and Nectar does great on this end.
How much does it cost?
This is the most premium Nectar mattress but still, it's fairly priced. The smaller size (Single) starts from £799 with the bigger size (Super King) going for £1,179. However, Nectar is a brand that is known for its fantastic promotions so you will definitely pay less than the retail prices. For example, at the moment of writing, there was a 38% off promotion. The table below has pricing information for all available sizes.
| | | |
| --- | --- | --- |
| SIZE | DIMENSIONS | PRICE |
| Single | 90 x 190 x 28cm | £1,349 |
| Double | 135 x 190 x 28cm | £1,749 |
| King | 150 x 200 x 28cm | £1,849 |
| Super King | 180 x 200 x 28cm | £1,999 |
Should I buy the Nectar Premier mattress?
This is the question I have to answer now that I am about to complete this Nectar Premier mattress review. In my opinion, this would be great for:
A memory foam mattress that is great for all sleeping positions.
A premium mattress with excellent cooling properties.
A mattress made from high-quality materials that comes with excellent service and support.
What Nectar did here is to improve an already fantastic mattress. And this is something that needs to be emphasized here. If you look to get a fairly priced mattress that performs as a premium one, look nowhere else! This is one of the best buys in the UK.
60% OFF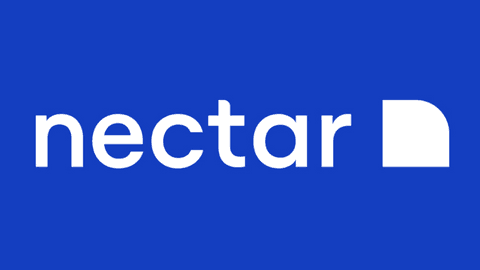 Nectar Mattress
Up to 60% off mattresses at Nectar
Nectar Premier Mattress Review UK
PROS
Great for all sleeping positions
Very supportive and comfortable
365-night trial period
CONS
Edge support could be better