Eve is one of the first companies in the UK that started selling boxed mattresses. Founded back in 2014, the company has dominated the British market. In this Eve Original mattress review, I will talk about their bestseller and whether it's an option you should consider.
Eve is a memory foam mattress that features a really cool design. It's delivered directly to your door and it comes packed in a box. Like all memory foam mattresses, Eve needs a few days before it can fully decompress and takes its true shape. So be a little bit patient with it. In my case, it took me 2 nights to fully appreciate it and I already feel better when I woke up. The mattress is designed and manufactured here in the UK. It's time to move now to the full review below.
50% OFF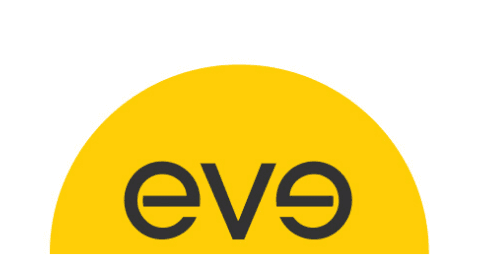 Eve Mattress
50% off premium memory foam mattresses at Eve
50% off premium memory foam mattresses at Eve
Show Less
What is an Eve Original mattress made of?
Eve features a three-layer construction plus the cover. In detail, the three layers are:
Top Layer:

A 4cm memory foam layer which is designed to provide your body with the needed comfort and support.

Middle Layer:

A 3cm cooling foam layer which helps the mattress "breath" and allows airflow.

Bottom Layer:

A 18cm supportive base layer that works as the foundation of this mattress. It also helps with support in demanding areas like your hips and shoulders.
The mattress measures 25cm in height and is quite heavy. You will definitely need two people to move this around. The image below shows the placement of each layer.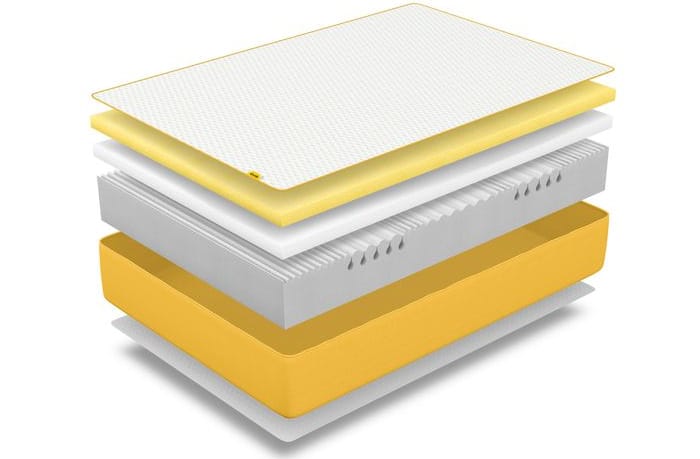 What is the cover made of?
The cover of the Eve mattress is made of 98% polyester and 2% elastane. The blend is designed to achieve two things. Polyester makes it strong and breathable. Elastane improves the fit so the cover stays in place. I really liked what they did here and the cover does a good job. If you want to clean it, you can remove it and machine-wash it at 40 degrees. This is great as it's quite easy to maintain.
The design of the cover is a very modern one. The top part is white with the sides featuring a bright yellow colour. There is also a grey version but it's only available in a couple of sizes. Overall, they did a really good job with their cover and it's one of the best I have seen.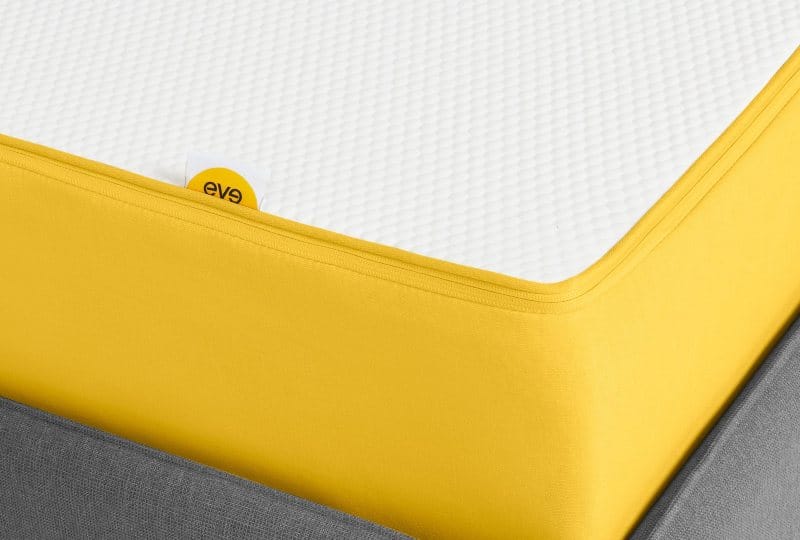 How firm is the Eve Original mattress?
The Eve Original mattress has a medium-firm feel which is the norm with most rolled mattresses. If I use my virtual scale, I would say it's a 6.7 with 10 being really firm. I want to talk now about all the different sleeping positions and how this mattress performed.

Starting from the back position, the mattress 'hugged' my back and it felt quite comfortable in this position. The memory foam layer did a great job providing my body with the needed pressure relief. My spine was aligned properly and my hips didn't sink too much which helped with my back pain area.
Moving to the side position, the mattress responded quickly. The foam layers adjusted to my body weight and sinkage increased. Support remained good, however, I felt that my spine could be aligned better. It wasn't bad but I felt that other mattresses did a better job in this position.
Turning to the stomach position, I felt that the mattress did a very good job. The firmness was ideal and my spine was aligned properly. I felt that my hips and shoulders were well supported and it was very comfortable in this position. Pressure relief was great and if you are a stomach sleeper then the Eve Original can be a great option.
Finally, if you share your bed with a partner, the Eve Original has minimal motion transfer which makes it ideal for couples. Of course, the foam-only construction helps a lot with that. Regarding the edge support, I would say it's average but it won't cause you too much trouble unless you are quite heavy. Overall, the mattress performed very well in almost every sleeping position. I believe that if I had a smaller weight, it would perform better in the side position too. So do consider this before you make up your mind.
RELATED: EVE PILLOW REVIEW
What type of bed to use with this mattress?
This mattress works with pretty much any type of bed frame and you can even use your floor. The maker thought suggests that you use one of the following: Sprung Slatted, Divan or Box Spring, Slatted base, Platform or your Floor. The mattress is available in many sizes including the EU ones which means you will be able to use your old base. If you use a slatted base make sure you use a high number of slats.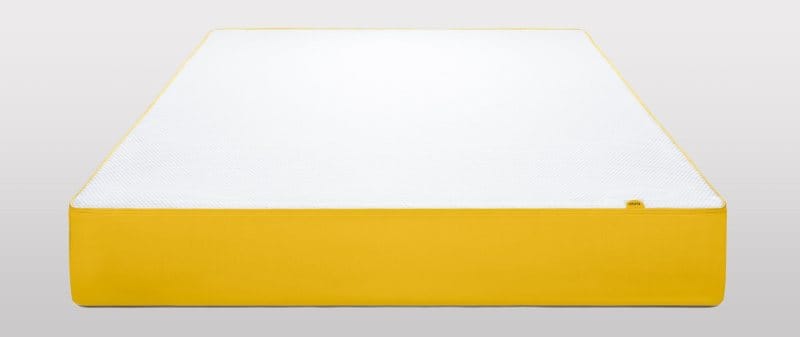 How will it be delivered?
The Eve Original comes with free standard delivery for all orders. The mattress will be delivered within 3 days from the day you place your order. All mattresses are delivered on weekdays. If you want a Saturday delivery this will cost you some extra quid. My mattress arrived 2 days after I had placed my order and the whole process was smooth. I received good communication from them via text and the courier was polite. The mattress will be delivered to your doorstep and depending on the size you order, you might need some help moving the box around. Overall, they offer a good service here so no complaints at all.
Does the Eve Original come with a trial period?
Like most rolled mattresses, the Eve Original comes with a 365-night trial period which gives you a whole year to try this mattress before you decide to keep it. If you are not happy with your mattress all you have to do is talk to their customer service team. They will pick it up for free and will give you a full refund. The mattress also comes with a 10-year guarantee. This is another great feature that showcases how confident they are with their manufacturing process. If you want to find out more about their guarantee policy, you can visit their page here. Overall, they are doing well in this area so no complaints at all.
How much does it cost?
Eve is another company that has chosen to sell directly to its consumers. This means that you will get better value for your money compared to what you would find on the high street. The mattress is available in 5 sizes which is great. The smaller size (UK Single) costs £449 and the biggest size (Super King) costs £849. If you decide to purchase the Eve Original mattress, make sure you check my voucher code page for exclusive discounts!
| | | |
| --- | --- | --- |
| SIZE | DIMENSIONS | PRICE |
| Single | 90 x 190 x 24cm | £449 |
| Small Double | 120 x 190 x 24cm | £649 |
| Double | 135 x 190 x 24cm | £649 |
| King | 150 x 200 x 24cm | £749 |
| Super King | 180 x 200 x 24cm | £849 |
Is the Eve Original mattress any good?
It's time now to complete this Eve Original mattress review and share my final thoughts about it. I think that it would suit people who look for:
A medium-firm mattress that is great with pressure relief and will provide your body with the needed support.

A memory foam mattress that will keep you cool even during the hottest days of the year.

A mattress made in the UK that comes with excellent service and support.
If you look for all the above features then you should definitely consider the Eve Original as your next mattress. It is one of the best memory foam mattresses out there and I highly recommend it.
50% OFF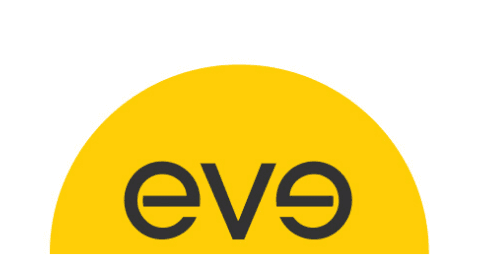 Eve Mattress
50% off premium memory foam mattresses at Eve
50% off premium memory foam mattresses at Eve
Show Less
Eve Original Mattress Review
PROS
Great support and pressure relief
Excellent cooling system
Good for couples
Reputable company
CONS
Edge support is average
Delivery times could be faster