If you look for a premium option that won't break the bank, you should definitely read this Hypnia Supreme Hybrid mattress review. This mattress sits at the top of the Hypnia range which also includes the Hypnia Supreme Memory and the Hypnia Essential Hybrid.
As expected for a premium mattress, this one is a hybrid one and it will remind you of a hotel mattress as it's really thick. What is great about it is the fact it comes with great specs but it has an affordable price tag. This makes it a great option for value hunters. It's time now to move to the full review below.
65% + EXTRA 7% OFF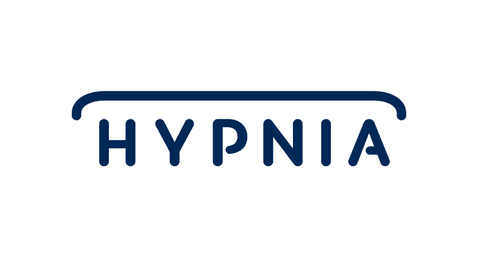 Hypnia Mattress
65% + Extra 7% off mattresses at Hypnia
65% + Extra 7% off mattresses at Hypnia
Show Less
What is the Supreme Hybrid mattress made of?
The Hypnia Supreme Hybrid mattress features 5 layers plus the cover. These are:
An integrated topper that helps with comfort.
A memory foam layer that has fantastic pressure-relieving properties.
A latex layer that adds comfort. Moreover, this type of foam has the ability to remove heat and maintain a stable temperature.
A honeycomb foam layer that is designed to promote a correct spinal alignment.
A layer made of tall pocket springs. These are supportive but they also allow airflow. That means that the mattress will breathe better.
The Supreme Hybrid has a high profile and measures 30cm in height. That means that you might need some new sheets! The image below shows us the positions of each layer.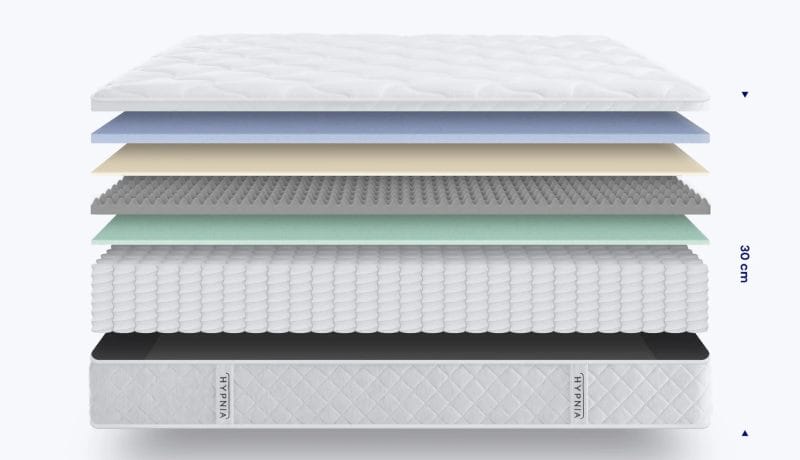 Is this a nice cover?
The cover of this mattress is a beautiful one. It features a 2-tone colourway that combines a white top part with a light grey side part. The latter features a quilted cover that looks very premium. Both parts are made of a breathable fabric that allows airflow. On the sides, they have added 4 handles that feature the Hypnia brand and they are very practical. Unfortunately, if you expected a removable cover, you will be disappointed. This is definitely a flaw for me and hopefully, this will change in the near future. The cover is OEKO-TEX certified, so it's safe for human health. Overall, this is a well-designed cover that compliments the Supreme Hybrid mattress.
What is the feel of this mattress?
Let's continue now with this Hypnia Supreme Hybrid mattress and talk about its feel. As expected, this mattress comes with a medium-firm feel. If I use my virtual scale here, I would say it's a 6.6 with 10 being really firm.

This mattress is designed for people who look for comfort but also support. The design is a clever one and the integrated topper creates a cloud-like feeling. Underneath that, the tall pocket springs and the foam layers work well together. The mattress can provide you with the needed support but also promote a correct spinal alignment. It's a well-balanced mattress and this makes it a great choice for both individuals and couples.
Do they offer free shipping?
The short answer is yes. All Hypnia mattresses come with free delivery that is quite fast (usually takes 2-3 working days). The mattress will be delivered inside a carton box but this is something we all expect these days. If you have a busy life, you can have your mattress delivered on a chosen day but this will cost you an extra £19. In this case, the couriers will deliver the mattress to the room of your choice and will remove the packaging. For £39 you can have all these but also have your old mattress removed. This is very practical as it's not easy to get rid of a mattress, especially in a country like the UK. Overall, I love the fact they offer customers so many options and hopefully more makers will follow this lead.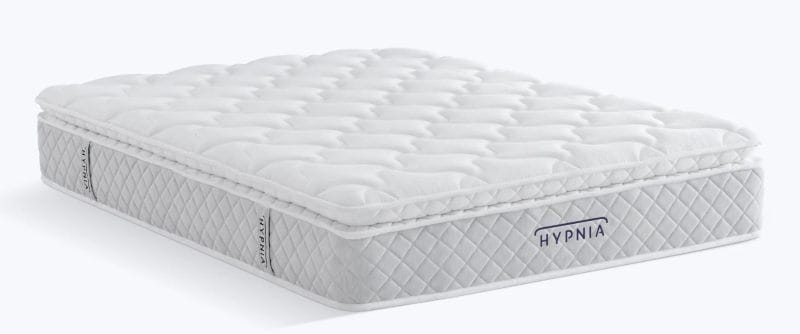 What if I don't like this mattress?
There is always a risk when we buy things online but the people at Hypnia understand that so they decided to offer a 200-night trial period. This will give you more than 6 months to try it. You can then decide later whether you want to keep this or not. In case you are not happy with it, you have the right to return it and ask for a full refund. I have to mention here that you don't have to keep the original packaging to be able to do a return. All you have to do is contact their support team and they will arrange everything for you. All returned mattresses are either recycled or donated to charity.
Moreover, the Supreme Hybrid mattress comes with a 15-year guarantee which is one of the best policies out there. This is impressive, especially for a mattress in this price range. Overall, this is a great support package so well done Hypnia!
How much will it cost me?
As I have mentioned before, this is Hypnia's most premium mattress but it's still an affordable option. This brand runs frequent promotions so you should expect to pay 65% off the retail prices. That means that a double mattress will only cost you £539! For a mattress of this quality, this is a pretty good deal. The Supreme Hybrid mattress is available in 7 sizes so there are many options for you to choose from. The table below has pricing information for all available sizes.
| | | |
| --- | --- | --- |
| SIZE | DIMENSIONS | PRICE |
| Single | 90 x 190 x 30cm | £999 |
| Small Double | 120 x 190 x 30cm | £1,439 |
| Double | 135 x 190 x 30cm | £1,559 |
| EU Double | 140 x 200 x 30cm | £1,649 |
| King | 150 x 200 x 30cm | £1,699 |
| EU King | 160 x 200 x 30cm | £1,779 |
| Super King | 180 x 200 x 30cm | £1,939 |
Who should buy the Supreme Hybrid mattress?
I want to complete now this Hypnia Supreme Hybrid mattress review and answer the above question. In my opinion, this is a good option for anyone looking for:
A hotel-style mattress that comes with an affordable price tag.
A hybrid mattress that is both comfortable and supportive.
A mattress that will last for a long time (15-year guarantee).
If you look for all the above, the Supreme Hybrid mattress can be a good option. It's a complete package that combines a high-quality mattress with excellent service and support. If you find it on sale, this is a mattress you should seriously consider.
65% + EXTRA 7% OFF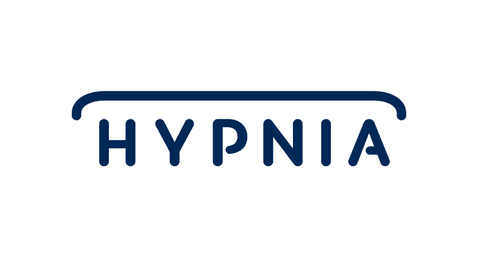 Hypnia Mattress
65% + Extra 7% off mattresses at Hypnia
65% + Extra 7% off mattresses at Hypnia
Show Less
Hypnia Supreme Hybrid Mattress Review
PROS
Very comfortable
Integrated topper
200-night trial period
CONS
Cover is not machine-washable