Almost a month ago, I came across the Ostrichpillow brand and I was really impressed by the products they have developed. In this Ostrichpillow memory foam pillow review, I will talk about this interesting option and whether it's one you should consider.
Founded back in 2012, Ostrichpillow has the mission to improve our micro-moments and help us improve our well-being. The memory foam pillow features a unique design but I will talk about this later. According to the maker, it's designed for everyone, including stomach sleepers. All pillows come with free delivery and free returns. You actually have 100 days to try it and if you are not happy with it you can return it and get your money back. Mine was delivered almost ten days ago so it's a good time now to move to the full review below.
Construction
This pillow is made of a single piece of memory foam but it features a clever design that aims to provide support for all sleeping positions. For this reason, the Ostrichpillow comes with different heights so you will most probably find the right one for your needs. Moreover, the engineers at Ostrichpillow have drilled holes to create air channels that allow this pillow to regulate heat more efficiently. This is clever and it shows that before a product release, a lot of research is taking place. Overall, this is a well-made pillow that won't disappoint you.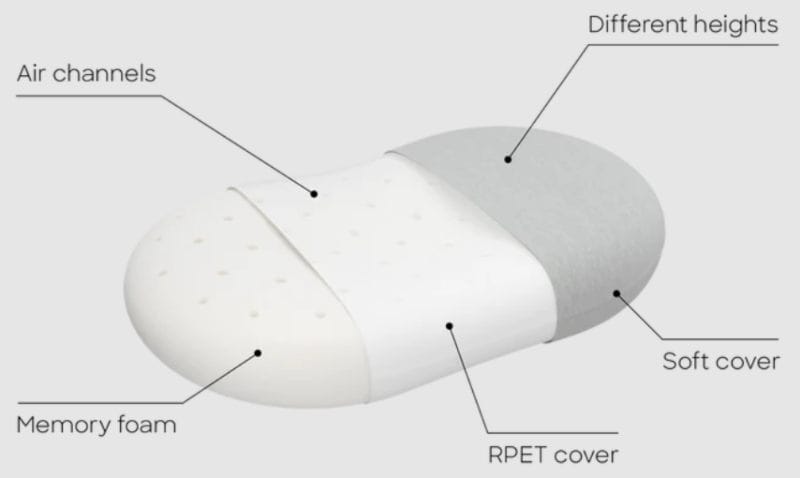 Cover
The cover of this pillow is made of modal which is a material made from spinning beech tree cellulose. It's considered to be an eco-friendly option as beech trees don't require much water to grow when compared to cotton. Underneath that, there is an RPET cover that is made of recycled polyester. It's there to protect the memory foam and keep it clean. The outer cover feels soft to the touch and it's available in two colourways; deep blue and light grey. If you want to clean it, you can easily remove it and you can hand wash it with a mild detergent. Overall, this is a high-quality cover that compliments this pillow.
Support
The Ostrichpillow memory foam was designed to suit every sleeping position and for this reason, it comes with this innovative shape. It also comes with a 12.5cm height that allows it to perform well in every position. I slept with the memory foam pillow for the past ten days and I felt that it did a fantastic job in the back and side position. As for the front position it did a good job but I felt that there was still some room for improvement. Having said that, this is a true all-rounder and the people at Ostrichpillow did a great job.
The memory foam core is supportive and has excellent pressure-relieving properties. As a result, I felt that my head and neck were well-rested every morning. Overall, this is a pillow that will suit most sleepers and one that I personally liked.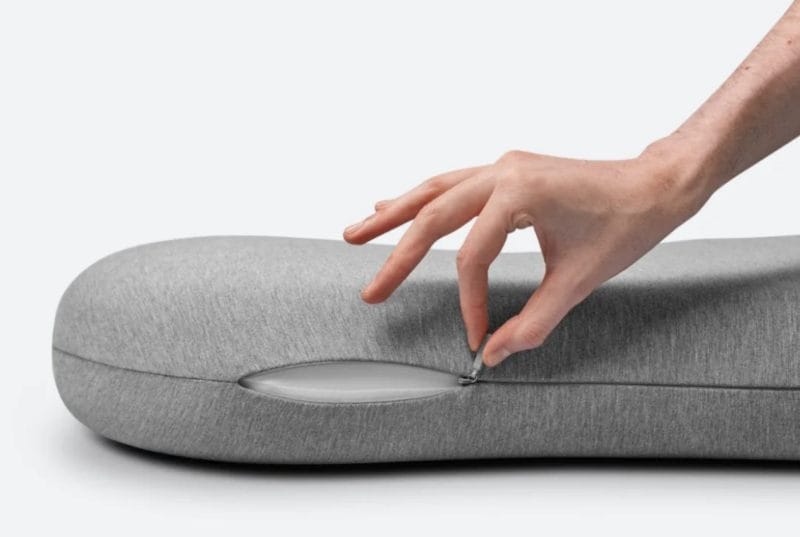 Is this a pillow I should consider?
This is not an easy question to answer but I will do my best since I am ready to complete this Ostrichpillow memory foam pillow review. I believe that this is a great option for anyone looking for:
A versatile pillow that is built for every sleeping position.
A memory foam pillow that has pressure-relieving properties.
A pillow that is paired with excellent service and support.
If all of these sound good to you, this is an option that you should consider. Ostrichpillow is an exciting brand and the memory foam pillow is a true representative of their philosophy. If you are a combo sleeper, this should definitely be high on your list.
Ostrichpillow Memory Foam Pillow Review
PROS
Ideal for combo sleepers
Innovative design
Excellent cover
CONS
Not the cheapest option