If you are looking for an amazing option, this Simba Hybrid Ultra mattress review is what you need to read. This is the latest release from the British maker and it comes with an impressive spec sheet.
After releasing the Simba Luxe mattress, the people at Simba felt that there was still room for improvement so this is how the Hybrid Ultra mattress was born. What is impressive here is the number of springs found on this mattress which can reach up to 8,500. I received my mattress two weeks ago so it's a good time now to move to the full review.
What are the layers inside this mattress?
This mattress has a complicated design that features 10 layers! In detail, these are:
A Coolfusion layer that has the ability to regulate heat during sleep. It's made of kapok, wool & bamboo.
A double Simbatex foam layer that can provide your body with the needed comfort.
A Boosting Purelift layer that is breathable and supportive. This is an all-natural layer that is made of latex and coconut.
A double layer of Aerocoil springs that can provide your body with tailored support. This type of spring allows airflow which helps the sleeping surface to remain cool.
A stabilising core foam layer that provides structural support for the mattress.
An Aerocoil spring support layer that can adapt to your body's movements.
A Supportcore sprung base which is the main source of support. This layer also improves edge support.
A Simba Regen foam layer that is the base of this mattress.
As expected, this is a thick mattress and it measures 34cm in height. In the picture below, you can see the position of each layer so you get a better understanding of its architecture.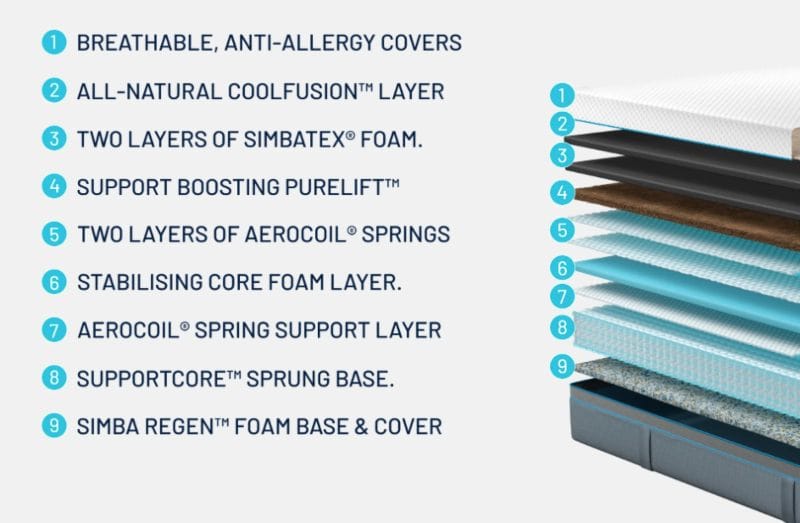 Is the cover any good?
A premium mattress like the Simba Hybrid Ultra couldn't come with an average cover. The people at Simba understood that and they have created a fantastic knitted cover that is the ideal compliment for this mattress. The top part is white and it has a premium texture that feels soft. On the sides, there is a mesh panel that increases airflow and ensures that the mattress breathes well. Finally, at the bottom, there is a grey part which is made of a strong fabric.
The cover is well-stitched and it features 8 handles that allow you to move it with less effort. This is very important as this is a quite heavy mattress. At the bottom, there is an antislip surface that ensures that the mattress will stay in place. Unfortunately, this is not a removable cover and this is the only drawback here. If you want to clean it, you should spot-clean it with a wet cloth and mild detergent. Overall, this is a premium cover that won't disappoint.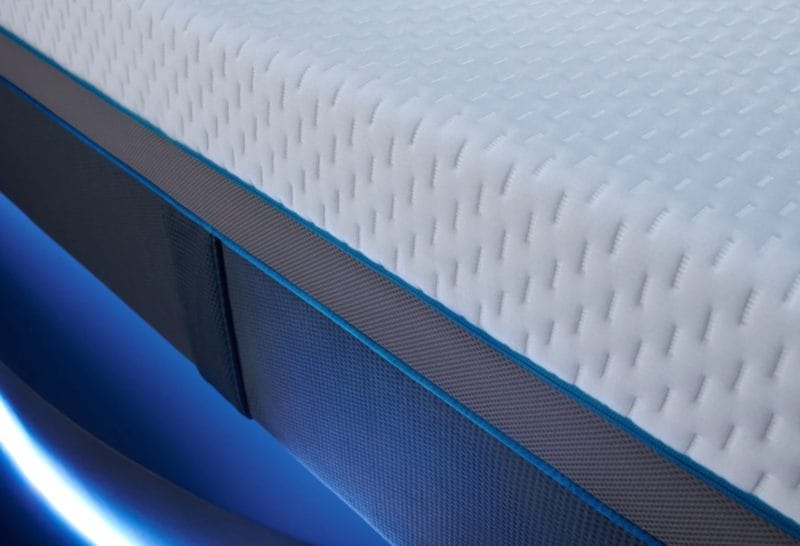 What is the feel of this mattress?
I want to continue writing this Simba Hybrid Ultra mattress review and talk about its feel. This is a mattress designed to suit most people so it comes with a medium-firm mattress. If I use my virtual scale here, I would say it's a 6.7 with 10 being really firm. Below, I will talk about my experience with it during the past two weeks.

Lying on my back, the mattress felt very supportive and extremely comfortable. I was impressed from the very first moment and it was easy to understand that this was a super premium mattress.
Turning to the side position, the mattress adjusted very quickly which allowed my spine to align correctly. Support remained great and I felt very comfortable in this position.
Finally, turning to the front position the mattress kept my hips and shoulders in the right place. This allowed my spine to sit in a neutral position which can be a tough task for most mattresses. Overall, the Simba Hybrid Ultra is a proper all-rounder so it will suit every sleeping position.
As expected, the edge support is fantastic and the Aerocoil springs are designed to minimise motion transfer. That means that this mattress is a great fit for couples.
Does it come with free delivery?
One of the things I hate is paying for delivery. The good news is that when you buy the Hybrid Ultra mattress from Simba you are eligible for free VIP delivery. That includes mattress installation but also old mattress removal. Additionally, you can nominate a preferred day for delivery so you have total flexibility. Delivery takes between 1-3 days for most postcodes so you will have your mattress in no time. In my case, it was only 2 days and the whole experience was great. The courier arrived on time and did what was promised. The packaging was removed and all I had to do was just wait for my mattress to fully decompress. Overall, this was one of the best services I have received so well done Simba!
Can I try it before I buy it?
The answer is yes! All Simba mattresses come with a 200-night trial period. That gives you more than 6 months to try it at home. This is a fantastic service here and only a handful of makers offer something similar. If you feel that this mattress is not a good fit, you can return it and get your money back. Returns are free and all you have to do is talk to one of their customer reps. I also need to mention here that you don't need to keep the original packaging to be able to complete a return. All that makes buying this mattress a really safe choice.
Moreover, this mattress comes with a 10-year guarantee that will have you covered for a really long time. More details on that can be found on their dedicated page. Overall, this is a fabulous support package so no complaints at all.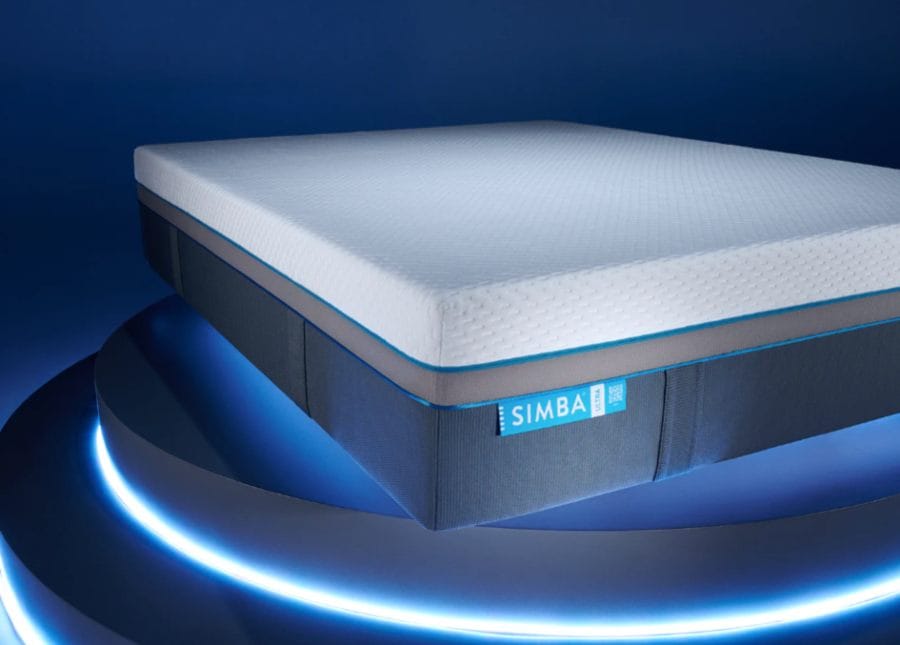 How much will it cost me?
This is a premium mattress so it's not the most affordable option out there. The smaller size (Single) sells for £2,599 while the bigger one (Super King) goes for £4,499. However, Simba runs frequent promotions so you will pay less than that. At the moment of writing, a King sized mattress would cost you £2,399. In the table below, you will find all the available sizes and their prices.
| | | |
| --- | --- | --- |
| SIZE | DIMENSIONS | PRICE |
| Single | 90 x 190 x 34cm | £2,599 |
| Double | 135 x 190 x 34cm | £3,799 |
| King | 150 x 200 x 34cm | £3,999 |
| Super King | 180 x 200 x 34cm | £4,499 |
Is the Simba Hybrid Ultra mattress a good choice?
I am ready now to complete this Simba Hybrid Ultra mattress review and of course, answer the above question. In my opinion, this is a great choice for those looking for:
A premium mattress that can suit every position and body type.
A hybrid mattress that sleeps cool.
A mattress that comes with great service, including free mattress removal.
This is a really impressive mattress and definitely one of the best I have tried. Of course, its cost is not for everyone but I have only good things to say about its performance. As a result, if you have the budget for it, this is definitely a mattress that I can recommend.
Simba Hybrid Ultra Mattress Review
PROS
Amazing materials
Suitable for all positions
Free VIP delivery service
CONS
Cover is not removable