In this Emma Premium mattress review, I will talk about this latest release from the popular German maker. They claim that this is a major improvement when compared to the Emma Hybrid mattress so I was really excited to get my hands on it.
🏆 Awarded "Best Hybrid Mattress" for 2023
Emma is a market leader and they have seen great success in recent years. After announcing the imminent release of the Emma Motion mattress which is their first smart mattress, they decided to create a premium hybrid option for the more demanding sleepers. The Emma Premium mattress is a boxed one so you should expect it packed in a carton box. Mine arrived about two weeks ago so it's a good time now to move to the full review below.
What is an Emma Premium mattress made of?
The Premium mattress features a total of 5 layers plus the cover. In detail, these are:
An Airgocell foam layer that is designed to keep the sleeping surface cool during the night. It has also pressure relieving properties and adds comfort.
A visco-elastic memory foam layer that provides your body and joints with the needed pressure relief. This layer is particularly good for all

those who suffer from back pain

.
A cold foam layer that is more supportive when compared to the upper layers. It helps with the transition from the foam layers to the pocket springs. It sleeps cool and it's quite breathable.
A zoned pocket springs layer that can provide your body with tailored support. They decided to use tall pocket springs (12.5cm) that are more supportive and they can distribute weight more evenly.
A base foam layer that keeps the mattress altogether. It helps the upper layers work better and it adds support.
The mattress measures 25cm in height and the picture below showcases the position of each layer.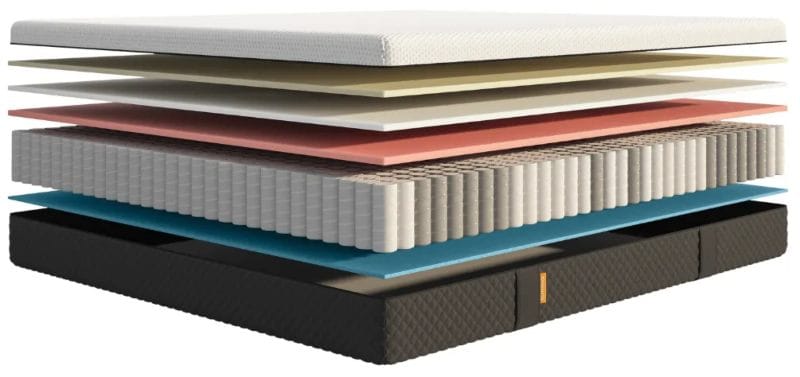 What is the cover made of?
The cover of the Emma Premium mattress is made of 100% polyester. It's a strong material that is quite breathable so your mattress won't sleep hot during the night. In addition, polyester is easy to maintain and you can use your washing machine to clean it. This is great but you should always remember to put the cover at 40 degrees max or else it can be ruined.
The design is identical to the other Emma mattresses and I admit, I wanted something different here as this is a more premium mattress. However, it's a nice design and I like it. On the sides, you will find 4 turning handles that will help you move it when needed. Finally, at the bottom, there is an anti-slip surface that will keep your mattress in place. Overall, it's a well-designed cover that is easy to maintain and this is what Emma wanted to achieve here.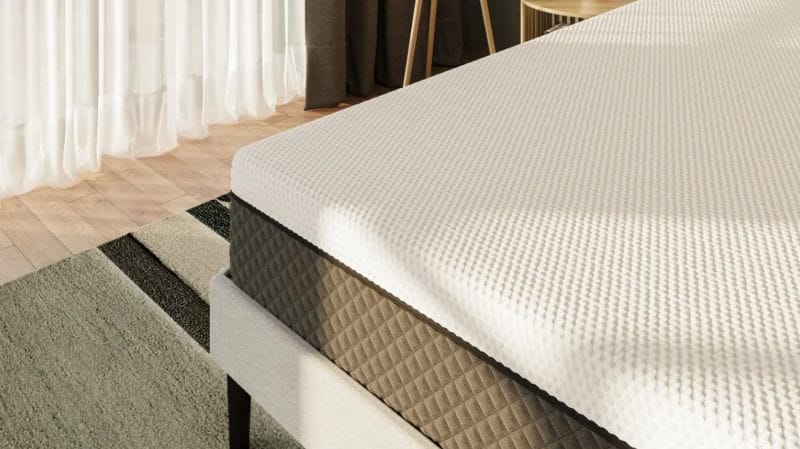 How firm is the Emma Premium mattress?
Let's continue now with the Emma Premium mattress review and talk about its firmness. This mattress comes with a medium-firm feel and it's designed to suit all types of sleepers. If I use my virtual scale here, I would say it's a 6.7 with 10 being really firm. That makes it the firmest mattress in their range. Let's see now how this mattress performed in the different sleeping positions.

Starting from the back position, the mattress did a good job with my spine alignment and the foam layers provided my back with pressure relief. Support was great and I was very comfortable in this position.
Turning to my side, sinkage increased and the pocket springs adjusted quickly. The zoned system did a good job with my hips and shoulders and I didn't have any discomfort. My spine alignment was good and the mattress had a good overall performance in this position.
Finally, moving to the front position, the mattress was firm enough to support my weight and it was comfortable sleeping this way. Pressure relief was adequate and my body was well supported. Overall, this mattress is designed for combo sleepers so it will suit every sleeping position.
If you share your bed with a partner, the Emma Premium mattress has great edge support. The taller pocket springs and the solid base foam are responsible for that. On the other hand, there is some motion transfer but nothing too bad so this is a couple-friendly mattress.
What type of bed to use with this mattress?
You don't need a special setup for this mattress but the Emma Premium needs a supportive surface in order to perform at its best. In my opinion, the best options are slatted frames and box springs. However, this mattress will also work on your floor although it's not very hygienic. If you use a slatted frame, make sure that the distance between them is no longer than 7cm.
How will it be delivered?
This is another rolled mattress from Emma so you should expect it packed in a carton box. If you live in the UK, you are eligible for free no-contact delivery which usually takes between 5-7 working days. In my case, it was 6 and I remind you that I live in London. They ship their mattresses with UPS, DPD or Rhenus so you expect good service. For an extra £35, you can have your old mattress removed which is convenient as it's not always easy to get rid of your old mattress. Overall, their service is great and I was happy with it.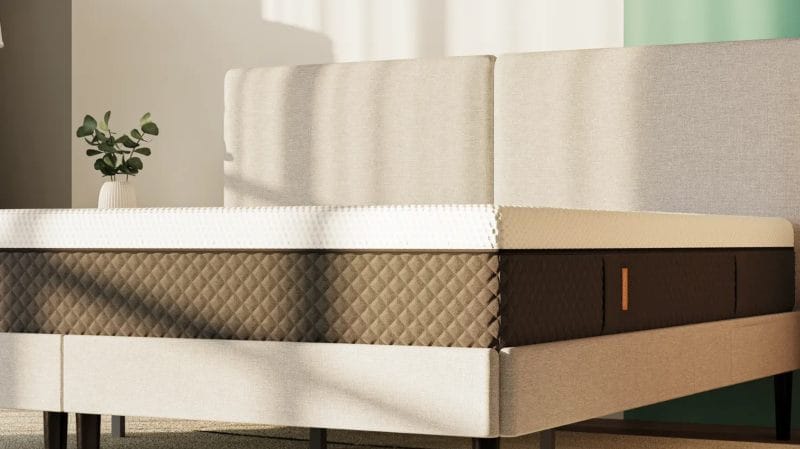 Does the Emma Premium come with a trial period?
All Emma mattresses come with a 200-night trial period which is one of the longest ones in the UK market. If you think about it, this will give you more than 6 months to try the Emma Premium mattress and decide later whether you are happy with it or not. If you don't want to keep it, you can return it for free and get a full refund. The process is straightforward and they will arrange everything for you. I need to mention here that you don't need to keep the original packaging to be able to return your mattress.
Besides the trial period, you will also get a 10-year guarantee that will cover you for a long time. If you want to know more details about it, you can visit their guarantee page. Overall, this is a great package so no complaints at all.
How much does it cost?
This mattress is available in 5 sizes so you have plenty of options to choose from. The smaller size (Single) sells for £909 with the bigger (Super King) going for £1,731. However, they run frequent promotions so you won't have to pay the full price. For example, at the moment of writing, there was a 40% sale. If you want to find out about the latest promotions, you can visit our dedicated coupon page.
| | | |
| --- | --- | --- |
| SIZE | DIMENSIONS | PRICE |
| Single | 90 x 190 x 25cm | £909 |
| EU Single | 90 x 200 x 25cm | £998 |
| Small Double | 120 x 190 x 25cm | £1,109 |
| Double | 135 x 190 x 25cm | £1,331 |
| EU Double | 140 x 200 x 25cm | £1,398 |
| King | 150 x 200 x 25cm | £1,553 |
| EU Queen | 160 x 200 x 25cm | £1,687 |
| Super King | 180 x 200 x 25cm | £1,731 |
Is the Emma Premium mattress any good?
The time has come now to complete this Emma Premium mattress review and share my final thoughts with you. I think that this mattress would be ideal for those looking for:
A hybrid mattress that is great for all sleeping positions.
A supportive mattress that sleeps cool.
A mattress that comes with great service and it's built here in the UK.
If you look for all of these, the Emma Premium mattress should be high on your list. It's an impressive mattress that scored well in almost every category. If they release it in more sizes, it will be an absolute best-seller. I highly recommend it to every combo sleeper.
Emma Premium Mattress Review
PROS
Great for all sleeping positions
Very supportive
200-night trial period
CONS
Motion transfer can be noticed at times