OTTY is a well-known brand here in the UK, making high-quality mattresses that come at an affordable price. In this OTTY Aura Hybrid mattress review, I will talk about their latest product which is even more affordable than their first one, the OTTY Original.
The two mattresses are quite similar and they are both hybrids. That means it combines memory foam with pocket springs. It comes packed in a carton box which is the norm these days. Mine arrived a couple of weeks ago so it's a good time to write this review.
What is an OTTY Aura Hybrid mattress made of?
This mattress is made of a total of 5 layers plus the cover. These are:
Top Layer: A Cool Blue Gel Infused Memory Foam layer which is there to keep the mattress cool during sleep. It also adds comfort.
Middle Layer: A HD Reflex Foam layer that provides your body with the needed comfort.
Middle Layer: A pocket spring layer that provides your body with the needed support. OTTY use 14cm tall pocket springs which according to them help with posture.
Middle Layer: OTTY have added jointed air-flow support sides which improve the edge support but also allow airflow for a cool sleep.
Bottom Layer: A high-density foam layer that is the base of the mattress.


The OTTY Aura Hybrid mattress is 23cm in height which is 2cm less than the OTTY Hybrid.
Is the cover any good?
The cover of this mattress is made of 97% Polyester and 3% Spandex. It's a thick knit cover that feels strong and soft at the same time. It has a really beautiful design that is geared mostly towards younger people. The top part is white with the bottom part featuring a dark grey colour along with the OTTY branding. The cover is removable and you can machine wash it at 40 degrees. This is great and I always like it when things are easy to clean and maintain. The fact is mostly made of polyester makes this cover quite breathable which is great as it helps the mattress stay cool during sleep. Overall, OTTY did a good job here and the cover has all the right features.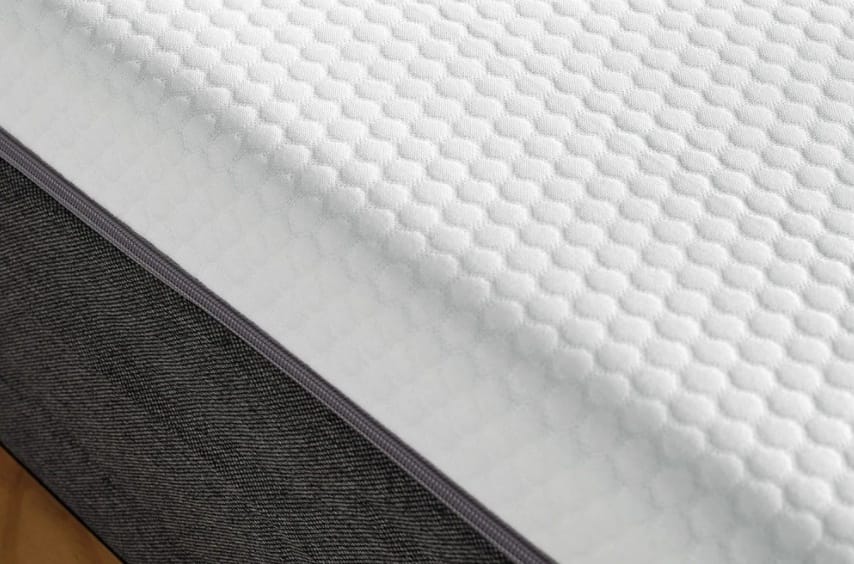 How firm is the OTTY Aura Hybrid mattress?
The OTTY Aura Hybrid is a medium-firm mattress designed to cover most people's needs. If I use my virtual scale, I would say it's a 6.5 with 10 being really firm so it's marginally softer than the OTTY Hybrid one. However, they behave quite similarly as they both combine memory foam with pocket springs. I would like now to talk about the different sleeping positions and how this mattress performed.

Starting from the back position, the mattress reacted quickly to my body weight. I felt well-supported on my back but the pressure relief was average. This is something I expected to be honest as it's hard to get good pressure relief from a mattress that is 20cm tall. However, at this price, you look more for good support.
Moving to the side position, the springs reacted quickly and sinkage increased. My spine was aligned properly and I was actually impressed by the work that this mattress did in this position. It was quite comfortable and in general, I felt supported.
Finally, moving to the stomach position, the mattress adjusted well to my movement and provided adequate support. My hips and shoulders were positioned properly and it was comfortable sleeping in this position. Again, I felt that the pressure relief was average.
Regarding the edge support, I think the design with the support sides does a good job and you will get the same performance from every inch of the mattress.
What bed should I use with this mattress?
The Aura Hybrid mattress can be placed on any flat surface. In detail, you can use an adjustable base, a divan, a slatted base or simply your floor. This is great as it means you don't need to get a new bed frame to place your new mattress. I personally used my old slatted base and it worked perfectly. Of course, when you use slats, always make sure the distance between them is no longer than 7 cm long. The mattress is available in 4 UK sizes so if you have an EU base then you might need a new one.


Will it come packed in a box?
I have already mentioned that this mattress is a rolled one and it comes packed in a box. They offer Free Next Day delivery to all customers between Monday and Friday. If you want a Saturday delivery there is an option during check-out that will cost you an extra £20. However, there are a few more options that I think enhance the shopping experience. In particular, OTTY offers a mattress removal service which in my opinion is very useful. After all, it can be very difficult to get rid of your old mattress. Finally, there is also the option to have your mattress delivered to the room of your choice. It will be set up and the package will be disposed of by the delivery guys. This will cost you £10 more and it can be combined with any other premium service.
I went for a Saturday delivery to the room of choice with packaging disposal. It cost me an extra £30 but I must say it's really worth every penny. The two delivery guys arrived on time and did everything as agreed. They were quite quick too which is exactly what you want on a Saturday morning. Overall, I think that they did a great job here allowing me to get personalised service for a small premium charge.
Do they offer a trial period?
Just like the OTTY Hybrid, this mattress also comes with a 10-year guarantee which shows how confident they are about their products. Besides that, you will also get a 100-night trial period which allows you to try the mattress for more than 3 months and decide whether you want to keep it or not. If you are not happy with your purchase, you can return it and get a full refund. All you have to do is contact them and they will arrange everything for you. As for the original packaging, you don't have to keep it to be able to return your mattress. Overall, I think they do a great job here so no complaints at all.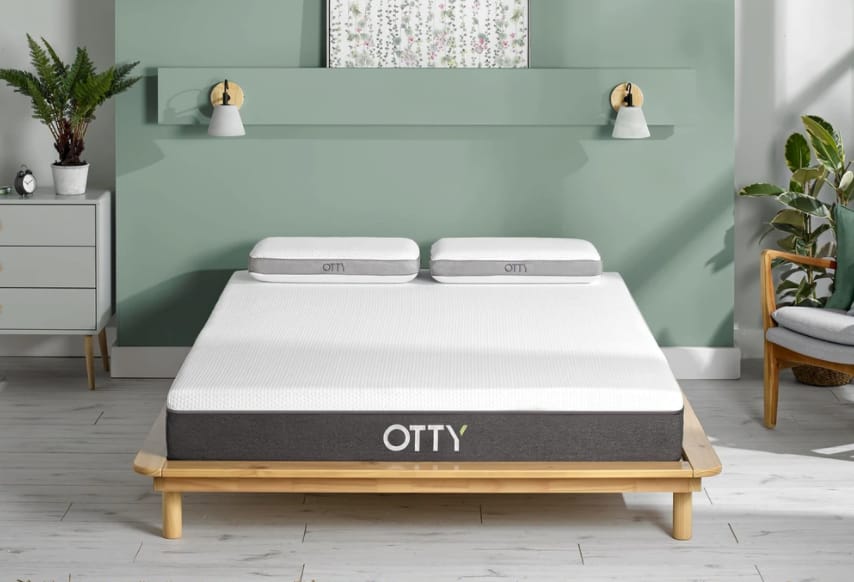 How much does it cost?
OTTY designed this mattress with people on a budget in mind. They cut the cost but not the quality here so the Aura Hybrid mattress is a really good value-for-money option. Unfortunately, it is only available in 4 sizes at the moment so I hope this changes in the near future. In the table below, you can find more info about the pricing of this mattress. Of course, before you buy, always check my discount code page as OTTY runs frequent promotions.
| | | |
| --- | --- | --- |
| SIZE | DIMENSIONS | PRICE |
| Single | 90 x 190 x 23cm | £499 |
| Double | 135 x 190 x 23cm | £749 |
| King | 150 x 200 x 23cm | £849 |
| Super King | 180 x 200 x 23cm | £949 |
Is the OTTY Aura Hybrid mattress for me?
After finishing this OTTY Aura Hybrid mattress review, it's time to answer again the main question. Is this mattress good for me? In my opinion, this mattress would be ideal for anyone looking for:
A hybrid mattress that comes with great service and support.
An affordable medium-firm mattress that is a good all-rounder.
A mattress made with good quality materials from a respected maker.
If you look for all these and you are on a budget, then the Aura Hybrid can be a great option for you. It's definitely not the best mattress I have tried but for this price, you will get great value.
OTTY Aura Hybrid Mattress Review
PROS
Great support for the price
Excellent delivery service
Good cooling system