The mattress industry has developed a lot during the past decade and every year more and more makers appear. In this Brook and Wilde mattress review, I will talk about this new entry and whether it's an option you should consider.
This mattress got my attention because it's a bit different compared to the rest of the rolled mattresses. The people at Brook and Wilde don't focus too much on the price point instead, they offer a high-spec mattress with excellent customer service. The Brook and Wilde mattress is a hybrid one and is manufactured here in the UK. Mine arrived almost a month ago so it's a good time now to write this review.
65% OFF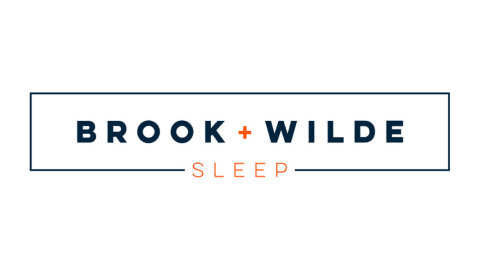 Brook + Wilde Sleep
65% off the Lux mattress only at Brook + Wilde
65% off the Lux mattress only at Brook + Wilde
Show Less
What is a Brook and Wilde Lux mattress made of?
The Brook and Wilde Lux mattress features a total of 4 layers plus the cover. These are:
Top Layer: A cooling memory foam layer that is there to provide comfort but also reduce motion transfer.
Middle Layer: A support foam layer that is designed to promote a healthy spinal alignment. This foam is also kind to your shoulders.
Middle Layer: A layer made of around 1,000 bigger pocket springs that add the needed bounce to this mattress.
Bottom Layer: Support foam is used at the bottom of the mattress. This is essentially the base of it and keeps it all together.
The Brook and Wilde mattress has a total height of 26cm so it will still fit your standard sheets. The image below showcases the position of each layer.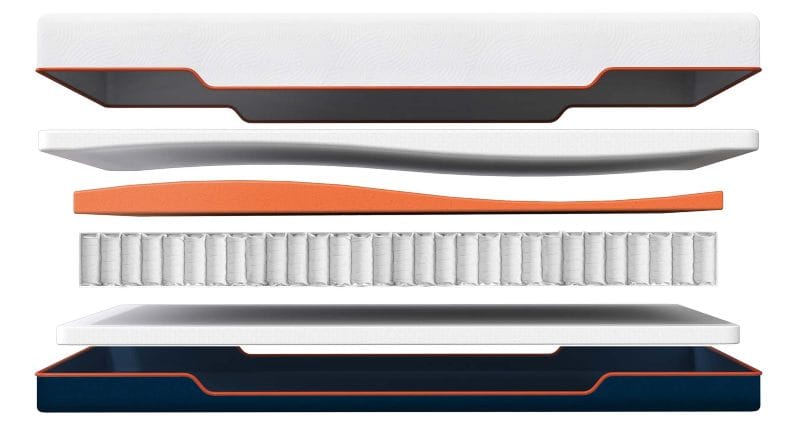 What is the cover made of?
The cover of the Brook and Wilde mattress is a great one. It's designed to be breathable but also durable. It feels nice and it's relatively soft. Moreover, it's hypoallergenic so if you suffer from allergies, you can stay assured that you will have no issues. The cover features a two-colour scheme with the top part being white and the bottom part being navy. The two parts are separated by an orange line.
On the sides of the mattress, you will find handles that will help you move the mattress. This is practical thinking and I love when makers think this way. The cover is not removable and you will have to spot-clean it when that is needed. This is something that I don't like as I would prefer to be able to wash them in my washing machine. Overall, this is a well-made cover that features a beautiful design.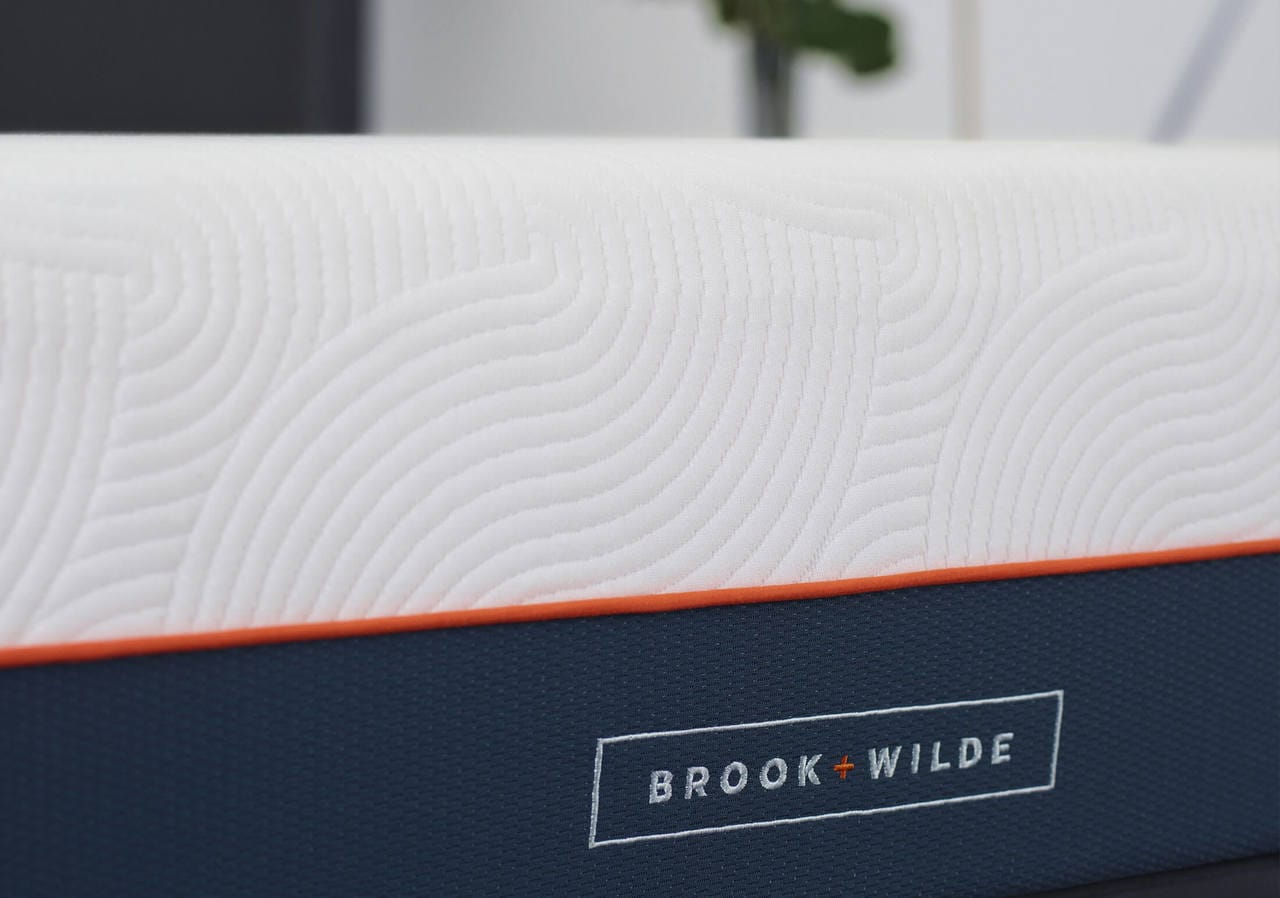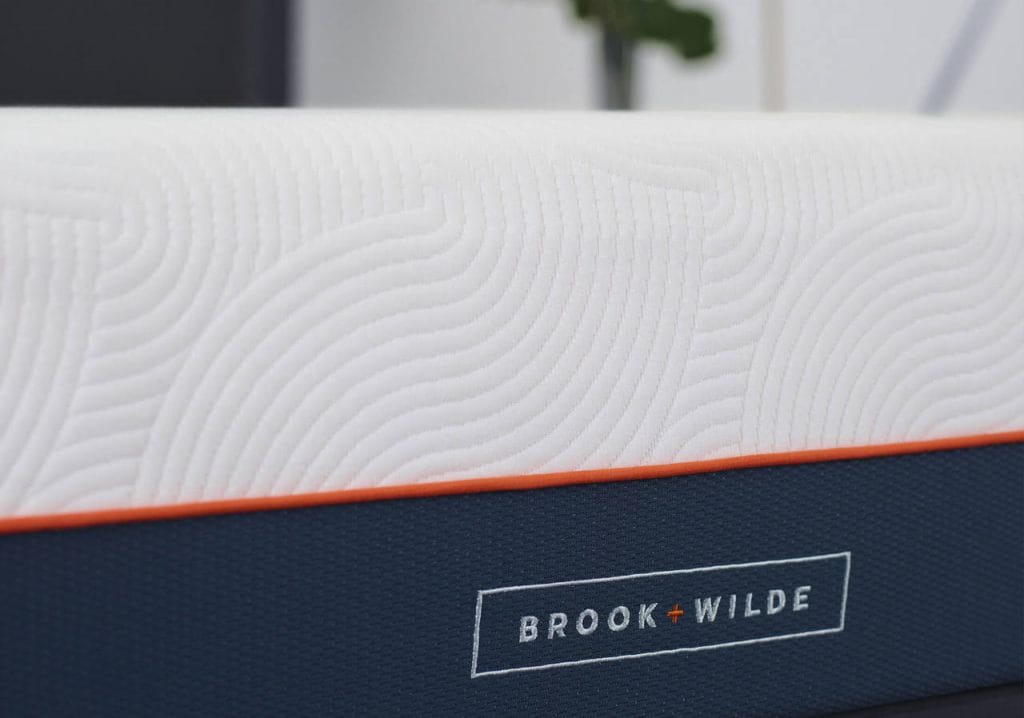 How firm is the Brook and Wilde Lux mattress?
This mattress was built to suit the average sleeper so it comes with a medium-firm feel. If I use my virtual scale here, I would say that it's a 6.5 with 10 being really firm. I would like now to talk about the different sleeping positions and how the Brook and Wilde mattress performed.

Starting from the back position, the memory foam moulded around my shoulders which was a really nice feeling. My body was properly supported and I felt that the mattress did a good job with my spine alignment. Overall, I felt quite comfortable in this position.
Moving to the side position, the mattress reacted quickly and the springs adjusted to my new position. My spine alignment was correct which is something I expected from such a mattress. It was comfortable in this position and I didn't feel any discomfort in the hip area.
Finally, moving to the stomach position the mattress adjusted quickly and I felt that my hips were well supported. Although this is a medium-firm mattress it still did a good job in this position and this was impressive. Overall, this is a mattress that will suit combo sleepers and most body types.
As for the edge support, the Brook and Wilde mattress is a very solid construction so you will get the same performance across the entire sleeping surface. Moreover, the motion transfer is minimal so this mattress is suitable for couples.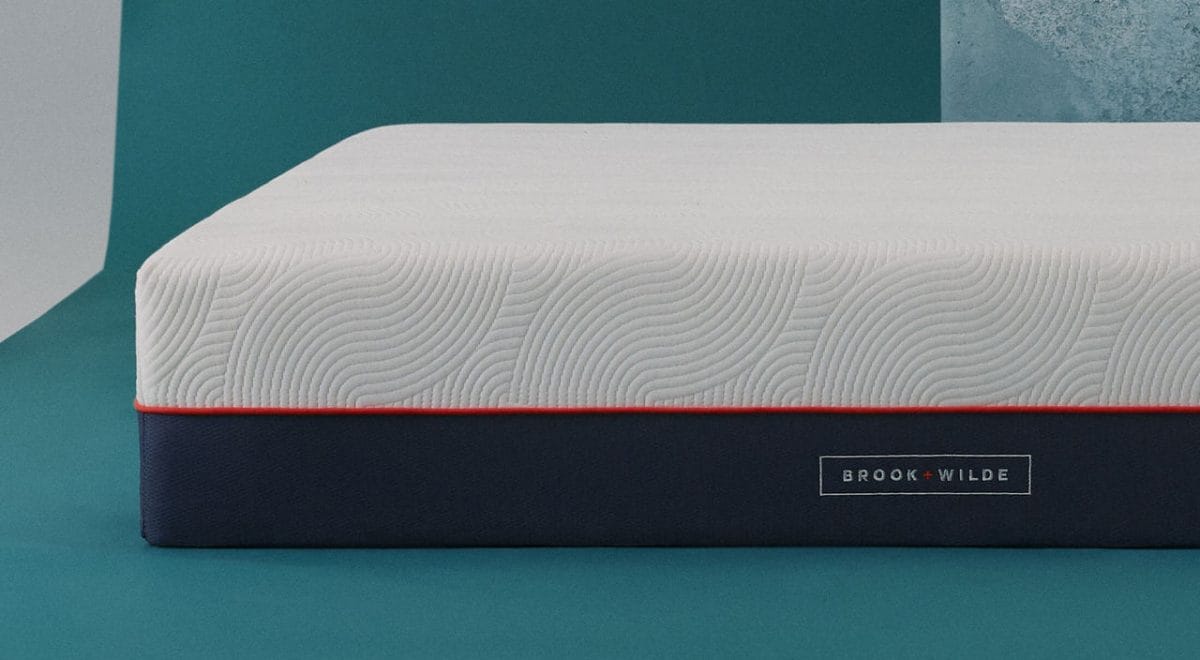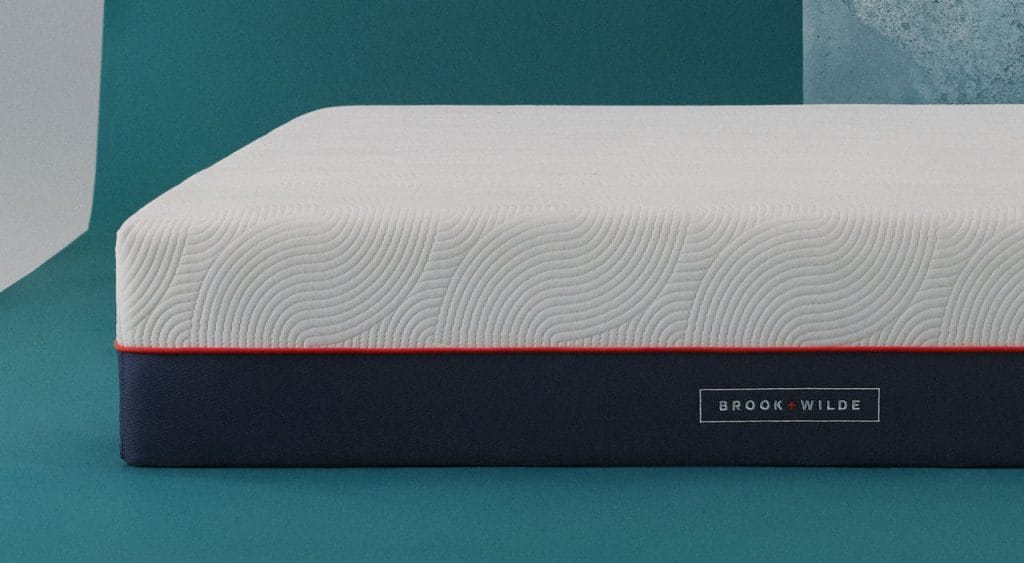 What type of bed to use with this mattress?
You can place your Brook and Wilde mattress on any flat surface. These include box frames, slat frames or even your floor. If you use a slatted frame, you should make sure that the distance between each slat is around 7cm. Unfortunately, the mattress is not available in EU sizes so if you have an IKEA bed frame then probably you won't be able to use it. Hopefully, this will change in the near future and we will have more sizes to choose from.
How will it be delivered?
As I have already mentioned, the Brook and Wilde mattress is a rolled one. It comes in a nice carton box (pictured below) directly to your door. The delivery is free for all sizes and it usually takes up to 4 weeks. Moreover, they offer a mattress recycling service which is a fantastic add-on and something that not many makers offer. Additionally, a 2-man delivery service is available which will allow you to have the mattress delivered to the room of your choice.
My experience with them was a great one. I was well informed about the process and on the delivery day they text me my delivery slot. The couriers were prompt and polite and they placed the mattress in the room of my choice. Once they did, they removed my old mattress in an efficient way and left the property. Overall, Brook and Wilde offered me a fantastic service and I must say it was one of the best I ever had.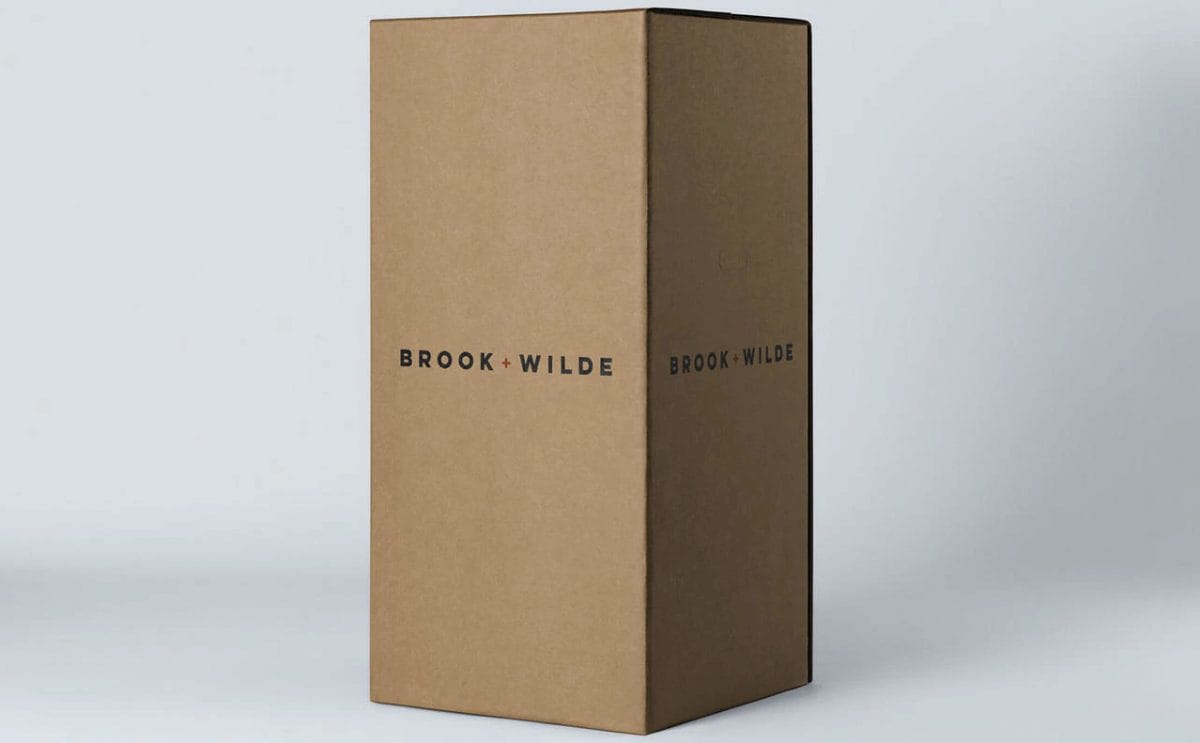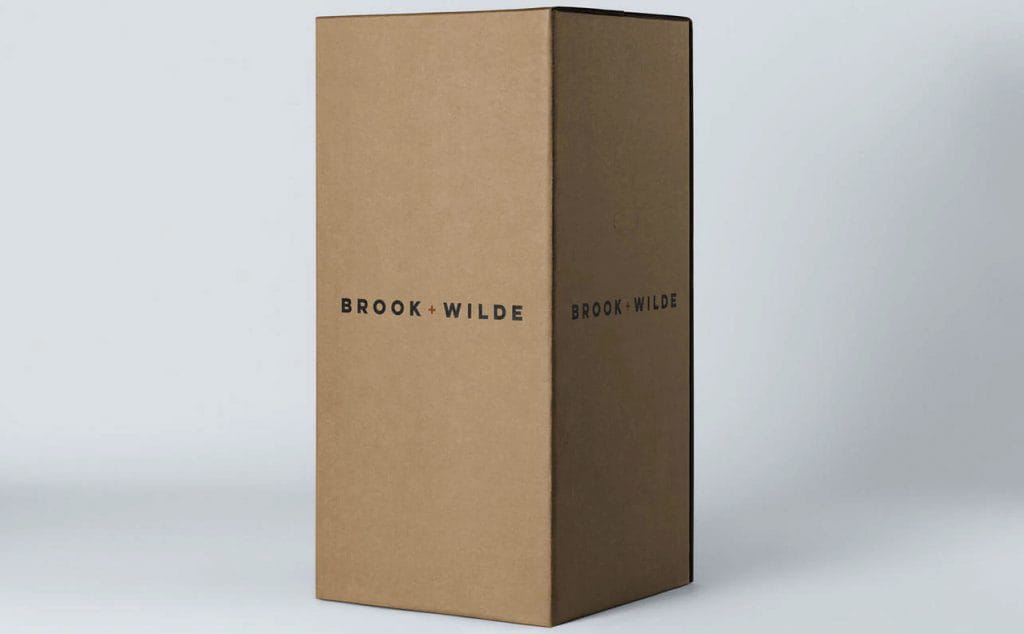 Does the Brook and Wilde mattress come with a trial period?
The Brook and Wilde mattress comes with a 10-year guarantee which is the norm these days. This, of course, is great as it shows how confident they are in their manufacturing process. Moreover, you will get a 200-night trial period which allows you to try it and decide later whether you like it or not. If you are not happy with it you have two options. You can either ask for a full refund or exchange your mattress for one with a different feel. The process is quite simple and all you have to do is contact customer service. Once you do, they will arrange the collection of the mattress and take care of everything. Overall, they do great here so no complaints at all.
How much does it cost?
Brook and Wilde want to offer high-quality mattresses at a fair price. At the moment there are 4 sizes available for you to choose from. The smaller one sells for £699 with the bigger Super King one going for £1,099. Before you buy your mattress make sure you check my voucher code page which lists all the current offers. The table below includes price information for all the available sizes.
| | | |
| --- | --- | --- |
| SIZE | DIMENSIONS | PRICE |
| Single | 90 x 190 x 26cm | £699 |
| Double | 135 x 190 x 26cm | £899 |
| King | 150 x 200 x 26cm | £999 |
| Super King | 180 x 200 x 26cm | £1,099 |
Is the Brook and Wilde Lux mattress any good?
After completing this Brook and Wilde mattress review, I would like to share my final thoughts with you. This is a nice new entry into the UK market and I personally was quite impressed by it. I would say that this mattress is ideal for those who look for:
A mattress that is designed for all sleeping positions.
A hybrid mattress constructed in the UK using high-quality materials.
A mattress that comes with excellent service and support.
This is not the cheapest mattress but you get what you pay really. And the Brook and Wilde mattress is a really good one. If you look for a quality hybrid mattress that comes with excellent service and support then this should be high on your list.
65% OFF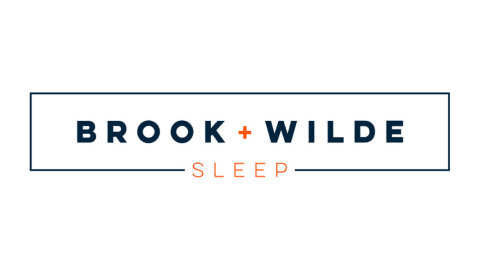 Brook + Wilde Sleep
65% off the Lux mattress only at Brook + Wilde
65% off the Lux mattress only at Brook + Wilde
Show Less
Brook and Wilde Lux Mattress Review
POSITIVES
Good for all sleeping positions
Great for couples
Excellent service and support
NEGATIVES
Delivery is slow