Panda is a London-based brand that became very popular selling bamboo pillows and bedding. In this Panda Hybrid mattress review, I will talk about their first attempt to enter the mattress world.
If you are a reader of this site, you already know that I love my Panda pillow. Therefore, I was really excited to hear the news that the people at Panda decided to create a new mattress. Do you wonder how this compares to the competition? Let's find out in the full review below.
How is this mattress made?
The Panda Hybrid mattress features 4 layers plus the cover. In detail, these are:
A BioCell foam layer that is infused with fresh bamboo. This makes it odour-resistant but also allows it to regulate temperature very efficiently.
An OrthoAlign foam layer that can optimise spinal alignment and provide your body with the needed pressure relief.
A layer made of premium pocket springs that feature a zoned system. This type of spring is designed to minimize motion transfer.
A high-density memory foam that can distribute weight evenly.
The mattress measures 27cm in height and the image below gives us a better look at the position of each layer.

What is the cover made of?
The cover of the Panda mattress is made of bamboo and polyester. To be more precise the surface layer is made of bamboo while the inner layer is made of polyester. The latter adds durability and is actually made from recycled bottles. This is a great initiative from Panda and more makers should follow this lead. The bamboo part is silky soft but at the same time has the ability to regulate heat very efficiently. Moreover, it's hypoallergenic and naturally antibacterial. The top part is removable and machine washable but you should make sure to use a mild detergent and a cycle at 30 degrees. The design is a gorgeous one and it's definitely one of my favourite ones. It features a white top part and a black bottom part with Panda branding. Overall, they did a fantastic job with this cover and it's one I really like.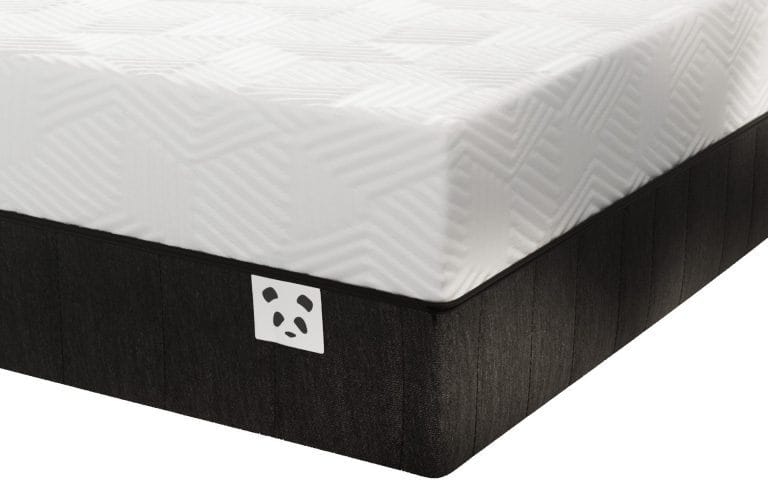 Is this a firm mattress?
This is a very common question and I have to answer it since I am writing this Panda Hybrid mattress review. According to the maker, this mattress is designed to suit every sleeper. For this reason, it comes with a medium-firm feel. If I use my virtual scale here, I would say it's a 6.7 with 10 being really firm.

The Panda mattress is designed for all sleeping positions and this is the reason they went with a hybrid design. The premium pocket springs can distribute weight evenly and the zoned system offers tailored support. The combination works great and that makes it a great choice for combo sleepers. Moreover, the high-quality springs can minimize motion transfer so the Panda Hybrid is suitable for couples. Finally, the cooling mechanism is a good one and that means the sleeping surface will stay cool during the night.
How much will I pay for delivery?
If you decide to buy a mattress from Panda, you will get free delivery providing of course you live in the UK. The best part about it is that they will deliver the mattress to the room of your choice and they will also remove the packaging. Having said that, the great service doesn't stop there. Panda offers a free mattress removal service so if you have an old one and you are not sure how to recycle it, Panda has the answer for you. This is a very complete package and it's truly impressive that all this is offered for free.
Is there a way to try this first?
If you don't feel comfortable buying a mattress online, I have good news for you. The Panda mattress comes with a 100-night trial period that gives you more than 3 months to try it. If you are unhappy with it for any reason, you have the right to return it and get all your money back. Returns are free and the shipping cost will be covered by the people at Panda.

Besides that, this mattress also comes with a 10-year warranty which is the standard these days. This will cover you for a really long time and if you want to find out more about it, you should visit the Panda warranty page. Overall, this is a comprehensive package so no complaints at all.
How much does this mattress cost?
One of the best things about the Panda Hybrid mattress is that it's available in 9 sizes. This is amazing and you will definitely find the one that suits your needs. The smaller size (UK Single) starts at £950 with the bigger (Emperor) selling for £1,750. I have to mention here that there are both UK and EU sizes available. The table below has pricing information for all available sizes.
| | | |
| --- | --- | --- |
| SIZE | DIMENSIONS | PRICE |
| UK Single | 190 x 90 x 27cm | £950 |
| EU Single | 200 x 90 x 27cm | £990 |
| UK Small Double | 190 x 120 x 27cm | £1,250 |
| UK Double | 190 x 135 x 27cm | £1,290 |
| EU Double | 200 x 140 x 27cm | £1,350 |
| UK King | 200 x 150 x 27cm | £1,390 |
| EU King | 200 x 160 x 27cm | £1,490 |
| UK Super King | 200 x 180 x 27cm | £1,550 |
| Emperor | 200 x 200 x 27cm | £1,750 |
Who should buy the Panda Hybrid mattress?
This is a good question so let's try to answer it now that I am about to complete this Panda Hybrid mattress review. In my opinion, this is a good option for those looking for:
An eco-friendly mattress that is built for all sleeping positions.
A hybrid mattress that sleeps cool.
A mattress that comes with excellent service and support.
Panda's first attempt is a solid one and this is a mattress that will fit both individuals and couples. It's made with excellent materials paired with great service. If you look for an eco-friendly option that has great specs, this is one to consider.
Panda Hybrid Mattress Review
PROS
Good for all types of sleepers
Excellent bamboo cover
Free room of choice delivery
CONS
Not the cheapest in the market