Choosing which mattress to buy can be a very difficult task. There are so many options out there so you might get confused. In this REM Fit 400 zoned mattress review, I am exploring this interesting option to see whether it's worth your attention.
🏆 Awarded "Best Cooling Mattress" for 2023
After reviewing the REM-Fit 500 Ortho mattress, I was really curious to try their cheaper option. The two mattresses are quite similar in design combining memory foam with pocket springs. However, they have a different feel but more on that later. Mine arrived 4 weeks ago so it's a good time now to write this review.
What is a REM-Fit 400 zoned mattress made of?
The REM-Fit 400 zoned mattress is made of 4 layers plus the cover. In detail these are:
A cool gel-infused memory foam layer which helps the mattress stay cool during sleep.
A Mediflex memory foam layer that gives this feeling of floating. It's there to provide the demanding parts of your body (hips, shoulders etc.) with the needed pressure relief.
A layer made of extra tall pocket springs that helps the mattress to provide your body with the needed support. Every mattress has 2,000 encapsulated pocket springs.
A high-density foam layer that works as the base of this mattress.
Besides the 4 layers, the mattress also features foam-encapsulated sidewalls which improve the edge support. The picture below shows what the REM-Fit 400 looks like from the inside.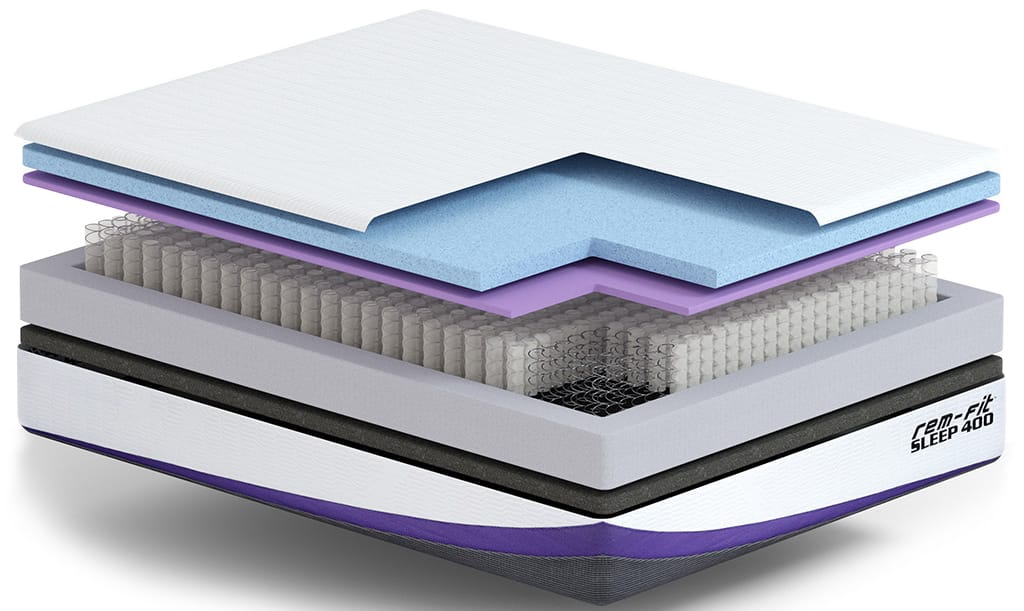 What is the cover made of?
The cover of this mattress is made of a synthetic material (Re-Ax) which is great with moisture and heat transfer. This allows the cover to regulate the body's temperature during the night so you won't sleep hot. The cover is also very breathable and quite strong at the same time. Despite that, it feels soft and it looks to be of high quality. The design is a simple one, featuring a white top part with the bottom part being grey and purple. If you want to clean it, you can machine wash it at 40 degrees so keeping this mattress fresh is an easy job. The cover doesn't have handles and this is the only negative thing about it. Overall, I liked it a lot and I think they did a good job here.
How firm is the REM-Fit 400 zoned mattress?
This mattress has a medium-firm feel which is the case with most mattresses in a box. If I use my virtual scale here, I would say it's a 6.8 with 10 being really firm. I would like now to talk about the different sleeping positions and how this mattress performed.

Starting from the back position, the memory foam layers adapted to my body's shape and I felt like I was floating. Support was good and I was very comfortable in this position.
Moving to the side position, the pocket springs adjusted to my body's weight to help with better spinal alignment. The mattress did a good job and it was comfortable although I felt that I needed more pressure relief.
Finally, moving to the stomach position, I felt that my hips were not properly supported so my spine alignment was not ideal. Other than that, pressure relief was adequate and again I had this floating feeling which is a positive thing.
The mattress has excellent edge support so you will get the same performance from every corner of the mattress. The foam-encapsulated sidewalls are responsible for that. If you share your bed with a partner, this mattress does a decent job of minimising motion transfer.
What type of bed to use with this mattress?
The REM-Fit 400 is a versatile mattress so you can use it with any bed frame or even place it on your floor (not advised though). According to the maker, you can also use it with an adjustable base but I would advise you to either use a slatted base or a divan.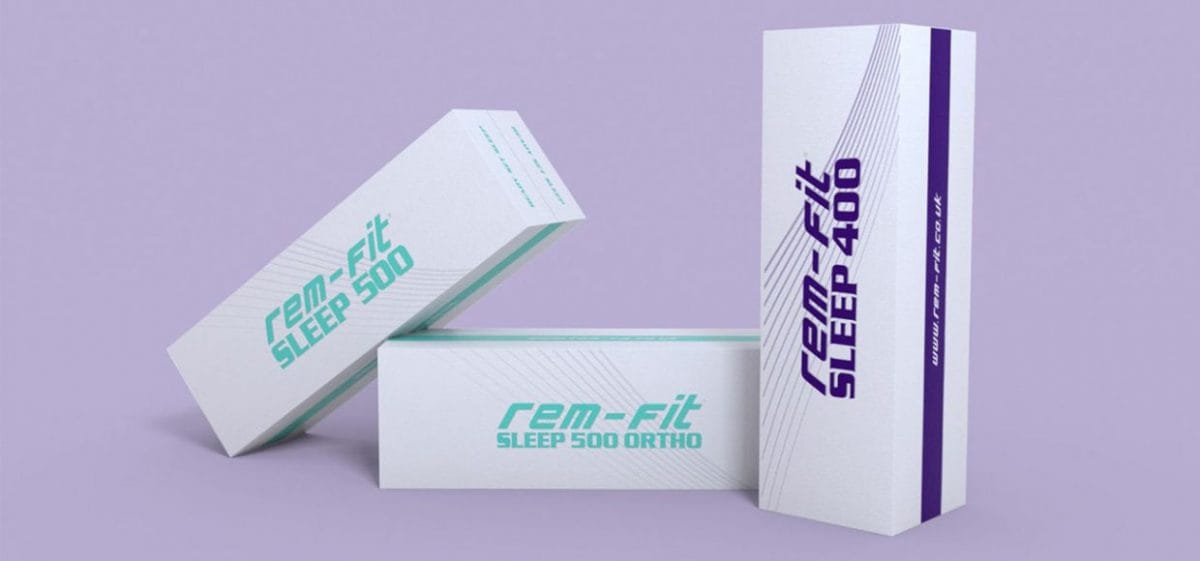 How will it be delivered?
I have already mentioned that this is a rolled mattress so it will come packed in a carton box. Next-day delivery is free for all sizes and this is quite impressive. However, they offer a number of options for you to choose from which will definitely suit your needs. The table below summarizes everything.
| | |
| --- | --- |
| Next working day delivery | FREE |
| Day of choice delivery | FREE |
| Premium 2-person delivery | £20 |
| Premium 2-person delivery + mattress removal | £50 |
| Guaranteed Saturday delivery | £30 |
I went for the guaranteed Saturday delivery because I was busy with work. I received good communication from them and the courier was on time. The whole experience was straightforward and I didn't have any issues. Overall, they do great here and I was really impressed with the options they offer.
Does the REM-Fit 400 Zoned come with a trial period?
When you order this mattress, you will get a 100-night trial period which will allow you to test the mattress before you decide whether you want to keep it or not. This is very helpful as it can be a difficult decision to buy a mattress online. If you are not happy with your purchase, then you can return it for free and get a full refund. The process is not complicated and you don't have to keep the original packaging. All returned mattresses are going to the British Heart Foundation which is great and more makers should do the same.
The mattress also comes with a 15-year guarantee so you know you will be covered for a long time with this mattress. Most mattresses in a box come with a 10-year guarantee so it's great to see that the REM-Fit brand offers more here. Overall, the package is very complete and it's hard to find a better deal.

How much does it cost?
The REM-Fit 400 is an affordable mattress so you won't break the bank. It's available in 7 sizes both UK and EU ones. The smaller size (UK single) goes for £524 with the bigger (Super King) selling for £786. The table below has pricing information for all available sizes.
| | | |
| --- | --- | --- |
| SIZE | DIMENSIONS | PRICE |
| Small Single | 75 x 190 x 25cm | £699 |
| Single | 90 x 190 x 25cm | £699 |
| Long Small Single | 75 x 200 x 25cm | £699 |
| EU Single | 90 x 200 x 25cm | £699 |
| Small Double | 120 x 190 x 25cm | £799 |
| Double | 135 x 190 x 25cm | £869 |
| EU Double | 140 x 200 x 25cm | £949 |
| King | 150 x 200 x 25cm | £949 |
| EU King | 160 x 200 x 25cm | £1,049 |
| Super King | 180 x 200 x 25cm | £1,049 |
Is the REM-Fit 400 Zoned mattress any good?
This is the question that everyone wants me to answer now that I complete this REM Fit 400 zoned mattress review. In my opinion, this mattress would be great for anyone looking for:
A value-for-money mattress that is great for back and side sleepers.
A mattress that comes with excellent service and support.
A hybrid mattress which sleeps cool and is quite comfortable.
If you look for all the above, then this mattress can be a good option for you. REM-Fit is a company that makes high-quality mattresses and this one is worth every penny you are going to spend on it.
REM-Fit 400 Hybrid Zoned Mattress Review
PROS
Very comfortable
Good value for money
15-year guarantee