If you look for ways to improve your sleep, you are in the right place. In this DreamCloud bed review, I will talk about this great option that can help your mattress perform better. If you hear this for the first time, you must learn that a good bed frame can help your mattress to perform at its best. Sometimes, the problem is not the old mattress but the old bed frame.
DreamCloud is a brand that is known for its premium mattress but they recently decided to develop bed frames. To be more precise, they released a Headboard bed frame and a Platform bed. Let's move now below to talk about these two options.
DreamCloud Headboard Bed Frame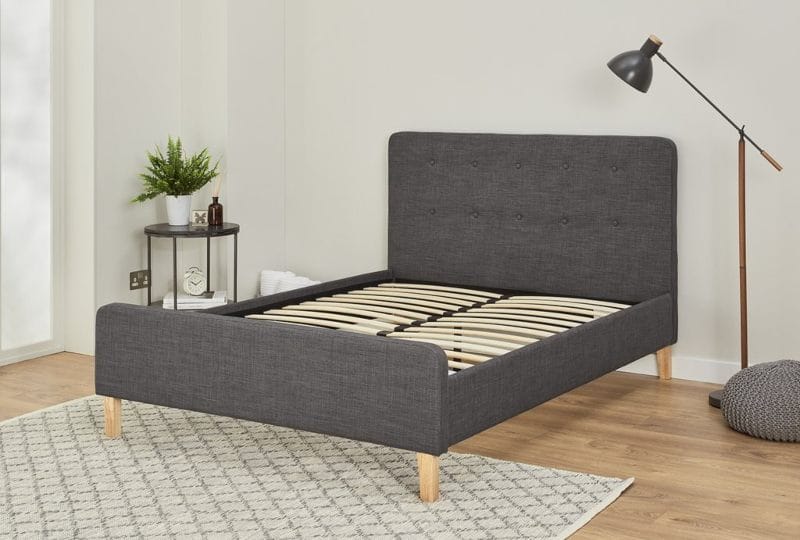 If you look for a high-quality headboard bed frame that won't break the bank, this can be a great choice. It features a retro-inspired look that is easy to combine and it has a premium feel that is hard to find at this price point. The padded frame is covered with a smart grey hopsack while the wooden feet add a nice character. The headboard is buttoned and it completes nicely this modern look. The people at DreamCloud decided to use a sprung slatted frame that is supportive but at the same time, it allows airflow.
This bed frame is made with high-quality materials and it's easy to assemble. It will probably take you one hour to complete the whole thing but make sure you have some help as you might need it. It weighs around 35kg and the floor clearance is 14cm. That means that there is enough space underneath it if you want to store something. It's available in two sizes with the smaller (Double) selling for £399. However, they run frequent promotions so you will probably pay less than that.
| | | |
| --- | --- | --- |
| SIZE | DIMENSIONS | PRICE |
| Double | 135 x 190cm | £439 |
| King | 150 x 200cm | £479 |
When you order one, you will get free delivery for all UK postcodes and the bed frame will usually ship within 2 days. Unfortunately, they don't offer a trial period here but I guess this is normal. Overall, I loved the DreamCloud Headboard bed and if you find it with a discount it can be a great buy.
DreamCloud Platform Bed Frame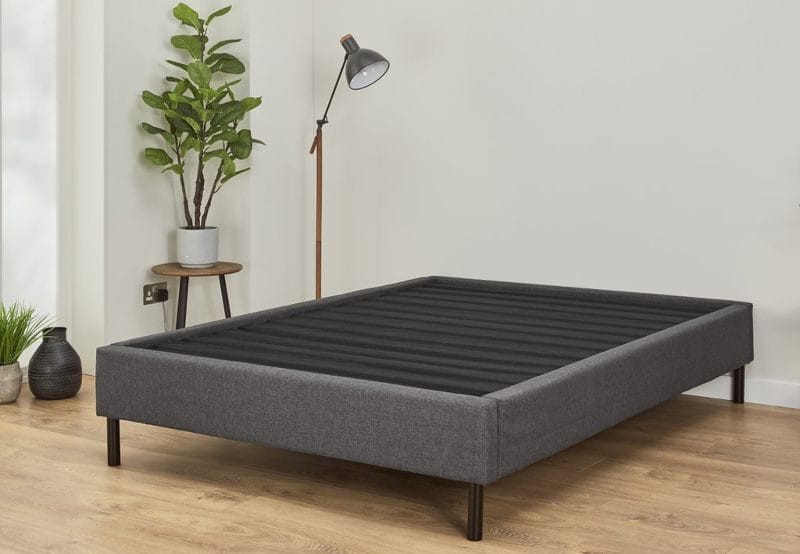 Let's continue now with this DreamCloud bed review and talk about the second option from this maker. It's a platform bed that is a great choice for everyone looking for an affordable bed frame that doesn't lack quality. It comes with a padded frame that sits on top of black rubberwood legs to create a bed that is modern and contemporary. In addition, the added slats will provide your mattress with plenty of support and will allow airflow. The engineers at DreamCloud have developed a simple clip and lock mechanism that allows you to assemble this bed frame in less than 15min. This is great, especially for people who are not familiar with assembling furniture. This bed is slightly taller when compared to the Headboard bed with a floor clearance of 16cm. It's available in 4 sizes with the smaller size (Single) starting at only £199! However, if you want to get a bigger size you will only spend a few extra pounds. That makes this bed frame one of the best value-for-money options in the UK market.
| | | |
| --- | --- | --- |
| SIZE | DIMENSIONS | PRICE |
| Single | 90 x 190cm | £334 |
| Double | 135 x 190cm | £359 |
| King | 150 x 200cm | £374 |
| Super King | 180 x 200cm | £399 |
If you decide to order one, you will get free delivery provided you live in a UK postcode. DreamCloud promises to dispatch the frame within 2 working days so you won't wait for long. Overall, this is a high-quality platform bed that is fairly priced and I think it's a good buy.
PROS
Great design
Easy to assemble
Value for money