As the family grows, space can be limited. This is the reason that furniture designers are getting more and more creative. Getting a bunk bed can be a great solution to save space but also create a pleasant and practical environment for your kid.
With the start of the school year approaching, most parents are trying to prepare for the new year. To help you out we decided to create the below list that features the best bunk beds with desk that you can now buy in the UK. Without any further ado, let's move below to see the 5 options that we have gathered for you.
Venus white wooden bunk bed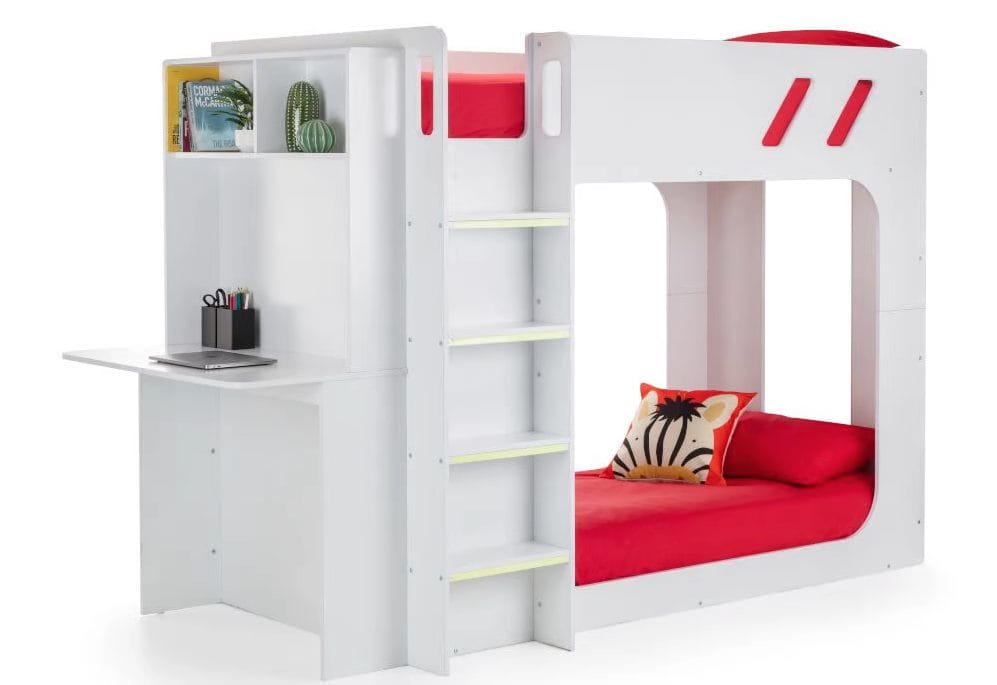 The first pick on this list is the Venice bunk bed. This is an option that can accommodate two siblings or can be used as a spare bed for sleepovers. It's built with high-quality materials and it features a white colour that creates a neutral look. On the side, there's a small integrated desk that can be the perfect place for your kids to do their homework. Above the desk, you will find a self that can be used to store books or toys. This bunk bed is a sturdy construction and it's not a coincidence that it comes with a 5-year structural warranty. It's available to buy at Happy Beds, one of Britain's most popular retailers. They run frequent promotions and they offer a great service. If you want a double bunk bed, this can be a fantastic choice as it combines practicality with excellent design.
Stompa Nexus high-sleeper with desk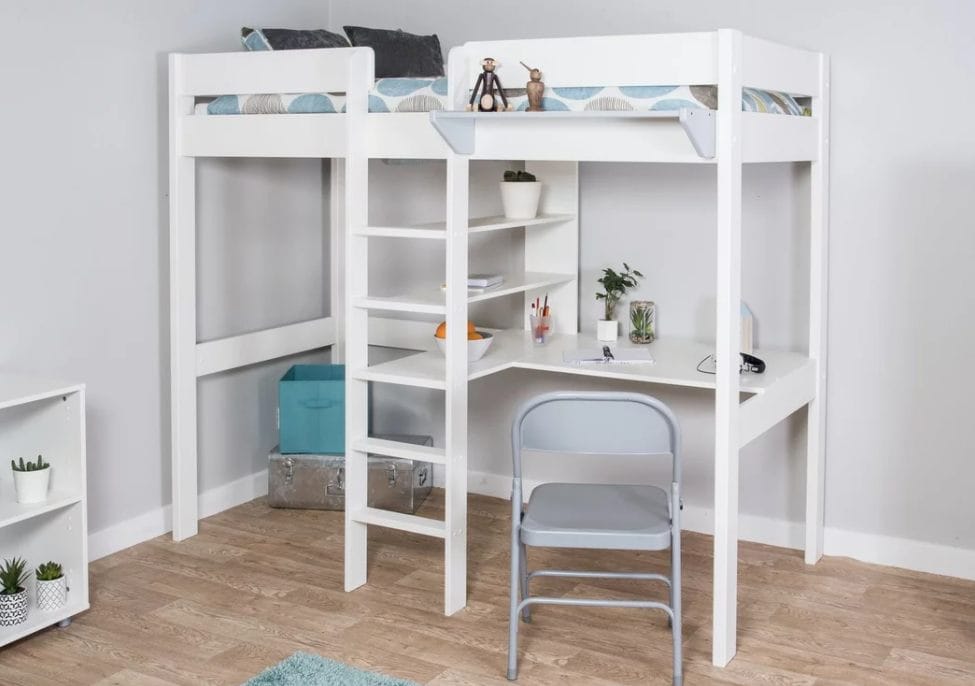 The second pick on this list comes from Stompa which is a popular furniture designer. The Nexus sleeper comes with a simplistic design that will fit every style and will improve the aesthetics of your bedroom. The ladder sits at the middle of the bed so that means that you have the option to place the desk on either side. The Nexus range allows you to further customize these beds so you have plenty of options to create one according to your needs. The bed is made with high-quality wood and it comes in a white colour. One of the most impressive things about it is the fact it comes with the 20-year warranty and that shows how confident they are about the manufacturing process. The Nexus bunk bed is available to buy at Furniture Village so you should expect a great service. Overall, this is a great option for those who look for a compact bunk bed with desk.
Noa & Nani bunk bed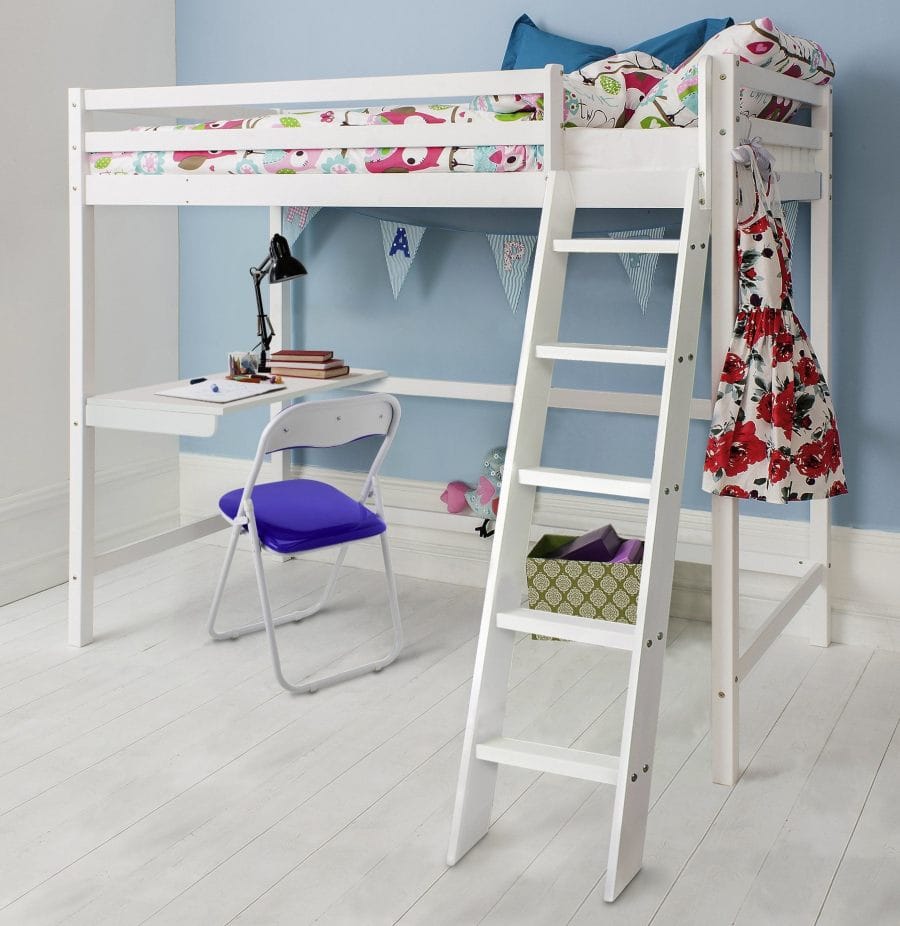 The third pick on this list is the most affordable one. It comes from Noa & Nani, a brand that is known to make affordable family furniture. The Thomas High sleeper is constructed from solid pine wood and it comes with a classic white finish. It's another bunk bed that comes with a simplistic but practical design so you won't have trouble fitting it in any room. The desk seats underneath the bed and it can be placed on any side depending on your needs. The same applies to the ladder so you shouldn't worry about getting the right combination. The bed comes flat packed and according to various reviews, it's very easy to assemble. It can be combined with a standard single mattress with a maximum depth of 13cm. The Thomas High sleeper is very versatile and at this price, it's definitely a unique proposition. If you don't want to spend much this is definitely an option that you should consider.
Nina bunk bed with desk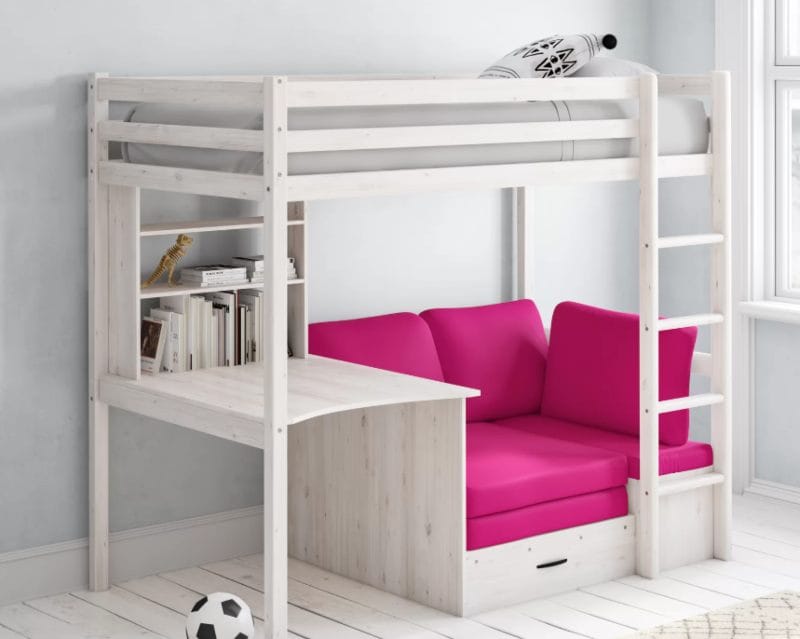 Another interesting option on this list comes from Viv + Ray and their Nina high sleeper. This bunk bed comes with a desk and a little under-bed sofa that is ideal for relaxing or finishing homework. It can also be used for sleepovers so this is very practical. This high sleeper is made of solid pine wood and it comes with three fabric colourways available that include pink, black and grey. If you decide to buy one you will need to get a European single mattress (90 x 200cm). It's available from Wayfair so you should expect free delivery and a 2-year warranty. If you look for a high-end bunk bed, this is definitely one to consider.
Armada dual bunk bed with gaming desk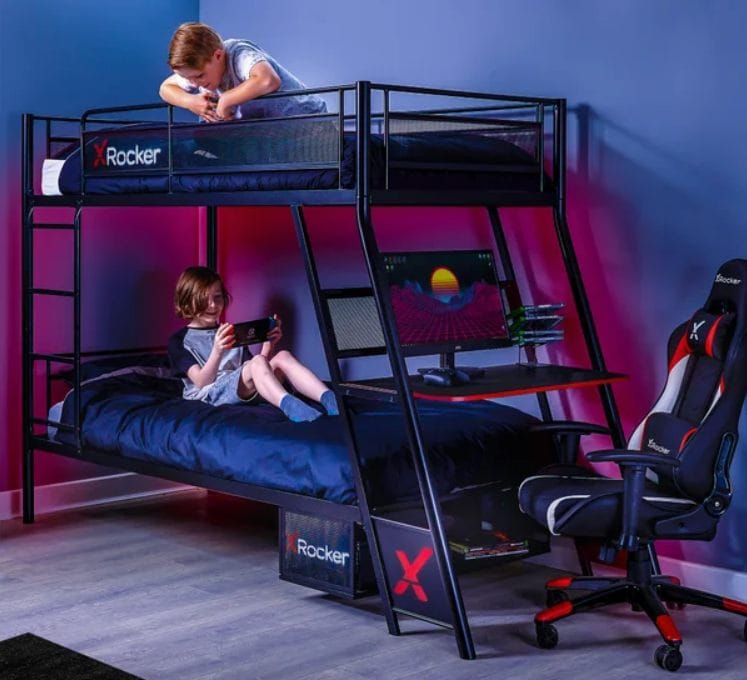 This list couldn't be complete without including a bunk bed that comes with a gaming desk. Most kids these days love to play video games so the X Rocker Armada dual bunk bed is an interesting proposition. It features two single beds and a gaming desk that can accommodate a screen up to 32 inches. The bed also features a mess storage self where you can place all your gaming gear after you're done playing.
The Armada bunk bed is made of steel and it comes with a black finish and several branding details. Besides this option, X Rocker has also designed some other gaming bunk beds so you will definitely find the one that suits your needs and taste. If you want a dual bed and your children love to game then this is definitely an option that should be high on your consideration list. It's available from Wayfair and it comes with free delivery and a 1-year warranty.
The time has come now to complete this guide and we hope our best bunk beds with desk choices have helped you find what you need. However, if you feel you still need more help, make sure you contact us and we will do our best to help you out.