Organic products are everywhere these days as more and more people prefer them. If you are one of them, you should read this Simba Green Organic Mattress review. After a while, this is a mattress that got me really excited.
The Simba GO as they call it is another hybrid option that combines organic materials with pocket springs. This is a very interesting concept so I was really keen to try this out. Mine was delivered a few days ago so it's a good time now to move to the full review below.
What is this mattress made of?
This mattress has 4 layers plus the cover. In detail, these are:
A layer made of anti-allergenic Simba Renew fibres which are designed to allow airflow but also discourage dust mites. These fibres are up to 75% recycled.
A natural latex layer that can provide your body with the needed pressure relief and support. Natural latex is quite breathable so your mattress will breathe well.
A conical spring layer that is designed to help with support.
A pocket spring layer that comes with a 5-zone system. This is specifically designed to provide tailored support for demanding areas like your hips and shoulders.
The Simba GO mattress measures 30cm in height so you should expect a high profile. The latex used here is GOLS certified so you know it's purely organic. The video below has more details about the materials used to make this mattress.
How good is this cover?
The cover of the Simba Organic mattress is a great one. The top part is made of GOTS-certified organic cotton. This material feels soft and luxurious but at the same time, it allows airflow. The bottom part features a 3D mesh surface that is built with recycled and new fibres. This mesh surface is super breathable which helps the mattress breathe very well. On the sides, they have added 4 handles that will help you move your mattress whenever that is needed. The design is a very modern one and in my opinion, this is the most beautiful among the Simba range. Unfortunately, this is not a removable cover and if you want to clean it, you should use a damp cloth. Overall, this is a well-designed cover that compliments the Simba GO mattress.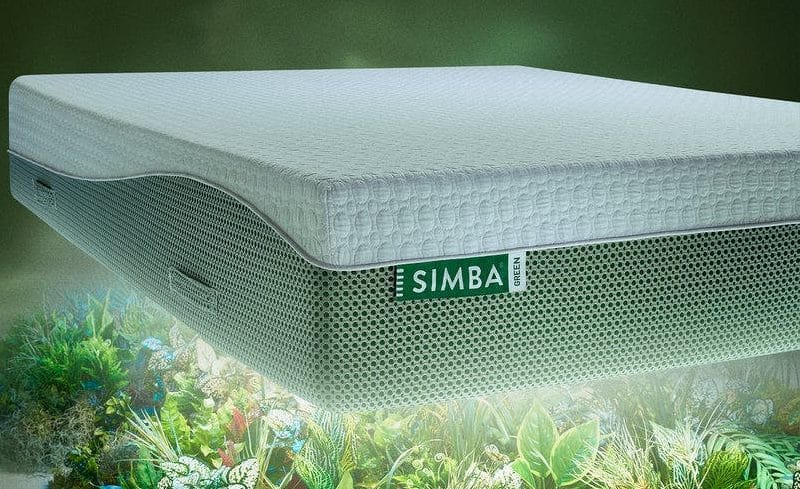 Is this a firm mattress?
I would like now to continue writing this Simba Green Organic mattress review and talk about its firmness. This mattress comes with a medium-firm feel and if I use my virtual scale here, I would say it's a 6.6 with 10 being really firm. Do you wonder how this mattress performed? Let's move below so I can share my experience with you.

Starting from the back position, the mattress managed to evenly distribute my weight and that took the pressure off my joints. Support was good and my spinal alignment was perfect.
Turning to the side position, the spring layers adjusted quickly and the zoned system helped my spine to align correctly. The sleeping surface didn't cause any discomfort and I felt comfortable in this position.
Finally, moving to the front position, the Simba GO positively surprised me. I didn't expect it to do well here but it did exactly the opposite. My shoulders and hips were well supported and I can say that this mattress is a good all-rounder.
As for the edge support, I can confirm it's great so you won't have any difficulty getting in an out of bed with ease. On the other hand, you will face some motion transfer as this mattress has 2 spring layers.
What type of bed should I use with this mattress?
According to the maker, you can place this mattress on any flat surface. However, I advise you to use a bed frame that can support it and allow it to perform at its best. Additionally, you should use a frame that allows airflow which will keep your mattress fresh and healthy. I use a slatted frame that does both but you can use whatever suits your needs.
Do they offer free delivery?
All Simba mattresses come with free delivery so you won't have to pay anything to get your mattress. I have to mention here that the delivery is carbon neutral which shows what this company is about. Standard delivery usually takes 3 business days which is quite fast. They also offer a next-day delivery service but that will cost you an extra £40. Finally, for the same amount, you can also have your old mattress removed.
My Simba GO mattress was delivered by a 2-man crew to the room of my choice. The process was smooth and I was well-informed about the different steps. The couriers were polite and very helpful and overall, I was happy with the service I got.
Is there a trial period for this mattress?
One of the best things about this mattress is that it comes with a 1-year trial period. This is an amazing offer by the people at Simba and only a handful of retailers actually offer that. That means that you have a full year to try this mattress and you can decide later whether you want to keep it or not. In case you are not happy about it, you can return it and get a full refund. Returns are free and Simba will arrange everything for you.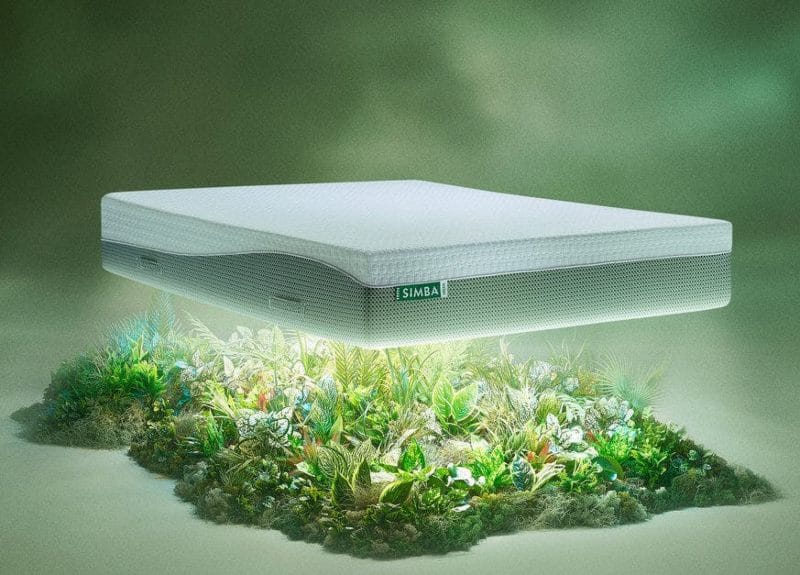 Besides that, you will also get a 10-year guarantee that will cover you for a long time. This shows that Simba mattresses are built to last but before you buy one, make sure you read the full terms and conditions. Overall, this is one of the best support packages out there and I can't complain about anything.
How much does it cost?
The Simba Green Organic mattress is available in 4 sizes. The smaller one (Single) costs £1,579 while the bigger size (Super King) sells for £2,749. However, Simba is a brand that runs frequent promotions so you will probably pay less than that. For instance, at the moment of writing, there was a 40% off promotion. For more information about the available sizes, please look at the table below.
| | | |
| --- | --- | --- |
| SIZE | DIMENSIONS | PRICE |
| Single | 90 x 190 x 30cm | £1,579 |
| Double | 135 x 190 x 30cm | £2,299 |
| King | 150 x 200 x 30cm | £2,399 |
| Super King | 180 x 200 x 30cm | £2,749 |
Should I buy the Simba GO mattress?
The time has come now to complete this Simba Green Organic mattress review and share my final thoughts with you. I think that this mattress would be good for:
An organic mattress that is built for all sleeping positions.
A hybrid mattress that has an excellent cooling system.
A mattress that comes with a 1-year trial period.
Organic options are limited anyway so Simba managed to build here a truly unique mattress. I was really impressed by its quality and performance so this is definitely an option I can recommend.
Simba Green Organic Mattress Review
PROS
Made with organic materials
Great for all sleeping positions
1-year trial period