Having a great pillow is essential for good sleep and if you read my blog, you know that this is something that I am saying for a while now. In this Simba Hybrid Firm pillow review, I talk about this premium new option from Simba that is mainly designed for back and side sleepers.
After releasing the Simba Hybrid pillow, the engineers at Simba decided to create a firmer version. To achieve that, they went a step further so this pillow has actual springs inside it. This is very impressive but more on that later. I decided to order one and my pillow was delivered almost 10 days ago. It's time now to move to the full review below.
Construction
This pillow has a very interesting design and it allows sleepers to customise its feel. There are three layers in total that you can use to create the combination that suits your needs. Two of them are identical and they are called 'Simba Renew pillows'. These have super-soft fibres that can cushion your head. Unlike feathers, these fibres can hold their shape and don't flatten over time. Additionally, they are eco-friendly as they are made from recycled PET plastic bottles. The third layer is made of Simba Pure foam combined with tiny Aerocoil springs. This is the firmer layer between the two. Inside the pillow package, you will find instructions that will teach you how to place the layers in order to change the feel. The possible combinations are medium, medium-firm & firm. Overall, this is a very well-made pillow and it's definitely one of the best I have seen.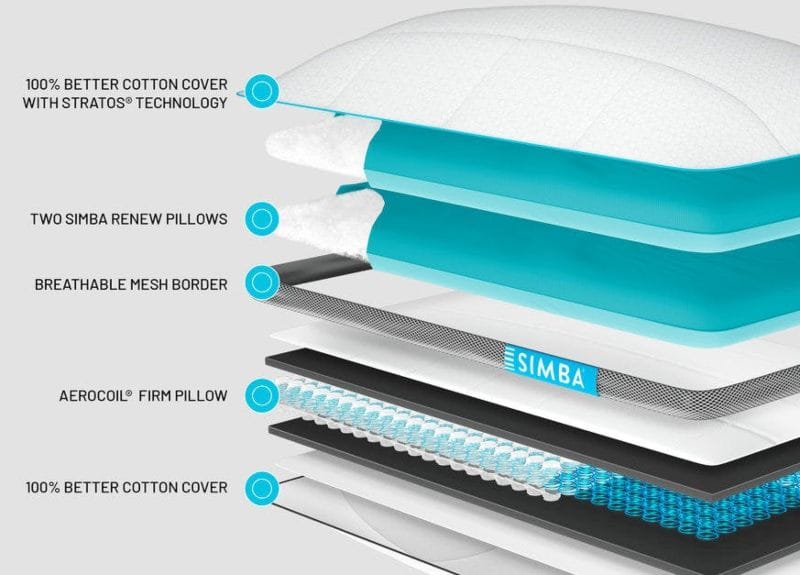 Cover
One of the most impressive things about this pillow is its cover. It's made of 100% cotton with Stratos technology. If you have never heard of it, Stratos fabrics can respond to body temperature, drawing heat away. As a result, you will have an instant cooling sensation. The cover has a 'futuristic' design and it looks very beautiful. On the sides, they have added a mesh panel that increases airflow. This is a clever design that works really well. The good news is that the cover is machine washable so it's very easy to clean. Make sure you use a mild detergent and a cycle at 40°C. Overall, this is a fantastic cover that really impressed me.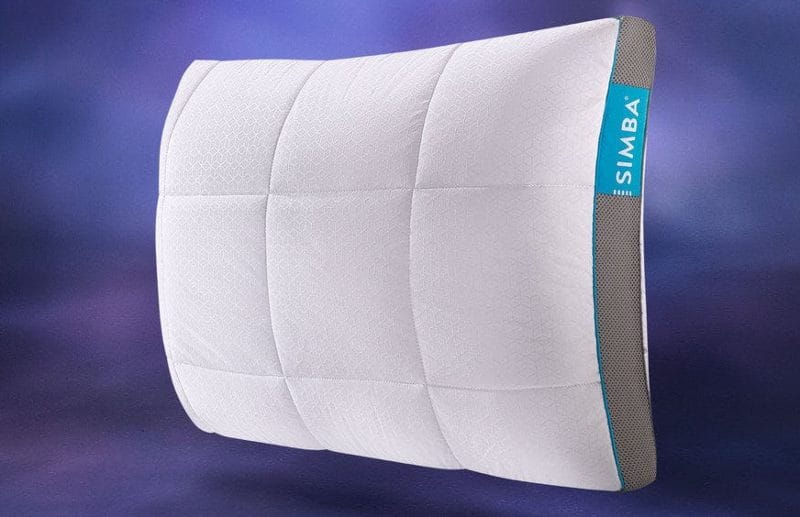 Support
This is one of the few pillows that state that they are only suitable for back and side sleepers. This is expected considering the height here. As I mentioned earlier, you can create 5 different combinations so you will definitely find the one that suits your needs. I tried all of them and obviously, some combos didn't suit me but that is very normal. However, the ones that did work for me had a great performance and I really felt that this is a premium pillow. Pressure relief was great and the Aerocoil springs provided my head and neck with the needed support. Overall, this pillow is very supportive and it will suit every back and side sleeper.
Is the Simba Hybrid Firm pillow good for me?
Let's complete this Simba Hybrid Firm pillow review and discuss whether you should get it or not. I believe that this one would be a good option for those looking for:
An adjustable pillow designed for back and side sleepers.
A premium pillow that has a fantastic cooling system.
A pillow that is made with eco-friendly materials.
If all these sound good, you should have this pillow quite high on your list. Simba managed to build a great pillow here and although the price is quite high, I still feel that this is a unique product and it's one I really like.
Simba Hybrid Firm Pillow Review
PROS
Adjustable height and feel
Excellent cooling system
Fantastic cover
CONS
Not the cheapest option