If you are searching for a premium option, you should read my Nectar Premier Hybrid mattress review. According to the maker, this mattress is their best ever and sits at the top of their range. But is this claim true? We will soon find out. 🤔
A few months after releasing the Nectar Premier mattress, the popular maker felt ready to create an even better mattress. As its name suggests, this is a hybrid mattress but more on that later. My mattress was delivered almost a week ago so it's a good time now to move to the full review below.👇
60% OFF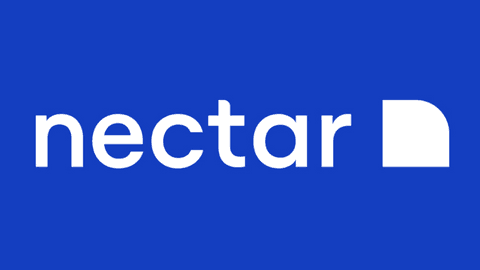 Nectar Mattress
Up to 60% off mattresses at Nectar
What is this mattress made of?
The Nectar Hybrid Premier mattress features 6 layers plus a cover. These are:
A dynamic support layer that has the ability to regulate body temperature.
A micro-springs layer that can draw heat away from the body and increase air circulation.
A memory foam layer that has excellent pressure-relieving properties.
A transition foam layer that works in tandem with the support base with the aim of optimising spinal alignment.
A layer made of tall (12cm) pocket springs that are designed to provide tailored support. Moreover, this type of spring improves edge support.
A support foam base that keeps the mattress altogether.
The mattress measures 28cm in height so you should expect a high profile. All foams used to make this mattress are CertiPUR certified. The image below gives us a better look at the position of each layer.👇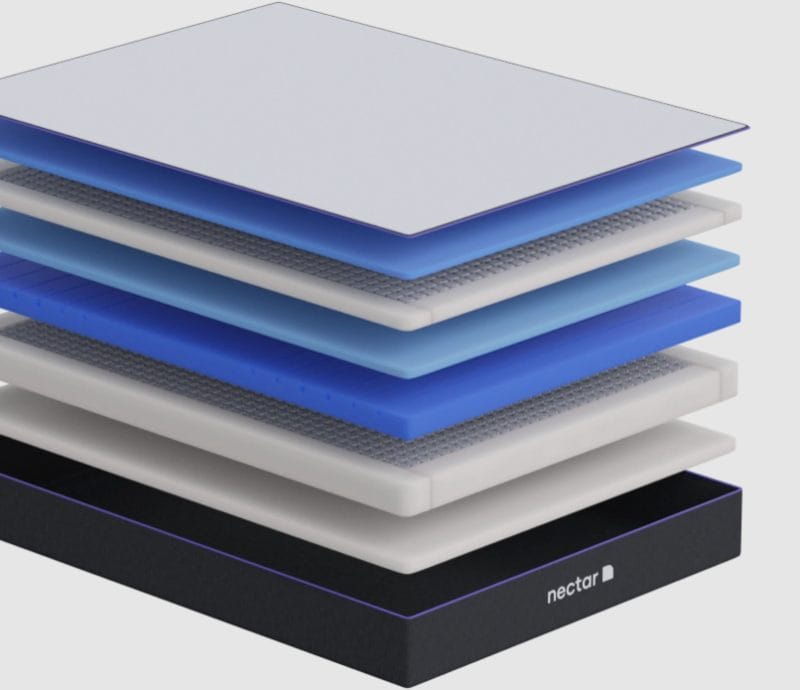 Is this a nice cover?
The cover of this mattress is made of polyester. They used this material because it's breathable and can draw heat away from the body. Additionally, this is a very durable material that can hold its shape for years. The last part is vital as it's not pleasant to see a cover that doesn't fit properly. To make it look more premium, they decided to make this a quilted cover and that works really well.
The design is a contemporary one and is on par with the Nectar branding. At the bottom of it, you will find a positioning base material that will keep the mattress in place. This is useful and I love when makers think of these things. Overall, this is a fantastic cover and I feel that Nectar did a great job here. 👍
What is the feel of this mattress?
Let me continue now with this Nectar Premier Hybrid mattress review and talk about its feel. This is another medium-firm mattress from Nectar and if I use my virtual scale here, I would say this is a 6.5 with 10 being really firm. Are you curious to see how this mattress performed in the past week? Let's find out below.👇

Starting from the back position, the Premier Hybrid mattress allowed my spine to align properly and at the same time, I felt well-supported. My joints got the needed pressure relief and the mattress was really comfortable.
Turning to the side position, the spring layers adjusted quickly and weight distribution was optimal. My spinal alignment was correct and I felt really comfortable in this position. The mattress didn't cause any discomfort in the hips and shoulder areas which was great.
Finally, moving to the stomach position, the mattress did a good job which helped my spine align properly. Support remained good and although this mattress is not too firm, it still performed well in this position. Overall, the Nectar Premier Hybrid mattress is a great all-rounder and that is quite hard to find.😊
If you share your bed with a partner, the good news is that this mattress has the ability to minimize motion transfer so you won't disturb each other during the night. Moreover, the edge support is great so you will face no problem getting in and out of bed.
Will I pay for delivery?
Nectar is a brand known for its outstanding service so you should expect a free named-day delivery service. This is great and you can have your mattress within 2-5 working days. During checkout, you can choose to have your old mattress removed but that will cost you an extra £45. I chose to have my mattress delivered on a Friday and the process was very straightforward. I must say here that I was well-informed about the different delivery steps and the courier was prompt and polite. Overall, I was very happy with the Nectar service but this is something I expected.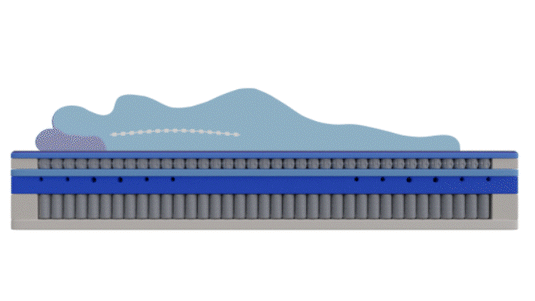 Is there a trial period?
If you decide to buy a Nectar mattress, you will get a 365-night trial period that will give you a full year to try this mattress and decide later whether you want to keep it or not. This is amazing and only three makers offer this in the UK. If for any reason, you are not happy with it, you can return it and get your money back. This is free and all you have to do is contact them and they will arrange everything for you.
Besides that, the people at Nectar also offer a forever guarantee. This is the best policy out there and it shows what a brand Nectar is. For more details on this, please visit their warranty page. Overall, this is the best service in the UK hands down!✌️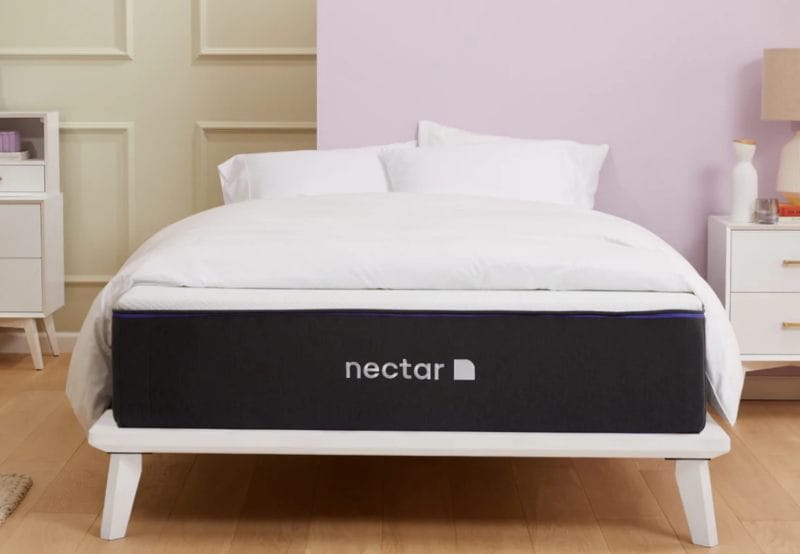 Is this an expensive mattress?
The Nectar Premier Hybrid mattress is available in 4 sizes. Prices start from £1,549 for a Single one and go up to £2,149 for a Super King one. Having said that, Nectar runs frequent promotions so you won't pay the retail price. For instance, I got my King mattress for £880 as it came with a 45% discount. The table below has pricing information for all available sizes.
| | | |
| --- | --- | --- |
| SIZE | DIMENSIONS | PRICE |
| Single | 90 x 190 x 28cm | £1,549 |
| Double | 135 x 190 x 28cm | £1,849 |
| King | 150 x 200 x 28cm | £1,999 |
| Super King | 180 x 200 x 28cm | £2,149 |
Who should buy the Nectar Premier Hybrid mattress?
I am ready to complete this Nectar Premier Hybrid mattress review and share my final thoughts with you. In my view, this would be a good option for anyone looking for:
A hybrid mattress that is built for every sleeping position.
A premium mattress that is designed for couples.
A mattress that comes with the best service in the UK.
This is a really impressive release from Nectar as they have managed to improve an already great mattress. If you look for a fairly-priced true all-rounder, look no further!👌
60% OFF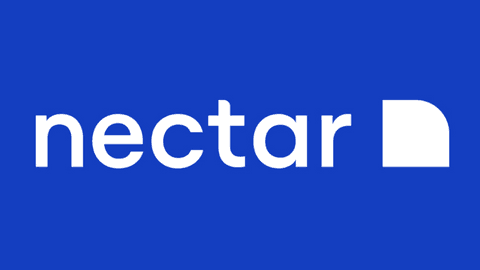 Nectar Mattress
Up to 60% off mattresses at Nectar
Nectar Premier Hybrid Mattress Review
PROS
Great for all sleeping positions
Excellent edge support
365-night trial period
CONS
Cover is not machine-washable