If the time has come to move from a cot mattress to a bigger bed then you should definitely read this 'Best Mattresses for Kids' guide. Children grow very fast and most of their development takes place when they are sleeping. For this reason, you should make sure that they have the right mattress right from the beginning.
The good news is that there are plenty of options in the market but that can be confusing for some parents. After receiving a number of emails asking for advice, we decided to create this buying guide. We did hours of research, and we gathered for you 6 great options that will help your child sleep better.
What is the best mattress for kids?
Kids need sleep more than anyone else. Their brain and body constantly grow and most of it happens during bedtime. Every kid has different needs but before you choose their next mattress you should follow these 3 simple rules. A kid's mattress should:
Encourage healthy posture.
Create a clean and hypoallergenic environment for your little one.
Support their growth and changing size.
If you keep these tips in mind, you are on the right way and you will probably choose a good mattress. Having said that, you should always take into consideration the individual needs of your kid and choose accordingly.
When should my baby move to a child's mattress?
There is no correct answer to this question but according to most guidelines, you should move your kid to a child's mattress and bed between the ages of 18 and 36 months. Of course, that is relevant to the growth of your baby so you should act accordingly. You can also consult with your paediatrician and ask for further advice.
Editor's Pick – Simba Hybrid Kids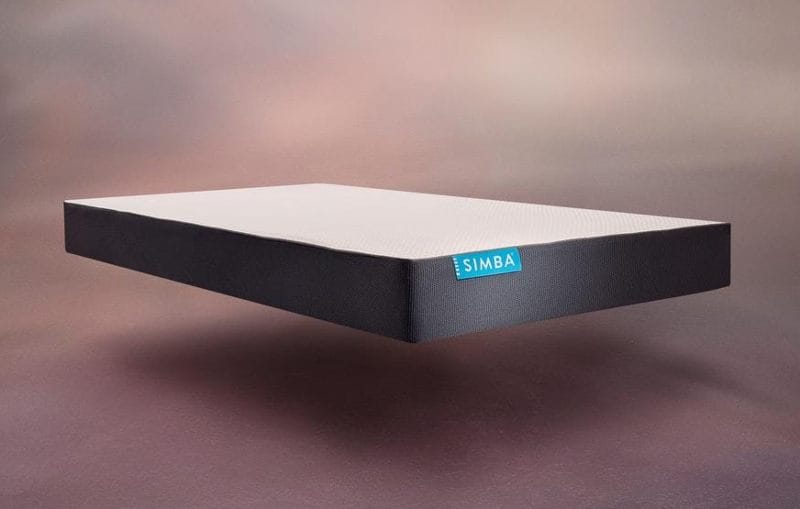 Our first pick on this list is the Simba Hybrid Kids mattress. This is a slimline version of the Simba Hybrid mattress which is one of the best mattresses for adults. They designed it with a lower profile so it can fit snugly in most bunk beds or kids' frames. The mattress features a hybrid design that combines Simba's signature Aerocoil springs with foam. The result is a balanced mattress that can support your kid's body while staying comfortable. In addition, it's designed to stay cool during sleep and that makes it ideal for kids with restless sleep. Finally, all foams used here are CertiPUR certified which means that they are free of heavy metals and dyes harmful to you and the environment.
If you buy one, you will get a 200-night trial period that allows your kid to try this mattress first before you decide whether to keep it or not. This is amazing and only this mattress on this list comes with such a long trial period. Moreover, the Simba Kids mattress comes with a 10-year guarantee and free delivery. All these make this mattress the best overall kids' mattress.
Most Comfortable – Stompa S Flex Airflow Pocket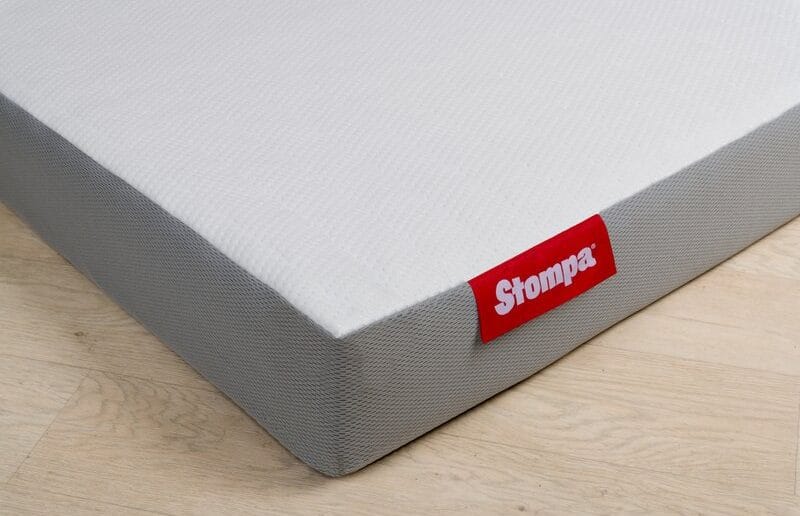 The second mattress on this list is the Stompa S Flex Airflow Pocket mattress. For those who have never heard of this maker, Stompa is a family-run business that is based in West Yorkshire. They focus solely on children's products and that has made them very popular among parents. This mattress is a true best-seller and in our opinion the best in their range. It features 1,000 pocket springs that can provide your little one with the needed support and comfort. In addition, the Airflow Comfort layer allows the air to circulate so the sleeping surface stays cool during the night. Finally, the Stompa S Flex mattress has great edge support and that helps a lot with growing kid bodies.
All foams used here are free of TCPP and are safe for human health. The best place to buy this mattress is from Wayfair in order to take advantage of the 100-night trial period that they offer. If you decide to buy from them, you will also get free delivery, provided you live in the UK. Overall, this is a great kids' mattress and we highly recommend it.
Best Value – Silentnight Healthy Growth Eco Bunk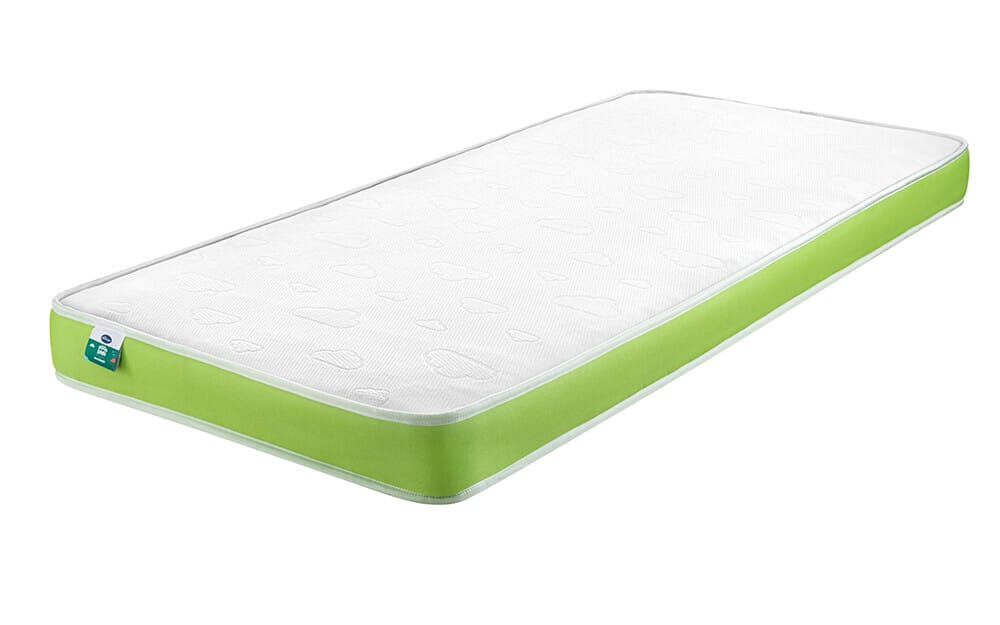 Another great option on this list is the Silentnight Healthy Growth mattress. It comes from one of Britain's most popular makers and in our opinion, it's the best value-for-money option on this list. This is a pocket-sprung mattress that comes with a firm feel which helps with better posture. Besides that, this is a mattress that is very supportive due to the use of Miracoil springs. It's manufactured here in the UK and it's made with high-quality materials. After all, it's not a coincidence that is approved by the National Bed Federation.
All the materials used here are safe for human health and this mattress is hypoallergenic. If you decide to buy it, you should get it from Mattress Online as they offer a 5-year guarantee and free delivery. Overall, this is a well-balanced mattress and you will be getting great value for your money.
Best Organic – Una Junior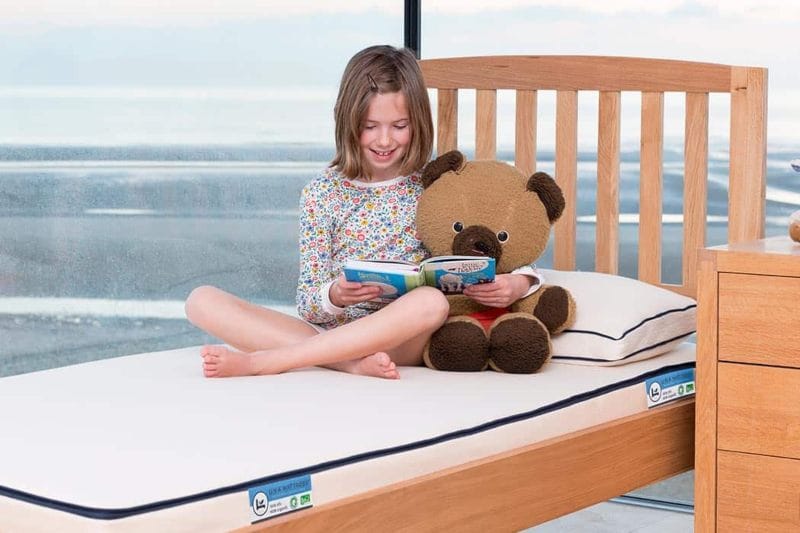 Many parents choose organic products for their children and this is a wise choice. However, not many of them think of getting an organic mattress. If you fall into this category, you should probably look at the Una Junior mattress. This is an adjustable mattress that comes with 2 firmness profiles. According to the maker, the medium-firm profile is great for the ages between 3-11 while the medium-soft profile is good for the ages between 12-17. The Una Junior features 2 layers of organic latex that are GOLS certified. This ensures that you will get a mattress that is built with high-quality materials. Moreover, the cover of this mattress is made from organic wool and cotton which is a great combination. All Una mattresses are designed and built in Germany.
If you decide to buy one, you will get free delivery and a 10-year guarantee. However, the best thing is that they offer a 100-night trial period so your kid has plenty of time to try it before you decide to keep it. If you are not happy with it, you can return it and ask for a full refund. Overall, this is a great option but you should be prepared to pay more.
Best for Spinal Alignment – Silentnight Healthy Growth Astro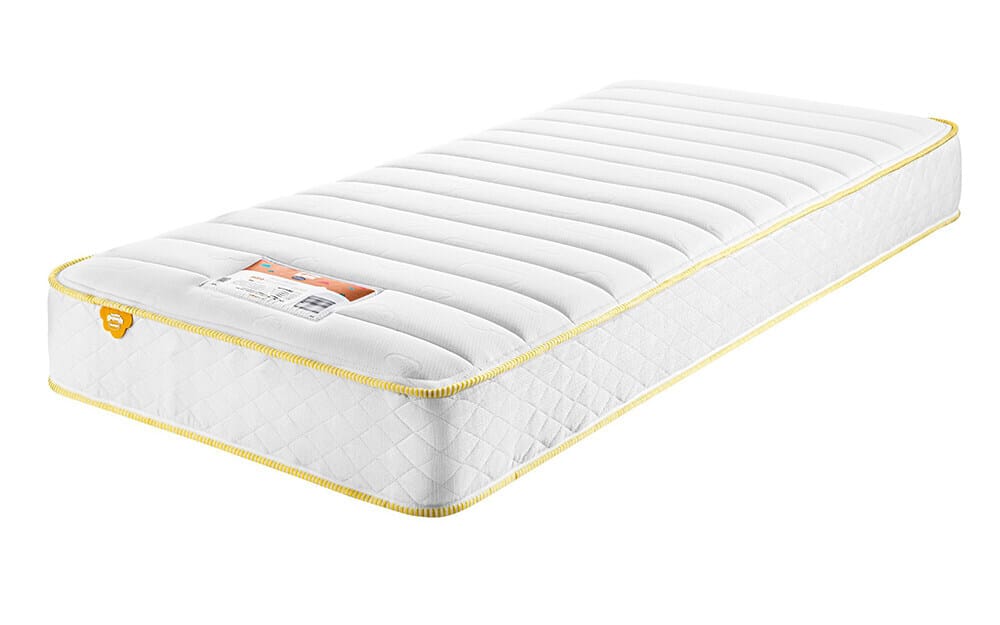 Silentnight is a great maker so this is the second mattress from this brand that made this list. The Healthy Growth Astro Eco 600 is a great pocket-sprung option that comes with a medium-firm feel. It features a zoned system that promotes better spinal alignment which is very important during the growth years. In addition, they have added a layer of Eco Comfort Fibres that will keep the mattress cool during sleep but also come with cushioning properties. The mattress is built here in the UK and it measures 23.5cm in height.
When you buy one, you will get free delivery and a 5-year guarantee. That means that you are covered for a long time. It's available in 3 sizes and you should buy it from Mattress Online as they offer great service. Overall, this is a great all-rounder that is built with excellent materials.
Best Waterproof – SnuzSurface Max Junior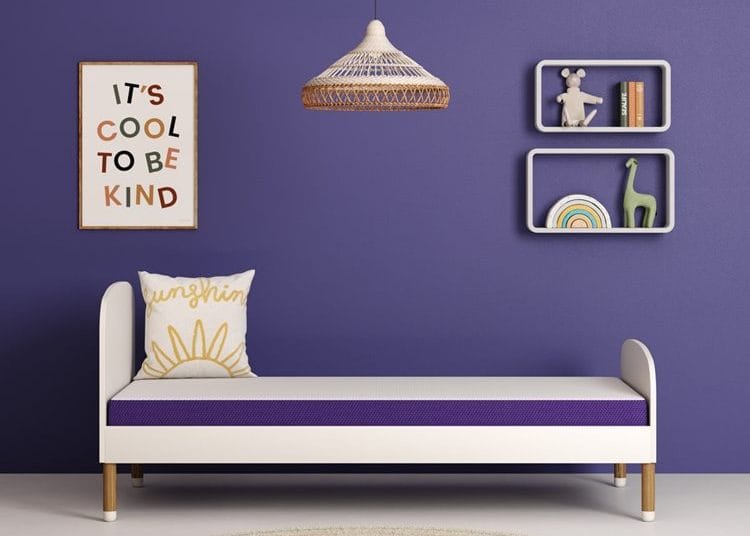 If you look for a waterproof option, you should definitely look at the SnuzSurface Max Junior mattress. It's designed for children who wet their beds and it features a waterproof cover that is removable and can be machine washed. This is great and that means that you don't need to use a mattress protector here. Besides the cover, the SnuzSurface Max Junior mattress features a hybrid design and combines foam with pocket springs. According to various reviews, this mattress is very supportive and it holds its shape. According to the maker it can be used between the ages of 4-13 years old. However, you should not use it for more than 6-7 years which is what the Sleep Charity advises.
The mattress features an anti-dust mite barrier and it's safe for children. If you decide to buy one, you will get a 5-year guarantee which is great. Delivery is free and the people at Snuz work with Klarna so you have a 'Buy Now Pay Later' option. Overall, this is a great waterproof mattress that is fairly priced.
The time has come now to complete this guide and we hope we have helped you to find the best mattresses for kids. However, if you have any questions about the above mattresses, don't hesitate to contact us and we will do our best to help you out.