Panda is one of my favourite brands in the UK and the main reason is their pillow. A few months ago, they decided that it was time for a new product that would be a step forward. In this Panda Hybrid pillow review, I will talk about their latest release which comes with some impressive specs.
After having tried their Panda Pillow, I was really keen to try the Hybrid version too. When you order one, you should expect free delivery, a 30-night trial period and a 10-year guarantee. Mine was delivered almost ten days ago so it's time now I talk about it in detail. Without any further ado, let's move to the full review below.
Construction
When designing this pillow, they decided to keep the same philosophy they used in their first release. However, they wanted to make two major improvements. The first one was to add cooling properties to a memory foam pillow. To achieve that, they infused it with activated charcoal which has the ability to regulate heat and wick the excess moisture away. This creates a more comfortable sleeping environment and will allow you to sleep better. Moreover, to increase airflow, they drilled holes to the core which do a pretty good job at it.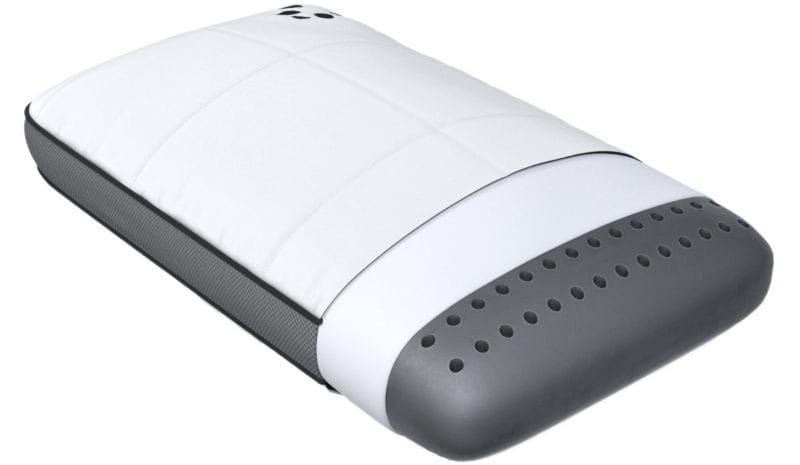 The second target was to make it more hypoallergenic and anti-bacterial. The bamboo charcoal infusion also helps with it and the Panda Hybrid is one of the most suitable pillows for allergy sufferers. Lastly, this pillow is designed to neutralise odours which can be a problem for certain sleepers.
Cover
The cover of this pillow is a great one. It's made of bamboo fabric which is a fantastic material as it has some useful natural properties. For starters, bamboo is hypoallergenic and has the ability to repel dust mites. This makes it an excellent choice for those who suffer from asthma. Secondly, bamboo is very breathable and it's easy to maintain. This cover is removable and machine-washable so you can clean it with ease. Finally, bamboo is an eco-friendly material as it needs way less water to grow when compared to cotton. The design of the cover is a beautiful one and on the side, they have added a mesh panel that increases airflow. Overall, this is a well-made cover that was designed with practicality in mind.

Support
The Panda Hybrid pillow was designed to suit all sleeping positions. For this reason, they decided to go for a medium loft (13cm) which is a wise choice. As I have mentioned in the past, the sweet spot is anything between 10-12cm so this one here might feel slightly too tall for the stomach position. After using it for ten days now, I can confirm that this is the case and this pillow performed fantastically in the side and back position. For the stomach position, I felt that it was quite high and I felt it wasn't comfortable enough in some cases.
The memory foam is of the highest quality so you should expect excellent support and pressure relief. I also have to mention here that this is not a soft pillow, it's more of a medium one. Overall, I was happy with it but I felt that it's best suited to back and side sleepers.
Should I buy the Panda Hybrid pillow?
This is always the main question that I have to answer now that I am about to complete this Panda Hybrid pillow review. In my opinion, this is a good choice for anyone looking for:
A memory foam pillow that is built for back and side sleepers.
A hypoallergenic pillow that is made with excellent materials.
A pillow that comes with a 30-night trial period.
If all these sound good to you, this is an option to consider. Panda managed to build an even better pillow here and this is a hard task. This is a more expensive choice but it's fairly priced if we consider the materials and the service offered. If you don't sleep on your front, this should be very high on your list.
Panda Hybrid Pillow Review
PROS
Very supportive
Excellent materials
30-night trial period
CONS
Not great for stomach sleepers