Most people these days suffer from a bad neck and that is mainly due to the use of computers and mobile phones. In this Zamat Nekgenic review, I talk about this interesting pillow that promises to help with chronic neck pain and tension headaches.
After trying the Zamat Butterfly pillow, I was really keen to get my hands on the Nekgenic too. I was wondering whether it can help me with my chronic neck pain so I went and ordered one. The good news is that they offer a fantastic support package that includes free delivery, a 100-night trial period and a 10-year warranty. This is very impressive, especially if we consider the price here. My Nekgenic pillow arrived almost two weeks ago so let's move now to the full review below.
Construction
During the design process, the engineers at Zamat looked for the best materials to create this unique construction. They decided to use a self-skinning polyurethane foam which is tough but flexible on the outside and softer on the inside. This combination works well and the Nekgenic pillow is very durable and supportive. This type of foam is 100% non-toxic so it's safe for human use. On the surface of this pillow, they have added a few massage nodes that can help with pain relief. This is based on the acupressure theory which is one of the bases of Traditional Chinese Medicine. Overall, this is a well-made pillow and in my opinion, it looks more expensive than it actually is.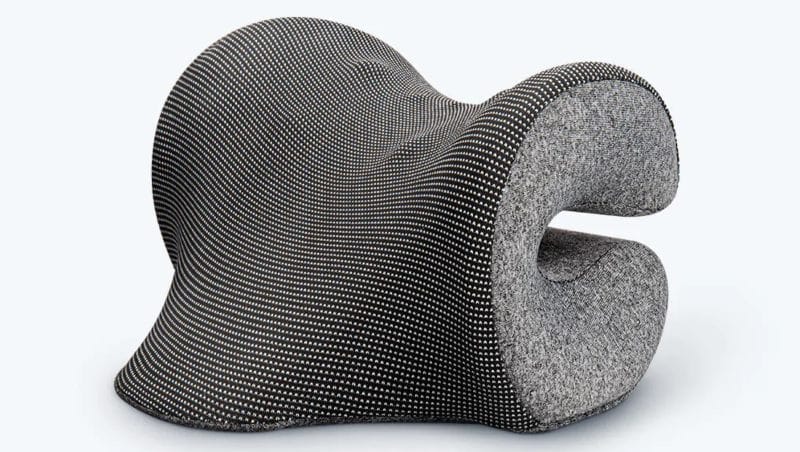 Cover
The cover of the Nekgenic pillow is an interesting one. Millions of permanent magnetic particles are implanted in it which gives it a number of properties. According to the maker, it can reduce inflammation and improve circulation. Additionally, it feels soft and it's very elastic. That allows it to have a great fit which is important for a pillow of this type. The cover is removable so it's easy to clean. The design is a modern one and you can choose between 3 colourways; grey, blue & pink. Overall, this is a sophisticated cover and the people at Zamat did a great job here.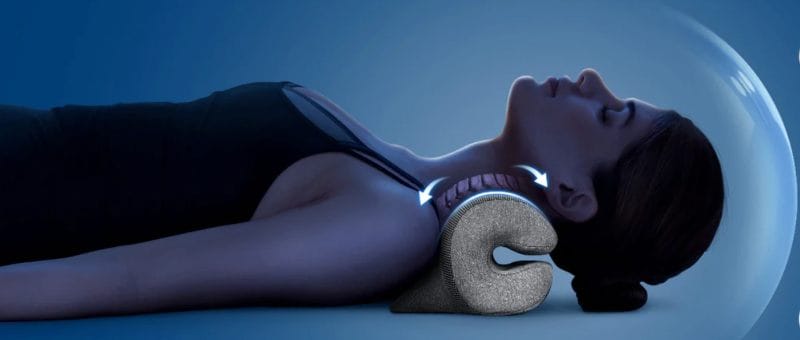 Support
Before I tried the Nekgenic pillow, I was really curious to see whether it would help me with my neck pain. I have to mention here that I do have a sore neck from doing an office job but thankfully I don't suffer from tension headaches, at least not yet! I decided to use the Nekgenic pillow for 10 days to see whether I will see an improvement or not. The maker suggests using it for 8-10 minutes every day. Within the first week, I noticed that my neck had better mobility and it didn't feel as sore as before. The difference was not huge but I felt that my neck was in a healthier condition. And all that by just spending 10 minutes every day with the Nekgenic pillow. To me, this was a pleasant surprise and I can definitely say that this pillow was money spent well.
Will the Zamat Nekgenic pillow help me?
This is a particularly difficult question to answer but I will try to do my best now that I am ready to complete this Zamat Nekgenic pillow review. In my opinion, this can be a good option for those looking for:
A cervical pillow that is designed to stretch your neck.
A pillow that can improve your neck posture.
A pillow that comes with a 100-night trial period.
Zamat managed to develop a unique product here that can help you fight a sore neck. I personally saw an improvement and hopefully, the more I use it the better the result will be. The Nekgenic pillow is affordable and comes with a trial period so it's hard for someone to make a case against it. If you suffer from a bad neck, you should probably give it a try.
PROS
Great for stretching your neck
Helps with tension head aches
Very affordable
CONS
Not the fastest shipping